Monterotondo Malvasia Sasso Grosso 2017
Hello! Welcome to As Drunk by Exotic Wine Travel, a weekly column where we feature interesting wines that we encourage you to seek out. The reviews featured in this series may be written by either one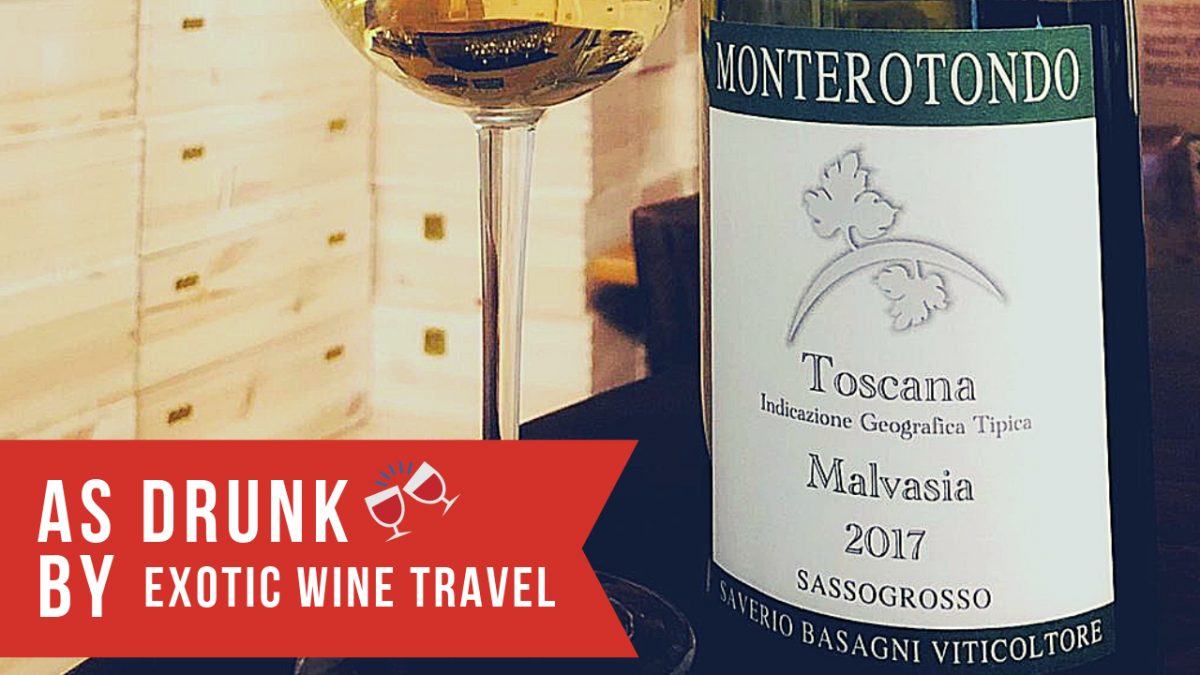 Hello! Welcome to As Drunk by Exotic Wine Travel, a weekly column where we feature interesting wines that we encourage you to seek out. The reviews featured in this series may be written by either one or the both of us. The featured wines can be from obscure or well-known wine regions. We hope that these wine recommendations will keep you gastronomically curious and your palate invigorated!
Monterotondo, Malvasia Sasso Grosso 2017
White wine in Tuscany?
It seems sacrilegious to produce dry white wine in Chianti Classico, but that's exactly what Saverio Basagni of Monterotondo does. There have been attempts to make some serious whites in Tuscany with Chardonnay and Sauvignon Blanc, but Saverio chose to use Malvasia Bianca Lunga. It is one of the white wine grapes originally permitted in Chianti Classico reds.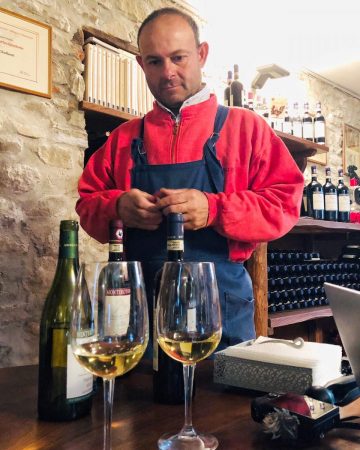 The tiny estate of Monterotondo produces around 25,000 bottles from four hectares of organically farmed vineyards. Their portfolio is simple, two reds, a rosato, and a white. You won't find any French grapes like Chardonnay, Cabernet Sauvignon, or Merlot there. Instead, Saverio chose to work with the traditional grapes like Sangiovese, Cannaiolo, Trebbiano, and Malvasia.
Saverio and his wife Fabiana are incredibly warm people. They have a glow about them and a way that makes you feel comfortable. Their reds are made in a traditional way. They are a little austere young but should age gracefully with a few years in the bottle. The white is a different story and is approachable right away. Saverio is passionate about white wine and it shows in his only white, the Monterotondo Malvasia Sasso Grosso.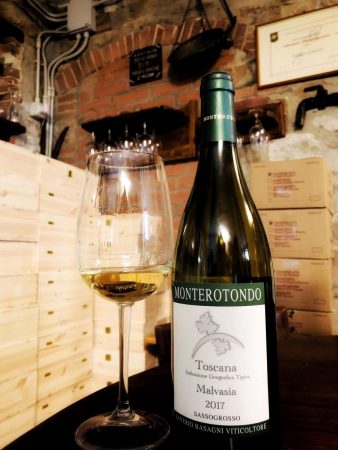 The Monterotondo Malvasia Sasso Grosso 2017 has notes of pine, lemon, white flower, and garrigue. It's ripe and full bodied for a fresh white. The grapes used here are healthy and the wine has bite to it. The high elevation of the Sasso Grosso vineyard gives juicy acidity, which can be a problem for this grape. The wine finishes with a snappy pepperiness, similar to a Grüner Veltliner.
Score: 90/100 (You can find out more about our scoring system on the WINE RATING page.)
* If you visit Monterotondo, try to score a taste of their Vin Santo. Saverio makes it only for himself, family, and friends. It's a divine sweet wine.
Find or buy on Wine-Searcher.
---
Please note that the opinions expressed are our own and have not been paid for in any way. We do not sell editorial content as that would destroy the legitimacy of our reviews and the trust between Exotic Wine Travel and its readers. On occasion, we extend the option of purchasing the wines we review or/and the products we spotlight. Some of these product links are set up through affiliate programs, which means Exotic Wine Travel gets referral credits if you choose to purchase these items via the links we provide.