N.A.G. Föld és Ég Syrah 2018
Reading Time: [est_time] Hello! Welcome to As Drunk by Exotic Wine Travel, a weekly column where we feature interesting wines that we encourage you to seek out. The reviews featured in this series may be written by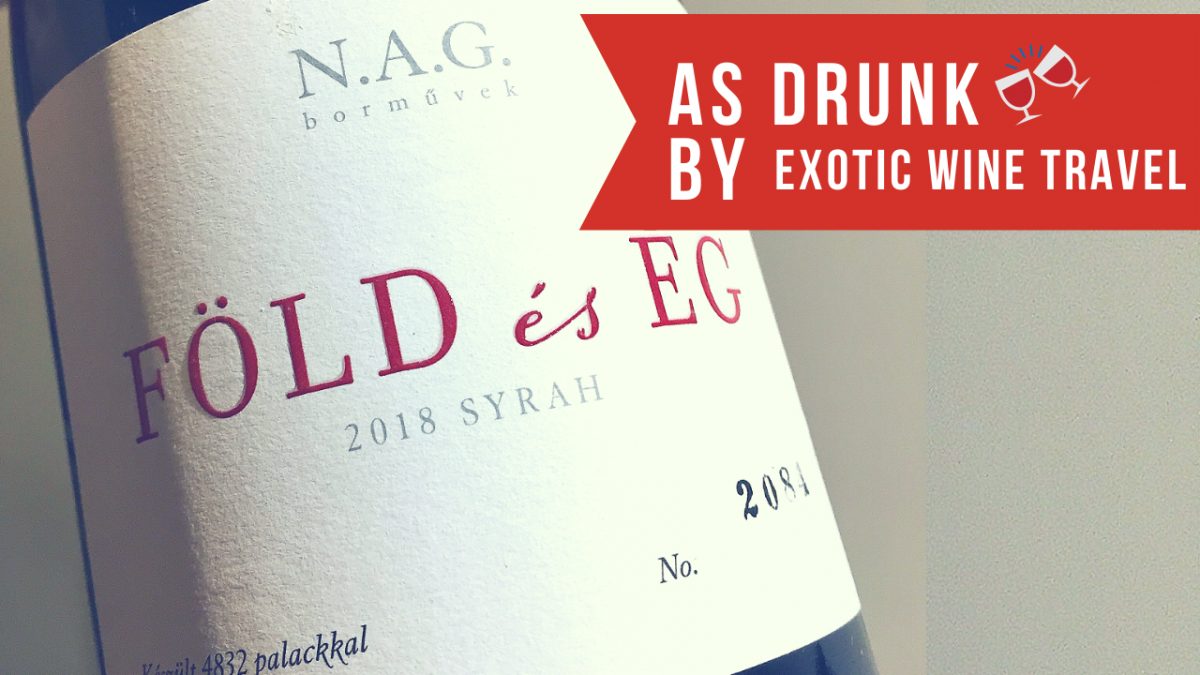 Reading Time: 1 minute
Hello! Welcome to As Drunk by Exotic Wine Travel, a weekly column where we feature interesting wines that we encourage you to seek out. The reviews featured in this series may be written by either one or the both of us. The featured wines can be from obscure or well-known wine regions. We hope that these wine recommendations will keep you gastronomically curious and your palate invigorated!
N.A.G. 'Föld és Ég' Syrah 2018
Németh Attila Gábor is one of Hungary's most mysterious winemakers. He produces a fine line of Tokajis under the brand Alana Tokaj. The wines are difficult to track down in Hungary as nearly all of the production is exported. Gábor has another project in the lesser-known region of Mátra. This winery goes by his initials N.A.G.
Mátra is currently one of the hot areas in Hungarian wine. Of the 22 wine districts, Mátra has the second-largest vineyard area behind Kunság. Located one hour east of Budapest, Mátra is a hilly region chalked full of volcanic soils. There are a number of small producers popping up that are chasing quality and N.A.G. has one of the best track records thus far.
The N.A.G. Föld és Ég Syrah 2018 is one of the best Syrahs we've found in Hungary. Föld és Ég translates to "Earth and Sky". It's explosively intense on the nose with dominant floral, spicy, and fruity aspects, underlined by cigar, cacao, and leather notes. On the palate, the flavors are equally nuanced and intense, finishing with a 10-second long end-palate. This could be a really outstanding wine. We just want a little more tannin to sculpt all the good things.
Even though this clocks in at 15.5% abv, it feels medium-bodied. Thank you to Bortársaság, which is one of Hungary's premier wine shops, for the sample.
Score: 92/100
You can find out more about our scoring system on the WINE RATING page.
Do you like our content?
If you like our articles and videos, we'd love for you to be a part of our community on Patreon. The support from Patreon helps keep the content coming and you access to behind the scenes content. It also gives us the chance to get to know you better. Check out the Exotic Wine Travel Patreon page by clicking the photo below.

Do you want to learn more about Hungarian wine?
Be part of our fourth wine book Discover Hungarian Wine. Sign up HERE to learn how you can reserve a special edition, signed copy with a discount when our Kickstarter launches once the world returns to normalcy.
---
Please note that the opinions expressed are our own and have not been paid for in any way. We do not sell editorial content as that would destroy the legitimacy of our reviews and the trust between Exotic Wine Travel and its readers. On occasion, we extend the option of purchasing the wines we review or/and the products we spotlight. Some of these product links are set up through affiliate programs, which means Exotic Wine Travel gets referral credits if you choose to purchase these items via the links we provide.