Nine Sweet Slovak Wines
Reading Time: [est_time] Slovakia is at the northernmost reaches (latitude) where grape growing is possible. The grape growing regions are in the south of the country between the latitudes of 47.5N and 48.5N. In other words,
Reading Time: 3 minutes
Slovakia is at the northernmost reaches (latitude) where grape growing is possible. The grape growing regions are in the south of the country between the latitudes of 47.5N and 48.5N. In other words, it's pretty cold in Slovakia for growing wine grapes.
Despite the challenges, there are some excellent wines being made in the country. One area that wineries are excelling at is sweet wines. Slovakia has a small part of the Tokaj region within its borders and those wines need no introduction. Sweet wine production isn't limited to Slovak Tokaj. There are a number of delicious sweet wines being made in all wine growing areas of Slovakia.
After two intense weeks of tasting throught he country, you can see a few of our favorite sweet wines below.
Sweet Slovak Wine Labeling
Slovakia has adopted Austria's Predikat labeling system for quality wines with residual sugar.
Late-Harvest: Neskorý Zber
Auslese: Výber z Hrozna
BA/Beerenauslese (Berry Selection): Hrozienkový Výber
TBA/Trockenbeerenauslese (Dried Berry/Noble Rot Selection): Cibébový Výber
Ice Wine: Ládové Vino
Straw Wine: Slamové Vino
Our Thoughts
We were very impressed with the ice and straw wines throughout Slovakia. These wines were all well made and offered exceptional value for a low price. Check out more of our thoughts on the sweet wines of Slovakia in the video below (~ 8 mins).
Exotic Wine Travel's Picks
(You can find out more about our scoring system on the START HERE page.)
Château Belá, 

Veltlínské Zelené Ládové Vino (Ice Wine) 2006
The Château Béla Veltlínské Zelené (Grüner Veltliner) ice wine is an exceptional wine. Full of mango chutney, fresh cut grass, dried fig, and mineral flavors. The aged notes of petrol and fall leaves come into play as well, the list of flavors goes on and on. It's rich, complex, and thought-provoking. A great dessert wine from a fantastic vintage. Château Béla is owned by the famous German producer Egon Müller.   4.5/5
Château Belá, Alibernet Ládové Vino (Ice Wine) 2012
Do you want a completely different sweet wine experience? Then try the Château Belá Alibernet ice wine. It has red raspberry, forest strawberry, tomato, and blood orange flavors. This has high acidity and has a red fruit and orange peel finish. This is one of the most intriguing sweet wines that we've come across. It gives you unexpected flavors and makes for a marvelous drinking experience.    4.3/5
Château Rúban, Milia 2017
Château Rúban is a new project in South Slovakia. They have state of the art winemaking facilities and a beautiful guesthouse. They purchase all of their grapes. The Cháteau Rúban Milia has 36 g/L of RS making it medium sweet. This grape is a cross between Müller Thurgau and Traminer. It has flavors of green apple, white flower, and pineapple. Floral and fruity with crisp acidity. It's a refreshing sweet white wine. This is a crowd pleaser that everyone will enjoy.    3.7/5
Château Topol'čianky, 

Rizling Vlašsky Ládové Vino (Ice Wine) 2016
Château Topol'čianky is one of the big players in Slovak wine. They produce a large portfolio of wines, spanning from inexpensive retail wines all the way up to premium wines. Their sweet wines were outstanding for wines priced below 15 Euros. The Château Topol'čianky Rizling Vlašsky (Welschriesling) ice wine has notes of grass, melon, cantaloupe, and minerals. This is syrupy on the palate and rich in flavor. Acidity could be a touch higher but this is still high-quality ice wine.    4.0/5
Chateau Topol'čianky, Palava Slamové Vino (Straw Wine) 2008
The Château Topol'čianky Palava ice wine is made from a grape cross of Gewürtztraminer and Müller-Thurgau (similar to Milia). It has flavors of petrol, honey, dried apricots, and fall leaves. This is uber complex on the palate with toffee flavors and finishes with a fiery, lemon finish. The mid-palate needs a little more umph, which keeps it from reaching higher levels.    4.2/5
Frtus, 

Milia Hrozienkovy Vyber 2015
Rado Frtus has put substantial investment into rejuvenating his family's vineyards and producing quality wine. He is already producing wines of good quality and we have no doubt he will be an outstanding producer in the coming years. This is his best seller, the Frtus Milia has over 100 g/L of sugar. Lemon, white peach, and white pear. It is sweet but not clumsy on the palate due to the high amount of acidity. The finish is fresh and lemony. It's a wine that is not difficult to understand and is very delicious.    3.9/5
Karpatská Perla, Dílemúre Aurelius TBA 2013
Karpatská Perla (Carpathian Pearl) is one of the largest producers in Slovakia. They produce a wide range of quality wines and their sweet wines really pop. This grape is a cross between Neuburger and Riesling.
The Karpatská Perla Dílemúre Aurelius is a TBA wine affected by botrytis. It has 100 g/L. Fall leaves, apricots, honey, and lemon. The acidity keeps this wine very fresh on the palate. It is more citrus fruit driven than honey. Medium finish for a sweet wine. This is 10% ABV.    4.2/5
Karpatská Perla, Pálava Slamové Víno (Straw Wine) 2011
The Kárpatská Perla Pálava is a straw wine (made from dried grapes). It's golden in color with flavors of green herbs, yellow flower, and white peach with a touch of fall leaves. Full of 200 g/L of RS. This is fresh and herbal. Despite the vintage, this sweet wine has resisted aging, it could go on for much longer. Fresh and delicious, but luscious on the palate.    4.1/5
Trnovec, 

Rulandské Biele Ladové Vyber (Ice Wine) 2016
Trnovec is a small producer near the city of Nitra. They are famous for their Pinot Blanc (the grape is called Rulandské Biele in the Slovak language. The Trnovec Rulandské Biele is an ice wine with 160 g/L of RS. Clear notes of white pear, hazelnut, and green apple. This is rich and dominated by white fruits with a limey finish. Good value for money.    3.7/5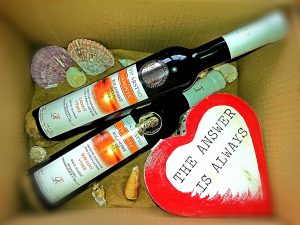 The Trnovec Rulandské Biele Ice Wine 2013 vintage from the Trnovec Facebook page.
---
Please note that the opinions expressed in this article are unsolicited and have not been paid for in any way by governmental bodies, enterprises, or individuals. We do not sell editorial content as that would destroy the legitimacy of our reviews and the trust between Exotic Wine Travel and its readers.