Organic Cuvée Marie Vallis Albus 2015
Reading Time: [est_time] Hello! Welcome to As Drunk by Exotic Wine Travel, a weekly column where we feature interesting wines that we encourage you to seek out. The reviews featured in this series may be written by
Reading Time: 1 minute
Hello! Welcome to As Drunk by Exotic Wine Travel, a weekly column where we feature interesting wines that we encourage you to seek out. The reviews featured in this series may be written by either one or the both of us. The featured wines can be from obscure or well-known wine regions. We hope that these wine recommendations will keep you gastronomically curious and your palate invigorated!
Wine Not!?
There are few wine bars that really impress us, but Wine Not!? in Bratislava, Slovakia is an exception. The minute we stepped into the bar Charine exclaimed, "let's skip the hotel and sleep here." The bar has over 1000 labels to choose from and they focus on wines from the former Austro-Hungarian empire. There is also a heavy focus on Italian wines.
The selection of international wines is great, but it's the selection of Slovak wines that get us really excited. There are more than twenty producers present, some of which are extremely hard to get. Including the Organic Cuvée Marie Vallis Albus made by Štefan Kasynik.
Organic Cuvée Marie Vallis Albus 2015
The village of Strekov sits in the Južnoslovenská (South Slovakia) wine region. It's a village near the border of Hungary and most of the people are ethnically Hungarian. It has become the epicenter of natural winemaking in Slovakia. We visited in the winter of 2017 and came away impressed with the wines. The region has patches of volcanic soil and a moderating influence from the nearby Danube River. South facing slopes in the region allow enough sunlight to ripen red varieties, which can be a challenge in Slovakia.
One producer we did not visit was Organic Winery. It's s a small winery making minimal intervention wines. Organic Winery isn't heavily marketed and it seems like only the wine insiders in Slovakia know about the wines. Wine Not!? was kind enough to open a bottle for us.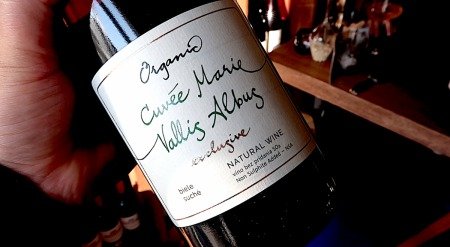 The Organic Cuvée Marie Vallis Albus 2015 is a blend of Pinot Blanc, Grüner Veltliner, Welschriesling, and Muškat Moravsky. It's an orange wine (amber wine) made without added sulfites.
The wine has notes of apricot, yellow flower, honey, and citrus peel. This has a chewy texture and low level of tannins for a macerated white wine. It's clean and not oxidized – which can turn many people off when it comes to orange wines. It's very good vino and is knocking on the door of greatness, if the finish was a tad longer it would move up to levels of rarified air. We can't wait to taste more wines from this producer's portfolio on our next trip to Slovakia. 
Score: 90/100
(You can find out more about our scoring system on the WINE RATING page.)
---
Wine Not!? invited us to their bar and provided us with one night of accommodation. The opinions expressed in this article are unsolicited and have not been paid for in any way by governmental bodies, enterprises, or individuals. We do not sell editorial content as that would destroy the legitimacy of our reviews and the trust between Exotic Wine Travel and its readers.