Barbaresco: People of the Vine
Reading Time: [est_time] "Dedicato a Papa" was written on every single barrel in the cellar. "I dedicate everything to my father," said Ornella Pelissero from Pasquale Pelissero winery. When I saw those inscriptions on the oak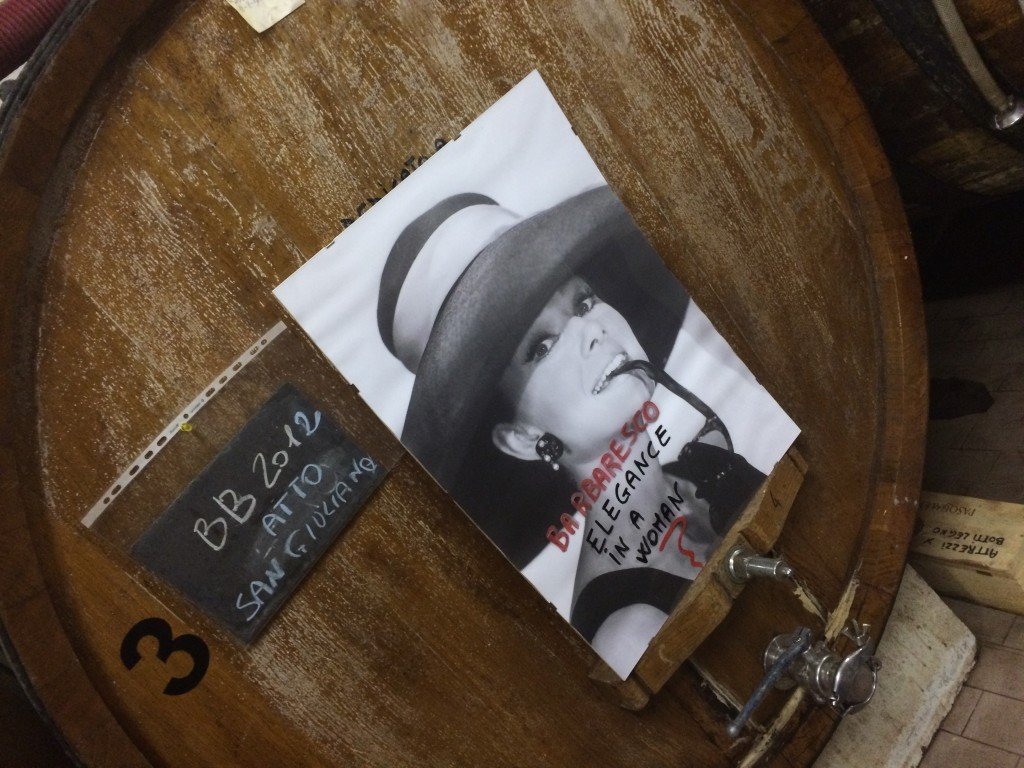 Reading Time: 6 minutes
"Dedicato a Papa" was written on every single barrel in the cellar. "I dedicate everything to my father," said Ornella Pelissero from Pasquale Pelissero winery. When I saw those inscriptions on the oak barrels, tears flowed from my eyes. The emotion in the room was palpable. It was moving for both Charine and me. Her father Pasquale passed in 2007 and she still carries on his spirit in her winemaking.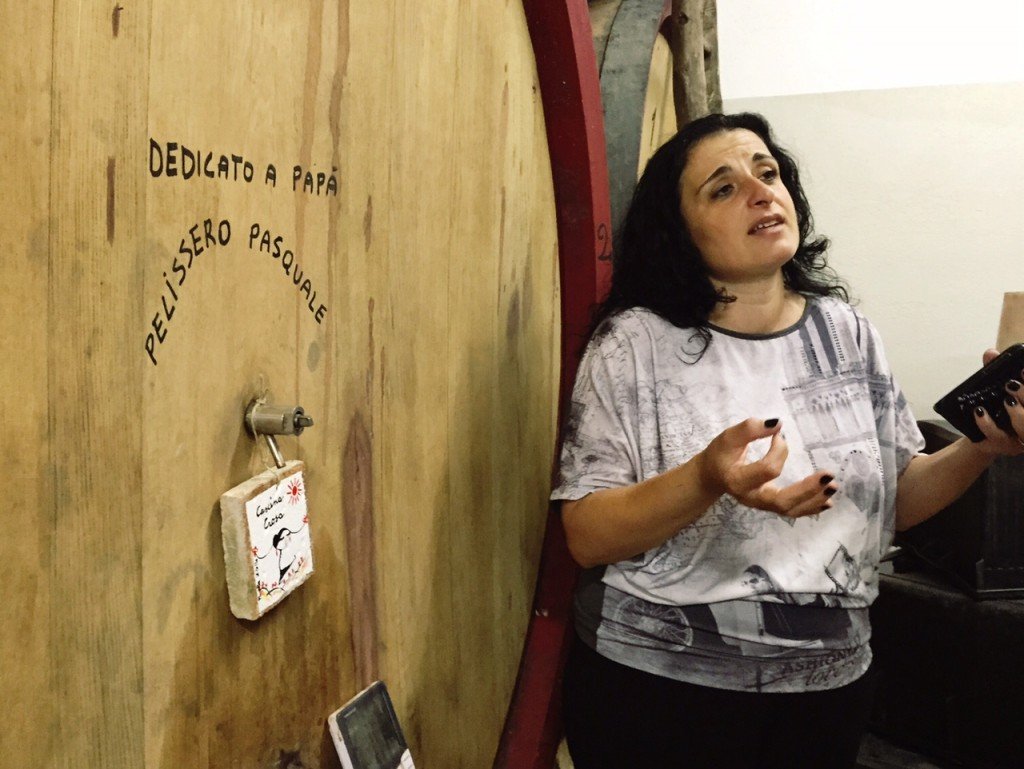 That is the kind of passion that flows out of all the small winemakers we met in Barbaresco—the region adjacent to Barolo in Piedmont, Italy. Barbaresco is less than 20 kilometers away from Barolo and both places use the same type of grape Nebbiolo. Due to the difference in soil and climate, Barolo and Barbaresco wines taste vastly different despite using the same grape. Also, Barbaresco is aged for a minimum of two years versus Barolo's three years. While Barolo is referred to as the Wine of Kings, Barbaresco is often considered the Wine of Queens because of its more approachable flavors.
This article is not about the technical aspects of a beautiful wine though, it is about the people who make the wine.
Ornella was born in the vineyards. Her mother fell while working in the fields and out she came. From that moment onward, Ornella always had her hands in the soil. Her winery was small and looked more like a workshop than the clean, polished wine houses in Barolo. That was the first thing that Charine and I noticed as we drove into the town of Barbaresco. Instead of rolling hills and medieval towns, the land of Barbaresco was made of towns that were more simple and the vineyards were peppered with patches of green forest. The land was more approachable and the pace was remarkably slower.
People in Barbaresco care about their wines deeply. As we strolled through Ornella's vineyards, it was obvious that winemaking is a labor of love. Wine, at its core, is about the land, sun, climate and a lot of hard work. Hard work is the one thing that most often gets overlooked as well as the person putting in that effort. The whole winery looked like it was designed for someone to bust their butt in. It looked like my father's farm with various tools scattered about. None of the equipment was for show, it all had purpose and evidence of use. The labeling machine looked like some of the packing equipment that I used to work with, begrudgingly, during hot summer days as a teenager. It was a place of labor, sweat, and toil.
The hard work paid off in her wines. We sampled her entire wine portfolio and everything was ace. A few years ago, Wine Spectator magazine rated one of her Barbaresco's a 92-point wine—a testament to her hard work and passion. "For some winemakers here, their hobbies are fishing, fast cars and bikes. Ornella's hobby is making wine," said Ornella's friend who was with us in the tasting room. A winemaker whose hobby is to make wine? "Brilliant," I thought, "I'll have another glass."
After the visit at Pasquale Pelissero, Charine and I drove back to our "agriturismo", the Italian word for farm stay. The guesthouse was within the Ada Nada winery, owned by Ana Lisa and her family. It was a beautiful property with a sitting area overlooking her vineyards. We sat there as another round of wine tasting commenced. Every wine produced by Ada Nada was named after someone in her family: daughters, grandmother, and father. Every bottle had a muse behind it. Our personal favorite was the Barbaresco "Cichin," named after Ana Lisa's mother.
After the tasting, she gave us a tour of her cellar where a picture of her father was hung prominently on the wall. "My father passed earlier than we expected, so my husband was forced into being a winemaker," Ana Lisa said. "Sometimes when he has problems, he comes here and yells at the photo."
The next morning while we were chomping away at the delicious breakfast spread, Ana Lisa shared snippets of her life story with us—from studying winemaking in California, to meeting her husband, and starting a guesthouse on the property. She elaborated on the importance of a strong family bond in wine regions, especially when a mother or father passes away and vineyards could be split up. It was the type of conversation which made you feel like you are let into a person's life, a kind of conversation that you wish could go on even after an awkward pause or two. In our case, it may have gone on, if not for the family that Ana Lisa had to attend to when she was sharing her stories. It turned out the family had been staying at her guesthouse frequently over the last 20 years, so we were not offended by the devoted patrons at all. Soon after, we checked out of the agriturismo and Ana Lisa gave us a bottle of wine as a gift. It was as if we were leaving a good friend, which may not be that far off. That's what wine regions do—they bring together passion, wine, and food. This is a concoction that can form powerful bonds between people.
Our last stop in the region was right next to Ana Lisa's property, a renowned producer called Nada Fiorenzo. We learned further that the owner is Ana Lisa's cousin which explained the proximity in location. Location was the only thing that the two wineries shared. The property of Nada Fiorenzo was much smaller with no visible guesthouse. The place looked like a bare farmhouse with a barn. Charine and I were astonished that a prestigious wine could come out of a humble place like that.
We walked into the tasting room which was small but welcoming and immaculate. The walls were covered with plaques, certificates, and articles. News articles, from publications such as Wine Spectator and Wine Advocate, on the 90-point wines that they had produced were too numerous to count. The shelves were methodically stocked with winemaking books, photos albums, and clipped articles. Directly to our right was a small, well-stocked wine fridge.
Bruno Nada, owner and son of the founder Fiorenzo Nada, walked in and shook our hand. He was in a t-shirt and jeans but he made them look clean cut. His beard was groomed perfectly and he looked like an uncle that you could simply trust. Bruno only spoke a few words of English but enough for us to understand what was going on. He reached for a portfolio from a shelf that housed the price list, with that the tasting began.
We went through the standard flight of wines that most of the producers here make. We had a Barbera D' Alba, a Dolcetto, and both of his types of Barbarescos—which were all wonderful—but something else caught our eye. On the price list, there was a bottle named Seifile. What was peculiar about this wine, besides the name, was that Seifile was the most expensive wine on the list. In the Barbaresco wine region, the entry level wines are usually Dolcetto and Barbera D' Alba, with the most expensive in all the wine maker's portfolios is, you guessed it, Barbaresco. When we asked what Seifile was, "artist's expression," is what Bruno answered.
After some apprehension, Bruno opened the bottle for us to taste. It was exactly what he said, it was a wine that danced in my mouth while still maintaining a high degree of elegance and complexity. Charine and I gestured in jubilation and Bruno beamed for the first time. He opened up completely, we rose from our chairs and he shuttled us into his wine cellar. The tour was fantastic. Although he spoke very little English, we understood everything. His equipment, rooms, and bottles were clean and organized just like his tasting room and his own appearance.
We left Nada Fiorenzo and the Barbaresco region with not only a deeper understanding of wine, but more importantly the people behind it. The passion between these people and the wines they make is contagious. I believe that is what makes enotourism so fascinating. The simple act of picking up a random bottle at your local shop and drinking it at home is enjoyable. It is even more pleasurable to drink a bottle with your friends over dinner at a restaurant. But I contend that drinking a bottle made by a person you connected with, in their workshop, on a plot of land foreign to you is an unparalleled experience.
"Wine is sunlight, held together by water," are the famous words of Galileo Galile. Those very words evoke positive emotion among everyone who enjoys wine. He left out a crucial element though: wine is sunlight, held together by water, and engineered by special people. Enjoy your next glass.
Dr Matthew Horkey
"We still make wine the same way as my father and my grandfather, except now we have the technology to make the process more efficient and hygienic," Matteo stated his precept succinctly. Matteo is the sixth-generation winemaker of the Ascheri family. While his wine production is almost five times larger than most family-run wineries in Langhe, his primary motivation remains the same as his peers—Ornello from Pelissero Pasquale, Ana Lisa from Ana Nada, and Bruno from Nada Fiorenzo—and that is to continue the family's legacy.
Winemaking is an 8,000-year-old tradition. To excel in a feel-it craft with a long history, it is paramount to navigate doctrines while balance between modern influence and artisanal value. There is no one set of right answers or methods. The rules are arbitrary, bending with the preference of the tastemaker. However, it is precisely this ambiguous spectrum of expressions that makes every wine, winemaking and winemakers enthralling. Each of them has their own way to manifest the future, based on today's culture and guided by a profound respect for the past.
To me, wine is the best time travel machine, for both the makers and drinkers. One of my all-time favorite stories is when Dominique Demarville, chef de caves of Veuve Clicquot, tasted a 170-year-old champagne made by the grande dame de la Champagne herself. Stories like this, about sensory experience of history or of a past relationship, are common in the wine world. After all for many winemakers, the business of winemaking is a personal endeavor to preserve the memory of a loved one. For drinkers, wine is one of the best anchors for an occasion. Wine with its multiple sensory stimulants—in a manner—can create a time-dilation effect. While we can't manipulate time technically, we can all learn to slow down our perception of time. Sip by sip, second by second, and in every sip, and in every moment, over and over again, we learn to stay present and outline the nuances of an occasion or a conversation. Besides, no good story starts or ends with a salad. It's easier to help a friend recall a moment when you say, "Remember the night when we had Chateau Musar 2004," instead of getting someone excited about the grilled aubergine from last year's Christmas dinner. To time-travel forward with a bottle of wine, try creating an ideal occasion for your latest acquisition—when to open it, who to invite, what food to pair it with, and which soundtrack to go along. After all, thinking about the future is a delight and you'll want to do it with a soulful companion called Wine.
Wind down, wine up – Charine
Related
Barolo: Good Wine, Good Food, Good People
Disclaimer: The ideas expressed in this article are personal opinions and are not associated with any sponsors or business promotions.