Pheasant's Tears Chitistvala 2015
Reading Time: [est_time] Welcome to As Drunk By Exotic Wine Travel, a new weekly column where we feature wines that are worth noting. The wines featured in this series may be written by either one or the both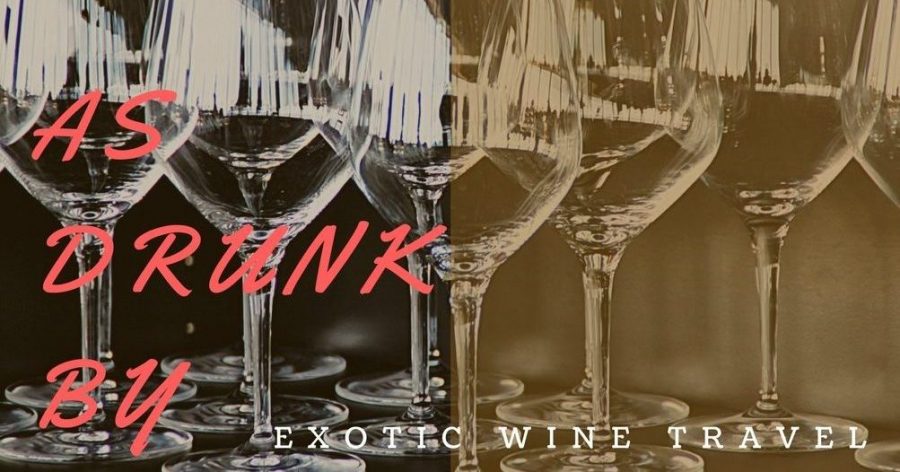 Reading Time: 2 minutes
Welcome to As Drunk By Exotic Wine Travel, a new weekly column where we feature wines that are worth noting. The wines featured in this series may be written by either one or the both of us. The featured wines can be from obscure or more well-known wine regions. Sit back, grab a glass, and discover new and exciting wines with us!
Pheasant's Tears Chitistvala 2015
Pheasant's Tears will always hold a special place in our hearts. They were the first qvevri wines that we tasted and really enjoyed. They were the only Georgian wines that we knew about when we first went to the country in 2015.
In late 2016, we returned to Georgia to launch our first wine book. During that time we spent a lot of time with John Wurdeman, Co-Founder of Pheasant's Tears. He is an American artist that moved to Georgia and fell in love with the culture. By sheer chance, he met a local winemaker and his life changed from that point. There's plenty about him on the internet, just Google his name.
This last year, we spent many long dinners with John. One big highlight was spending a day at the Pheasant's Tears winery with a group of journalists from Europe. The itinerary was put together by the team at Living Roots.
The winery is near the hilltop town of Sighnaghi. The town towers over the Kakheti valley and feels lifted out of a fairytale with its restored medieval architecture. John also has a restaurant in the center of Sighnaghi.
We took a tour of the vineyards and had a humble lunch on top of the winery. Several excellent salad and vegetable dishes were accompanied by several pastes consisting of walnuts, seeds, and unique Georgian spices. The juicy barbecued meat followed. It added up to be a perfect meal with good company under the warmth of the Kakhetian sun. A perfect late-Autumn day in the vineyards.
The lunch was paired with several Pheasant's Tears wines. We've tasted the entire portfolio previously but were impressed with how well the wines made of Shavkapito, Tavkveri, and Rkatsiteli showed on that day. All of the wines paired wonderfully with the fresh food.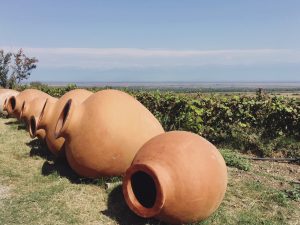 Later that evening, an intense wind storm rolled into Sighnaghi. So intense that pieces of roofs were flying all over and the power in the entire town went out. We ate dinner at the Pheasant's Tears restaurant under candle light. Even though there was no electricity, the show went on for John. He entertained both our group and a separate press group from Asia throughout the evening.
Some special bottles were opened that day and this Chitistvala really made me stop and think. It is made from the fruit of an old, tree-climbing vine that is allegedly 200 years old. Like all of John's wine, it is fermented and matured in buried terracotta vessels, also known as the traditional Georgian qvevri. This wine doesn't have a label and is made in small quantities. It is only available at the winery.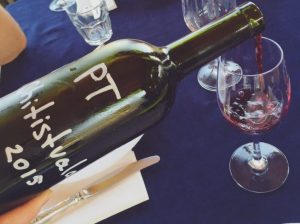 Rich and dense, this needs a lot of time to air. Beautiful aromas and depth of fruit emerge after the wine breathes. The nose has rose, sour plum, and green herbs. The palate is earthy at first but draws you in with wonderful raspberries and dark fruit mixed with balanced acidity and a little tension in the mouth. This is a fantastic effort that fans of both conventional and qvevri-style wines will approve. 
4.0/5   (You can find out more about our scoring system on the START HERE page.)
You May Also Enjoy:
The Unstoppable Progress in the Georgian Wine Scene 
Saperavi: Georgia's Flagship Red Wine Grape
An Introduction to Georgian Qvevri Wine in Zagreb
A Night of Natural Wines in Tbilisi, Georgia
---
Disclaimer: The ideas expressed in this article are personal opinions and are not associated with any sponsors or business promotions
Thanks to the team at Living Roots for putting together a wonderful schedule.