Pheasant's Tears: Chinuri Wine from Georgia
Reading Time: [est_time] For a listing of articles and videos on Georgian wines and wine travel in Georgia, check out our page Uncorking the Caucasus. To purchase the Kindle or paperback copy of Uncorking the Caucasus: Wines from Turkey,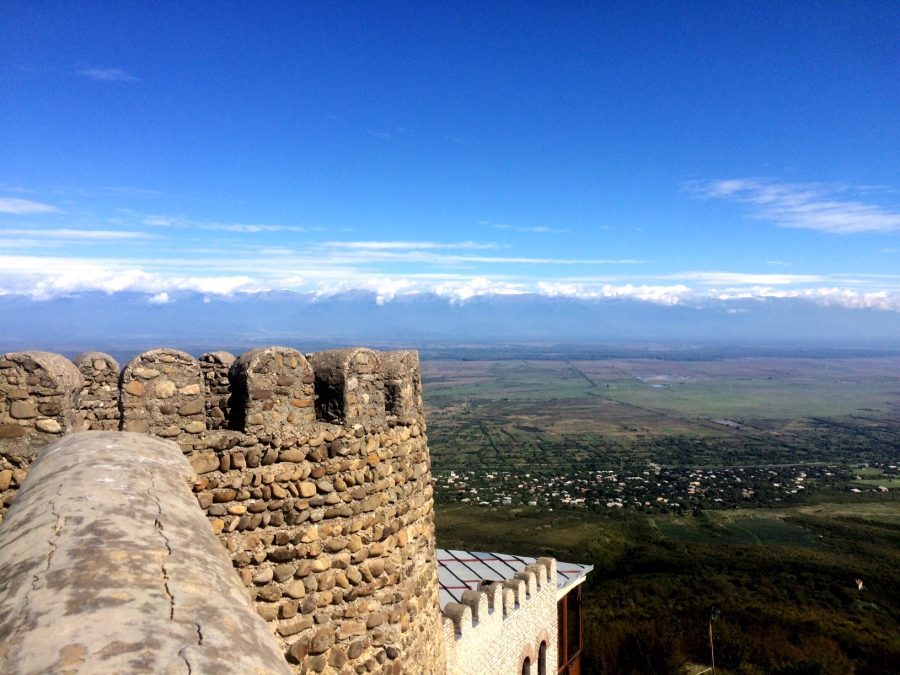 Reading Time: 2 minutes
For a listing of articles and videos on Georgian wines and wine travel in Georgia, check out our page Uncorking the Caucasus. To purchase the Kindle or paperback copy of Uncorking the Caucasus: Wines from Turkey, Armenia, and Georgia, please head to this Amazon product page.
In traditional Georgian winemaking, fermentation and aging happen in the qvevri (pronounce "kway-vree")–an egg-shaped, beeswax-lined clay vessel that is buried underground up to the neck. The qvevri is filled with grapes, their skins and pips, and sometimes the stems too. Fermentation in the open qvevri relies on wild yeast instead of inoculated yeast. Geothermal regulation keeps the fermentation and wine at a constant, cool temperature. As the wine ferments, the qvevri's conical shape promotes circulation and clarifies the wine naturally. After fermentation, the qvevri is sealed with a wooden lid and beeswax or clay. It is opened anywhere between a few months and a few years later for the wine to be bottled or consumed immediately.
Currently, there are over 200 commercial producers in Georgia, ranging from large wineries and export giants like Badagoni and Teliani Valley, to extremely small, artisanal producers. Depending on the source, commercial qvevri wine is said to be around 10 percent of the total Georgian wine production. Most commercial qvevri wines are "natural wines", made with little to no intervention and no modern contraptions; this means the wine is made with organic grapes and vinified without heavy machinery, selected yeast, blocked malolactic fermentation, additives, and fining agents.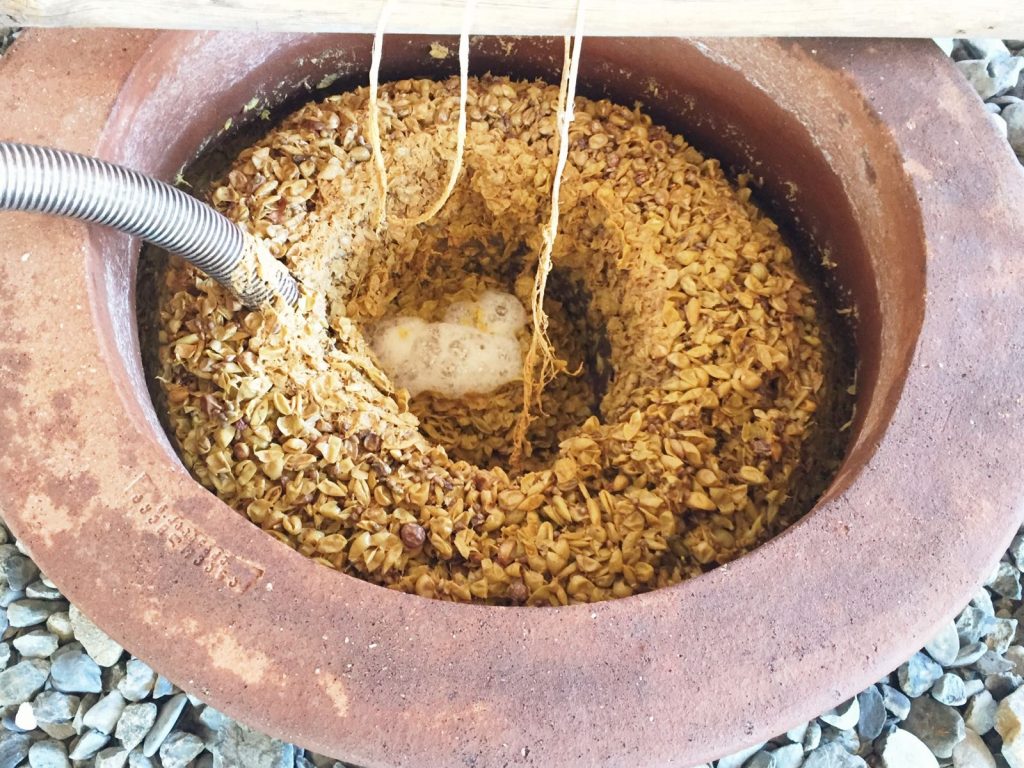 Grapes in a qvevri.
When we first arrived in Georgia, we had no idea what to expect from its wines and ancient winemaking method.  A qvevri wine producer that kept coming up in conversations and social media was Pheasant's Tears. The winery was started by American artist, John Wurdeman, who moved to Georgia in 1996.
Check out our video interview with John Wurdeman here.
When John started making wine alongside eighth-generation Georgian winemaker Gela Patalishvili, he had no idea what to name it. After sampling the wine, a local told John that it reminded him of a Georgian legend. The legend speaks of a wine so fine that it makes pheasants cry. With that, John found the name for his winery.
Pheasant's Tears is making boundary-pushing wines that constantly raise the bar for what is possible in Georgia. Their first harvest in 2009 included a few autochthonous grapes that had not been commercially bottled for hundreds of years. All of Pheasant's Tears wines are fermented and matured in the qvevri. The winery is near the medieval hilltop town of Sighnaghi, in the Kakheti wine region. We highly recommend trying everything in Pheasant's Tears portfolio to get an understanding of Georgian qvevri wines. All the wines can be tasted at the Pheasant's Tears restaurant in Sighnaghi and Vino Underground in Tbilisi—both places also carry a collection of minimal-intervention wines from all over the world.
Exotic Wine Travel's Choice:
Pheasant's Tears, Chinuri, Dry Unfiltered White Wine, 2014
The Pheasant's Tears Chinuri 2014 was the first wine in Georgia to completely knock our socks off. We first drank this wine at the Pheasant's Tears restaurant where we enjoyed a seemingly endless flow of excellent Georgian dishes and wines made of indigenous varieties such as Tsolikouri, Mtsvane, Rkatsiteli, Tavkveri, Saperavi, and—of course—Chinuri.
Even though it is labeled as "White Wine", this Pheasant's Tears Chinuri should be considered an amber wine/orange wine because it was macerated. It also has a golden hue. The flavor profile is made up of ripe tropical fruits (almost like Hawaiian Punch), peach, melon, yellow flowers, and a surprising touch of red fruit characteristics. In the mouth, it is delicate with a slightly frizzante sensation on the tongue that guides the flavors over the palate into a tangy, citrus finish. The acidity and smorgasbord of fruit flavors make it a refreshing and expressive wine. This is THE wine we would recommend to people who wish to try qvevri wine for the first time.
Find or buy Pheasant's Tears wines at Wine Searcher.
About Chinuri
Chinuri is a wine grape from the Kartli wine region in east Georgia, but it is also planted in Kakheti. The name "Chinuri" is derived from the Georgian word "Chinebuli", which means "excellent". It is not a widely planted variety, and you will have to do some serious searching to find a varietal wine made from it. Because of its relatively high acidity, Chinuri is also used to make sparkling wine.
You May Also Enjoy
---
Please note that the opinions expressed in this article are unsolicited and have not been paid for in any way by governmental bodies, enterprises, or individuals. We do not sell editorial content as that would destroy the legitimacy of our reviews and the trust between Exotic Wine Travel and its readers. On occasion, we extend the option of purchasing the wines we review or/and the products we spotlight. Some of these product links are set up through affiliate programs, which means Exotic Wine Travel gets referral credits if you choose to purchase these items via the links we provide.