Pinino Brunello di Montalcino: A Vertical Tasting
Reading Time: [est_time] Vertical tasting is a powerful tool. It is a way to peer into the winery's past, present, and future. With travel restricted around the world at the beginning of this year, opportunities to do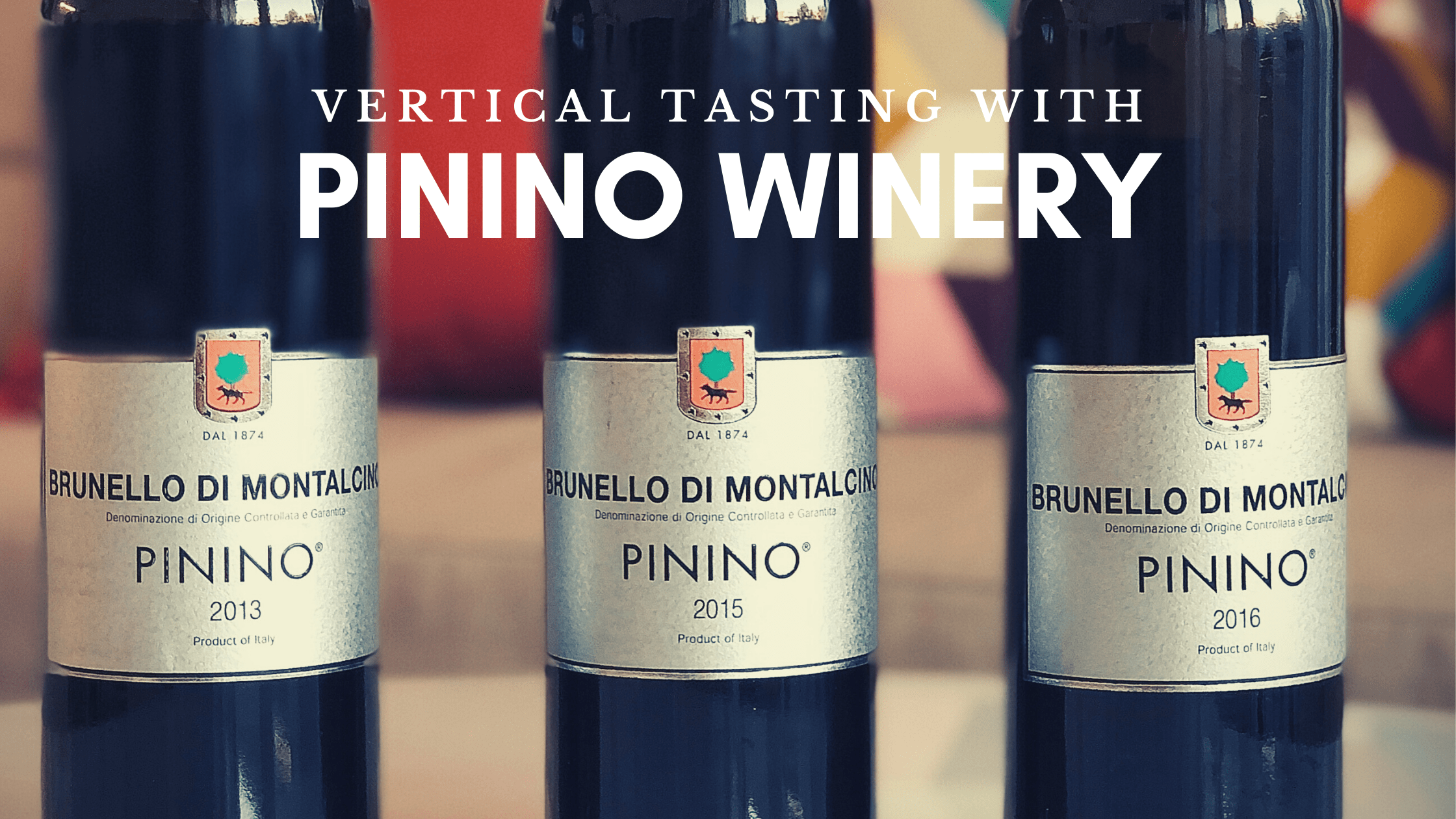 Reading Time: 3 minutes
Vertical tasting is a powerful tool. It is a way to peer into the winery's past, present, and future.
With travel restricted around the world at the beginning of this year, opportunities to do large vertical tastings don't come up often. That's why I was thrilled when Pinino reached out to me to taste their wines.
I met Elena Gamon on Clubhouse. Elena's family (of Austrian descent) purchased Pinino with Spaniard Max Hernandez in 2003. Located in Montalcino, Pinino farms 16 hectares, mostly dedicated to Sangiovese. The produce Rosso di Montalcino along with three different Brunello di Montalcinos.
Pinino Wines
Brunello di Montalcino is born from high elevation vineyards (sometimes up to 600 meters (almost 2000 feet) and must be aged for at least four years before release (five years for the Brunello di Montalcino Riserva). It's often recommended to cellar the wines for at least ten years before enjoying them. I've found myself enjoying young Brunello lately, especially since the recent releases come from a string of excellent vintages.
"The 2016 and 2015 vintage for Brunello is outstanding, while we are equally excited about 2019," Elena said.
From tasting the wines, I share her enthusiasm for the three vintages. The 2015 & 2016s from Pinino are brilliant (as well as the 2019 Rosso di Montalcino). They share the same characteristics of other Brunellos I've had from these vintages, a brilliant dance between fruit, tannin, and acidity. I suspect that the 2016 might be more long-lived but only time will tell.
I was impressed with every wine in the Pinino portfolio. The best thing about these wines is the value for money. Wine-Searcher shows an average price of 42 USD for the Pinino Brunello di Montalcino and 19 USD for the Rosso di Montalcino. Both are exceedingly fair prices for this prestigious Tuscan appellation. And wile the reserve wines from Pinino are delicious, I highly recommend the standard Brunello di Montalcino and Rosso di Montalcino if you're looking to get the maximum bang for your buck.
*For those that prefer video, you can check out my thoughts of the Pinino, Bruello di Montalcino 2013, 2015, and 2016 below.
Wine Recommendations:
Pinino, Rosso di Montalcino 2019
All three of these Rosso di Montalcino's from Pinino are made from 100% Sangiovese aged for 10 months in wood. It has a gorgeous, bright nose of sour cherry, rose petal, and a touch of licorice and cedar. This is very complex for a wine of this price point. Medium-bodied, this is fruity on the palate. There's nothing that gets in the way here. There is a slight licorice finish with subtle tannins. This is a wonderful effort at this price point. Score: 90+/100
Pinino, Rosso di Montalcino 2018
It smells oakier than the other vintages I'm tasting in this set. Notes of wood, cherry, and earth notes with just a touch of mushroom. The wood bothered me a little on the nose but the palate gives way to a wine that is complex with a lot to offer. The red fruit and sweet cedar flavors come together on a full-bodied red with round tannins. Score: 90/100
Pinino, Rosso di Montalcino 2017
This is already showing some age and there are notes of dried cherry, tobacco, cedar, leather, and earth. The fruit has fallen off some here, it's still a wonderful wine but for those who want more savory characteristics. It is a fuller-bodied Rosso di Montalcino with chewy tannins. Drink this up now, don't leave it in the cellar any longer. Score: 89/100
Pinino, Brunello di Montalcino 2016 
The three standard Brunello di Montalcino wines from Pinino are 100% Sangiovese aged for 30 months in wood. This is still a baby with a lot of life left ahead of it. Notes of sour cherry, licorice, tobacco, and a touch of pepper. The is an elegant wine with class. It's medium-bodied and blends the right amount of earth, fruit, and peppery notes. The tannins are plentiful but they are ripe and welcome. This should turn out to be a killer wine yet it's so darn delicious now. Score: 94/100
Pinino, Brunello di Montalcino 2015
The fruit is a nice blend between fresh sour cherry and dried cherry fruits. There are also notes of sweet cedar, chewing tobacco, and earth. In just a few years, the wine has put on nice weight. It's round and creamy in the mouth. The tannins come in pretty strong and grip the palate. This has a long life ahead of it. If you're drinking it now, make sure to pair it with a big piece of meat. Score: 93+/100
Pinino, Brunello di Montalcino 2013
The savory and leather notes come out first here along with notes of dried cherry, dried red plum, violets, and cigar box. The time in the bottle has added weight to this wine. It's rich and creamy on the palate. The tannins still come on strong, suggesting this could develop and improve even more. Right now, I love where this is at, just have some meat handy. Score: 94/100
Pinino, 'Pinone' Brunello di Montalcino Riserva 2012
This 'Pinone' Brunello di Montalcio Riserva is 100% Sangiovese aged for 36 months in wood. Notes of dried cherry, dried raspberry, mushroom, bay leaf, and tobacco. Full-bodied and rich, this is layered and full of complexity. There are dried fruit notes with sandy tannins. Despite the development, there is a pretty floral undertone here. This is exactly what I expect from outstanding Brunello di Montalcino. Score: 95/100
Pinino, 'Vigna Pinino' Brunello di Montalcino 2015
This is the first vintage of this wine, only 1000 bottles made. The Pinino, 'Vigna Pinino' Brunello di Montalcino is a traditional Tuscan red through and through. Honestly, I was turned off by this at first but with air, it started to sing. Notes of dark chocolate, leather, dried cherry, dried plum, pepper. Medium-bodied and layered. There is a lot of complexity with ripe tannins and a long finish. Score: 93+/100
---
The wines above were sent as samples. The opinions expressed in this article are unsolicited and have not been paid for in any way by governmental bodies, enterprises, or individuals. We do not sell editorial content as that would destroy the legitimacy of our reviews and the trust between Exotic Wine Travel and its readers. On occasion, we extend the option of purchasing the wines we review or/and the products we spotlight. Some of these product links are set up through affiliate programs, which means Exotic Wine Travel gets referral credits if you choose to purchase these items via the links we provide.