Reading Time: 4 minutes
We were recently invited by the AEVP to taste the declared 2016 vintage of Port and participate in the annual Port Wine Days in the Douro. Most people associate the city of Porto, Portugal with the rich, hedonistic sweet wine known as Port. There is more to Portuguese wine than Port. Many exciting dry wines coming out of the region – both white and red.
Dry red Portuguese wine made in the Douro consist of grapes like Touriga Franca, Tinta Roriz, Touriga Nacional, Tinta Barroca, Tinta Roriz (Tempranillo), and many other grapes. These are inky, rich, and complex reds. The dry white Portuguese wine made in the Douro uses grapes like  Donzelinho Branco, Gouveio, Malvasia Fina, Rabigato, Viosinho, and others. The Douro whites are rich and have beautiful salinity to them.
Charine loves Port and the entire trip was thrilling for her. Tasting through the 2016 vintage of Port was exciting and I'll leave the recap of Port wines to Charine in an upcoming article. The week consisted of visits to several shipper caves in Gaia (across the river from Porto) and producers in the Douro. During our visits and meals, producers had the chance to show us several of their dry wines in addition to their Port wines. Here are our favorite Portuguese wines from the Douro on this trip.
Exotic Wine Travel's Picks:
You can find out more about our scoring system on the Wine Rating page.
White
Niepoort, Redoma Douro Reserva Branco 2017 
Find or buy on Wine-Searcher.
The Niepoort Redoma Douro Reserva Branco is a barrel fermented blend of Rabigato, Códega, Viosinho, Arinto, and other various grapes. This wine has perfect wood integration, there are no overpowering oaky notes. It's a beautiful Douro white with mineral, white peach, pineapple, and white flower notes. The wine is medium bodied, it isn't too acidic but is still juicy.  4.2/5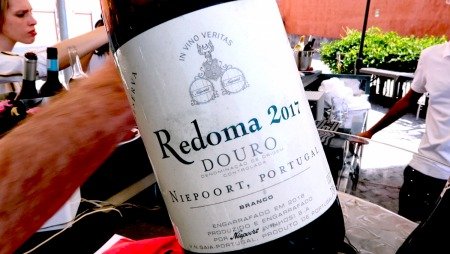 Ramos Pinto, Duas Quinta Reserva Douro (Branco) 2017
Find or buy on Wine-Searcher.
The Ramos Pinto, Duas Quinta Reserva Douro (Branco) 2017 is a blend from two quintas (estates). Grapes are a variable mix of traditional Douro white varieties. It has notes of white peach, flint, yogurt, and white flower. Part of the cuvée is fermented and aged in the barrel, which makes the wine feel fresh. The finish is crispy and saline.   4.1/5
Find or buy on Wine-Searcher.
We purchased this at Wine Quay Bar in Porto. It's the top white from Wine & Soul. The Guru is a field blend of Vosinho, Rabigato, Codega do Larinho, and Gouveio. The vineyard is over 50 years old. The wine is barrel fermented and aged for seven months.
This is still young and can live further in the bottle. It's very saline for a Douro white. Stone fruit, citrus, petrol, and a touch of yogurt are the main flavors. It's full-bodied but not overly creamy, with a lower level of acidity. If this finish was longer, this could be pushed to ethereal levels.   4.2/5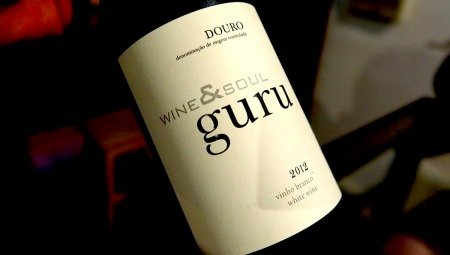 Red
Passadouro, Douro Touriga Franca 2015
Find or buy on Wine-Searcher.
The Passadouro Douro Touriga Franca is another wine we purchased at Wine Quay Bar. It's not the greatest wine in the world but it is one that fun to drink. Full of blue fruit, spiced plum, earth, and violet flavors. The wine is ripe and silky on the palate. There is a meaty, Syrah-like character on the finish. Most producers focus on making a varietal Touriga Nacional so it's a lot of fun to try a varietal Touriga Franca.  3.8/5
For a step up in seriousness, we recommend the Passadouro Douro Reserva.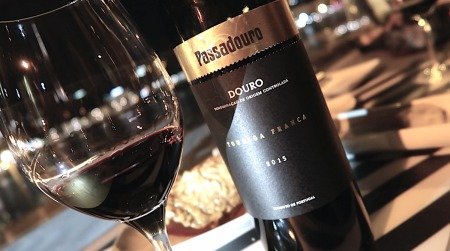 Quinta do Crasto, Douro Reserva Vinhas Velhas 2015
Find or buy on Wine-Searcher.
The Quinta do Crasto Douro Reserva Vinhas Velhas (Old Vines) is a wine with good distribution all around the world – this is for good reason. This is one helluva Douro red made from vines over 70 years of age and matured in oak for 18 months.
It's full of red fruits, cedar, graphite, and dark chocolate flavors. The wine is full-bodied, structured, and fruity without being jammy. Firm tannins suggest this has a long life ahead in the bottle.  4.3/5
Quinta Vale D. Maria, Douro 2015
Find or buy on Wine-Searcher.
The Quinta Vale D. Maria is a wine that I've wanted to try for a long time. Thankfully it did not disappoint and was my favorite dry wine during our entire trip in the Douro. It's a blend of the traditional red grapes (Touriga Franca, Touriga Nacional, Tinta Roriz, etc) aged in oak. Notes include sweet cherry, cedar, red fruit, and a touch of earth. The wine is full-bodied with bouncy acidity, supple tannins, and a long finish.   4.4/5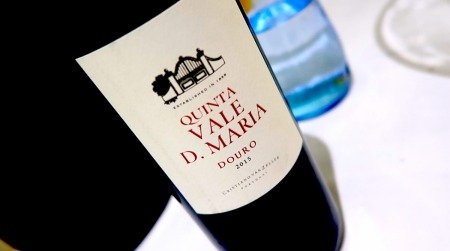 Ramos Pinto, Duas Quinta Reserva Douro (Tinto) 2015
Find or buy on Wine-Searcher.
The Ramos Pinto Duas Quinta Reserva is made with fruit from two estates and is aged in oak for one year. It's a big and tart red that still shows balance. Red fruit, cedar, and leather flavors dominate the nose and palate. The juicy acidity is accompanied by firm tannins. While this has the gumption to age, it's plenty fun to drink now.  4.2/5
We drank this next to the 1997 vintage, which is still alive and kicking. I'd be very interested to taste the 2015 at twenty years of age.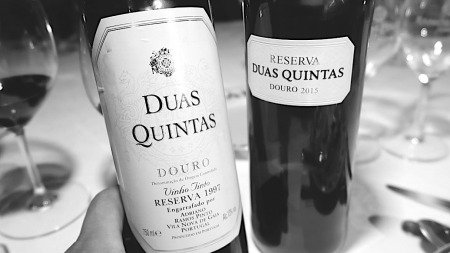 Casa Ferreirinha, Quinta da Leda Douro 2015
Find or buy on Wine-Searcher.
Casa Ferrierinha is known for producing the Barca Velha, one of the most expensive dry wines in Portugal. Casa Ferrierinha also produces a wide range of dry wines including the Quinta da Leda. This is a great alternative to the pricey Barca Velha which can reach 500 Euros a bottle.
It's made of Touriga Nacional, Touriga Franca, and Tinta Roriz aged in oak for 18 months. This is a powerful and refined Douro red. Notes of red fruit, chocolate, tobacco, and cedar coat the palate. It's full-bodied with round tannins. The wine is built to age but is very drinkable now.   4.3/5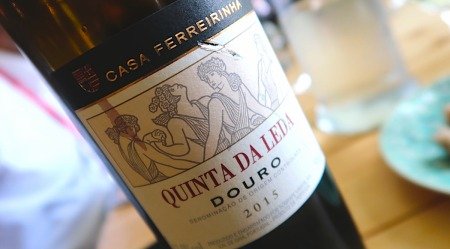 Lacrau, Douro Old Vines 2015
---
The AEVP paid for our flights, accommodation, and meals. However, the opinions expressed in this article are unsolicited and have not been paid for in any way. We do not sell editorial content as that would destroy the legitimacy of our reviews and the trust between Exotic Wine Travel and its readers. On occasion, we extend the option of purchasing the wines we review or/and the products we spotlight. Some of these product links are set up through affiliate programs, which means Exotic Wine Travel gets referral credits if you choose to purchase these items via the links we provide.