Quinta de Santiago Alvarinho Lineup
Reading Time: [est_time] Hello! Welcome to As Drunk by Exotic Wine Travel, a weekly column where we feature interesting wines that we encourage you to seek out. The reviews featured in this series may be written by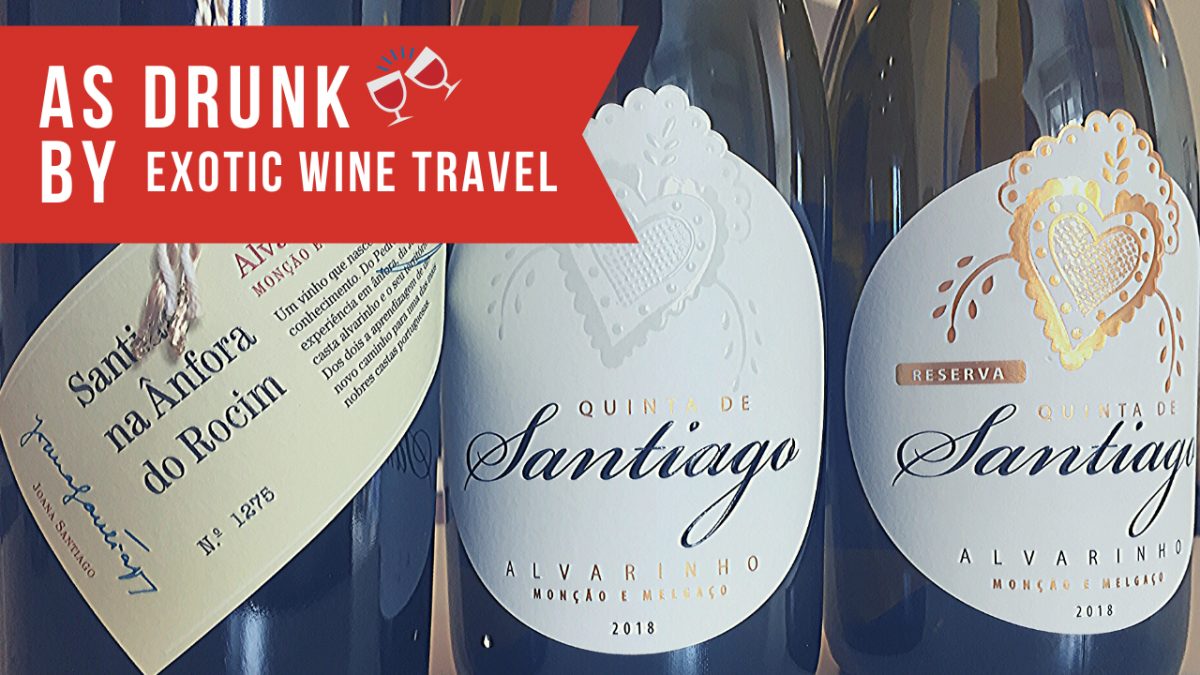 Reading Time: 2 minutes
Hello! Welcome to As Drunk by Exotic Wine Travel, a weekly column where we feature interesting wines that we encourage you to seek out. The reviews featured in this series may be written by either one or the both of us. The featured wines can be from obscure or well-known wine regions. We hope that these wine recommendations will keep you gastronomically curious and your palate invigorated.
Quinta de Santiago, Alvarinho
The wines of Vinho Verde are some of Portugal's most recognizable. In the past, the wines were thin, acidic, and a little frizzy. They were meant to be served in cafes, served to those who cared little what was in the glass. Those days of cheap, insipid Vinho Verde are in the past.
This region in the northern reaches of Portugal is home to young producers who want to push the quality bar higher. This includes Joana Santiago, a former lawyer who returned to her family estate to produce great white wine. It was a choice that happened naturally, "At the beginning, I thought I could do both, law and wine. But I became so involved with Quinta de Santiago that I never wanted to spend one minute in law," Joana says.
Joana's story speaks to me, having been a Chiropractor in my previous life before jumping into wine. Once the wine bug bites you, it doesn't let go. Joana looks like she's made the right choice as her wines are full of energy and charm. Here's a look at the current releases from Quinta de Santiago.
Wine Recommendations:
You can find out more about our scoring system on the WINE RATING page.
The Quinta de Santiago, Alvarinho has a bright and expressive nose with lemon, white peach, seawater, and mineral notes. There's a lively green acidity that runs through this wine. It's light, crunchy, and breezy. It is a perfect companion to shellfish and baked chicken.
Bottles like this are what make Portugal such an exciting wine country. It's an affordable wine from a unique grape that over-delivers. This is something to pick up by the case for upcoming summer barbeques Score: 90/100
Part of the Quinta de Santiago, Alvarinho Reserva was aged in wood for six months. The wood comes out here and adds nice support to the lemon, white peach, dandelion, and mineral notes. It's fuller in body than the standard bottling with more concentration. I bet this ages well as all the components come together. It's delicious now but could be a whopper with time in the bottle. Score: 91/100
Joana makes the Santiago na Ânfora do Rocim with help from Pedro Ribeiro from Herdade do Rocim in Alentejo. It's 100% Alvarinho. There are notes of lime, green apple, yogurt, and a green mint streak. This is a crisp white but the weight gives a lot more. Full-bodied and bone dry. Even though it was made in amphora, it has a slight steely character and a long, botanical finish. I like the 2018 a little more, but with time in the bottle, this could improve immensely. Score: 91+/100
If you reside in Portugal, you can purchase Quinta de Santiago wines and get them shipped to your door at Adegga Marketplace.
You might also enjoy:
Alentejo: Plush Red Portuguese Wine and More.
Do you like our content?
If you like our articles and videos, we'd love for you to be a part of our community on Patreon. The support from Patreon helps keep the content coming and you access to behind the scenes content. It also gives us the chance to get to know you better. Check out the Exotic Wine Travel Patreon page by clicking the photo below.

---
Quinta de Santiago provided tasting samples. Please note that the opinions expressed are our own and have not been paid for in any way. We do not sell editorial content as that would destroy the legitimacy of our reviews and the trust between Exotic Wine Travel and its readers. On occasion, we extend the option of purchasing the wines we review or/and the products we spotlight. Some of these product links are set up through affiliate programs, which means Exotic Wine Travel gets referral credits if you choose to purchase these items via the links we provide.