Tasting at Rebenhof Hartmut Aubell and Herrenhof Lamprecht
Reading Time: [est_time] Special thanks to Tom Leitner who set up the appointment with these wineries and also acted as our guide. Rebenhof Hartmut Aubell Rebenhof Hartmut Aubell is located in Südsteiermark, perhaps the most celebrated area among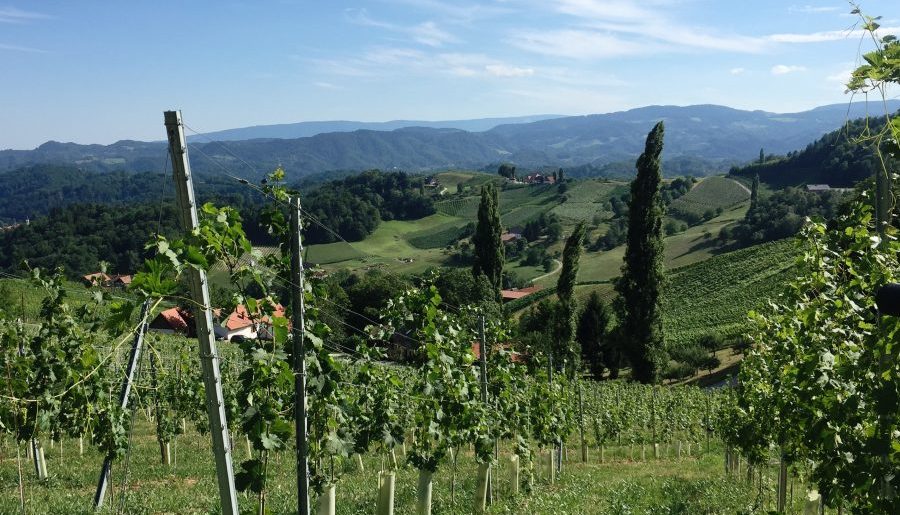 Reading Time: 4 minutes
Special thanks to Tom Leitner who set up the appointment with these wineries and also acted as our guide.
Rebenhof Hartmut Aubell
Rebenhof Hartmut Aubell is located in Südsteiermark, perhaps the most celebrated area among the southern Austrian wine regions. The green rolling hills of this area are steep and make for a scenic drive. The Austrian border with Slovenia is here. In fact, one of the roads is built on the border. A few producers in Südsteiermark have vineyards in both Austria and Slovenia.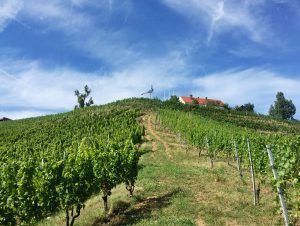 The proprietor and winemaker is Hartmut Aubel. He farms his 9.5-hectare plot biodynamically. Hartmut only uses native yeasts in his annual production of 20,000 to 25,000 bottles. All wines are bottled without filtration. The white wines get at least 48 hours of skin contact, with the exception of his amber wines, which see even more maceration time. Hartmut puts an emphasis on picking earlier to get higher acidity and it really shows in the wines.
We visited Weingut Rebenhof Hartmut Aubell on Hartmut's birthday. He had a small celebration on his gorgeous tasting deck. It overlooks the border with Slovenia, which is only several hundred meters to the south of the winery. Several of his friends were there for the celebration including the family of Nikolaihof winery. Hartmut is best friends with Nikolaus Saahs who is the winemaker at Nikolaihof.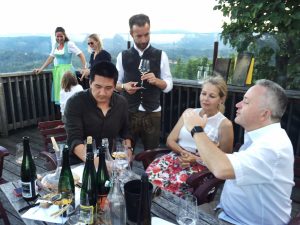 It was a fast and furious day. After a tour of the vineyards, it was time to celebrate Hartmut's birthday. Over the course of eight hours, Hartmut brought out 16 of his wines and six from Nikolaihoff. Everybody else was drinking and celebrating so it was difficult to keep up with writing tasting notes. At one point, Hartmut took the spit bucket off the table. When I tried to replace it, he took it off the table again much to my dismay.
In the end, it worked out great. Hartmut brought out his entire portfolio including a few archive wines. Hartmut is a hardcore, natural winemaker and one observation is that there is no definitive house style. Rebenhof has dry and off-dry wines. They also have wines that are fresh and crisp while others are oxidative in style. Hartmut makes several barrel fermented wines and he also makes a few macerated whites.
A visit to the winery is a must for wine geeks. There's something for every type of wine lover. Whether you want something fresh, fun, quirky, or super serious, Rebenhof Hartmut Aubell will have you covered.
Exotic Wine Travel's Picks
(You can find out more about our scoring system on the START HERE page.)
Rebenhof Hartmut Aubell Inox 500 2012
Hartmut likes to experiment and he makes several macerated white wines in different-size barrels. The Rebenhof Hartmut Aubell Inox 500 is a blend of Sauvignon Blanc, Morillon (Chardonnay), and Riesling macerated for 6 months and aged in 500-liter barrels. This is bigger bodied and stronger than the Inox 300. It also has more wood influence. Full of tangerine, sweet cedar, apricot, and autumn leaf flavors. The wine has dense fruit, high concentration, and a sweet tobacco finish.   4.3/5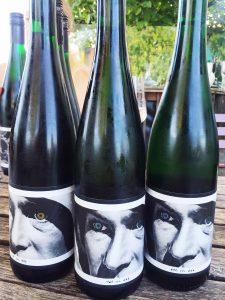 Rebenhof Hartmut Aubell Silt Sauvignon Blanc 2013
This is a barrel-fermented Sauvignon Blanc. The Rebenhof Hartmut Aubell Silt Sauvignon Blanc is loaded with minerals, chalk, herbs, white fruit, and citrus flavors. It's medium-bodied on the palate. Nice weight without being too cumbersome. Squeaky clean and well made, this effort will make French wine geeks happy.  4.1/5
Rebenhof  Hartmut Aubell Quercus 328 2012
This is a secret blend of white grapes matured in 328-liter cigar barrels. The famous winery Didier Dagueneau in the Loire Valley uses these same cigar barrels for its Silex line of wines. There is a small amount of residual sugar here and it works well. Full of fall leaves, pear, peach, and some tertiary notes. The Rebenhof  Hartmut Aubell Quercus 328 is medium bodied for a barrel fermented and aged white wine. It has mouth-cleansing acidity and a small level of tannins.   4.2/5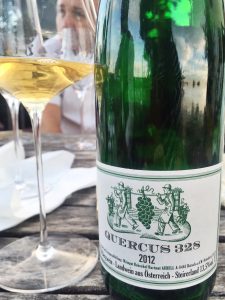 Herrenhof Lamprecht
The Herrenhof Lamprecht winery is just a 30-minute drive east of Graz. Fruit orchards, pumpkin patches, and cornfields dot the rolling hills of the area. It doesn't look like a wine-growing region at all. However, that didn't stop the proprietor/winemaker Gottfried Lamprecht.
In the past, the area was planted with vineyards for a monastery located 100 kilometers to the north. Gottfried's grandfather bought the property and for many years the land was used for fruit orchards. Gottfried wanted to replant the land with vineyards and restore wine growing glory to the property.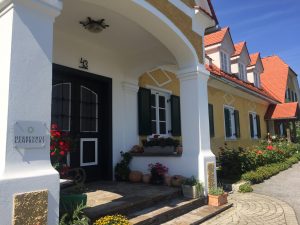 His first vintage was 2008 and in a short amount of time, he has built up an impressive portfolio of wines. Gottfried's vineyards are certified organic and he uses native yeasts for fermentation. He tries to bottle wines without filtration whenever possible and uses the low amount of sulfites.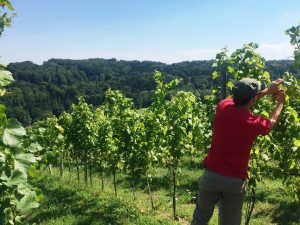 The hard work pays off. Herrenhof Lamprecht wines consistently receive high scores from the Austrian wine magazine Falstaff. He also was the beneficiary of a few 90-point scores from Robert Parker in previous vintages.
All of the wines in the Herrenhof Lamprecht lineup are excellent. In fact, this was one of my favorite winery visits in 2017 so far. These wines all have bright, ripe fruit with some bite and balanced acidity. Gottfried plans to expand white wine production in the future, which he believes the area is best suited for. However, the reds here are nothing to scoff at. Both the Blaufränkisch and Pinot Noir wines display elegance and subtle power.
This is a highly recommended producer.
Exotic Wine Travel's Picks
(You can find out more about our scoring system on the START HERE page.)
Herrenhof Lamprecht Sand & Kalk 2016
Find or buy on Wine-Searcher.
The Herrenhof Lamprecht Sand & Kalk is 85% Pinot Blanc and the rest of the blend is Morillon (Chardonnay), Sauvignon Blanc, and Pinot Gris. Chalk, lime, peach, and smoke flavors are present in the glass. The wine has tart fruit flavors and juicy acidity with a long, mineral finish. Out of the winery's portfolio, this is the wine made in the largest quantity. It's a beautiful effort for an entry-level white wine.   4.2/5
Herrenhof Lamprecht Sand & Kalk "r" 2015
A reserve wine made with 100% Pinot Blanc from old vines. The Herrenhof Lamprecht Sand & Kalk "r" is aged for 18 months in oak. Gottfried said that this vintage is the best Pinot Blanc he has ever made. The wine has explosive pineapple, yogurt, lime, and mineral flavors. There is a rich texture on the palate with a sandy feel from the barrel. The finish is long and mineral driven. This is serious juice that will taste beautiful with further bottle aging.   4.4/5
Herrenhof Lamprecht Butchertberg Weiss 2015
Find or buy on Wine-Searcher.
The Herrenhof Lamprecht Butchertberg Weiss is a field blend of 65 grapes. Yogurt, dandelion, fresh cut grass, kiwi, starfruit are the main flavors. A big mid-palate punch with a wild finish. It is a wine with some bite. The wine has a lingering and tart end palate that has a touch of dandelion. Unique, bright, clean, and wild all at the same time.   4.3/5
Herrenhof Lamprecht also makes a macerated white wine with this field blend that is worth seeking out.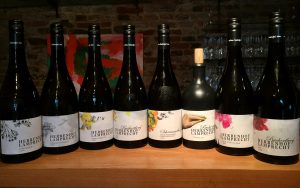 Herrenhof Lamprecht Buchertberg Rot 2015
This is a field blend of mostly Blaufränkisch. Other grapes in the Herrenhof Lamprecht Buchertberg Rot include Pinot Noir, St. Laurent, Blauer Wildbacher, and Kadarka. The wine is aged for 18 months in oak. Flavors include red fruit pie, white pepper, violets and V8 juice. Juicy while being vegetal, nice balance of fruit and earth. This has the elegance and subtle power of a good Pinot Noir.  4.2/5
You  May Also Enjoy
Austrian Wine from Rebenhof Hartmut Aubell and Herrenhof Lamprecht
---
The opinions expressed in this article are unsolicited and have not been paid for in any way by governmental bodies, enterprises, or individuals. We do not sell editorial content as that would destroy the legitimacy of our reviews and the trust between Exotic Wine Travel and its readers.