Recommendation: Essential Wine Books
 Reading Time: [est_time] Disclosure: These links are built via the Amazon Associates program. These are books that we have bought with our own money. If you are planning to purchase one of these,  please use the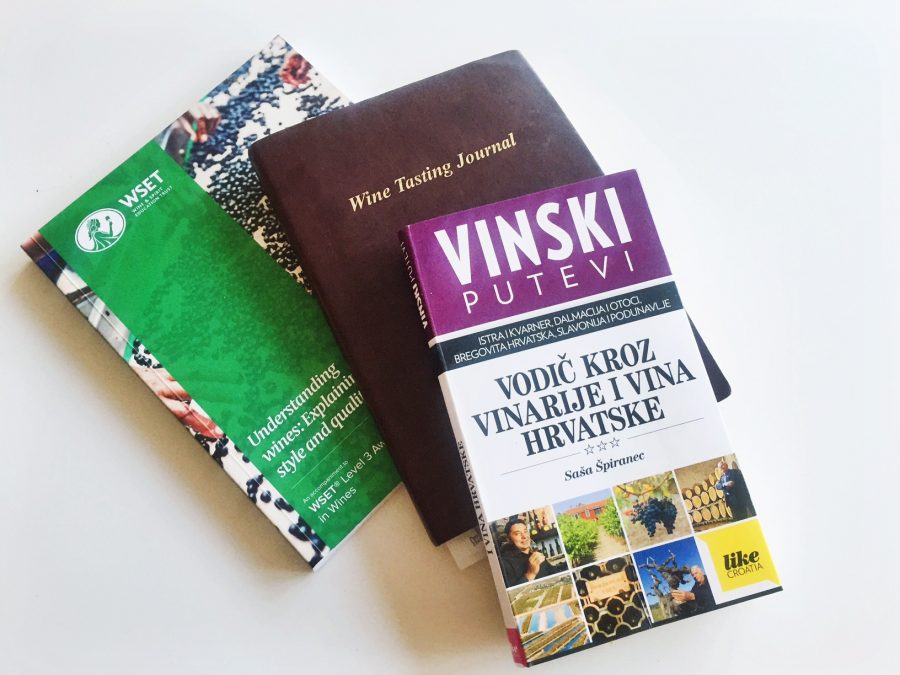 Reading Time: 5 minutes
Disclosure: These links are built via the Amazon Associates program. These are books that we have bought with our own money. If you are planning to purchase one of these,  please use the links below so we can get credit for referring you. 
---
We've been traveling around the world full-time for nearly two years. Everything we own fits into two backpacks and one rolling suitcase. Being in the wine countries all the time means we accumulate a lot of literature… and wine of course! All of these things are heavy and unfortunately, we can't keep nearly as much as we would like to. Those of you who have done long-term travel would know the importance of minimalism. As we whittle life down to the baseline of what we want in order to be optimally happy, there are two wine books that we've decided to keep over and over again. One of them is in e-book format; the other is weighty–in every sense of the word. These two books have been invaluable resources as we dive deeper into the world of wine every day; and in this article, we'll share with you more about what we consider to be essential reading for wine lovers.
We've cherry-picked three wine books–the two books that we've been holding on to for the past two years, plus one bonus–that we strongly believe will help to catapult your wine philosophy, knowledge or experience to a new level.
EXOTIC WINE TRAVEL'S ESSENTIAL WINE BOOKS
**********
The Wine Bible, 2nd Edition – Karen MacNeil
Do you love wine? Do you have a sense of wanderlust? Then this wine book is definitely for you. It took Karen MacNeil over 10 years to finish writing it. When Matt first got this book, he read it from cover to cover in less than a month.
The Wine Bible opens with several chapters about the basis of wine, winemaking, the major wine grape varieties, and wine evaluation and wine-pairing know-hows. Afterward, the book is laid out methodically: first by country, then by wine region within each country. What we love most about this book is how we can promptly extract a preparatory lesson on a wine region that we are visiting. The book does an effective job at introducing a brief history, tradition, and styles of wine within a region – even highlighting food and fun facts where relevant. There are also random, cool notes highlighted in call-out boxes. Who knew that there is an article within the laws of Chateauneuf-du-Pape that states "any aeronautical machine – 'flying saucer' or 'flying cigar' – that lands on the territory of the commune will be immediately taken off to the jail"?
At the end of the chapter on each region, Karen gives a handful of signature wines to look out for. These wines are listed with details of the producer, appellation, and label, sans the vintage. But not to worry, because these recommended wines are known to have stellar reviews year after year. The recommendations also come with a photo of the exact wine label. We've been diligently checking off Karen's recommendations every time we visit a wine region that is mentioned in the book. And based on our experience, Karen's recommendations are remarkable at directing the readers to wines that show the true character of the region, as opposed to just the most expensive or most popular wines.
If there is one wine writer that we try to emulate, it is Karen MacNeil. She is knowledgeable, relatable, and humorous all at the same time. The book gives interesting, essential facts without bogging the readers down with excessive technical details. The only people who would not enjoy this book are those who are not interested in learning and experiencing new wines. If you like wine and are curious, this book is a revelation.
**********
The Oxford Companion To Wine, 4th Edition – Jancis Robinson and Julia Harding
We purchased this on Kindle because it only comes in hardcover, which would be a major PITA to haul around. This is a completely different style of book from The Wine Bible in the sense that it is more of a reference book than a book that is meant to be read from cover to cover.
The breadth and reach of the wine knowledge in The Oxford Companion to Wine are astounding.  It is just over 900 pages and is packed with enough information to make the geekiest wine nerd wet the bed. This is basically a wine encyclopedia. Do you want to know what co-fermentation is? This book has you covered. How about the grape varieties grown in Puglia, Italy? No problem.
The book is organized by keywords and an article is appended to each keyword; exactly like those old, hardcover encyclopedia sets that we used as kids. Alright by "we", we are referring to the pre-millennial folks. For example, if you want to find out what corrective measures may be used in winemaking, go to additives. Following additives is a write-up about all the additions and intervention in the winemaking process.
What we love most about the Kindle version is the Alphabetical List of Entries page in the beginning of the book and how all the keywords are hyperlinked to the appropriate entries. It's so easy to access information in a pinch and it makes you look a whole lot smarter, quicker–at least when it comes to wine. If you like how the Kindle version sounds but do not have a Kindle device, don't fret! Amazon offers a FREE Kindle Reading App on iOS, Android, Mac & PC. This is exactly the app we use on our iPhones to access the book.
The hardcover version of this book would make a great coffee table book. Or wine bartop book? For us and others who are constantly on the road in search of exciting wines, the Kindle version is more ideal. This is indispensable for someone studying to be a Sommelier or taking the WSET (Wine & Spirits Education Trust) track. It is relatively pricey and is definitely NOT for the average wine consumer. But if you are a wine enthusiast and want to know as much as possible, this book is a must-have.
**********
For The Love Of Wine: My Journey Through the World's Most Ancient Wine Culture – Alice Feiring
Alice Feiring is well-known for earnestly championing raw wine (or "natural wine" as some people would prefer to call it), as well as being a spokesperson for the qvevri-fermented, natural wine from Georgia. This book is about her experiences traveling through Georgia and getting to know the small and talented wine producers from this tiny nation nestled in the Caucasus.
In this book, Alice shares about her time with a small group of natural winemakers in Georgia and the other inspiring people she met along the way. She also laments poetically the issues that the Georgian wine industry faces. Should they modernize the industry and make inexpensive conventional wines, or focus on small artisanal wines made in the traditional Georgian style? The former is hardly an option to most of them, and to us too.
Georgia is very near to the heart for the both of us. It is a magical country that instantly gets under your skin when you visit. Food, wine, music, poetry, celebration, generosity, and kindness form the main tenets of its social fabric. The food is unique but strangely familiar at the same time. The natural wines made in qvevri are creating buzz all over the world now and for good reason. We've met many of the people featured in her book, and the book has enabled us to know them on a deeper, more intimate level. The book was a real page-turner for us and it made us feel closer to Georgia–if that was even possible.
We no longer carry this book in our travel bags. The book was given to us as a gift from the National Wine Agency of Georgia, and we devoured the content within a matter of days. We enjoyed the book so much that–unlike other times when we would drop a book at a hotel or cafe after we're done reading it–we decided to mail it to Matt's parents in Michigan.
This is for people who love wine and are open to learning about the emotional tales and philosophy about unconventional winemaking. Alice has a way to encapsulate the ethereal mood of a country and in her writing, you can certainly feel how she deeply cares for not only natural wine but the people who make it. Even people who are inclined to dismiss "natural wine" should give this a read to understand why supporters are so adamant about preserving this raw energy in a glass.
**********
As Karen MacNeil said,
"The best way to learn nothing about wine is to continue to drink what you already know you like. Many people drink the same wines over and over again. That's like eating chicken and carrots every day for years. There are over 5,000 varieties of grapes in the world–waiting for you to experience the wines made from them. I think it's helpful to occasionally push the boundaries."
Just like life, we need the language to make sense of the world around us, the same concept applies to wine. The best way to learn and get better at understanding wine is to both read about it and drink it. Theory + Practical = Booyakasha! We hope you enjoy these reviews on our favorite wine books. Now, go get some!