Rich White Italian Wines: Marco Felluga & Russiz Superiore
Reading Time: [est_time] Hello! Welcome to As Drunk by Exotic Wine Travel, a weekly column where we feature interesting wines that we encourage you to seek out. The reviews featured in this series may be written by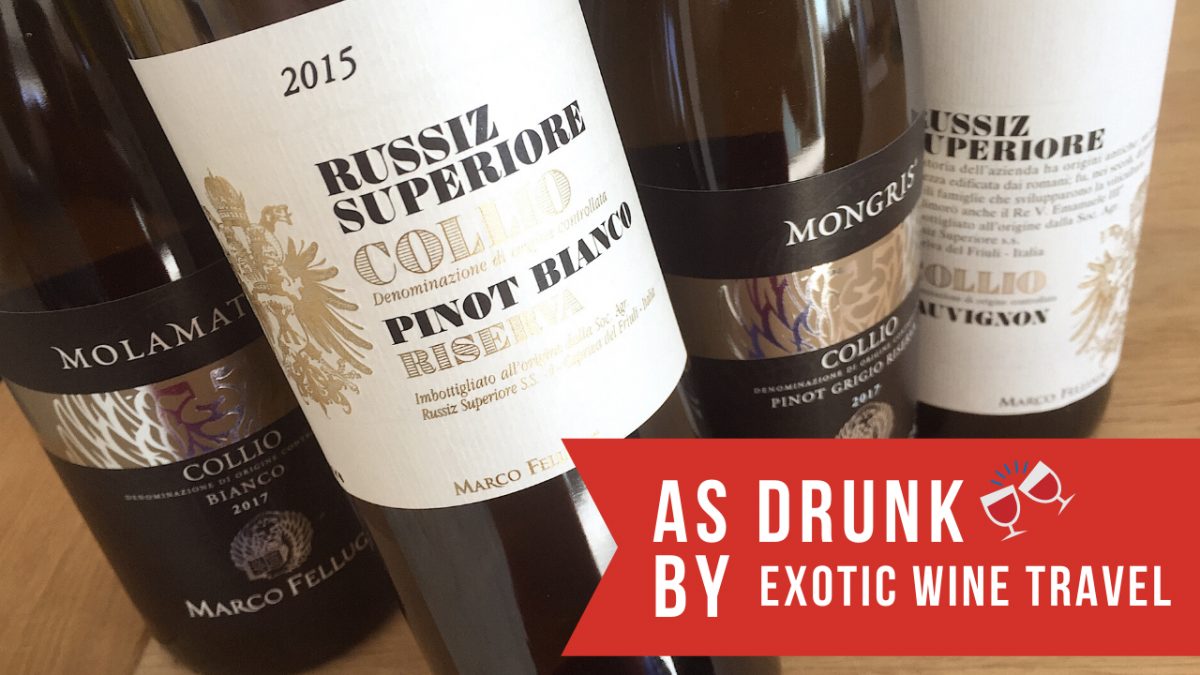 Reading Time: 2 minutes
Hello! Welcome to As Drunk by Exotic Wine Travel, a weekly column where we feature interesting wines that we encourage you to seek out. The reviews featured in this series may be written by either one or the both of us. The featured wines can be from obscure or well-known wine regions. We hope that these wine recommendations will keep you gastronomically curious and your palate invigorated.
Marco Felluga & Russiz Superiore
Friuli-Venezia Giulia is an ear-shaped region located in the northeast corner of Italy. Thanks to its location, the food and wine of the region has been shaped over the years by Italians, Slovenians, and Austrians. Dating back to the 1960s, it's a region that is largely responsible for the quality revolution of Italian white wines.
One of those pioneers is Marco Felluga, who founded the winery in 1956 and then bought the Russiz Superiore estate in 1967. Between the two estates, 80% of the production is white wine. They work with international varieties in addition to local grapes like Ribolla Gialla, Refosco, and Friulano.
A small portion of the production at Marco Felluga & Russiz Superiore is aged in barrel. These wines are bigger, richer, and substantially oakier than their fresh siblings. If you're a fan of full-bodied barrel age whites, look no further. These two Marco Felluga bottlings offer tremendous value for money in the world of fine, barrel-aged whites.
Marco Felluga, 'Molamatta' Collio Bianco 2017
The Marco Felluga, 'Molamatta' Collio Bianco is a blend of Pinot Bianco, Friulano, and Ribolla Gialla. The Pinot Bianco is barrel fermented. You can feel the wood here but it's not overpowering. Full and round with notes of white peach, golden apple, lemon curd, and hazelnut. It's a wine with a persistent finish and potential to develop further in the bottle. Score: 90+/100
Marco Felluga, 'Mongris' Pinot Grigio Riserva 2017
Around 30% of the Marco Felluga, 'Mongris' Pinot Grigio Riserva is barrel fermented with the rest made stainless steel. This shows a lot of oak now as it's just released. Notes of melon, white peach, bread, and vanilla. It's full-bodied, round, and creamy on the palate. Sweet finish with impressive length. The oak is a bit heavy now but it should melt into the wine with time in the bottle. Score: 91/100
Russiz Superiore, Pinot Bianco Riserva 2015
The Russiz Superiore, Pinot Bianco Riserva is a barrel-fermented Pinot Blanc. This shows little to no development, it's still very very fresh. It smells like a big Chardonnay with notes of melon, peach, grass, and a touch of yogurt. It's full-bodied and very rich on the palate. It's not a high acid white but there's enough to keep it bright. Rich and long finish. Score: 92/100
Russiz Superiore, Sauvignon 2019
Most of the Russiz Superiore, Sauvignon is aged in stainless steel and 15% is barrel fermented. The 2018 vintage was named '25 of the Best Sauvignon Blancs for 2020′ by Vinepair. Notes of kiwi, white pepper, grass, green herbs, and a hint of lime. This is pungent and racy without being over the top. It's a nice balance between French style and New Zealand style Sauvignon Blanc. Good weight on the palate and snappy acidity. Score: 90+/100
You can find out more about our scoring system on the WINE RATING page.
Do you like our content?
If you like our articles and videos, we'd love for you to be a part of our community on Patreon. The support from Patreon helps keep the content coming and you access to behind the scenes content. It also gives us the chance to get to know you better. Check out the Exotic Wine Travel Patreon page by clicking the photo below.

---
Marco Felluga & Russiz Superiore provided tasting samples. For more information on their wines, check out the interview with Roberto Felluga on Grape Collective. Please note that the opinions expressed are our own and have not been paid for in any way. We do not sell editorial content as that would destroy the legitimacy of our reviews and the trust between Exotic Wine Travel and its readers. On occasion, we extend the option of purchasing the wines we review or/and the products we spotlight. Some of these product links are set up through affiliate programs, which means Exotic Wine Travel gets referral credits if you choose to purchase these items via the links we provide.