Romanian Wine From Drăgăşani
Reading Time: [est_time] For a long time, we've been a little prejudiced about Romanian wines. Last year, we attended a masterclass lead by a Romanian sommelier working in London. He presented what he believed were the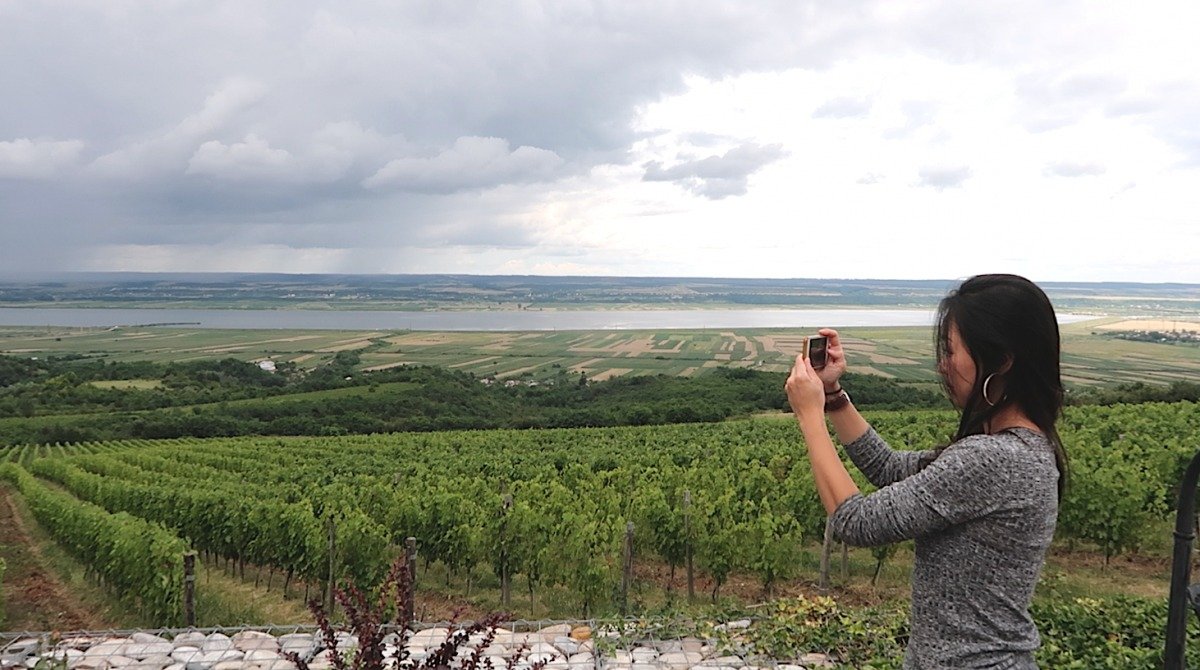 Reading Time: 5 minutes
For a long time, we've been a little prejudiced about Romanian wines. Last year, we attended a masterclass lead by a Romanian sommelier working in London. He presented what he believed were the finest examples of Romanian wine. While some of the wines were good, I walked away far from impressed.
Within our first few minutes in Drăgăşani, it was obvious that our preconceptions were about to become shattered.
Drăgăşani Wine Region
The wine growing hills of Drăgăşani lie on the west banks of the river Olt. They are located in the Oltenia Hills, which are foothills of the Carpathians. It's around a three and half hour drive north-west of Bucharest. The Drăgăşani DOC consists of twelve small producers working towards bottling only high-quality wines. Most of the best vineyard positions face east and southeast, towards the river Olt.
Dragasani is home to two excellent local varieties, the white grape Crâmpoşie Selecţionată and the red grape Negru De Drăgăşani. Other Romanian grapes such as Fetească Albă, Fetească Regală, and Tămâioasă Românească (Muscat Blanc) also thrive as do international grapes like Cabernet Franc, Cabernet Sauvignon, Merlot, and Sauvignon Blanc.
We only got the chance to stay one day/one night in the region and wish there was more time. There are some excellent wines being made in the region. The white grape Crâmpoşie Selecţionată produces wines with mineral flavors and vibrant acidity while the red grape Negru De Drăgăşani produces dense wines with peppery notes and fine-grained tannins.
The international grapes seemed to be thriving as well. Wines made from Cabernet Sauvignon express beautiful capsicum notes without high levels of alcohol that can be found in many places around the world. It is a region that seems well suited for white and red wines, which is in itself unique.
We only visited four producers but it was enough to convince us of the quality of the region and the winemakers here. Next time we are in Romania, Drăgăşani will be the first priority on our list.

Exotic Wine Travel's Picks:
You can find out more about our scoring system on the Wine Rating page.
Prince Știrbey, 

Sauvignon Blanc Vitis Vetus 2012
Vitus Vetus is Latin for "old vines." The Prince Știrbey Sauvignon Blanc Vitus Vetus is one of the most unique examples of the grape we've come across. Rich kiwi fruit, minerals, green herb, and yogurt. Medium bodied with some punch and beautiful nuances. It has a little bit of pungent New Zealand Sauvignon Blanc with a little bit of herbaceousness from the Loire and a touch of ripeness from California.   4.1/5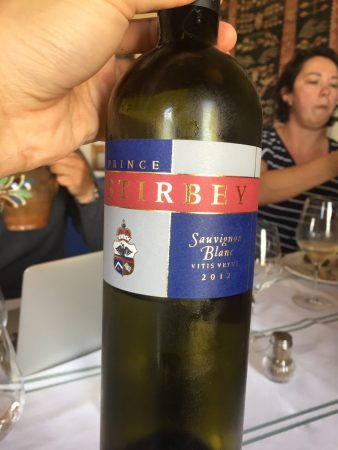 Prince Știrbey, Negru de Drăgăşani Rezerva 2016
Negru di Drăgăşani is a local black grape that is already producing some gorgeous wines and the Prince Știrbey Negru de Drăgăşani Rezerva is no exception. The wine ages in oak for 24 months. It has brambleberry, pepper, violets, and black raspberry flavors. Rich and textured. Full bodied but not huge. This has high acidity with a long finish.   4.2/5
Prince Știrbey, Dessert Stirbey 2011
Made from Tămâioasă Românească – the local name for Muscat Blanc à Petits Grains. The Prince Știrbey Dessert is made from late-harvest berries that are selected and dried on the vine, making it a TBA wine. It's full of honey, white flower, and apricots. This has 195 g/L  of RS but it never feels sappy on the palate due to the beautiful acidity. Full on the palate with fresh acidity and a long finish.   4.2/5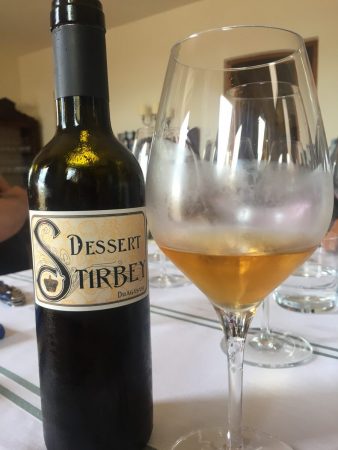 Domeniel Drăgaşi, Pelerin 

Cabernet Franc 2015
Domeniel Drăgaşi is a new boutique winery that boasts beautiful views over the river Olt. Their Pelerin Cabernet Franc is aged for 15 months in oak. It's dark in color for the grape. It has notes of violets, black olive, and black cherry with a touch of capsicum. Big wine but it hasn't lost the prettiness of Cab Franc. The tannins are still fierce but they are ripe and will resolve. It's a chewy, extracted wine but it should cellar well in the short term.   3.8/5
The Domeniel Drăgaşi Pelerin Merlot is also recommended.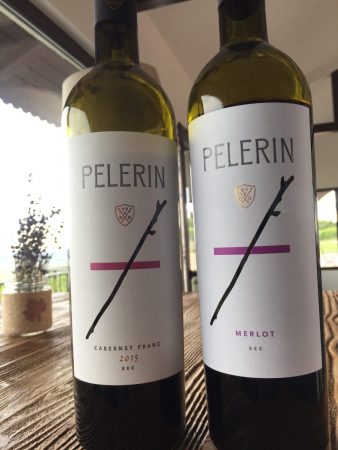 Crama Bauer, Sauvignonasse 2017
Oliver Bauer is a German who moved to Romania because of the potential. He makes wine for Prince Stirbey and his own project Crama Bauer. Oliver makes wines with clean, precise flavors.
The grape Sauvignonasse is also known as Friulano in Friuli-Venezia Giulia. The Crama Bauer Sauvignonasse is a pretty effort. It has herbal and tropical fruit flavors. This is grassy but not over the top. The wine is crisp and has a green apple and mineral finish. It's fresh and easy to drink yet serious at the same time.    4.1/5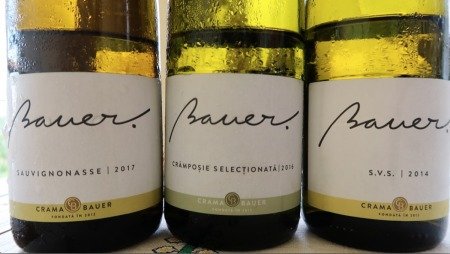 The Crama Bauer R.A.W. is made from Sauvignon Blanc which was macerated for seven days and fermented with wild yeasts. There are notes of wildflowers, yeast, white nectarine, and kiwi fruit with a touch of grass. This has a touch of tannins and a long finish. Powerful mid palate with a pungent, Sauvignon Blanc finish.   4.3/5
Crama Bauer, 

Cabernet Sauvignon 2015
The Crama Bauer Cabernet Sauvignon is lighter in color for the grape. It has a pretty nose with flavors cherry and mocha. This has a touch of wood on the palate and the tannins are very fine for a young Cabernet Sauvignon. It's medium bodied and juicy.   4.0/5
The Crama Bauer Merlot is also highly recommended.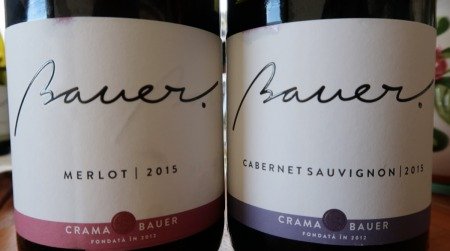 The Crama Bauer P.V. is one of Oliver's most popular wines, it is regularly sold out upon release. Flavors include dark fruit, violets, mocha, and earth. This is round and big on the palate while being fruity, earthy, and refined. This is savage and sexy with a long finish. This is my favorite wine from Bauer.   4.3/5
Via Sandu, Cabernet Sauvignon 2017
Via Sandu is owned by Cornel Sandu. He makes wines with minimal intervention from 18 hectares of vineyards. We tasted this from a tank sample. The Via Sandu Cabernet Sauvignon is a fresh style that doesn't see oak. Flavors include black cherry, pepper, and a touch of baking spice. This is medium bodied and easy to drink. The tannin level is low for Cabernet Sauvignon. It's a food wine and a delicious one at that.   3.7/5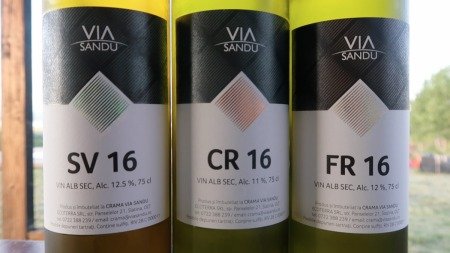 Avincis, Crâmpoşie Selecţionată 2017
Avincis is a beautiful property in Drăgăşani that boasts state of the art facilities and beautiful views of the River Olt. Crâmpoşie Selecţionată is a local grape that makes wines with taut acidity. This has notes of pineapple, white pear, and a faint hint of white flower with a touch of spiciness. This is medium bodied, crisp, and mineral laden. It's bigger in body than examples from other producers in the area. A slight bitter flower finish.   3.9/5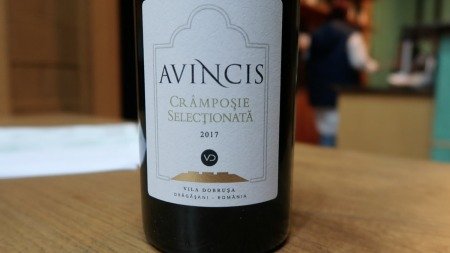 Avincis, Domnul de Rouă in Rosu 2016
The Domnul de Rouă in Rosu is a blend of Cabernet Sauvignon, Merlot, and Pinot Noir. This is an entry-level red wine that does not see oak. It has a tangy red fruit aroma on the nose, like a Tuscan red. This is medium bodied with chewy tannins. It has the red fruit and some earthiness with a hint of complexity. At this price, it's a fantastic wine for everyday drinking.   3.8/5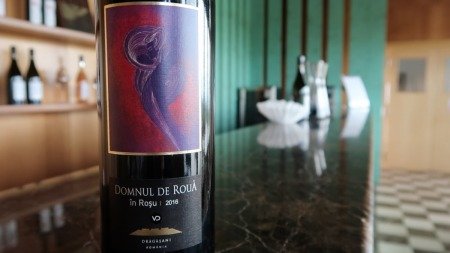 Avincis, Cuvée Andrei – Cabernet Sauvignon 2013
The Avincis Cuvée Andrei Cabernet Sauvignon is a stellar wine. Around 30% of the wine is aged in oak for 14 months. The capsicum jumps out of the glass with tobacco notes, violets, asphalt, and black cherry. This is medium bodied Cab that is smooth on the palate. It has fantastic length with bright acidity. It is for fans of Old World wines, there are other flavors here rather than fruit.   4.2/5
Avincis, Cuvée Grandiflora 2013
The Avincis Cuvée Grandiflora is a blend of CS, Merlot, and Negru de Dragasani. Fifty percent of this wine is aged 16 months in barrel. This has notes of black fruit, white pepper, and tobacco. It has a silky mouthfeel with fine tannins and a spicy finish. Big bodied while being spicy at the same time. It's complex, big, and refined.   4.3/5
---
We were invited to Romania by Dagon Winery and Via Sandu. Our flights, transport, and accommodation were provided by the winery. However, the opinions expressed in this article are unsolicited and have not been paid for in any way by governmental bodies, enterprises, or individuals. We do not sell editorial content as that would destroy the legitimacy of our reviews and the trust between Exotic Wine Travel and its readers.