Romanian Wines From Dealu Mare
Reading Time: [est_time] We were recently invited by Mihnea Vasiliche of Dagon Winery to visit the Dealu Mare region of Romania. In addition to tasting through the Dagon Winery portfolio, Mihnea also arranged for us to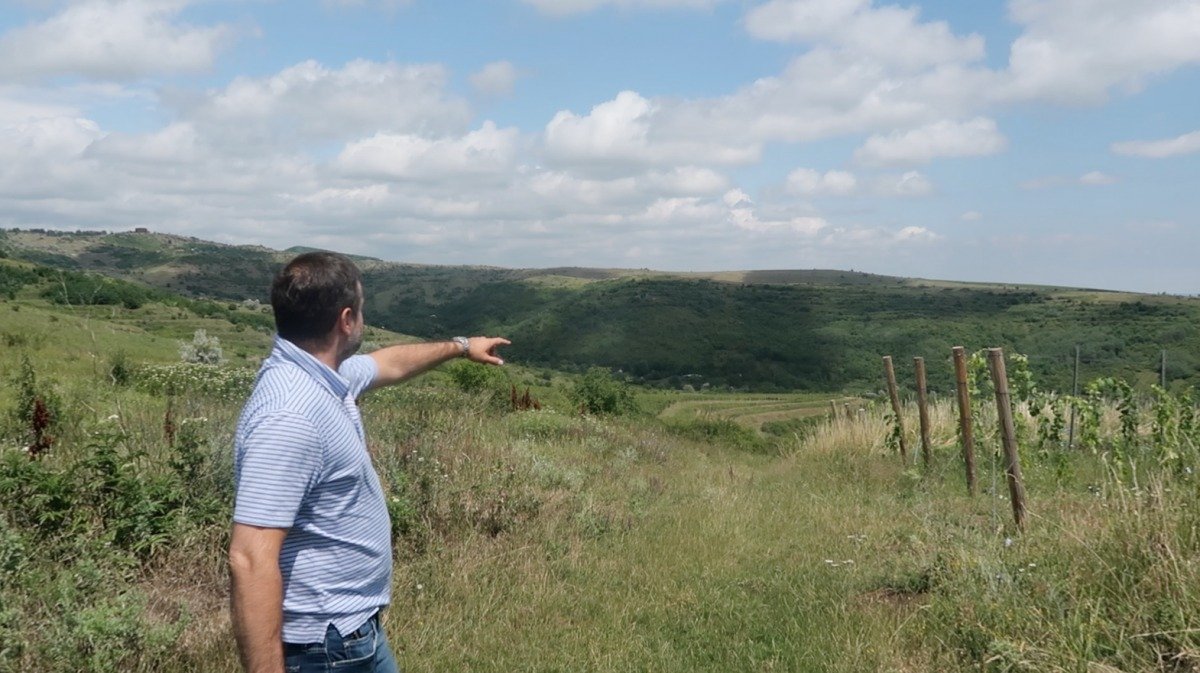 Reading Time: 4 minutes
We were recently invited by Mihnea Vasiliche of Dagon Winery to visit the Dealu Mare region of Romania. In addition to tasting through the Dagon Winery portfolio, Mihnea also arranged for us to visit a few cellars in the area. We had previously tasted a few wines from the region in various shows and masterclasses, which prepped us for our visit.
Dealu Mare translates to Big Hill. It's regarded as Romania's premier red wine region. It's about 65 km long in the east-west direction and about 3-12 km wide. It sits on the foothills of the Carpathian Mountains. In general, the red wines are big and high in alcohol. Most producers rely on Cabernet Sauvignon, Merlot, Syrah, Pinot Noir, and Fetească Neagră for their red wines.
Our trip was short and we only scratched the surface of Romanian wines from Dealu Mare. However, we were able to taste over fifty wines during our day and a half in the region. Here are our favorites.
Exotic Wine Travel's Picks:
You can find out more about our scoring system on the Wine Rating page.
Conacul Vinalia, 

Conacul Ceptura Fetească Negră 2016
Conacul Vinalia is a young winery and this is their first release of Fetească Neagră from estate grown fruit. It has flavors of black plum, baking spice, forest berries, and white pepper. The Conacul Vinalia Fetească Negră is medium bodied and enjoyable. The tannins are chewy enough to make it food friendly but easy enough to allow the wine to be drunk by itself.   3.6/5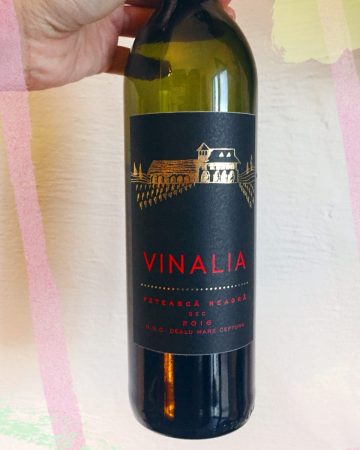 The Conacul Vinalia Sauvignon Blanc is also an enjoyable summer sipper that is more New Zealand-like in style.
Crama Rotenberg, 

Notorius 2013
Crama Rotenberg is a small producer that produces wines only from Merlot – including a white, rosé, and several reds. They produce minimal intervention wines and utilize long barrel aging on their top bottlings. The Notorius is the mid-range offering from Crama Rotenberg. 
This wine has plum, chocolate, and tomato leaf notes. The Crama Rotenberg Notorius is raw and rustic but has easy-going tannins. The finish is slightly spicy. It's for fans of crazier wines, it's a wine for a specific niche.   3.6/5
Crama Rotenberg also produces three cru wines from Merlot but did not offer them to taste.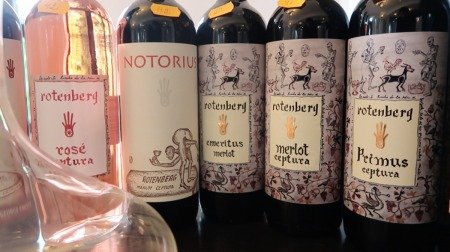 Davino, 

Domaine Ceptura Rouge 2013
We've tasted a few wines from Davino prior to visiting and were looking forward to visiting the cellar on this trip. Unfortunately, we were in Dealu Mare during the weekend and Davino was not open. It's regarded as the leading high-quality cellar in Romania. We found this wine on the wine list at the Conacul Vinalia restaurant and decided to give it a try. 
The Davino Domaine Ceptura Rouge is dark and massive. It is a blend of 55% Fetească Negră and the rest Merlot and Cabernet Sauvignon aged 12 months in Romanian oak and 24 months in the bottle. Black plum, incense, baking spice, graphite, and white pepper. It's big on the palate but round. Silky mouthfeel and chewy tannins. Spicy finish.   4.1/5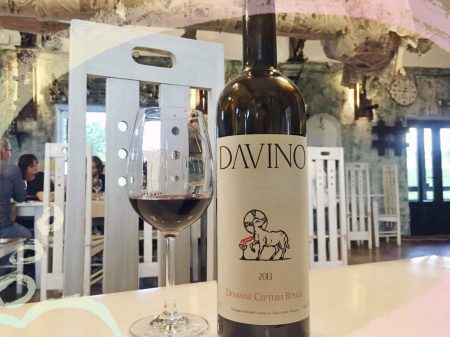 Our Romanian friend passed us a bottle of this to try. It's one of the top wines from Davino (in addition to his Rezerva Rouge). The Davino Flamboyant is a Cabernet Sauvignon dominated blend with some Merlot and Fetească Neagră. It's aged for 10 months in Romanian oak and 30 months in the bottle before release. There are flavors of dark fruit, capsicum, and walnut notes. It's rich and big with chewy tannins. This is for fans of massive reds. It's a humungous wine that's well executed with a long finish.   4.3/5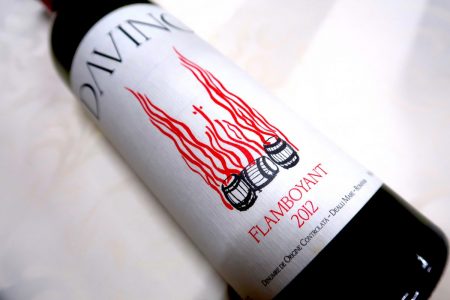 Vitis Metamorfosis, Via Marchizului Negru De Drăgășani 2016
Vitis Metamorfosis has Piero Antinori from Tuscany as one of its investors. We tasted through their whole portfolio and came away impressed. Negru De Dragasani is a native red grape from around the village of Dragasani, but Vitis Metamorfosis has planted a small amount in Dealu Mare. It's noticeably bigger from examples we tried while visiting in Drăgășani.
The Vitis Metamorfosis Via Marchizului Negru de Drăgășani is dark in color and full of dark fruit, herbs, and white pepper. It's aged in oak for eight months. Silky smooth mouthfeel with fine-grained tannins is what stands out here. Good fruit intensity on the mid-palate and a long finish. The wine is a tad high in alcohol at 14.8 ABV but it's masterfully crafted.   4.2/5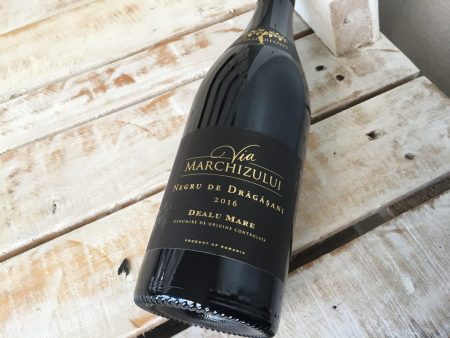 Vitis Metamorfosis, Cantvs Primvs Fetească Neagră 2016
The reserve wine from Vitis Metamorfosis. The Cantvs Primvs line was reserved solely for Cabernet Sauvignon in the past and this is the first vintage of Cantvs Primvs Fetească Neagră. This is a massive red that is aged in oak for 16 months. It's full of black fruit, plum, chocolate, incense, and white pepper. The wine is round and plummy with silky smooth tannins and a medium finish. It's big, but there are layers of complexity here.   4.2/5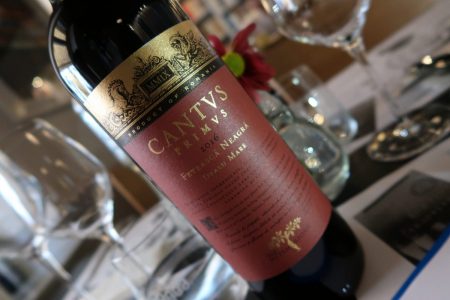 Lacerta, 

Fetească Neagră 2015
The Lacerta Winery is located on the eastern end of the Dealu Mare region. They produce around 300k bottles of wine from estate fruit. The Lacerta Fetească Neagră is the winery's take on this local grape aged in Romanian oak for 12 months. It's full of black raspberry, forest notes, incense, and a touch of white pepper. This is wild and full of herbal notes. The tannins are firm and chewy. It's medium bodied and juicy.   3.9/5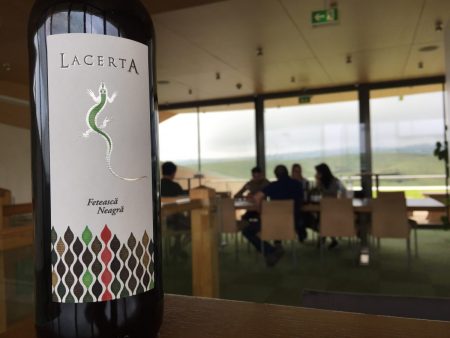 The Lacerta Cuvee IX  is the flagship wine from the estate. It's also a restaurant favorite around the country. This wine is a blend of 50% Cabernet Sauvignon, 30% Merlot, 10% Shiraz, and 10% Fetească Neagră aged for one year in 225L barriques. It's dark in color and complex flavors of mocha, dark fruit, vanilla, and white pepper. It is complex on the palate and more medium bodied than the nose would suggest. Dense, chewy tannins. It's a highly structured wine that's well made and should age beautifully in the medium term.  4.0/5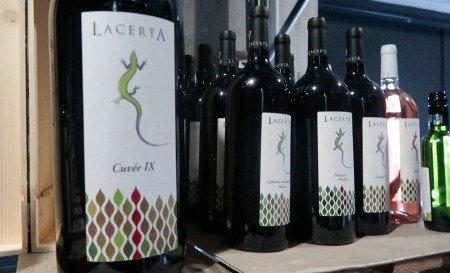 S.E.R.V.E., Cuvée Charlotte 2011
S.E.R.V.E. is a French-owned winery. It was one of the first high quality, small wineries that was established after the fall of communism in Romania. It was established in 1994. I had tasted several of their mid-range and reserve wines in a master class, which were not so exciting for me. Our visit to the cellar was equally disappointing. After a quick tour of the cellar, we were only offered the basic wines to taste. 
One of our Romanian friends kept insisting that we give their wines another chance. He passed us a bottle of the S.E.R.V.E. Cuvée Charlotte 2011 to taste slowly over an evening. We're glad that we got the chance to taste it properly.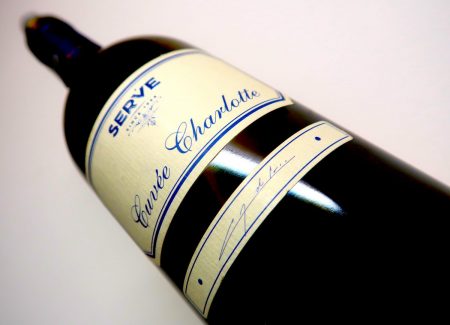 The S.E.R.V.E. Cuvée Charlotte 2011 a blend of Cabernet Sauvignon, Merlot, and Fetească Neagră. It's the flagship wine of the estate. Aged 12 months in new and used barriques. Flavors of plum, graphite, black cherry, and a touch of incense. This is tart and firm on the palate. Good spike of intensity on the mid-palate. The tannins are developed and the wine can still develop further in the bottle. Delicious stuff.   4.2/5
---
We were invited to Romania by Dagon Winery and Via Sandu whom provided our flights, transport, and accommodation. The opinions expressed in this article are unsolicited and have not been paid for in any way by governmental bodies, enterprises, or individuals. We do not sell editorial content as that would destroy the legitimacy of our reviews and the trust between Exotic Wine Travel and its readers.