San Sebastián Pintxo Food Guide
Reading Time: [est_time] There are only two places in the world that make me mourn inappropriately and twitch theatrically over their foods. First: Piedmont with its purist foodies who strive to conserve the most authentic expressions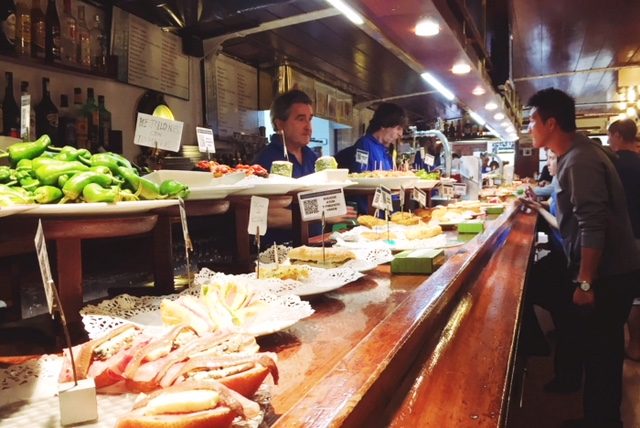 Reading Time: 3 minutes
There are only two places in the world that make me mourn inappropriately and twitch theatrically over their foods. First: Piedmont with its purist foodies who strive to conserve the most authentic expressions of the regional cuisine. Second: San Sebastián and its prideful nonchalance in the everyday fine-food affair. As the title suggests, we are on the topic of San Sebastián's pintxo today and the only description I can offer is a series of salacious grunts and moans. So let's cut to the chase and go straight to the guide. Special thanks to my dear Basque friends, Ana Echeveste and Luis Cortés, for the recommendations. During my one-week stay in San Sebastián, I managed to stuff 90% of their recommendations into my gut and here are my top 10 delights for the senses.
WHY SAN SEBASTIÁN?
Home to fewer than 190,000 people, San Sebastián is a coastal city in the Basque Country of Spain. The city has the highest second number of Michelin-starred restaurants per capita in the world (after Kyoto, Japan, and ahead of cities like Paris and Lyon). But the charm of San Sebastián doesn't stop at the tire-branded reputation; said food critic Nina Caplan, "Many cities can provide you with a fantastic Michelin-starred meal, but to be able to walk into almost any eaterie, order three dishes and be confident they'll all be fantastic, is very rare." Culturally, eating is viewed as a social sport. As my friend Luis Cortés said, "I don't go to a restaurant to eat, I go there to have a good time with my friends over food and drinks."
WHAT IS PINTXO? 
A pintxo–the Basque style of tapas–is an unassuming small bite served at bars in the hours between lunch and dinner. It is customary to order just one pintxo and one drink at each bar and then move on to the next stop. The grazing is appropriate because each bar is typically known to have two or three signature dishes, and you might be disappointed if you venture beyond that perimeter. The point is to make a night out of pintxo-hopping and a participant of the pintxo-hopping sport should feel satiated and decently tipsy by the end of the evening.
RECOMMENDATIONS FOR YOUR SAN SEBASTIÁN PINTXO TRAIL 
All the dishes below are served pintxo style and priced between €2 and €4. In terms of portion, you should be full by the fourth to sixth order. So go with a friend or in a group in order to check off all the recommendations below.
Borda Berri – 

Calle Fermin Calbeton, 12
English menu is available upon request.
Puntalette risotto with Basque sheep cheese
Ravioli with leeks, sweetbread and lemongrass
Veal cheek with red wine sauce
For the adventurous foodies: Crispy pig's ear with tximitxurri (Basque sauce)
La Cuchara de San Telmo – 

Calle 31 de Agosto, 28
English menu is available upon request. The menu changes according to season.
Cod ravioli with tomato confit and Aragon black olive oil
Foie gras monfort sautéed with honey, mustard and orange peel
Veal cheeks stewed in red wine with chickpea hummus
If you can stomach more: Roasted sea scallop with Guijuelo bacon, cauliflower puree and curry of roots and herbs.
A Fuego Negro – 31 de Agosto, 31
The menu changes according to season. This bar was highly recommended by Bruce Palling, Wall Street Journal's travel & food writer. A Fuego Negro specializes in contemporary-style pintxos so feel free to be adventurous with your order. The menu—in English, Spanish and Basque—is displayed on a large blackboard behind the bar.
Crab salad with crab ice cream
Bar Txepetxa – 

Calle Pescaderia 5
Well loved by Sir Ian Mckellen/Gandalf, Txepetxa is a temple for anchovies. Just order any dish with anchovy in it. I  mean… plump, juicy anchovies from the Cantabrian Sea.
The

 "anchoa a la jardinera" is a popular fave.
Bar Zeruko Donostia – 

Calle Pescaderia 10
Another great place for a different gastronomic pintxo experience. Like A Fuego Negro, Bar Zeruko serves modern, creative pintxos that you can't find at other bars.
Pistachio crusted blood sausage

 
Bar Nestor – Calle Pescaderia, 11
Bar Nestor is most known for its steak and tomato salad, but it also serves one of the best tortillas in Spain.
Bar Txalupa – 

Fermin Calbeton Kalea, 3
I didn't appreciate a specific pintxo from here but the spread of over 70 dishes across the bar (see featured image) was intriguing.
FOR DESSERTS
Gelateria Boulevard – Alameda Boulevard 20
One of the best ice cream places in the world, and by that I mean it's better than many of the gelato places I've visited in Italy.
Pasteleria Oiartzun – 

Igentea, 2
A pastry and cake paradise. The trufa (Spanish word for truffle) here is amazing.
You May Also Enjoy
Galicia and the Other Spanish Wines
---
The ideas expressed in this article are personal opinions and are not associated with any sponsors or business promotions.