Slavonia, An Undervalued Croatian Wine Region Part 2
This is part 2 of our article on Slavonia, Croatia. If you haven't read Part 1, check it out first. Sontacchi The Sontacchi brothers Krunoslav and Antun have a small winery in the center of Kutjevo. Right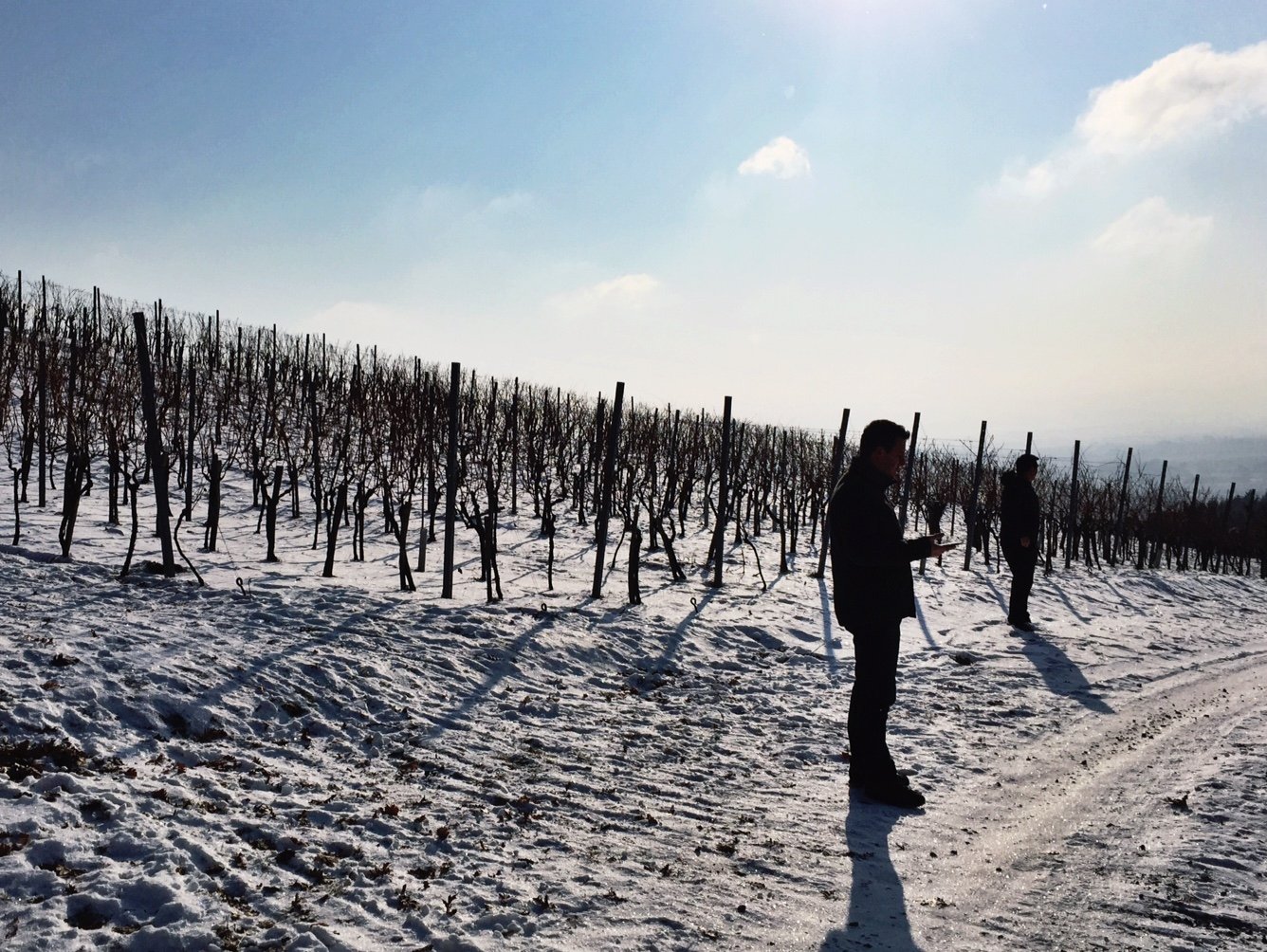 This is part 2 of our article on Slavonia, Croatia. If you haven't read Part 1, check it out first.
Sontacchi
The Sontacchi brothers Krunoslav and Antun have a small winery in the center of Kutjevo. Right on Graševina square is their humble cellar which has been in the family since 1900. The cellar is modest and is sufficient for the 10,000 bottles per year production. The fruit is sourced from their small parcel of vineyards and their focus is red wine.
They also own one of the few accommodation options in Kutjevo. Sontacchi Winery Bed and Breakfast is directly above the cellar. The beds are comfortable and we ate a wonderful meal of sauerkraut and fresh blood sausage when we stayed there in the dead of winter.
Before we started dinner, Krunoslav brought a collection of wines for us to taste. Although Krunoslav is the head winemaker, he works during the day as a civil engineer in the nearby town of Požega. For Krunoslav, winemaking is a hobby and a way to pay homage the family heritage – at least, for now. The winery is famous in Croatia for its Cabernet Franc which is name "Kitokret." This name surprisingly translates to "dick turner" and has an interesting label, to say the least.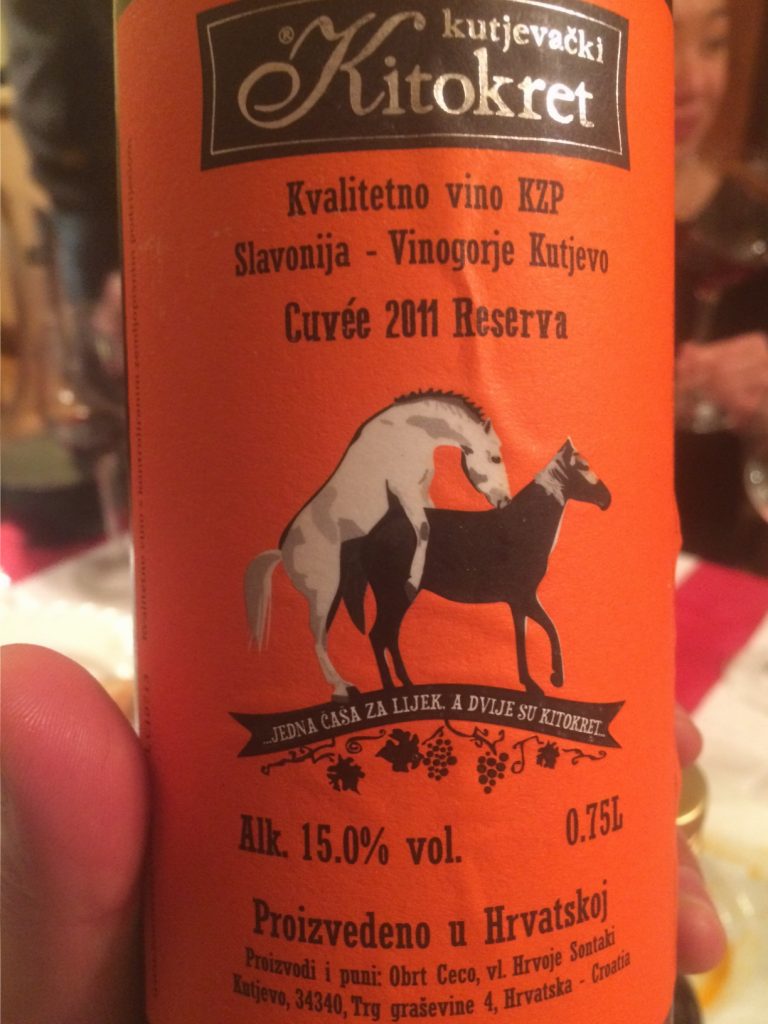 We tasted through two vintages of Sontacchi's Graševina, two vintages of Pinot Noir, two vintages of the Cabernet Franc (Kitokret), and one old vintage of late harvest Müller-Thurgau. Later Krunoslav also passed us two samples of macerated amber wines made for his personal consumption. All of the wines were delightful.
Sontacchi winery represents everything that Exotic Wine Travel is about. A producer who truly cares about what they are producing and doing it at a high level. Sontacchi is a true, under-the-radar gem that is worth seeking out if you are in Croatia. Their wines may be difficult to come by so it's best to go out and visit them. Sharing a meal, drink, and night's rest at the B&B is a wonderful experience.
Exotic Wine Travel's Pick
Sontacchi Pinot Crni 2011
This was a revelation, it is everything that Pinot Noir lovers want. It is full of mushroom, wet forest, bright cherry, and strawberry flavors. This wine has depth and feels bouncy on the palate. It isn't the most complex rendition of Pinot but it definitely isn't simple. Kudos to this producer for making an excellent and inexpensive Pinot Noir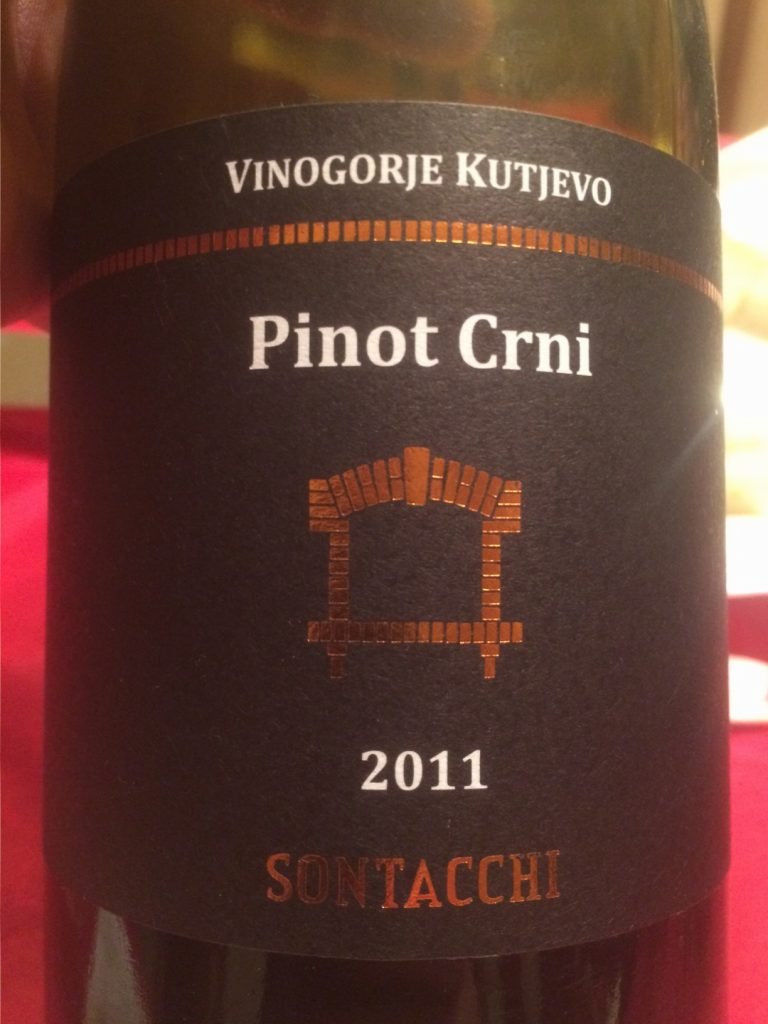 Adžić
We were on this trip through Slavonia with two of our Croatian friends, Tomislav and Vedran. Tomislav was adamant about visiting Adžič. We had seen their labels before in many shops in Croatia but had not tried them. We decided to stop in for an impromptu tasting – we're glad we did.
The Adžič cellar is in the center of Kutjevo. Mr. Antun Adžič heads up the entire production himself, about 100,000 bottles per year, at the ripe age of 75. His cellar is meticulously clean and well organized. Mr. Antun walked us up to his tasting room, which was as clean as the cellar. He explained to us that his labels are fashioned after his grandmother's traditional dress, which was on display in the tasting room.
We tasted through a few different examples of his Graševina and his Pinot Gris. He may make the finest example of Graševina that we have tasted in Croatia. All of the whites are taut and spring-loaded with energy and acidity. They all express pure and crisp fruit flavors. After tasting the excellent white wines, we walked down to the cellar and tasted a few red wines from the barrel.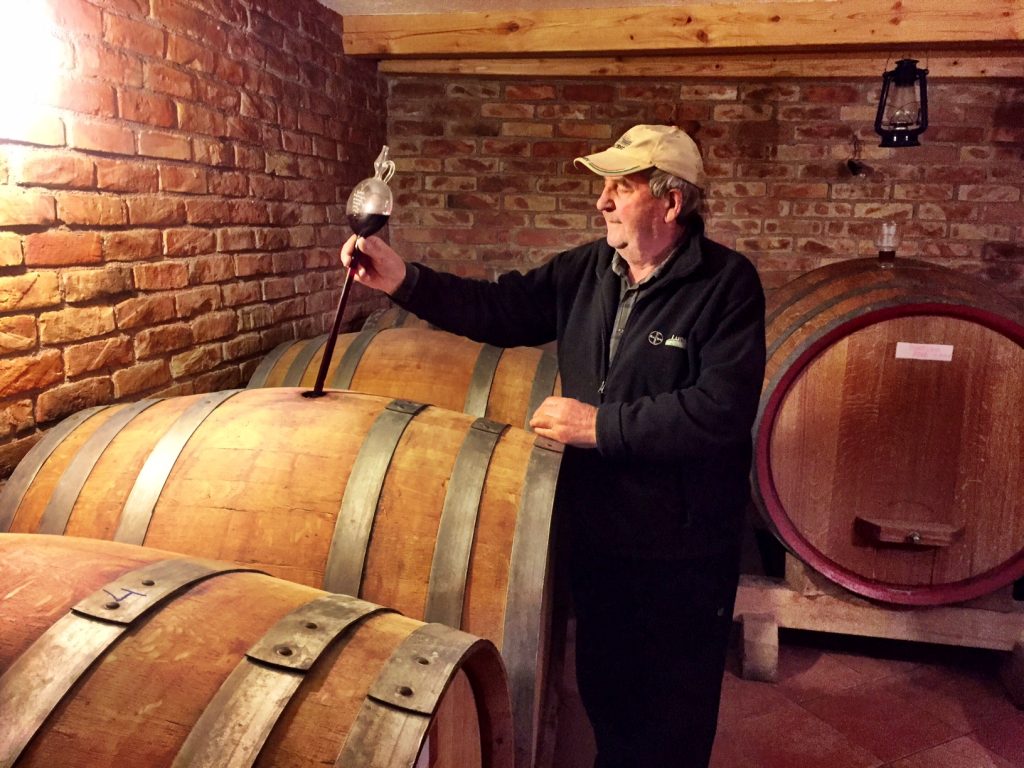 Zweigelt is an Austrian grape that shows up regularly in continental Croatia – usually with uninspiring results. The Adžič Zweigelt 2015 had a tart, juiciness that will go well with either fish or meat. Antun also allowed us to taste his 2015 Pinot Noir, one sample from a new oak cask and another from a used cask.  The grape definitely has potential in Kutjevo, we've tasted enough solid examples to be optimistic. Pinot Noir in the area doesn't provide the depth here that it is capable of, but it can be fun and fruity with enough earth notes to keep drinkers happy.
We never get sick of spending time with winemakers in their own cellar. It allows them to open up and we get to see them in their private space. When there is a language barrier, this may be the key to connecting with the winemaker – this was the case with Antun. He completely opened up and soon was popping open archive bottles of his Pinot Noir.
Our short time in Adžič was calming and delicious. His wines are worth seeking out and trying. Thanks to our friend Tomislav for leading us to another gem.
Exotic Wine Travel's Picks
Adžič Graševina Hrnjevac 2015
From a vineyard in the village of Hrnjevac planted in 1970. This is a bright, lively, and crisp Graševina. It is fun while being serious at the same time, more of an international style. The wine is full of mineral, melon, and green apple flavors. It is clean and has beautiful minerality.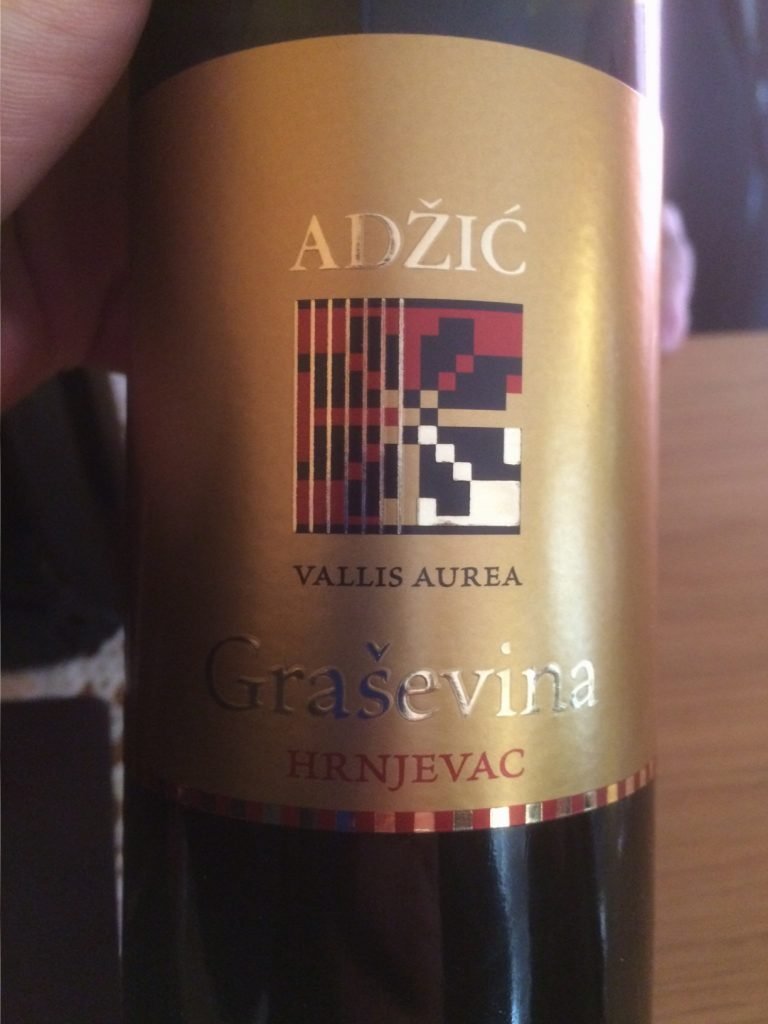 A delicious wine made from Pinot Gris. The wine's style is in between Pinot Grigio and Pinot Gris. A bouncy medium-bodied white wine that is tart and full of green apple, pineapple, and mineral flavors. Clean, well made, and a real treat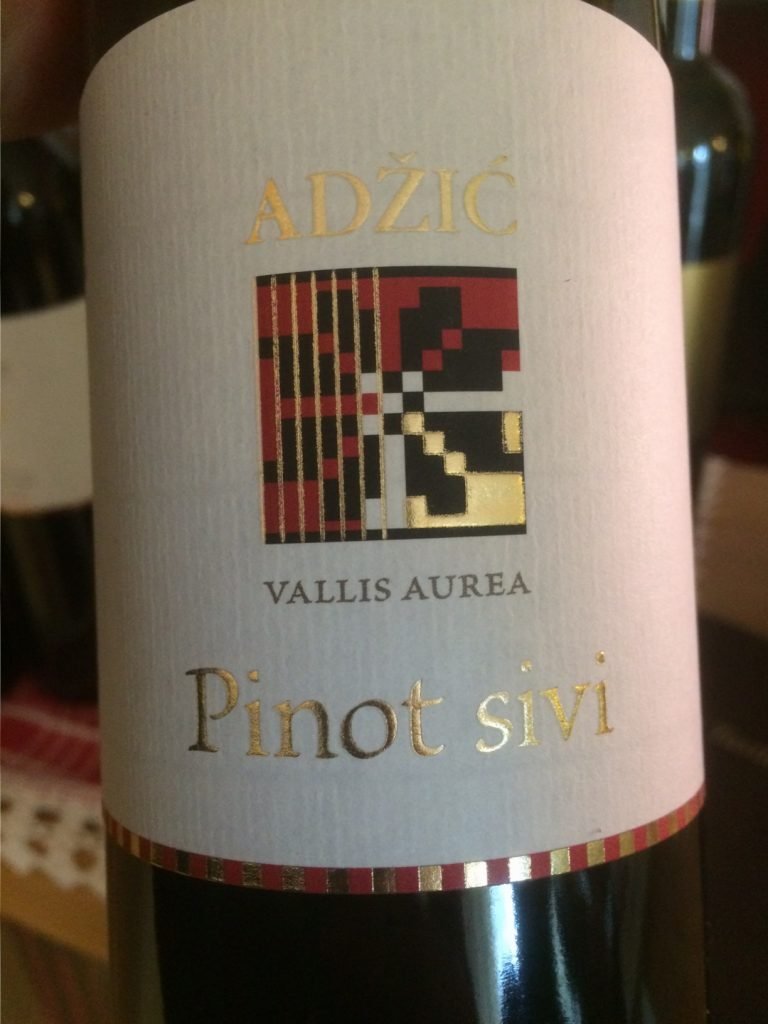 Krauthaker
Our last appointment was with a legend in the Croatian wine scene, Vladimir Krauthaker. Vladimir "Vlado" was the head winemaker of Kutjevo Cellars during the Yugoslavian period. He is an educated agronomist and oenologist, in the early 1990's he decided to go off on his own. He started with one hectare of vineyards, producing less than 7000 bottles a year. Today he manages over 100 hectares and produces over 700,000 bottles per year. Vladimir also has 38 different varieties planted on his property, more than half of them for experimental purposes.
While we were taking our WSET Level III course in Zagreb, we met a marketing employee of Krauthaker – who is also named Tomislav. After we finished our WSET Course, Tomislav set up a fabulous visit at the winery for us.
As we went through the main winery and the new warehouse outside of Kutjevo, it is amazing to think that Vlado started from nothing less than twenty years ago. Krauthaker produces strictly bottled wines, he also has a basic line of 1L bottles named 45.4 Paralela (the winery sits at the 45.3 degrees N parallel). They were bottling the Paralela line when we visited and everything was moving like clockwork.
Then the tasting began and boy was it special. Over four and half hours and 32 wines, it was the largest tasting we had done at one single estate. It took an enormous amount of concentration and stamina to concentrate and record all of our notes. We walked away with a great deal of respect for Krauthaker.
For such a large production, all of the wines had character and distinction. A few of the wines like the Zelenac Kutjevo 2015 and Mercs from 2012 were spectacular. We also learned that Vlado has been really getting into natural, macerated white wines. His staff told us that he only drinks amber wines now. There are several different versions of these amber wines and they are only available at the winery.
It's amazing to see such an established winemaker continually pushing the boundaries and experimenting. That is what drove Vlado to success and is the reason the winery should continue to be excellent moving forward.
Exotic Wine Travel's Picks
Krauthaker Zelenac Kutjevo 2015
This is a grape that was originally from Kutjevo, it was then taken to Austria leaving no vines behind. Krauthaker brought this grape back in 1995. It is really wild and reminds us of Mtsvane from Georgia. It has flavors of orange, kiwi, grass, and sweet basil. It has a beautiful saline character and bright acidity, a real winner for an indigenous grape. We took this home with us and it held its ground next to blockbusters from Friuli, Italy.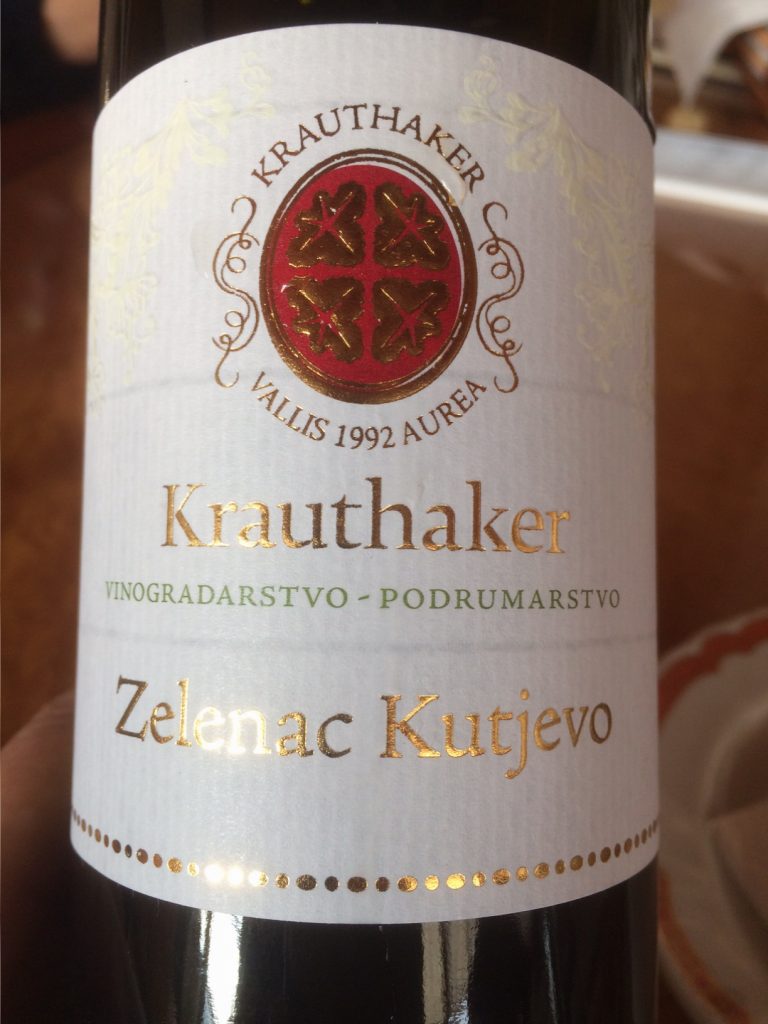 Krauthaker Kuvlakhe – GR (Graševina) 2011
This amber wine was macerated for a whopping 207 days on the skins. It pays homage to Georgian amber wine which Vlado Krauthaker likes very much. Made with organic grapes and natural yeasts, this is very interesting and truly smells and tastes like a red wine. It is very cloudy in color. The wine has flavors of red berries, cedar, citrus, nuts, and orange peel. The wine starts out very woody on the palate which bothers us at first. After some air, it softens up and really sings.
This is a blend of 60% Merlot and 40% Cabernet Sauvignon aged for 24 months in Slavonian oak. This is a beauty of a wine. It has violets, red cherry, cassis, cedar, and pencil lead. It has medium weight and a touch of sweet tobacco on the spicy finish. The tannins are round and ripe.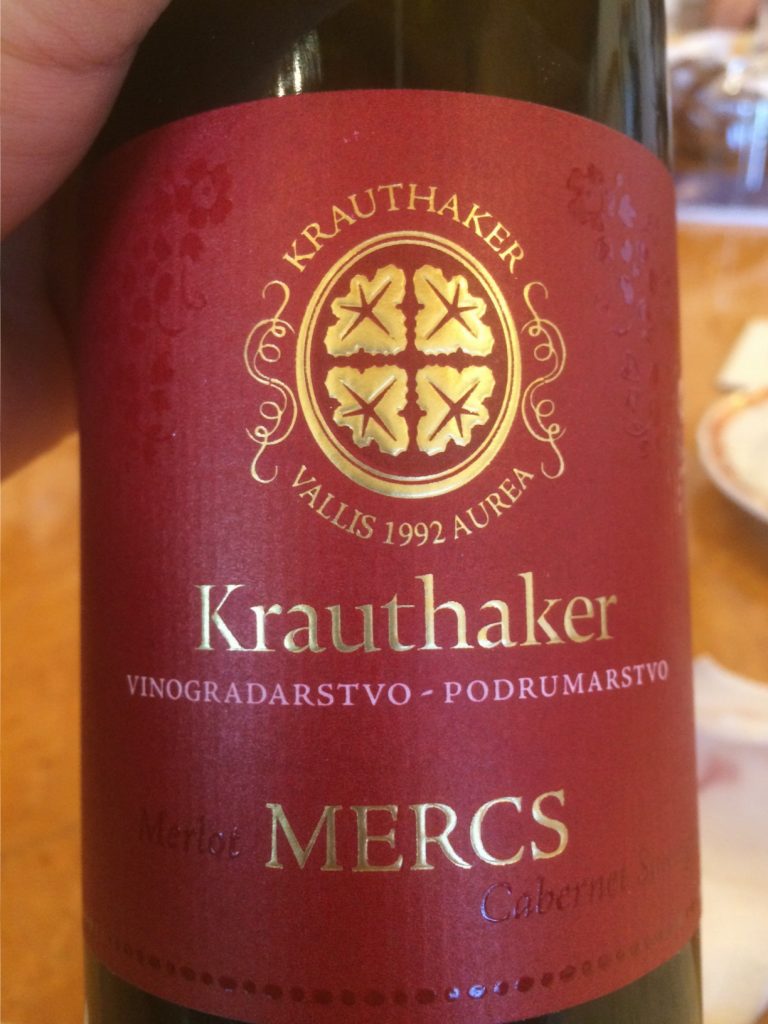 Slavonia, More Than Just Oak
As we drove down the highway back to Zagreb, we thought about our time in Slavonia. The wines of the region smashed through our expectations. The wines were a heck of a lot better than we expected them to be, especially the reds. Coastal Croatia produces most of the red wines in the country, but they need to look over their shoulder because Slavonia is coming.
The finest selection of
Croatian wines
available at:

Shipping is available EU-wide and to the UK.
************
    Do you want to try Croatian wines?    
If you want to savor the exquisite flavor of Croatian wines, look no further than wineandmore.com. With many options from different winemakers, it's easy to find exactly what your palate desires. Not sure which bottle is best for you? Try out one of their curated wine cases and discover the perfect vintage for any occasion!
************
Want to learn more about wine?
Are you ready to discover the wonderful world of wines? Come join us at wineandmore.com, and let's explore the incredible selection of delicious wines together! We can't wait to share our passion for wine with you!
---
The ideas expressed in this article are personal opinions and are not associated with any sponsors or business promotions. You can find out more about accommodation at Sontacchi at their Website.