South Italian Wines at Radici del Sud
Reading Time: [est_time] In the summer of 2018, we attended the 25th annual Radici del Sud held in Puglia, Italy. The media program consisted of a wine competition, walkabout tasting, and a series of field trips. You
Reading Time: 6 minutes
In the summer of 2018, we attended the 25th annual Radici del Sud held in Puglia, Italy. The media program consisted of a wine competition, walkabout tasting, and a series of field trips. You can check out the events in the videos below.
Radici del Sud: Roots of the South
Exotic Wine Travel's Picks:
During the course of the week, we had a chance to taste several hundred wines. Here are the ones that stood out to us.
You can find out more about our scoring system on the Wine Rating page.
Sertura, 

Greco di Tufo 2014
On the first evening of Radici del Sud, we took part in a vertical tasting (2009 and 2013-2017) of Sertura Greco di Tufo. This was my (Matt) favorite wine from the tasting.
This has an intriguing nose of herbs, dried pineapple, and white flower. This Campanian wine is complex with a chamomile flavor on the mid-palate and a touch of spiciness. The acidity isn't as pronounced as the other vintages but the wine is complete.   4.2/5
Find or buy on Wine-Searcher.
Sertura, 

Greco di Tufo 2009
The grapes are grown on volcanic soil at 300-600 meters above sea level, a set-up that allegedly enhances the 'sapidity' of the wine. The high diurnal temperature range helps to retain freshness in the grapes. Tasting through the six vintages, I notice that a few vintages express overripe fruit flavors (but not bruised or oxidized), which offers a sense of sweetness on the nose. The younger wines are unctuous with a lemon-like acidity. All the wines show a good mix of acidity and tannins on the end-palate, offering refreshing astringency on the finish. Moving to the older wines, they gain fullness and harmony in the mouth and a hint of honey on the nose.
Oddly, 2014 (Matt's favorite) is my (Charine) least favorite and 2009 is the one that stood out to me. Sertura's Greco di Tudo 2009 shows fullness and expressiveness in the mouth. It has a slightly bitter finish, backed by acidity that gives a sense of freshness. The finish really wins me over: lemony-tinted long finish with a hint of petroleum and spice. The bouquet is dominated by tertiary notes, enlivened by a floral, vanilla sweetness.   4.2/5
Find or buy on Wine-Searcher.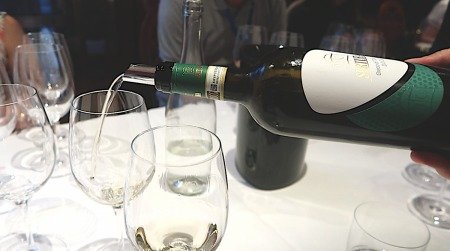 Coppi, 

Senatore Primitivo 2001
On the second evening of Radici del Sud, we tasted several vintages of Coppi Senatore Primitivo including 2011, 2010, 2008, and 2001. It's made within the limits of Gioia del Colle in Puglia. The Coppi Senatore Primitivo is the flagship bottling of the estate. It's aged in large casks and several years in bottle before release. The 2001 vintage has flavors of baked red fruit, Mediterranean brush, and brown sugar.  Its medium-bodied frame is supported by aged notes and resolved tannins.   4.0/5
Find or buy on Wine-Searcher.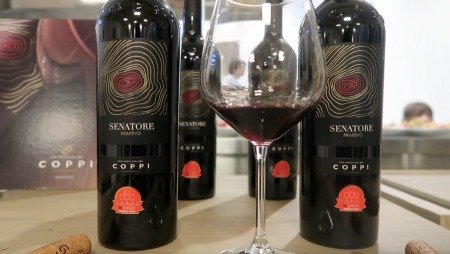 Cantina Moros, 

Salice Salentino Riserva 2015
Cantina Moros is one of the three properties of Claudio Quarta. This cantina produces only one wine: a Salice Salentino Riserva. It's one of Salento's most celebrated red wines. This effort has room to develop and will continue to evolve. Full of dark berries, Mediterranean herbs, graphite, and sweet cedar. Its concentration is framed by good wood integration. The Cantina Moros's Salice Salentino Riserva 2015 needs a few more years for all to melt together and to reveal a new level of gloriousness.   4.2/5
Find or buy on Wine-Searcher.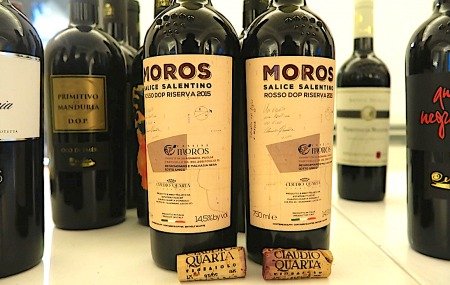 Cantina Sanpaolo, 

Greco di Tufo 2014
Located in Campania, Sanpaolo is one of Claudio Quarta's properties. The Cantina Sanpaolo's Greco di Tufo 2014 is a fabulous wine. Full of bright citrus, peach, and pineapple flavors. It shines with a mineral drive and a long finish.   4.2/5
Find or buy on Wine-Searcher.
Coppola, 

Doxi Alezio DOC 2015
The Alezio DOC is a small denomination in Lecce, Puglia, and Coppola is the only property working in this DOC. The wines of Alezio comprise of rosé, red, and riserva (with at least two years of aging) made from the grapes Negroamaro, Sangiovese, Montepulciano, and Malvasia Nera. The Alezio DOC is only 150 meters away from the sea; winemakers believe that this close distance enhances a wine's 'sapidity', especially in dryer vintages. The soil type here is predominantly terra rossa with some fossil, clay, and sand.
According to the proprietors of Coppola, Negroamaro expresses Alezio's warm climate, not through cooked fruit flavors but, through its tannic strength. To make a balanced Negroamaro wine, the proprietors focus on shielding the grapes from the sun and have yet to experience a vintage where they struggle with losing excessive acidity or gaining too much sugar in the grapes.
Made with Negroamaro, the Coppola Doxi Alezio is the reserve wine of Coppola. It has cherry, pepper, tobacco, and cedar notes. Medium bodied and juicy with good oak integration and soft tannins. The Coppola's Doxi Alezio DOC 2015 is easy to drink and boasts a good QPR.   4.1/5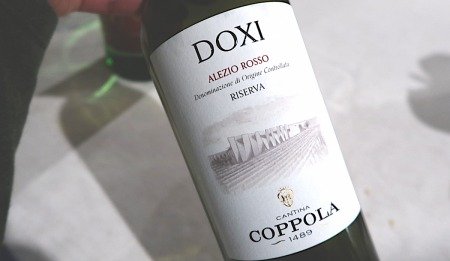 Garofano, 

Girofle Rosé 2011
Garofano is one of the most popular names in Puglia. We visited the estate and took part in a vertical of Girofle Rosé, which is made from Negroamaro grapes of younger vines (about 12 years old) planted in the Copertino DOC. The vintages tasted were 2017, 2016, 2015, 2014, 2013, and 2011.
Through the vertical tasting, we learned that
The Garofano's 

Girofle Rosé always has around 13% ABV.

The color of Garofano's 

Girofle Rosé stabilizes after the first year—besides 2017, all the wines are in a similar shade of copper.

There are a few consistent characteristics in all of the vintages: bitter grapefruit finish, astringent freshness, a hint of Mediterranean herb flavor, and a jasmine flower undertone. These r

osés

 taste fuller with bigger shoulders and without the usual lemony, limey freshness that can be found in typical r

osé wines. 

These wines need time to open up as the flavors are so compact and complex. The older vintages express pronounced overripe stone fruit and honey wax flavors that calm down with aeration.
The Garofano's Girofle Rosé 2011 is amber in color—almost like a macerated Pinot Grigio. The complex bouquet unfolds into notes of nuts, forest floor, mushroom, and fall leaf. This is earthy and fruity at the same time with a spicy finish. It's a delicious wine with complexity and nuances, which sort of reminds us of an aged Riesling.   4.2/5
Find or buy on Wine-Searcher.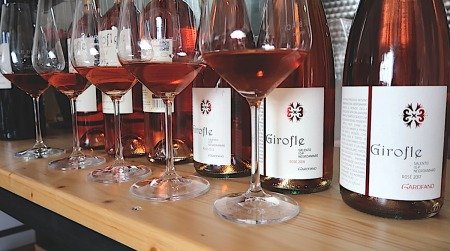 Duca Carlo Guarini, Nativo Negroamaro 2016
Duca Carlo Guarini is another one of the big names in Puglia. They own vineyards on the eastern side of the Salento peninsula and focus on local varieties. The Duca Carlo Guarini Nativo is a Negroamaro that doesn't see oak. It's juicy and full of red fruit flavors. The low level of tannins and moderate alcohol make this wine enjoyable and easy to drink.   4.0/5
Find or buy on Wine-Searcher.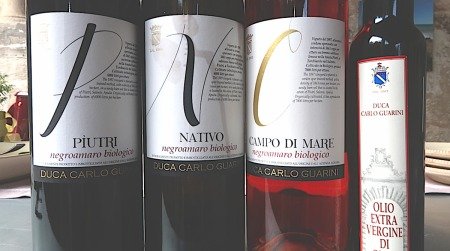 Duca Carlo Guarini, Malia Malvasia Nera 2015
The Malvasia Nera from Duca Carlo Guarini is one of the winery's staple red wines. This is one of the better examples of Malvasia Nera that we've tasted. It's medium bodied with a lot of texture. This easy-drinking wine expresses notes of dark fruit, black tea, and flowers. It has a low level of tannins.  4.0/5
Find or buy on Wine-Searcher.
San Marzano is a large co-op on the Salento peninsula. It's one of the region's big players. A blend of Chardonnay, Moscatello Selvatico, and Fiano from clay-soil vineyards, the Edda is their premium white wine. The wine was aged for around four months in American and French, new and old oak barrels. We tasted three vintages (2017, 2016, and 2015) of this wine, and this was our favorite because of its harmony. It's also the least resinous and least viscous of the three. The San Marzano's Edda 2016 shows flavors of dandelion, honey, tropical fruit, and a touch of petrol. 2016 is lighter on its feet than 2017 and more fruity than 2015. The Chardonnay's structure and long finish of sweet oak make this wine a winner.   4.2/5
Find or buy on Wine-Searcher.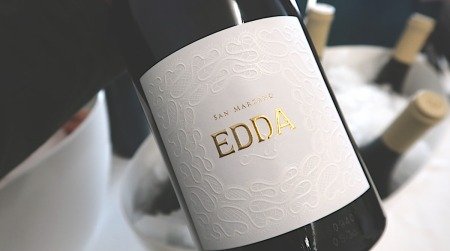 San Marzano, 11 Filari Primitivo Di Manduria Dolce Naturale 2015
A traditional-style Primitivo made from late-harvest grapes. The grapes of this wine were taken from old bush vines and the wine was aged for 12 months in French and American barriques. The San Marzano's 11 Filari Primitivo Di Manduria Dolce Naturale 2015 is full of plum, chocolate, vanilla, and orange peel. It has a powerful mid-palate, small and grippy tannins, and bright acidity. This is one delicious sweet wine that will pair well with chocolate cake.   4.3/5
Find or buy on Wine-Searcher.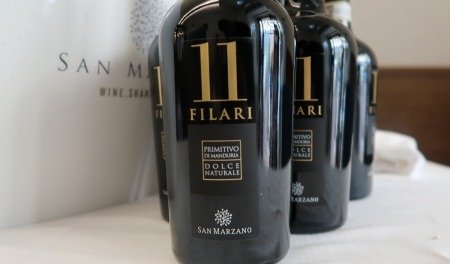 Vitivinicola Marulli, Menone Negroamaro 2013
The Menone Negroamaro is the premium red from Vitivinicola Marulli, located on the Salento peninsula. This unfined and unfiltered Negroamaro wine was aged in concrete for 36 months. It has notes of black cherry, tobacco, and black pepper. It's rich but not overly big. It has chewy tannins and some room to develop. Our friend Fabien Lainé liked this wine as well as you can see below.   4.0/5
Ognissole, Essentia Loci Primitivo di Manduria 2015
Do you think all Primitivo di Manduria wines are plummy and jammy? One taste of the Ognissole Essentia Loci Primitivo di Manduria might change your mind. The fruit of this wine is from the Salento peninsula. Ognissole's Essentia Loci Primitivo di Manduria 2015 is medium-bodied, perked up by juicy acidity and Mediterranean herb flavors. Notes of red plum, licorice, earth, juniper, and oregano dominate the balanced palate. The flavors show the warm growing condition yet retain freshness and do not cross the line into being "too cooked". The fine-grained tannins and long finish make this one of the most approachable Primitivos we've come across.    4.3/5
Find or buy on Wine-Searcher.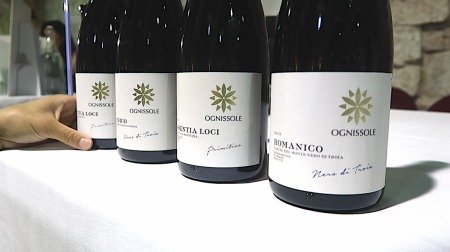 L'Archetipo, Greco Bianco 2016
L'Archetipo is a fairly new, eco-certified (organic) producer in Puglia. We appreciated most of the L'Archetipo's wines, and this stood out the most to us. The L'Archetipo's Greco Bianco 2016 is white wine with one day of skin contact. Notes of ripe stone fruit and a touch of nuttiness. It's vibrant on the palate with a little bit of tannins that hit the end-palate.   4.0/5
Find or buy on Wine-Searcher.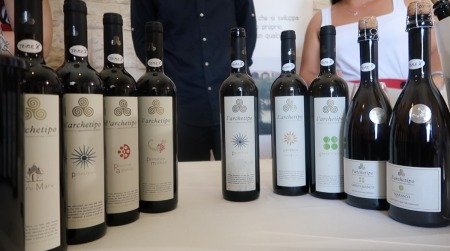 Camerlengo, Aglianico del Vulture 2014
Camerlengo is a minimal-intervention producer in Basilicata. His Aglianico del Vulture is made from grapes of old vines. The Camerlengo's Aglianico del Vulture 2014 is full-bodied led by fruit flavors (black cherry and blackberry) plus a hint of chocolate. This has rich fruit without the hindrance of oak and finishes with a lovely tobacco note. For a three-year-old Aglianico del Vulture, this is extremely approachable and deserves praise.   4.2/5
Find or buy on Wine-Searcher.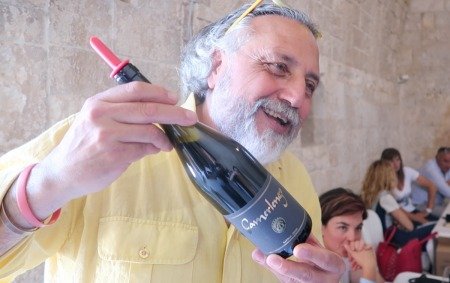 Giovanni Aiello, Chakra Rosso Primitivo 2015
Giovanni Aiello makes small batches of wines from his vineyards near the town of Gioia del Colle. His Chakra Rosso Primitivo is made from higher-elevation vineyards on the Salento peninsula. He hand-paints all his labels and practices the minimal-intervention approach both in the vineyard and winery; hence, vintage variations in the wines can be surprisingly drastic. Giovanni Aiello's Chakra Rosso Primitivo 2015 is a fresher style of Primitivo. Its medium body is packed with notes of red plum, cooked cherry, graphite, and earth. The tannins are fine-grained and the acidity keeps the wine lively.  4.1/5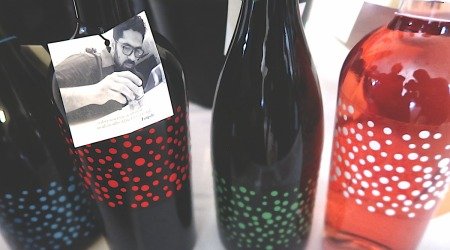 ---
You May Also Enjoy:
Radici Del Sud Is South Italy's Best Wine Party by Susan Gordon, Forbes
The organizers of Radici del Sud paid for our flights, accommodation, and meals. However, the opinions expressed in this article are unsolicited and have not been paid for in any way. We do not sell editorial content as that would destroy the legitimacy of our reviews and the trust between Exotic Wine Travel and its readers.