Surrau 'Sincaru' Cannonau di Sardegna Riserva 2016
Reading Time: [est_time] Hello! Welcome to As Drunk by Exotic Wine Travel, a weekly column where we feature interesting wines that we encourage you to seek out. The reviews featured in this series may be written by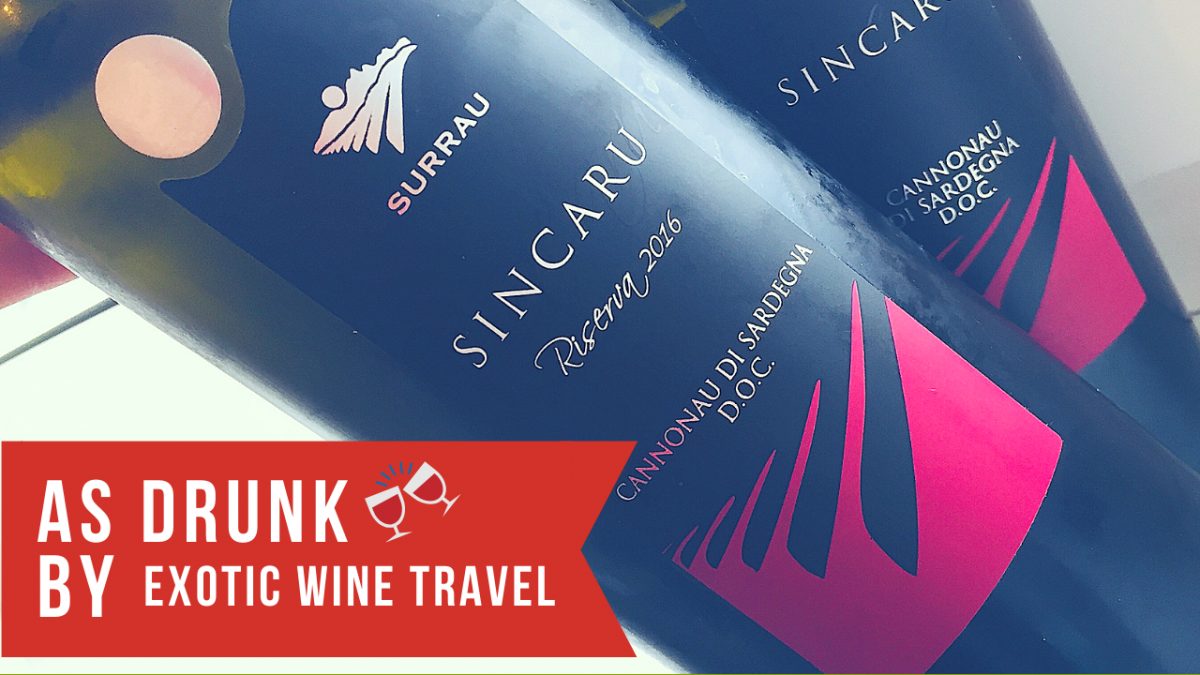 Reading Time: 1 minute
Hello! Welcome to As Drunk by Exotic Wine Travel, a weekly column where we feature interesting wines that we encourage you to seek out. The reviews featured in this series may be written by either one or the both of us. The featured wines can be from obscure or well-known wine regions. We hope that these wine recommendations will keep you gastronomically curious and your palate invigorated.
Surrau, 'Sincaru' Cannonau di Sardegna Riserva 2016
Sardinia is home to one of the world's "blue zones". These are regions on the planet with a high concentration of centenarians, people over the age of 100. In Sardinia, many people credit wine made from Cannanau as a contributor to this longevity.
The grape Cannonau is also known as Grenache in Franch and Garnacha in Spain (it's believed that the Aragonese brought the grape to the island when they invaded in the 14th century). It's the most widely planted red grape on the island. The appellation known as Cannonau di Sardegna DOC may be Sardinia's most famous wine (along with Vermentino).
There are swathes of Cannonau di Sardegnas available that are overripe and high in alcohol. The appellation rules allow Cannonau di Sardegna to be made from fruit grown all over the island. The DOC doesn't take into account all of Sardinia's microclimates. However, several producers are working on making site-specific Cannonau di Sardegna.
I first tasted the Surrau, 'Sincaru' Cannanau di Sardegna Riserva over lunch in Cagliari and was hooked immediately. It's a wine with alcohol that is under control and shows ripe (not overripe) fruit. During that lunch, there were a lot of great wines on the table but I found myself returning to the Surrau.
The Surrau, 'Sincaru' Cannonau di Sardegna Riserva 2016 is 100% Cannonau aged in oak casks for 18 months and 6 months in concrete before being bottled. It's light in color, so it's safe to assume that no other varieties were blended into it. This is fresher and brighter than the basic Sincaru bottling. This has notes of dried strawberry, garrigue, and peppered meat. The mouth has tons of fruit with a slight savory note and fine-grained tannins. Long finish.
Score: 91+/100 (You can find out more about our scoring system on the WINE RATING page.)
Do you like our content?
If you like our articles and videos, we'd love for you to be a part of our community on Patreon. The support from Patreon helps keep the content coming and you access to behind the scenes content. It also gives us the chance to get to know you better. Check out the Exotic Wine Travel Patreon page by clicking the photo below.

---
Please note that the opinions expressed are our own and have not been paid for in any way. We do not sell editorial content as that would destroy the legitimacy of our reviews and the trust between Exotic Wine Travel and its readers. On occasion, we extend the option of purchasing the wines we review or/and the products we spotlight. Some of these product links are set up through affiliate programs, which means Exotic Wine Travel gets referral credits if you choose to purchase these items via the links we provide.