Taste of Tuscany: Vino Nobile di Montepulciano
Reading Time: [est_time] A noble wine waiting in the wings. Vino Nobile di Montepulciano is one of the historic Tuscan wines. The first mention of the wines dates back to the 8th century and in the 16th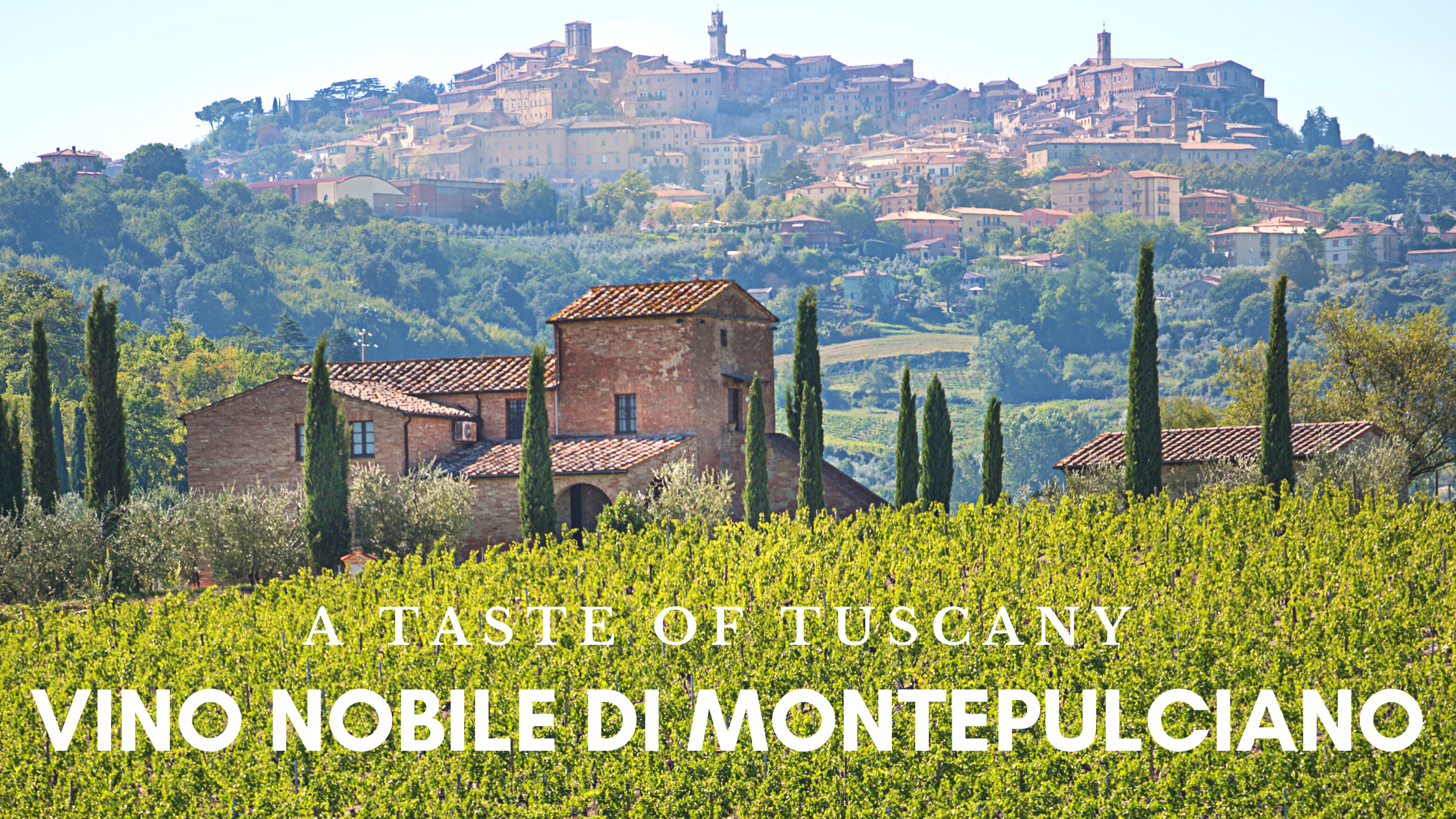 Reading Time: 4 minutes
A noble wine waiting in the wings.
Vino Nobile di Montepulciano is one of the historic Tuscan wines. The first mention of the wines dates back to the 8th century and in the 16th century, Pope Paul III declared the wines of Montepulciano to be vino perfectissimo (perfect wine). In recent times, Vino Nobile di Montepulciano has lost ground in the mind of the consumer to nearby appellations of Brunello di Montalcino and Chianti Classico.
The Vino Nobile Style?
It's no secret that I love Sangiovese, it's the grape that sucked me into the world of wine. No matter how my palate has evolved throughout the years, my passion for Sangiovese has never waned. This carries over to Montepulciano.
Surrounding the village of Montepulciano, the region of Vino Nobile di Montepulciano was one of the first regions to receive the title of DOC in the 1960s. It was promoted to the prestigious DOCG status in 1980, the same time as its neighbors Chianti Classico and Brunello di Montalcino. Despite the history, Vino Nobile di Montepulciano (Vino Nobile for short) doesn't carry the caché of the former.
Vino Nobile di Montepulciano is a Sangiovese-based red and grapes such as Canniaolo, Colorino, Mammolo, Merlot, and Cabernet Sauvignon are permitted in the blend. The style of Vino Nobile has been described in between Brunello and Chianti Classico. To me, this is a bit of a generalization as Vino Nobile styles can vary tremendously based on the producer.
[ap_tagline_box tag_box_style="ap-all-border-box"]
Vino Nobile di Montepulciano at a Glance
Vino Nobile di Montepulciano is predominantly a Sangiovese-based wine in Tuscany. It's not the same has Montepulciano d'Abruzzo.
The vineyards must be at 250-600 meters (820-1970 feet) in elevation.
There are approximately 1,300 hectares (3,212 acres) eligble to become Vino Nobile di Montepulciano DOCG.
The local clone of Sangiovese is called Prugnolo Gentile and they must constitute at least 70% of the blend to be named Vino Nobile di Montepulciano. 
The Consorzio del Vino Nobile di Montepulciano, counts 230 farmers and 76 estate producers.
[/ap_tagline_box]
The appellation provides the wine enthusiast with a range of choices. The wines of Vino Nobile run the gamut from fruit-driven to savory, medium-bodied & structured to full & fleshy. You can also find wines that are modern to rustic and everything in between. Is this be the downfall of Vino Nobile or a blessing?
With many 'cookie cutter' styles in the wine world, I find this to be refreshing. I've had Vino Nobiles that act very much like Brunello to those that more closely resemble Old World Pinot Noir. My hope is that producers continue to work on producing delicate Sangiovese that focuses on the sweet, sour, and savory components that make the grape so food-friendly. This can be done regardless of style.
The Future of Vino Nobile
What's the future of Montepulciano? It seems that I'm not the only one who is bullish. Antonio Galloni of Vinous said it best, "If I had to bet on one region in Italy that really has the potential to explode onto the global stage the way Brunello, Barolo, Barbaresco, and Chianti Classico have, it would no doubt be Montepulciano."
From my tastings over the last few months, it's hard to argue with Antonio. Here's a look at six different Vino Nobile di Montepulciano wines from the fantastic 2016 vintage.
Wine Recommendations
Fattoria del Cerro , Vino Nobile di Montepulciano 2016
The Fattoria del Cerro is made from almost entirely Sangiovese. A gorgeous Tuscan nose of sweet & sour cherry, cedarwood, and smoke. This is juicy, delicious red wine. It's not a massive red like the 14% abv would suggest, it's one with more restraint. There is a generous amount of acidity here which allows for the tart red fruit to show through on the palate. Plenty of Italian nuances here. Open this up during a weekday evening with pizza or lasagne. Score: 89/100
Tenuta Vallocaia – Bindella, 'I Quadri' Vino Nobile di Montepulciano 2016
Tenuta Vallocaia – Bindella, 'I Quadri' is 100% Sangiovese. Out of the glass, it's bright with rose petal, sour cherry, tobacco, and cedar notes. This hits my palate perfectly. It's mostly tart red fruit upfront with the subtle earthy and tobacco notes coming in at the end. The juicy acidity keeps the wine light on its feet at first before the chewy tannins come on in the end. Long finish. This wine is built to last in the cellar. Score: 91+/100
Tiberini, 'Podere le Caggiole' Vino Nobile di Montepulciano 2016
The Tiberini, 'Podere le Caggiole; is a single-vineyard wine made from Sangiovese, Canaiolo, and Mammolo. This is a bigger Vino Nobile with notes of sour cherry, sour plum, violets, and chew tobacco. The wood comes on strong here but it's a nice compliment to the other flavors. Full-bodied and round on the palate, it's plush and on the fruity side. It feels so round and silky on the palate before the chewy tannins come in hard. This can last in the cellar. Score: 92/100
Tenuta di Gracciano della Seta, Vino Nobile di Montepulciano 2016
The Tenuta di Gracciano della Seta is mostly Sangiovese with some Canaiolo and Merlot. This is a savory, Old World red wine. Notes of leather, sour cherry, sweet cedar, and damp earth. This is a balanced, Old World red wine. There's so much going on here, yet everything is put into place. It's round on the palate and has a touch of rustic quality to it. The bright acidity stretches the finish. Balance is the keyword here. Score: 92+/100
Carpineto, Vino Nobile di Montepulciano Riserva 2016
The Carpineto, Riserva is mostly Sangiovese with some Canaiolo in it. This is rich and ripe, almost Brunello in style. Notes of black cherry, sandalwood, smoked meat, and a touch of violets. It's full in body, the biggest wine out of this set. The wood is integrated really well here. The wine is round and plush before the supple tannins add some grip on the backend. Serve this with grilled meat. Score: 90/100
Valdipiatta, 'Vigna d'Alfiero' Vino Nobile di Montepulciano 2016
The Valdipiatta, 'Vigna d'Alfiero' is 100% Sangiovese and only made in the best vintages. Notes of red cherry, tobacco, leather, pepper, and earth. It's round and plush on the palate. I thought that it might be very fruity by the nose, but the fruit is restrained and held back a little. This is a red with savory nuances. Ripe tannins and a long, leathery finish. Score: 91/100
You can find out more about our scoring system on the WINE RATING page.
Do you like our content?
If you like our articles and videos, we'd love for you to be a part of our community on Patreon. The support from Patreon helps keep the content coming and you access to behind the scenes content. It also gives us the chance to get to know you better. Check out the Exotic Wine Travel Patreon page by clicking the photo below.

---
Thanks to the Consorzio del Vino Nobile di Montepulciano for providing tasting samples. The opinions expressed in this article are unsolicited and have not been paid for in any way by governmental bodies, enterprises, or individuals. We do not sell editorial content as that would destroy the legitimacy of our reviews and the trust between Exotic Wine Travel and its readers. On occasion, we extend the option of purchasing the wines we review or/and the products we spotlight. Some of these product links are set up through affiliate programs, which means Exotic Wine Travel gets referral credits if you choose to purchase these items via the links we provide.