Tedeschi 'Monte Olmi' Amarone Della Valpolicella & 'Maternigo' Valpolicella Superiore
Reading Time: [est_time] Hello! Welcome to As Drunk by Exotic Wine Travel, a weekly column where we feature interesting wines that we encourage you to seek out. The reviews featured in this series may be written by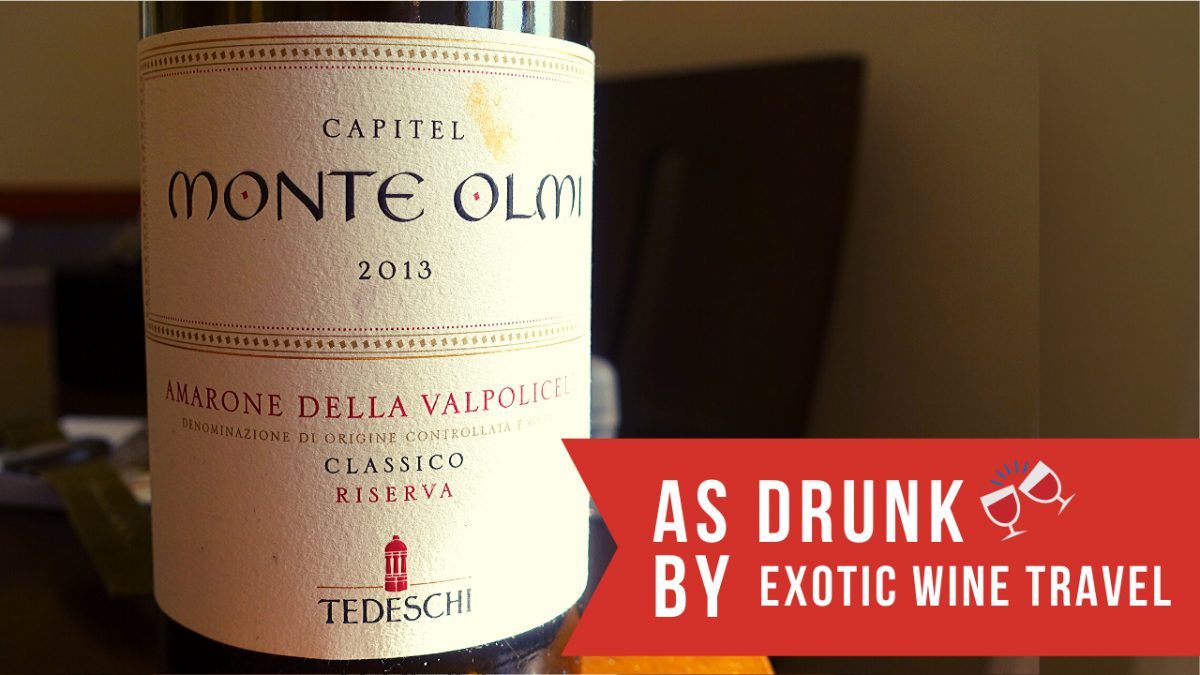 Reading Time: 2 minutes
Hello! Welcome to As Drunk by Exotic Wine Travel, a weekly column where we feature interesting wines that we encourage you to seek out. The reviews featured in this series may be written by either one or the both of us. The featured wines can be from obscure or well-known wine regions. We hope that these wine recommendations will keep you gastronomically curious and your palate invigorated.
Tedeschi Winery
When it comes to wine, Italy is where my heart lies. Perhaps it's because that's where I first cut my teeth with fine wine. Maybe it's because the food is so delicious and marries perfectly with the wine. Or maybe because traveling through the country is magical.
We are usually in Italy eight to ten times per year. From the north to the south, we can't get enough Italian food and wine. Aside from the big names, the biggest hole in our Italian wine education is Veneto.
Veneto produces the most wine annually by volume. It's also home to some of Italy's most exported wines including Soave, Valpolicella, and Amarone Della Valpolicella. One of the estates that produce all three wines is Tedeschi.
Tedeschi is credited with producing one of the first single-vineyard wines from Valpolicella – the Tedeschi, 'Monte Olmi' Amarone Della Valpolicella. "In the past, our family's focus was Recioto (sweet wine). But my father recognized the quality of the grapes from this 2.5-hectare parcel, so we made the first bottle of Monte Olmi in 1964," owner Maria Sabrina Tedeschi says.
During a recent portfolio tasting, we got the chance to see what makes this Amarone so famous. While the 'Monte Olmi' lives up to its billing, we were impressed by the more affordable wines in Tedeschi's lineup.
Mostly Corvina, Corvinone, and Rondinella aged in Slavonian oak. Like all Ripassos, it's made with the skins of grapes that were used for Amarone. Notes of pine forest, pepper, blackberry, and black cherry emerge from the glass. The nose is more savory but on the palate, the dark fruit flavors emerge. Silky mid-palate with a subtle note of tobacco on the finish. This bottle offers a lot of wine for the price (<20 USD) and is sure to please many palates. Score: 88/100
Single vineyard blend of Corvina, Rondinella, and Corvinone. Notes of tobacco, black licorice, black cherry pie, and white pepper. Full-bodied with very ripe fruit. There are several layers of flavor here. Fine-grained tannins and a pleasurable, fruity finish. This has the concentration to improve with several years in the cellar.
The Tedeschi, 'Maternigo' Valpolicella Superiore offers exceptional value for money. This is something to buy by the case. It's a wine that can cellar well but offers plenty of immediate pleasure on a random Wednesday night. Score: 91/100
Bottled since 1964, this is quite an elegant Amarone with notes of dark plum, dried cherry, coffee, pine, and a touch of leather. This has a serious, fine nose. Full-bodied and rich, there's a generous amount fruit here with many layers of flavors. The alcohol is high but it's not distracting. With firm tannins and a long finish, this Amarone is something to behold. Score: 94/100 
You can find out more about our scoring system on the WINE RATING page.
You might also enjoy:
Wines of Italy Livestream: Interview with Sabrina Tedeschi
Do you like our content?
If you like our articles and videos, we'd love for you to be a part of our community on Patreon. The support from Patreon helps keep the content coming and you access to behind the scenes content. It also gives us the chance to get to know you better. Check out the Exotic Wine Travel Patreon page by clicking the photo below.

---
Thanks to Tedeschi for providing samples. Please note that the opinions expressed are our own and have not been paid for in any way. We do not sell editorial content as that would destroy the legitimacy of our reviews and the trust between Exotic Wine Travel and its readers. On occasion, we extend the option of purchasing the wines we review or/and the products we spotlight. Some of these product links are set up through affiliate programs, which means Exotic Wine Travel gets referral credits if you choose to purchase these items via the links we provide.