Tenuta Cavalier Pepe: Volcanic Wines With Flair
Reading Time: [est_time] Campania (Italy) is a hot region at the moment thanks to the deep, structured wines from Aglianico, juicy reds from Piedirosso, and a slew of unique white grapes. It's one of those rare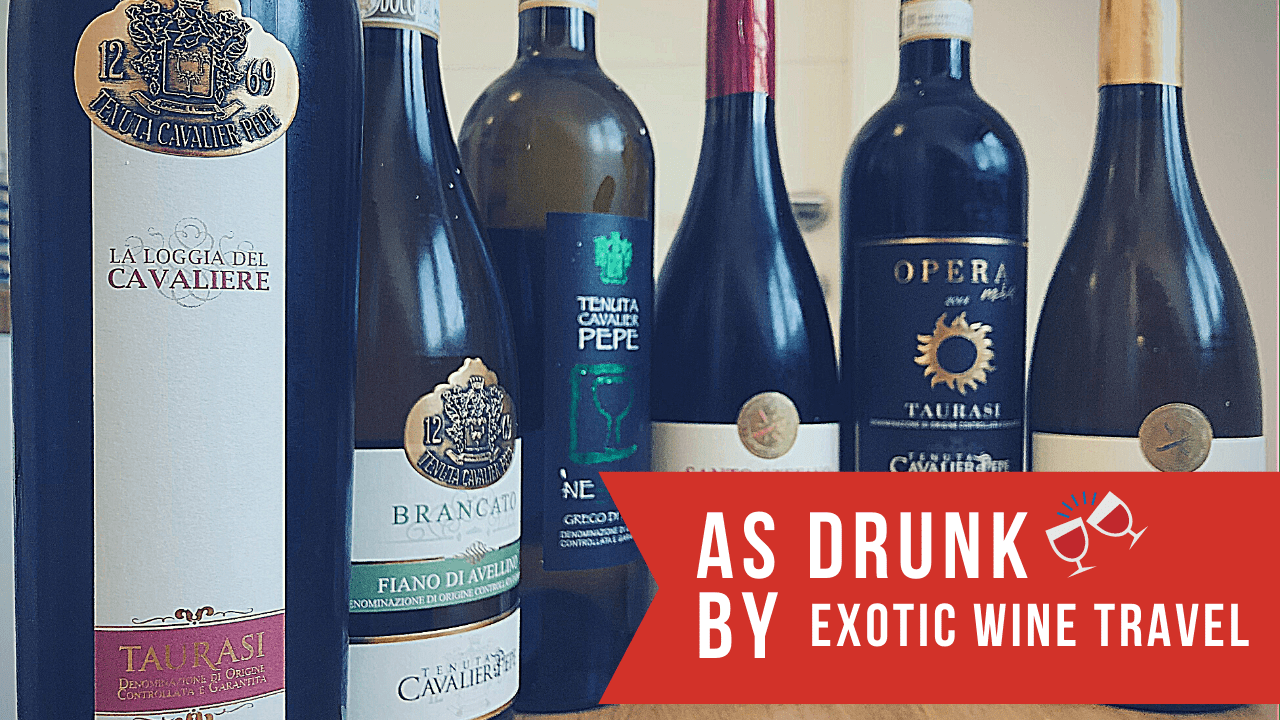 Reading Time: 2 minutes
Campania (Italy) is a hot region at the moment thanks to the deep, structured wines from Aglianico, juicy reds from Piedirosso, and a slew of unique white grapes. It's one of those rare regions in the world that makes both whites and reds of all levels.
Tenuta Cavalier Pepe produces around 450,000 bottles from over 60 hectares of vineyards. Angelo and his daughter Milena craft wines from the grapes of Aglianico, Coda di Volpe, Greco, Fiano, and Falanghina. It's a winery that I had seen around but had never tasted until Grapevine Adventures introduced them to me.
I was pleasantly taken back by all of the wines. The whites have a spine of acidity, the Santa Vara is possibly the finest Falanghina I've tasted. Many Aglianicos can be overripe, pruney, and oaky. These reds from Tenuta Cavalier Pepe are the opposite, they play more on the red fruit spectrum – which hits my palate perfectly.
Personally, I'd like to see different labels on the bottles but don't let that deter you, there's serious juice inside.
Tenuta Cavalier Pepe, 'Nestor' Greco di Tufo 2019
The Tenuta Cavalier Pepe, 'Nestor' is 100% Greco with an explosive nose. Notes of green apple, white flower, pear, and a touch of white pepper. For a fresh white, there is plenty to love here. There's a good balance of fruit, minerals, and zestiness. Clean and crisp with a slightly spicy finish. Give me this with some baked white fish all day. Score: 89/100
Tenuta Cavalier Pepe, 'Santa Vara' Irpinia Falanghina 2018
The Tenuta Cavalier Pepe, 'Santa Vara' is a single-vineyard Falanghina that is barrel fermented. The wood integration here is fantastic. Notes of baked apple, white peach, yogurt, and a touch of spice from the barrel. This is an impressive take on this grape. There's plenty of white fruit but it's the electricity and spine of acidity that keeps this wine interesting. The barrel just adds a hint of flavor, nothing more. Long and salty finish. This is the most exciting Falanghina that I've ever tasted. Score: 92+/100
Tenuta Cavalier Pepe, 'Brancato' Fiano di Avellino 2017
The Tenuta Cavalier Pepe, 'Brancato' is Fiano fermented in both stainless steel and wood. It's got just the right amount of bottle development now. Notes of basil, lime, white grapefruit, and a touch of natural gas with a hint of baking spice from the barrel. It's tangy on the palate as the wood doesn't dominate. A medium-bodied white that finishes as if you had a bowl of grapefruit salad with crushed rocks as the seasoning. Score: 90/100
Tenuta Cavalier Pepe, 'Santo Stefano' Irpinia Campi Taurasini 2015
The Tenuta Cavalier Pepe, 'Santo Stefano' Irpinia Campi Taurasini is Aglianico that was aged in both the barrel and concrete before being released. It's a clean take on this grape with notes of sour cherry, rose petal, mocha, and black pepper. More medium-bodied and suave than full and jammy. This has plenty of complexity on the palate. It doesn't show a ton of aged notes and should improve even more with time. Chewy tannins and a long finish. Score: 92+/100
Tenuta Cavalier Pepe, 'Opera Mia' Taurasi 2014
The Tenuta Cavalier Pepe, 'Opera Mia' Taurasi is 100% Aglianico that's aged in wood and concrete before bottling. Gorgeous nose of cinnamon, cherry, black licorice, meat, and pepper. The palate is just gorgeous. The fruit and other complexities come together perfectly. This is a full-bodied red but it isn't huge and jammy, there's plenty of refinement for a South Italian red. Big, chewy tannins add grip and guide the long finish. This should improve beautifully with time in the bottle. Score: 93+/100
Tenuta Cavalier Pepe, 'La Loggia del Cavaliere' Taurasi Riserva 2013
The Tenuta Cavalier Pepe, 'La Loggia del Cavaliere' Taurasi Riserva is 100% Aglianico aged in wood and stainless steel. Notes of black cherry, licorice, meat, black pepper, and sweet cedar. The palate is much more fruiter than the nose. There is a rush of fruit and cherry juice-like acidity. The tannins are still pretty firm here, which suggests the wine will last a long time in the bottle. If you want to have it now, make sure to have some grilled meat nearby. Otherwise, put this in the cellar and watch the magic happen. Score: 94/100
You can find out more about our scoring system on the WINE RATING page.
Do you like our content?
If you like our articles and videos, we'd love for you to be a part of our community on Patreon. The support from Patreon helps keep the content coming and you access to behind the scenes content. It also gives us the chance to get to know you better. Check out the Exotic Wine Travel Patreon page by clicking the photo below.

---
Tenuta Cavalier Pepe provided tasting samples. The opinions expressed in this article are unsolicited and have not been paid for in any way by governmental bodies, enterprises, or individuals. We do not sell editorial content as that would destroy the legitimacy of our reviews and the trust between Exotic Wine Travel and its readers. On occasion, we extend the option of purchasing the wines we review or/and the products we spotlight. Some of these product links are set up through affiliate programs, which means Exotic Wine Travel gets referral credits if you choose to purchase these items via the links we provide.