Thai Wine Association: Extreme Tropical Viticulture
Reading Time: [est_time] Thai food is phenomenal. It possesses a balance of tartness, sweetness, and spiciness. The food is just one of the reasons (in addition to the gorgeous beaches) that over 35 million tourists come
Reading Time: 4 minutes
Thai food is phenomenal. It possesses a balance of tartness, sweetness, and spiciness. The food is just one of the reasons (in addition to the gorgeous beaches) that over 35 million tourists come to Thailand annually. I would guess that a handful of those visitors know that Thailand is also a wine producing country.
Thai wine?
Most of the world's great vineyards are located between the latitudes of 30 and 50 degrees North and South. Thailand sits entirely between the equator and the Tropic of Cancer. Most of the vineyards are located between 12-15 degrees North. This is a difficult environment to grow wine grapes.
*Check out the VLOG from my visit in the video below.
Thai Wine Association
The Thai Wine Association was kind enough to invite me to their annual vineyard inspection tour. The TWA consists of six members: Gran Monte, J&J Vineyard, Aldicini, Moonlight Valley, Village Farm Winery, and Silverlake Vineyard. The association was established in 2004. President Visooth Lohitnavy (proprietor of Gran Monte) was my guide throughout the week.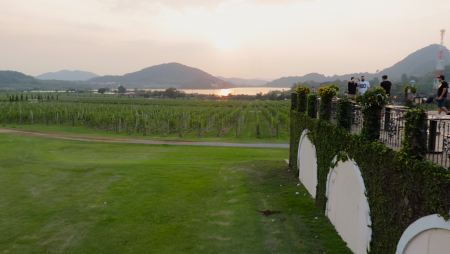 TWA is attempting to make Thai wine truly Thai since its inception in 1995. "Our members have to agree to use less than 15% of foreign wine and/or grape must in the blend," Visooth says. "If wineries use more than 15% or all foreign grapes, they must state it on the label," he further adds.
That sounds like a good idea, but how do high-quality grapes grow in this tropical climate?
Tropical Viticulture
If you have spent time in the tropics, you know the feeling. It's sticky and the sun is intense. The entire country of Thailand sits within the tropics and I've been skeptical about wine grape growing there for many years. The Thai Wine inspection trip shattered my misconceptions.
In the tropical climate, the vines don't go through a winter dormancy period like many wine regions in the world. Instead, the growers prune the vines down so that they ripen fruit during the dry season in Thailand – which is November to February.
The best vineyards I saw during the inspection tour were around the Khao Yai National Park. All of these vineyards sit at just under 400 meters (1312 feet) in elevation. When I was there in January, the weather was surprisingly dry and cool. It was around 28 degrees C (82 F) during the day and 18 C (64.4) at night. In the evening, the temperature felt very much like Mediterranean regions in the summer. Irrigation is a must during the dry season in Thailand. The vines are pruned throughout the year so that harvest coincides with the dry season.
"We've figured out how to grow vines in this climate," Gran Monte winemaker Nikki Lohitnavy said, "the biggest obstacle in Thailand is taxes."
It's true that the taxes are crippling. In Thailand, wine costs around two to two and a half times its native country's retail price. This puts a lot of pressure on quality-minded producers, especially because tropical viticulture takes an immense amount of costly labor to manage the vines.
The Thai Wines
One surprising thing is that Thai red wines are not high alcohol, big bruisers like one might expect. I assume it is because producers must pick before the rains come in late February. Meaning that the fruit set to the harvesting period is relatively short (Nov-Feb). This means that the reds are more medium bodied in style. Thai wine producers are having the most success with Syrah for the reds and Colombard, Chenin Blanc, Viognier, and Verdelho for the whites.
The wines are surprisingly well made and would shock a lot of people if served blind. Thai Syrah leans more on savory, earthy Rhône style and the Viognier and Chenin Blanc can be delicious. Colombard is known as a pretty innocuous grape but Thai wines made from it can be refreshing. They are a great option to sip on while soaking up the sun on one of Thailand's world-class beaches.
Exotic Wine Travel's Picks
You can find out more about our scoring system on the WINE RATING page.
Gran Monte, Gradient Syrah 2017
The Gran Monte Gradient Syrah is made using fruit from the J&J Family Vineyard, which is the most impressive plot I saw during the inspection tour. It's made with 30% whole cluster fermentation and aged in larger oak cask. It's for people who like savory, earthy reds, not fruit bombs.
There are notes of black fruit, pepper, meat, and a touch of stems. The wine has a chewy texture on the palate. It has a very pretty nose but the oak sticks out on the palate (it should settle down with time in the bottle). The wine is medium bodied and has a savory finish with a touch of violets. Score: 88/100
Gran Monte, The Orient Syrah 2014
The Gran Monte The Orient Syrah is one of the premium wines in the portfolio. It's not a fruit bomb, it's for people that like savory, complex reds. The wine is made from older, ungrafted vines and is aged in French and American oak for 18 months. Full of brambleberry, pepper, tangerine peel, and violet flavors. The wine is full-bodied with a chewy texture, soft tannins, and peppery finish. This wine is low in alcohol and has real soul. Score: 90/100
Gran Monte, Viognier 2018
For people who like a big floral white wine without sharp acidity. The Gran Monte Viognier has notes of yellow flower, yellow peach, apple, and vanilla spice. It's barrel fermented in used oak and full-bodied. My only complaint is that the wine's finish started out thin at first. This was not a problem with time as the wine breathed. Fantastic effort by winemaker Nikki Lohitnavy. Score: 90/100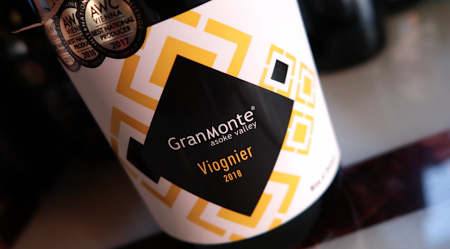 Village Farm, Château des Brumes Cuvée Prestige 2004
The Village Farm Château des Brumes Cuvée Prestige 2004 is very much an Old World style of wine. It's for people who like the aged Bordeaux notes and subtle fruit. The wine is a blend of Syrah and Cabernet Sauvignon. I was told that there is 15% French grapes blended in, although I think it may be more than that. This vintage is much better than the latest releases. There are notes of sour cherry, tobacco, sweet cedar, tomato leaf, and pepper. The wine is medium bodied with fine tannins and a long finish. It is really impressive wine. Score: 90/100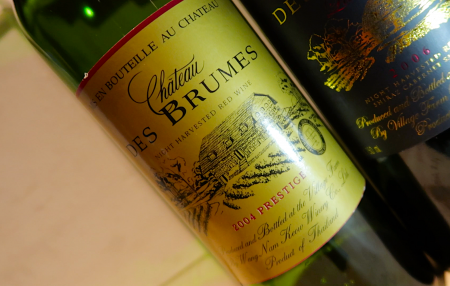 Moonlight Valley, Colombard 2018
When I first saw the vineyards of Moonlight Valley, it seemed improbable that the grapes would be good enough to make drinkable wine. The vines are at a lower elevation and have to cope with high levels of humidity. The first sip of the Moonlight Valley Colombard was quite a surprise.
It's for people who like crisp, light, and refreshing whites wines. There are notes of white-fleshed fruit, lemon, and even a touch of flint. The wine is tart with sharp acidity with a subtle yogurt note from the lees contact. It's a refreshing white that would be perfect on a sunny day on the beaches of Southern Thailand. Score: 85/100
Silverlake Vineyard, Shiraz Premium 2017
Silverlake Vineyard is a massive property near the beach resort Pattaya. Because of the intense humidity, most of their production is with grape must that is imported from Australia (although they do produce an Estate Shiraz and Colombard). This wine is for people who like big, rich, fruit bombs.
The grapes are from Barossa Valley in Australia, where Silverlake Vineyard has a 35% ownership share of the vineyard. The Silverlake Vineyard Shiraz Premium is aged in oak for eight months. There are notes of stewed plum, blackberry, chocolate, and pepper. It's full-bodied with a lot of oak, which should settle with time. The soft tannins guide the spicy finish. Score: 87/100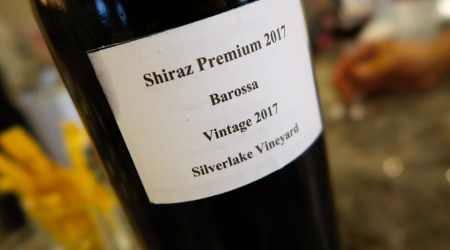 ---
The Thai Wine Association provided accommodation and meals for the duration of the inspection tour. The opinions expressed are our own and have not been paid for in any way. We do not sell editorial content as that would destroy the legitimacy of our reviews and the trust between Exotic Wine Travel and its readers. On occasion, we extend the option of purchasing the wines we review or/and the products we spotlight. Some of these product links are set up through affiliate programs, which means Exotic Wine Travel gets referral credits if you choose to purchase these items via the links we provide.