Plešivica: The Secrets of the Rolling Wine Hills
The show-stealing wine regions of Croatia are the Dalmatian coast and the Istrian peninsula. However, Croatia has other fascinating wine regions that deserve attention. One of them is a stone's throw from the capital. This
The show-stealing wine regions of Croatia are the Dalmatian coast and the Istrian peninsula. However, Croatia has other fascinating wine regions that deserve attention. One of them is a stone's throw from the capital. This region has picturesque scenery, tradition, and exciting wines.
Plešivica is located in the western part of Central Croatia, less than 30 kilometers southwest of Zagreb. The A1 highway approaches Plešivica on a flat plain, but once you turn off the road and head north, the hills start to climb. The change in elevation and scenery is abrupt and dramatic. The steep hills provide panoramic views of the flatlands. The tiny villages are linked by small roads, and the overall outlook is reminiscent of Barolo in Piedmont, Italy.
The vineyards lie on the rolling hills of the Samobor range, between 200 and 600 meters in elevation, and experience a true continental climate. Most of the vineyards face south, which allows for sufficient sunshine to ripen the grapes while the elevation and early morning fog help to retain acidity.
Plešivica Grapes and Styles
One downside of Plešivica is the lack of autochthonous varieties that can be considered trademarks of the region. Istria has Teran and Malvazija. Dalmatia has dozens of obscure names, along with headliners Plavac Mali and Pošip. But here, the plantings are dominated by international varieties, with only a small portion of obscure native grapes that are being used for commercial production.
There are wonderful wines being made here, from the white grapes Graševina (Welschriesling), Chardonnay, Rhine Riesling, Neuburger, Pinot Gris, Pinot blanc, Gewürztraminer, Sauvignon Blanc, Zeleni Silvanac (Müller-Thurgeau), and the native Žuti Plavec. A few producers have Portugizer, Pinot Noir, and one producer has a vineyard of Syrah.
This is becoming the area in Croatia for sparkling wine. All of the vineyards are on the south facing slopes which allow for adequate sun, but the elevation and early morning fog help retain acidity. Sparkling producers like Tomac say that the carbonate soils here mimic those of Champagne. This region has also been suggested as the best area in Croatia for Pinot Noir. Several producers make some very commendable and fruity Pinot Noir wines that show great elegance.
Despite the attention Plešivica receives for its sparklers and Pinot Noirs, we feel like the dry white wines are overlooked and very exciting. They are taut and spring loaded with energy and acidity. Several examples of wines we tasted from Sauvignon Blanc and Riesling displayed these exact characteristics.
Standout Plešivica Wineries
There are anywhere from 30 commercial wineries in Plešivica depending on the source. Of these wineries, four have a large market presence and reputation of high-quality winemaking. Thanks to the help of our friends, we visited Plešivica three separate occasions over a three-week period. We have a separate article about our long and exciting visit with Tomac, these other three wineries were also impressive.
Korak
Just under the village of Plešivica sits the cellar of Korak. It has a fantastic, panoramic view over the rolling hills. Velimir Korak is the proprietor and is bright, jovial, and full of energy. He learned winemaking from his grandfather but is also schooled in modern winemaking techniques. He makes wine from Riesling, Pinot Gris, Sauvignon Blanc, Chardonnay, Pinot Noir, and Syrah. Velimir labels his wines with the name of the micro-location under the grape variety.
We spent several hours with him on a cold December afternoon. All of us sipped, talked, and laughed while looking out over the wine hills. Velimir has a wonderful sparkle in his eye and his warm personality made us feel at ease.
Velimir's annual production depends on the year but recently has reached 50,000 bottles. His cellar is immaculately clean and well organized. All of Korak's high-quality wines are fermented in traditional, large oak casks. Some of his wines are barrel fermented, like his well-renowned Chardonnay Sur-Lie. The wines are pure, clean, and vivid expressions of the grapes.
Exotic Wine Travel's Picks
Amber (orange) wine made from Pinot Gris. This is macerated one month on the skins and looks like a rosé in the glass. Flavors include rose, orange peel, red cherry, and lychee. There is a touch of earthiness and it tastes like a light red wine. The body is medium and there are no tannins which make this an easy amber wine to drink.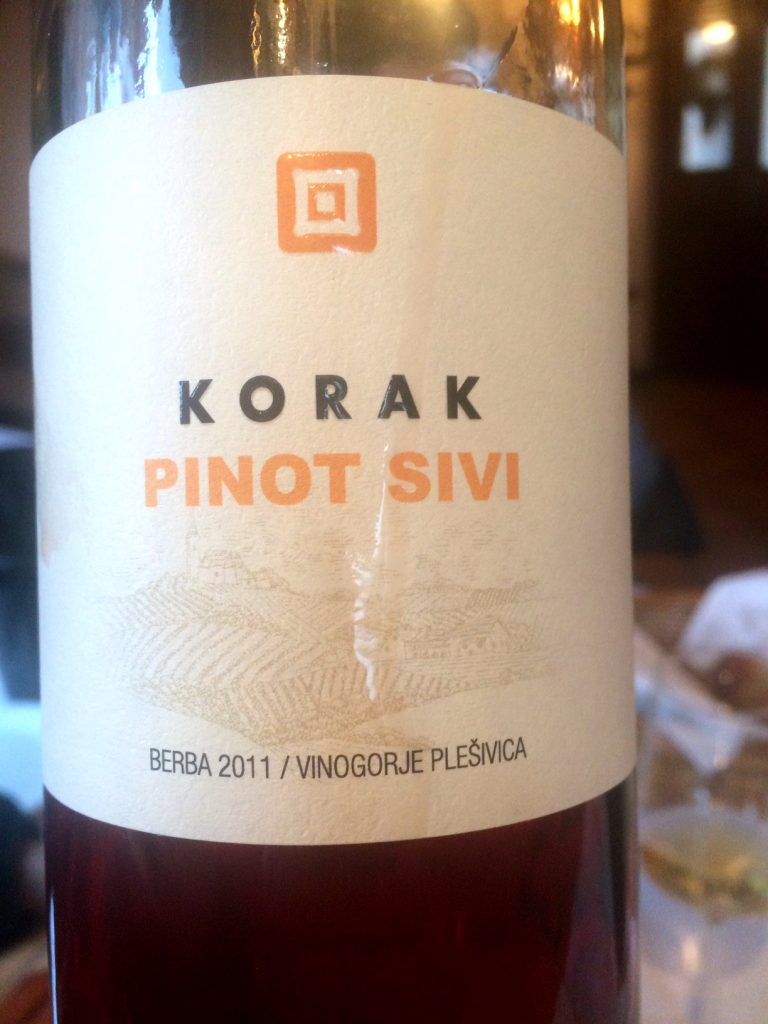 Strong nose and a very elegant mouthfeel on this red wine that seems out of place in the area. This is from a half-hectare of Syrah that doesn't fully ripen every year. It has black pepper, blackberry jam, caramel, and violets. This is medium bodied and soft tannins. A very nice interpretation of the grape, fruity and earthy.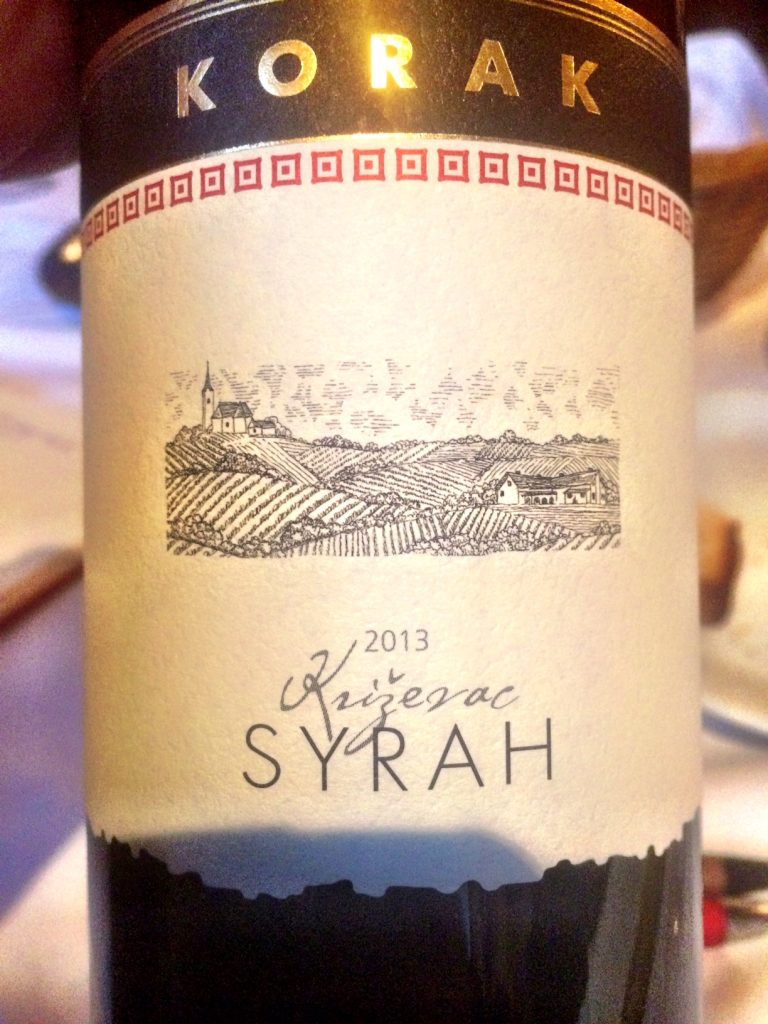 Korak Chardonnay Sur Lie 2013
This wine has the reputation of being the best Chardonnay and one of the best white wines in all of Croatia. It tastes like a Mâconnais, White Burgundy. Very elegant and graceful effort. Flavors of melon, banana, pineapple, and crushed rocks with a touch of hazelnut. The body is full, and the wine has intense flavors with a long finish.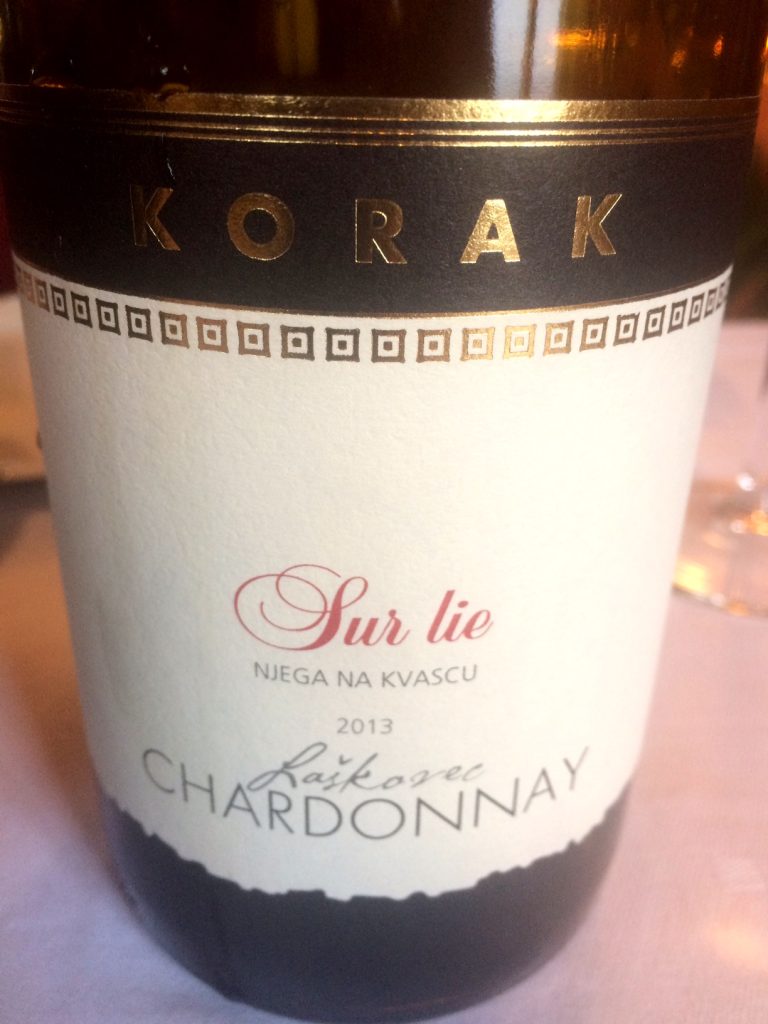 Find Korak wines on wineandmore.com
Šember
This cellar is down the hill from the village of Plešivica. It is a humble, family-owned cellar with a stellar reputation for making delicious, high-value for money wines. Their production hovers at around 45,000 bottles per year with half of that being sparkling wines. The family has seven hectares of Chardonnay, Riesling, and Pinot Noir.
Zdenko Šember and his son Nikola head up the winemaking which goes back six generations in the Šember family. They also have a wine made in amphora, like Tomac, but we did not get a chance to taste it. The tasting room doesn't have the sweeping views that Korak's possesses but it feels homely, like a mountain chalet.
We reached the cellar after sunset. The entire family was busy bottling and packaging wine. Zdenko's daughter Lucija, who speaks excellent English, led us through the tasting. Later in the evening Zdenko and Nikola joined us and soon we were tasting through several tank samples. Their wines are well made and are very easy drinking and one of the tank samples knocked our socks off (noted below).
Exotic Wine Travel's Picks 
Méthode Traditionelle from Pinot Noir. Full of raspberry, strawberry, apple, and biscuit flavors. The palate is a little bit angular but it is still delicious. The acidity is high and the bubbles are really fine. This may be the best value in Croatian sparkling wine.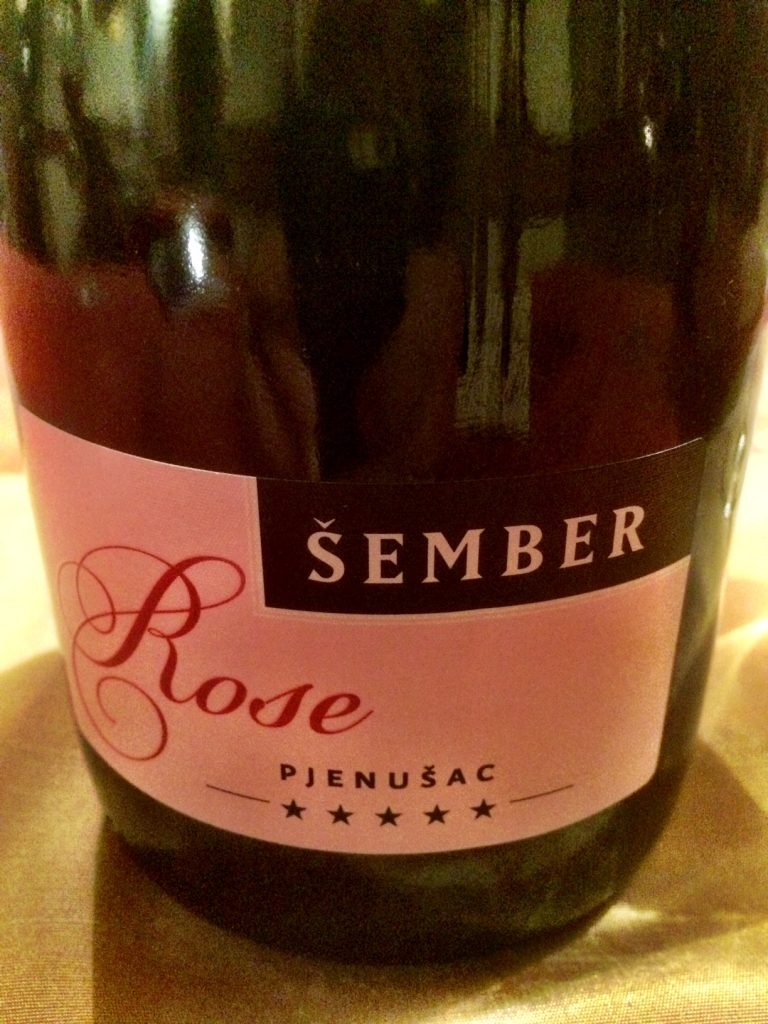 Šember Rajnski Rizling MMXI (2011)
Every vintage we tasted of Šember's Rieslings were made differently and came with varying levels of sugar. This 2011 vintage is macerated for 25 days and aged for 2-years in large oak casks, it is a dry wine. A full-bodied white wine that has flavors of pumpkin, apricot, peach, and leaves. Rich with a long finish. 
We tasted the 2011, 2013 and 2015 vintages of Pinot Noir from Šember. This 2015 was tasted from a barrel sample. This has the goods to be excellent. Chocolate, cherry, and hazelnut. This is rich and fruity with high acidity and smooth tannins. The finished product should be excellent. 
Find Šember wines on wineandmore.com
Ivančič
Krešimir Ivančič has the highest vineyards among these three producers. His cellar is above the village of Plešivica and it affords panoramic views of the wine hills below. Krešimir showed us numerous smartphone photos, looking downward at the fog just before sunrise. "This is the view I have every morning and it never gets old" he told us. We spent the entire evening sampling his wines, hearing his stories, and eating marvelous blood-sausage prepared by his family.
Ivančič is the rebel in Plešivica and it is evident in his wines. Krešimir does things his own way and is unwavering in his tastes. His production is small, about 25,000 bottles per year and finding the wines on the Croatian market can be difficult. He works with Rizvanac (Müller-Thurgau), Chardonnay, and Portugizer. The latter grape is known for making young, quaffing wines but Krešimir makes a still version aged in oak and a sparkling wine out of it.
Krešimir's production revolves around sparkling wine made in méthode traditionelle. What sets him apart is what he looks for in sparkling wine. He doesn't enjoy the biscuit flavors in Champagne. "I like to make sparkling wine with fine bubbles that display the pure flavors from the grape," he told us.
Exotic Wine Travel's Picks
Ivančič Griffin Rizvanac 2014 – 100% Müller-Thurgau
This is a very surprising white wine made from this German grape that is cross betwen Riesling and Madeleine Royale. It is oily, smoky, and spicy with nice notes of ripe apple and Asian pear. The mouthfeel is rich and it coats the mouth with being obtrusive.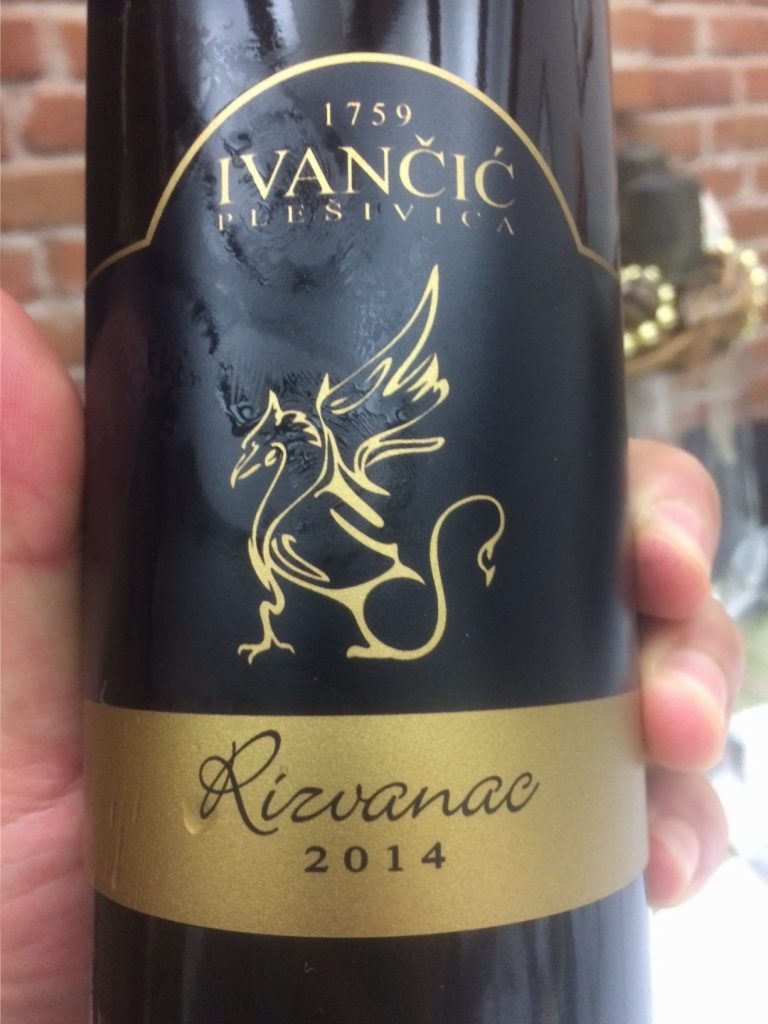 Ivančič Griffin Dark Side Barrique 2013
Portugizer is known for making simple, fresh wines to be consumed young. They are the "Beaujolais Noveau" wines of Croatia. This is a more serious take on this unheralded grape and has an impressive layer of oak that is not overbearing. It has sour cherry, pepper, and cedar flavors that are accompanied by soft tannins. Fans of Central Italian Sangiovese will really enjoy this wine. 
Ivančič Griffin Zero Brut Nature NV – 100% Chardonnay
This was made with méthode traditionelle and no dosage (sugar) was added after disgorgement. This is the most biscuit flavored white wine in Ivančić lineup. Full of lemon, pear, sweet tart candy, and bread. Bigger in body, with creamy mousse and a long finish.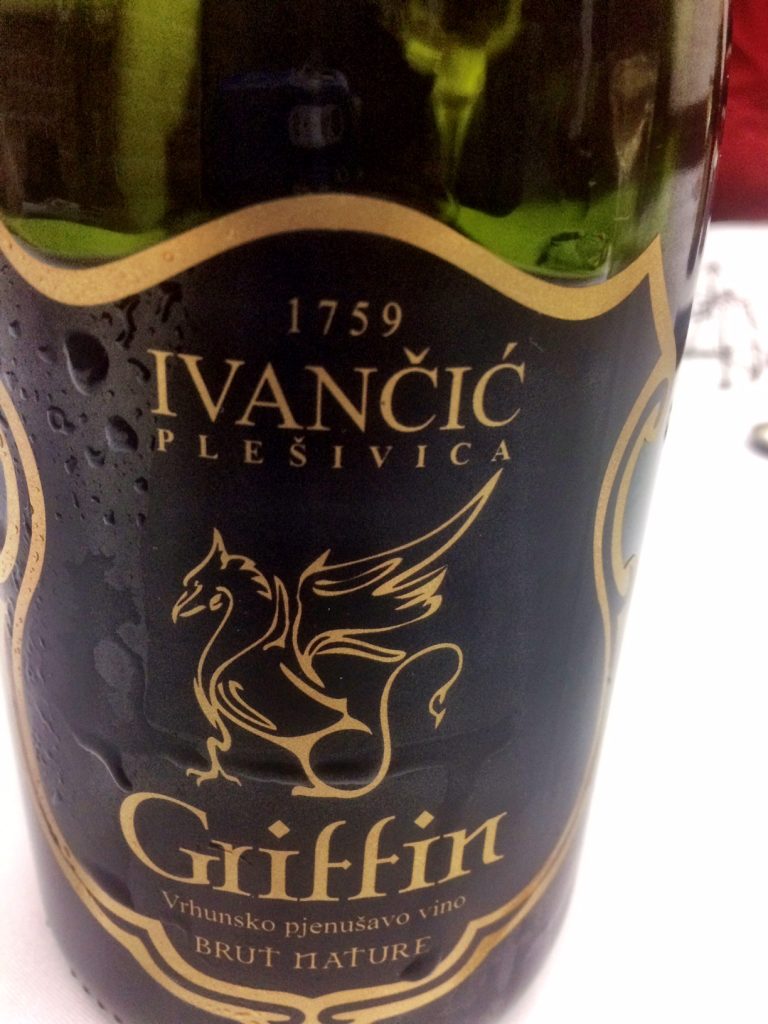 Ivančić Griffin Wines can be found at wineandmore.com
If You Love Wine…
If you are a wine lover and in Croatia, don't miss out on Plešivica. It offers stunning scenery and some delicious wines. Maybe if you are in luck, some kick-ass blood sausage too.
The finest selection of
Croatian wines
available at:

Shipping is available EU-wide and to the UK.
************
    Do you want to try Croatian wines?    
If you want to savor the exquisite flavor of Croatian wines, look no further than wineandmore.com. With many options from different winemakers, it's easy to find exactly what your palate desires. Not sure which bottle is best for you? Try out one of their curated wine cases and discover the perfect vintage for any occasion!
************
Want to learn more about wine?
Are you ready to discover the wonderful world of wines? Come join us at wineandmore.com, and let's explore the incredible selection of delicious wines together! We can't wait to share our passion for wine with you!
---
Disclosure: Please note that the opinions expressed in this article are unsolicited and have not been paid for in any way by governmental bodies, enterprises, or individuals. Some of these product links are set up through affiliate programs, which means Exotic Wine Travel gets referral credits if you choose to purchase these items via the links we provide.