Tilia Estate Rubido White Label 2015
Reading Time: [est_time] Hello! Welcome to As Drunk by Exotic Wine Travel, a weekly column where we feature interesting wines that we encourage you to seek out. The reviews featured in this series may be written by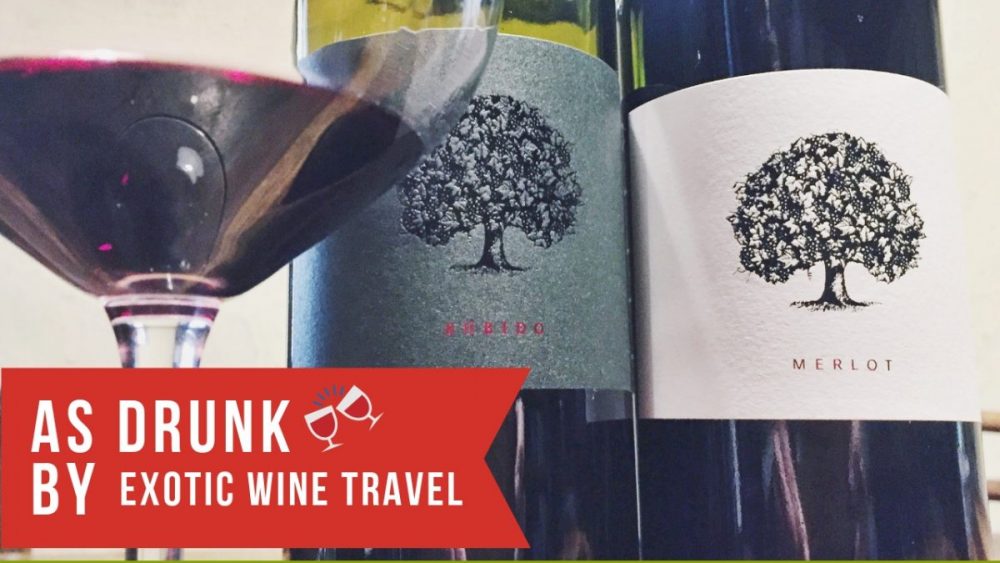 Reading Time: 2 minutes
Hello! Welcome to As Drunk by Exotic Wine Travel, a weekly column where we feature interesting wines that we encourage you to seek out. The reviews featured in this series may be written by either one or the both of us. The featured wines can be from obscure or well-known wine regions. We hope that these wine recommendations will keep you gastronomically curious and your palate invigorated!
Tilia Estate, Rubido White Label 2015
Matjaž Lemut is the talented winemaker and proprietor of Tilia Estate. He also consults a few wineries in Slovenia and Croatia. While his passion is Pinot Noir, he crafts some excellent wines from Bordeaux grapes too.
We visited the Tilia Estate after attending the Modri Les Noirs in Idrija, Slovenia. We started the visit with a vineyard tour and a tasting of tank and barrel samples. While we tasted through the samples of Merlot and Cabernet Sauvignon, our discussion turned to Margaux (Bordeaux).
"I'll give you a taste of Margaux," Matjaž told us.
After walking up to the tasting room, Matjaž poured us his Tilia Estate Rubido White Label 2015. This is the first vintage of the wine and won't be released until 2020. Most wineries in Vipava Valley and Goriška Brda in Slovenia focus on Merlot when it comes to red wines and for good reason, the grape does very well there. However, the Tilia Estate Rubido White Label 2015 is dominated by Cabernet Sauvignon, as opposed to the Rubido Black label which is mostly Merlot.
Matjaž provided us with a bottle to taste through slowly at our own convenience. Charine was wowed both when we tasted at the cellar and at the comfort of our rented apartment. Her notes are below.

Here are my tasting notes and a photo of the label below.

The Tilia Estate Rubido White Label 2015 is a blend of 70% Cabernet Sauvignon and 30% Merlot. This is the antithesis of most Bordeaux blends from this part of Slovenia. The wine doesn't focus on fruit, it's built on structure and subtle power. Black cherry, mahogany, mocha, and graphite make up the flavor profile. The wine is full bodied but not jammy, it's more of an earthy play. The fine-grained tannins guide the long finish.
This is not for lovers of generous fruit in their reds. This is more of an old-school, left bank Bordeaux built to age. In terms of structured Slovenian reds, this is in the same class as the Movia Veliko Rdeće, Jakončič Carolina Select, and the Marjan Simčič Merlot Opoka. Get in line for the Tilia Estate Rubido White Label 2015 when it is released in 2020, it's a showstopper. 
94/100 (You can find out more about our scoring system on the WINE RATING page.)
The finest selection of
wines available at:

Shipping is available EU-wide and to the UK.
************
    Do you want to try Slovenian wines?    
If you're looking to savor the exquisite flavor of Slovenian wines, look no further than wineandmore.com. With an abundance of options from different winemakers, it's easy to find exactly what your palate desires. Not sure which bottle is best for you? Try out one of their curated wine cases and discover the perfect vintage for any occasion!
************
Want to learn more about wine?
Are you ready to discover the wonderful world of wines? Come join us at wineandmore.com and let's explore the incredible selection of delicious wines together! We can't wait to share our passion for wine with you!
Please note that the opinions expressed are our own and have not been paid for in any way. We do not sell editorial content as that would destroy the legitimacy of our reviews and the trust between Exotic Wine Travel and its readers. On occasion, we extend the option of purchasing the wines we review or/and the products we spotlight. Some of these product links are set up through affiliate programs, which means Exotic Wine Travel gets referral credits if you choose to purchase these items via the links we provide.