Top Cyprus Wine: Our Favorite Cypriot Wineries
Welcome to the big leagues! While the quality among all top estates in Cyprus is surprisingly high, these are the three wineries we were most impressed with (in addition to Vouni Panayia which we wrote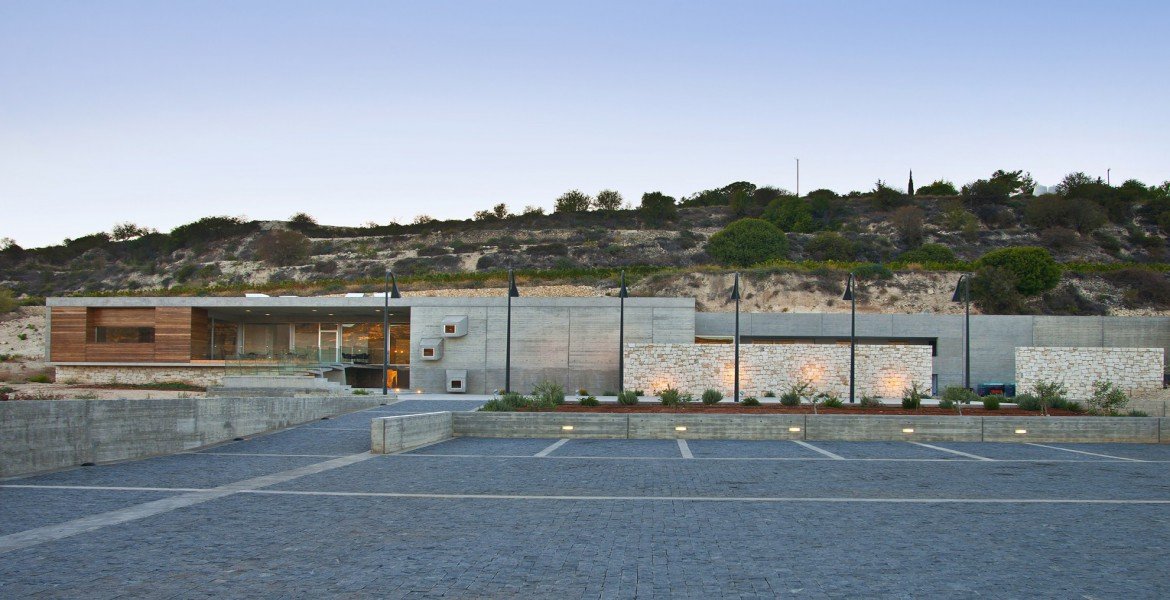 Welcome to the big leagues! While the quality among all top estates in Cyprus is surprisingly high, these are the three wineries we were most impressed with (in addition to Vouni Panayia which we wrote about in a previous article). All of the wines in the portfolios of these producers have no let downs in addition to a few standout wines.
Tsiakkas Winery
Kosta Tsiakkas was working in the banking industry before deciding to dedicate himself to fully to wine. The winery is outside the picturesque village of Pelendri at close to 1000 meters in elevation. Tsiakkas exports to the USA and is the only Cypriot winery to have been reviewed by The Wine Advocate (Robert Parker). The famous wine publication scored the Tsiakkas Commandaria 2008, 95 points and the 2014 Xynisteri, 91 points. The winery produces around 170,000 bottles per year.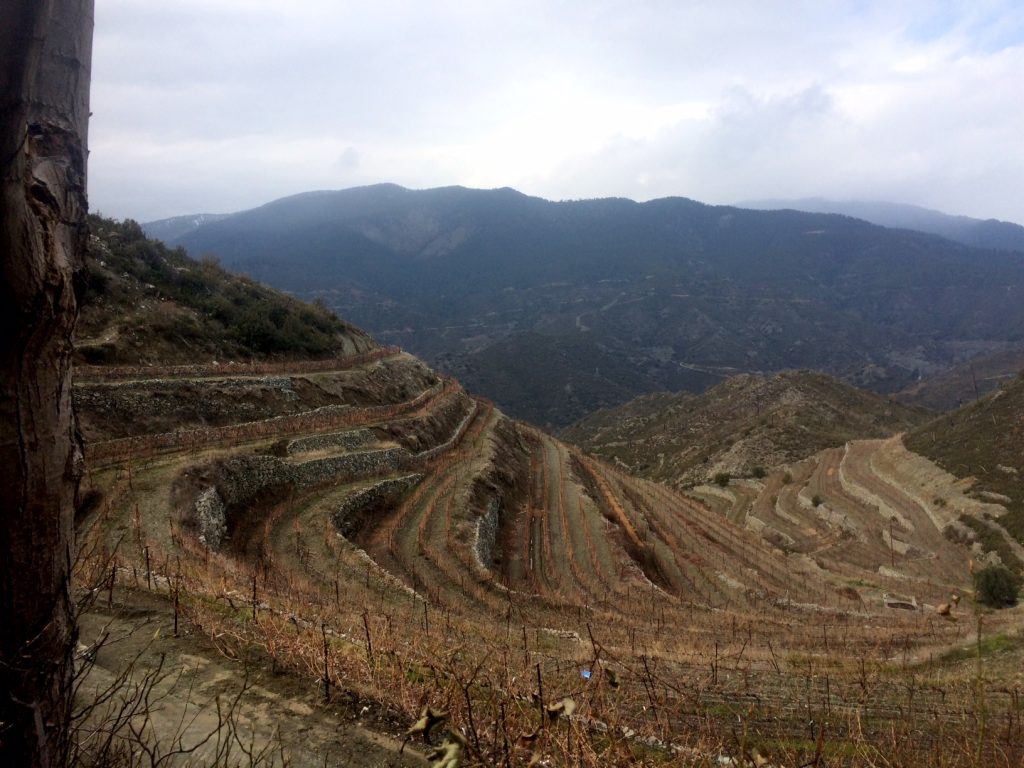 The view in front of Tsiakkas Winery 
The winery is hidden behind one of the main roads that snakes its way through the mountains. Our tiny rental car struggled to make it up the unsealed driveway, but when we turned a corner the views opened up. Newly planted, steep vineyards flank the Tsiakkas Winery. Parking the car became a tightrope act as we found ourselves dazzled by the mountain views.
Kostas spent a good three hours talking with us, showing us all of his wines, including several barrel samples and experiments. He is a powerful and passionate man who cares deeply about his wines. Kostas has a home right next to the winery, which is a rarity amongst owners of wineries in Cyprus. Many wineries are up in small, remote villages in the mountains, so many owners and winemakers choose to commute from bigger towns.
The Wines of Tsiakkas
For how outgoing and outspoken Kostas is, his wines show balance and restraint. His Xynisteri has nice minerality and his reds made from Merlot and Cabernet Sauvignon are delicious. His Maratheftiko and Yiannoudi show off what the grapes and winery are capable of. Tsiakkas Maratheftiko is the easiest and perhaps most enjoyable for the international to accept, along with the excellent example from Nelion Winery.
We tasted an example of a macerated, amber wine made with Xynisteri. Kostas told us he intends to make it in the future in pithari (local word for amphora). It is a wine that got us really excited but it is still in the experimental stage. The wines from Tsiakkas are definitely among the top Cyprus wines.
Exotic Wine Travel's Picks
(You can find out more about our scoring system on the START HERE page.)
The name of this wine is another word for Maratheftiko. This is 100% Maratheftiko and no other grapes were added to the blend. The wine is aged for one year in 300L French and American oak and six months in bottle prior to release. Red raspberry, blueberry, soil, earth, smoke, and a kiss of vanilla. Very fruit forward, fierce tannins and tight structure. This has ripe fruit and earthy notes that come together nicely.   4.2/5
Barrel sample – Black fruit, earth, violet, black raspberry, white pepper. This is tannic but tangy and delicious. It's like an imaginary blend of Rhone red wines mixed with Sangiovese from Central Italy. Dense and rich, this is a beauty. A wine that is familiar and unique at the same time, we preferred this to the bottled 2013.   4.2.5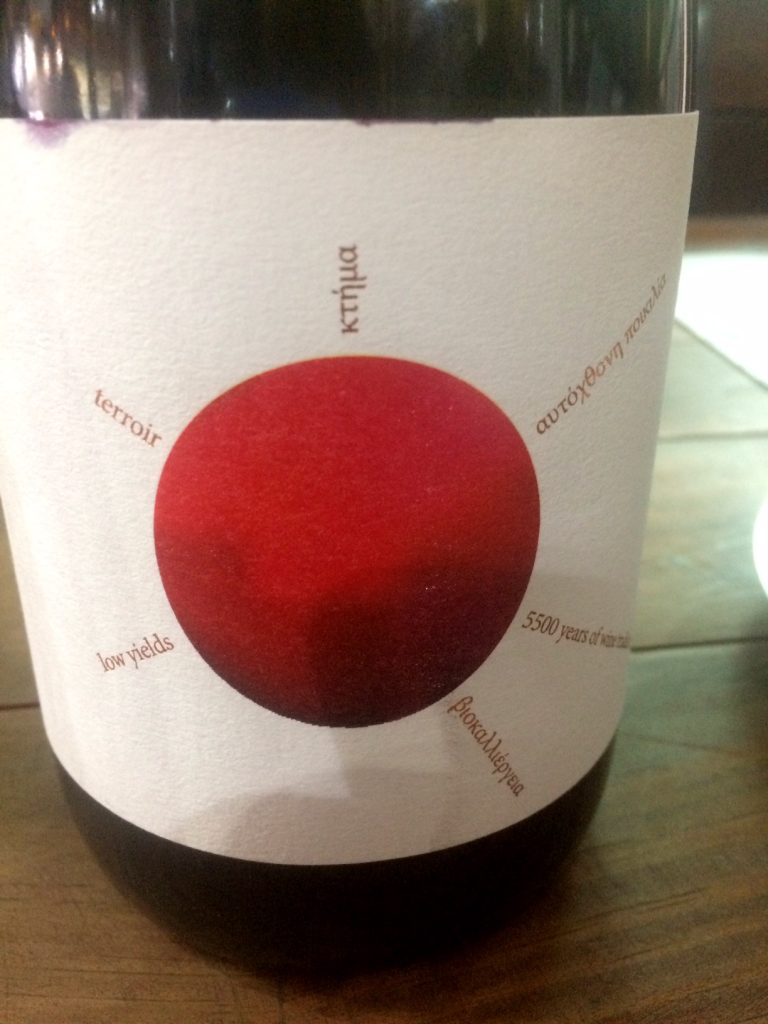 Kyperounda Winery
Kyperounda is possibly the highest winery in the European Union at 1200 meters in elevation. They also have the highest vineyard in the EU, outside the Canary Islands, at 1400 meters in elevation. The winery is named after the village it calls home. It is quietly producing 300,000 bottles of high-quality wine every year.
Their "Epos" vineyard is in the photo below (note the skeleton of a home at the bottom of the vineyard for scale). The vineyard can only be reached by a steep road owned by the winery. The winemaker Minas Mina drove us up to the vineyard in his Land Rover and the views from the top were breathtaking. The vineyard is fairly young but is already producing fruit for Kyperounda's top bottlings under the name "Epos".
Europe's highest vineyard outside the Canary Islands – Kyperounda Epos
The village of Kyperounda is off the well-trodden trail but it is worth the effort to get there. Built into the side of a cliff, the winery is impressive. Walking into the tasting room gives off a homely ambiance which is topped off with a fireplace. The elevator takes you deep down to an impressive cellar. A trip out to this winery is well worth the effort.
The Wines Of Kyperounda
Minas was calm and confident as he walked us through his wines, that demeanor is definitely reflected in the wines. He has a Ph.D in food science, more specifically with fermentation. Minas was a beer brewer in his past life but today he is crafting top Cyprus wine.
All Kyperounda wines are well-made, they show restraint and confidence. Kyperounda is one of two wineries making Xynisteri that is aged in oak, challenging the local belief that Xynisteri is meant to only be a fresh white wine. In our opinion, Minas also crafts the best Chardonnay on the island.
Exotic Wine Travel's Picks
(You can find out more about our scoring system on the START HERE page.)
A small portion of this wine (20%) was in French oak for two months. The majority of the blend was on the lees for six months. This is made from 100% Xynisteri and it's neon yellow-green in color. Some petrol, white flower, lime, wood, green apple, and a lot of grass. This is very oily on the palate, it really tastes like Semillon from Hunter Valley, Australia. The finish is limey, a unique and exciting wine.   4.3/5
Kyperounda Epos White 2015
The Kyperounda Epos White spends nine months in French oak. It's a single vineyard Chardonnay. Vanilla, melon, slate, pineapple, and sliced pear flavors are prominent in the wine. The acidity is juicy, it makes the fruit notes bright and lively. The long and mineral-driven finish is sure to please many tasters.   4.2/5
This spends one year in French barriques and one year in French 600L barrels. It is a single vineyard wine that is a 50/50 blend of Syrah and Cabernet Sauvignon. The fruit is from the Epos vineyard. Blackberry, black cherry, molasses, dark chocolate, and cedar notes are the main flavors and the wine has a spicy finish. The wine is tight and austere now but should open up with time in the bottle. This has all the stuffing to go the distance in the cellar. If you get your hands on this, do yourself a favor and stock it away for a few years.   4.2/5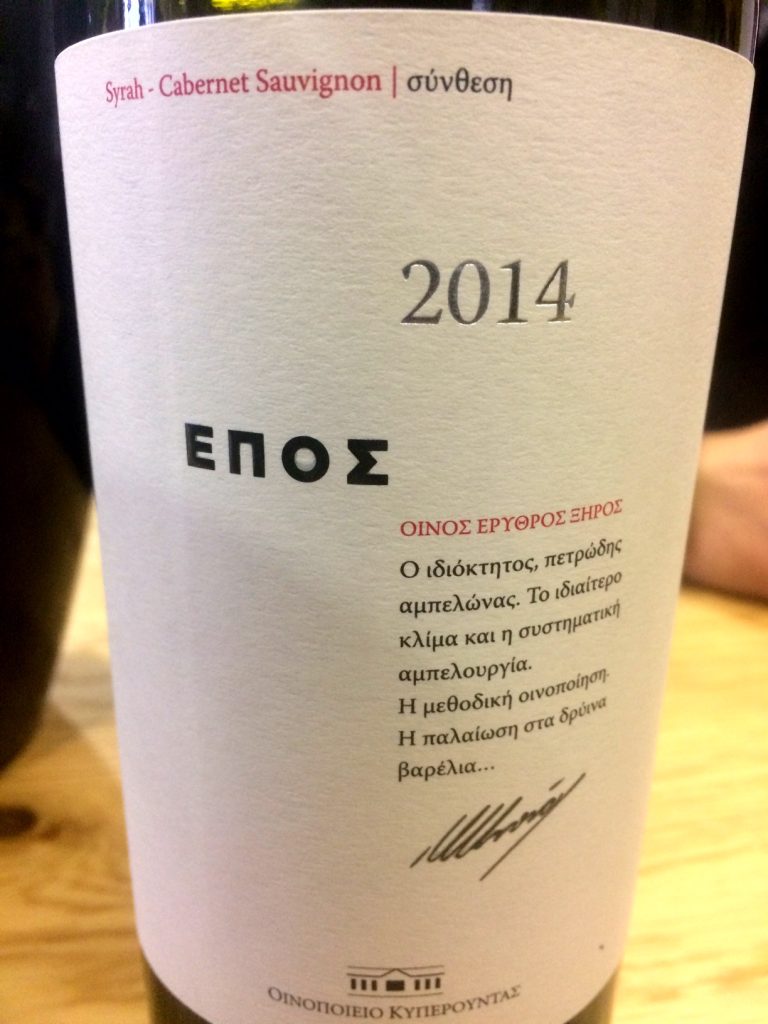 Vlassides Winery
Sophocles Vlassides studied winemaking at the prestigious University of California-Davis near Napa Valley. After returning to Cyprus, he was making wine out of his grandmother's supermarket in the village of Kilani. Today Sophocles has built a beautiful, well designed, and functional winery producing around 120,000 bottles per year.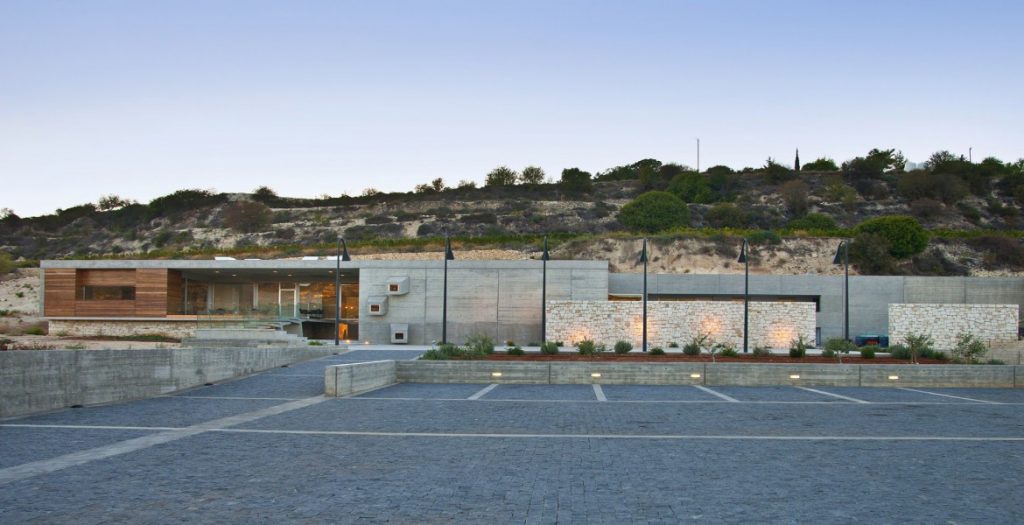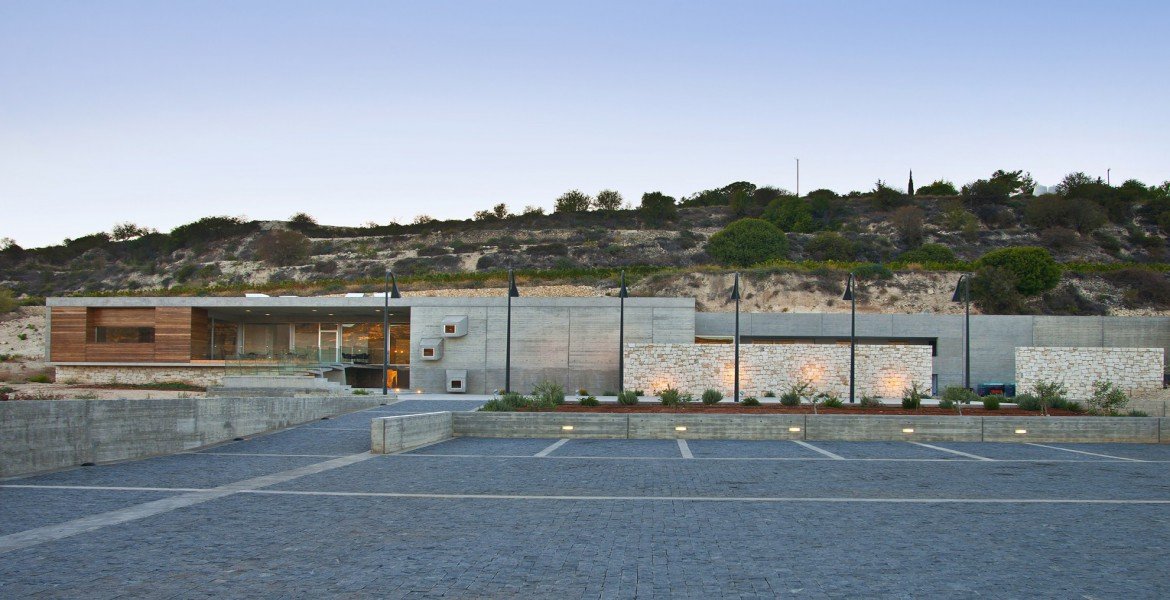 Vlassides Winery 
Sophocles has 16 hectares of his own vineyards and is moving more towards being 100% dependent on his own vineyards. The winery is built into a cliff, underneath a mountain road. Despite the modern look, you won't find conference rooms, hotel rooms, or a restaurant. The winery was built solely for making wine.
We spent a few hours talking with Sophocles, he means business and is all about making the best wine possible. Nearly everyone in the wine industry had wonderful things to say about Vlassides and it's easy to see why. A big proportion of Vlassides' production revolves around international varieties, but Sophocles wants to shift his focus towards the local Cypriot varieties. Sophocles is experimenting with the local red grape Maratheftiko but he said. "I won't release it commercially until I feel the quality is where I want it to be."
Looking at the spotless cellar full of modern equipment, we have no doubt that fine wine will continue to come out of the winery – regardless of the grape varieties.
The Wines of Vlassides
Vlassides wines embrace the ripeness that the Cypriot sun brings and at the same time maintaining balance. These wines are rich and concentrated with high amounts of extract and complexity. The top two red wines are unfiltered which add to their textures. Sophocles' top wine, the Opus Artis, may be the finest red wine we have tasted in Cyprus. If you get to Cyprus and you like red wine, Vlassides is a must try.
Exotic Wine Travel's Picks
 (You can find out more about our scoring system on the START HERE page.)
Vlassides Sauvignon Blanc 2016
Flavors in the wine consist of green apple, herbs, white peach, lemon. It has a medium weight on the palate thanks to the lees contact whichs adds richness. Acidity is mid-level for a Sauvignon Blanc but it works really well. Sophocles' entry-level white, Grifos 2 White, a blend of Xynisteri and Sauvignon Blanc, is also worth trying.  4.2/5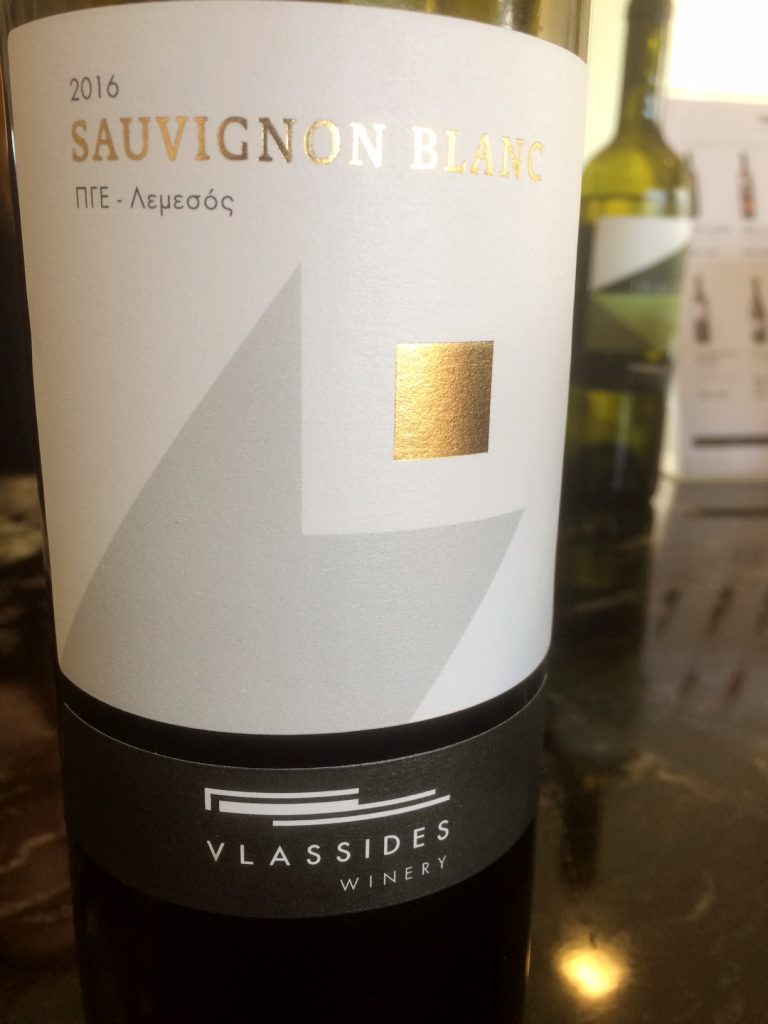 Vlassides Dokimes Agiorgitiko 2014 
Experimental wine only available at the winery.  It spends 12 months maturing in used oak. The wine is made from the grape Agiorgitiko, which is from Peloponnese, Greece. Black fruit, dark plum, meaty, cedar, vanilla, and rubber. Ripe and rich with chewy tannins and a long finish. It is a big red wine that would be great with meat. This is a beautiful effort and reminds us of Aglianico from Southern Italy.   4.2/5
Vlassides Cabernet Sauvignon 2012
This wine spends 12 months in French Oak. The nose is gorgeous with forest floor, sweet tobacco, black pepper, black cherry, and cassis notes. The wine is very complex, the list of flavors goes on and on. The palate is rich and full without being too big. The fruit is ripe with developed tannins and a touch asphalt on the finish. Serious Cabernet Sauvignon from… Cyprus!   4.3/5
Vlassides Opus Artis 2011
The wine is a blend of Merlot, Cabernet Sauvignon, and Shiraz. This spends 18 months in oak and two years in the bottle prior to release. Blackberry, tomato leaf, pencil lead, black plum, black cherry and a touch of white pepper. Layers of fruit and texture with a touch of wood, this had a big mid-palate flavor spike. Delicious and well made, with a long finish and lots of life ahead of it. The Vlassides Opus Artis is a fine red wine worthy of collector's status. 4.7/5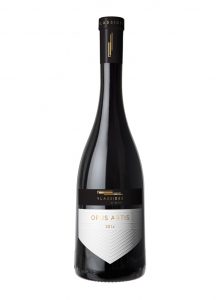 New label design for the 2014 Vlassides Opus Artis, photo courtesy of the winery's website
You May Also Enjoy:
All of our Cyprus Wine articles
---
Disclaimer: The Cyprus Tourism Organization provided us with flights, hotel accommodation, a car rental, and a few meals. A few wineries provided us tasting samples, but most of them simply gave us their time. The opinions of the wines are our own and we were under no obligation to give favorable reviews.