Trendsetter: Dr Eko Glonti from Lagvinari, Georgia
Reading Time: [est_time] For a listing of articles and videos about Georgian wines and wine travel in Georgia, check out our page Uncorking the Caucasus. To purchase the Kindle or paperback copy of the book Uncorking the Caucasus: Wines
Reading Time: 5 minutes
For a listing of articles and videos about Georgian wines and wine travel in Georgia, check out our page Uncorking the Caucasus. To purchase the Kindle or paperback copy of the book Uncorking the Caucasus: Wines from Turkey, Armenia, and Georgia, please head to this Amazon page.
In 2015, just right before we left Singapore for our wine self-study and years-long trip, How To Spend It by Financial Times published an article entitled "New Adventures In Georgia". In the article, a winery named Lagvinari—famed for having its wines featured on the menus at several Michelin-starred restaurants in the United Kingdom, including The Fat Duck—was mentioned. Upon arriving in Georgia, we were determined to check off that label on our to-drink list as soon as possible.
It was harvest season when we visited Georgia and many winemakers, including Dr Glonti, were busy with work in the vineyards. We called and spoke with Dr Glonti five times during our one-month stay in Gerogia. We were determined to set up an appointment to taste his wines. Finally, on our very last night in Georgia, Dr Glonti found the time and invited us to his house— a place of nostalgic charm filled with old photographs, fine art, books, and vinyl records. The evening was celebrated with food, wine, and storytelling. Did we mention magical wine?
Dr Glonti is a true renaissance man and a medical-doctor-turned-geologist-turned-winemaker. It was an honor to be able to hear his perspectives on Georgia, its wine history, and his label Lagvinari.
Interview with Owner & Winemaker at Lagvinari, Georgia
When and why did you decide to start making wine?
I am a physician by education and started to make wine by accident. It was chance and sheer luck that brought me to winemaking. In 2010, I was introduced to a Master of Wine (Isabelle Legeron MW) who was making a film about Georgian wine at that time. I was traveling and looking for fine wines with her and I was dissatisfied with the wines that we found. During my travels around the world and in Georgia, I would talk to winemakers and ask a lot of questions about the taste of their wines. Their response was often, "How would you know what the wine should taste like, you've never made wine." From there, I concocted the impulsive idea to make wine.
My first harvest was in 2011 and I was not prepared for it. I didn't even have time to build a cellar. I was leasing the vineyards and managed to get a hold of a few tanks. I also had two qvevri, which I borrowed from a friend. One qvevri had Rkatsiteli and the tanks held Saperavi. Those wines from my first year of production can still be found in several restaurants in London today.
Now I work with a few farmers with organic vineyards. For quality control, I always pay above-market prices for their grapes in order to persuade them into fulfilling my expectations. Through them, I have access to 40-, 50-, and even 60-year-old vines. I am also buying my own plots and planting new vines. I believe this is the right way to move forward. Perhaps this effort will not reach fruition until I am gone. But it's okay, someone else will take care of them when I'm gone.
We [The Georgians] have an 8,000-year-old winemaking history. It's sad to see that today's reality doesn't quite match up to the extended history and tradition. There's still a lack of well-tended vineyards and proper winemaking techniques in Georgia. Now is the time we need to be premeditative by planting the right varieties in the right locations.
Could you tell me about the wine culture in Georgia?
The traditional way of making wine in Georgia is not a process, but a philosophy and a holistic approach. In Georgian vocabulary, we are not making wine, we are giving birth to wine and the qvevri is a womb being buried in the soil, which is—like wine—a living thing. It's beautiful. Wine made in a qvevri that's being buried underground signifies life given in the clay from the clay— this is essentially the story of Adam. Our ancestors were using qvevri as a burial vessel to give birth. When I look at qvevri, I get excited thinking about how our ancestors had painstakingly come up with the perfect shape for the vessel.
Our ancestors knew back then that this magical beverage we call wine is good for health and emotions, with evidence from our ancient winemaking culture and over 500 indigenous varieties. In the past, the Greeks used to refer to the Georgians as barbarians, because our ancestors were drinking undiluted wine while the rest of the world was drinking wine concoction. Today, we know better, our ancestors appreciated and respected wine.
In Georgia, our word for wine is "ghvino". I've heard a few linguists suggest that the people who came in contact with Georgians could not pronounce the "kkhaaaaaaaa" in ghvino, and shortened it to just "vino", and from there and then, the universal reference for wine was born.
Wine has always played a big part in our culture. There are old legends about invaders coming to our land, and our warriors would take cuttings of the vines and attach them to their belts. After pruning the vines, they would come down from the mountains to fight. They believed and hoped that if they were to fall, they'd come back as a vine and their mortal body would serve as fertilizer to the vine. They understood that wine represented the circle of life.
Some of the old qvevri made in the 20th century have the eternal wheel carvings on them. This leads me to believe that Georgians might have always understood and worshiped the wine. While I don't have proof for this personal belief, sometimes you don't need proof, you need insight.
You were successful in getting Lagvinari wines to major markets. What do other Georgian winemakers need to do in order to follow in your footsteps?
I am a physician by training. I stopped practicing medicine a long time ago but the practice left deep impressions on me. It helped to build my philosophy of making wine, which perhaps not everyone will agree with. I look at winemaking through a different lens and as a holistic approach.
Winemakers should have a vision of what type of wine they want to get. They need to look at the limited amount of tools they have, and in winemaking, they are limited as winemakers too. Next, they need to look at when they should be using these tools and how they should be using these tools. Of course, you will never get to the point of your original vision, but if you are close, you are on the right track. You need some scientific knowledge and then learn how to minimally intervene the winemaking process. It is happening, there is a proliferation of small and large wineries in Georgia making some very interesting wine. These winemakers come from very different professions and they are all applying their intellect in their own winemaking process.
Georgia deserves to make great wines. In my opinion, it must start with many small wineries having full control of their wines, from the vineyards to bottling. We can't compete with France, Spain, or Australia in making cheap wines. Georgia is a small country, compared to the hectares of vineyards countries like France, Spain, and Australia have. We can't compete with cheap wines, the math just doesn't work out. The future for Georgia is to make great wines that are genuine, that have culture, that express our soil in the glass. We need to aim for the high market niche. There are many people out there who are ready to taste new wines and hear new stories.
A Brief Introduction to the Qvevri Wines of Georgia
In 2013, the UNESCO declared Georgia's ancient tradition of making wine in qvevri as an Intangible Heritage of Humanity. The recognition has helped to garner awareness for Georgia's wine history and popularize Georgian wine across the globe. Depending on the source, commercial qvevri wine is said to be around 10 percent of the total Georgian wine production. Most commercial qvevri wines are made with minimal intervention and without modern contraptions. This means the wine is made without herbicides, synthetic fertilizers, heavy machinery, selected yeast, acid addition, fining agents, reverse osmosis, chaptalization, and thermal processing.
The styles of qvevri wines vary just as much as modern- or European- style wines. One of the major factors that determine the flavor profiles of qvevri wines is the style in which they are made. While qvevri wines can taste rustic sometimes, most other times they are boundary-pushing and unique; the qvevri wines of Georgia offer textures and flavors that are not replicated anywhere else in the world.
EXOTIC WINE TRAVEL'S CHOICE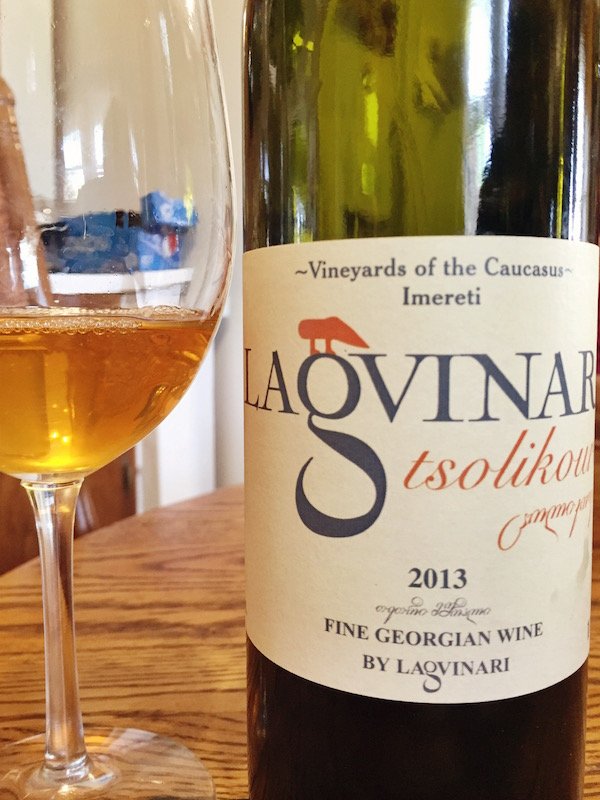 Lagvinari, Tsolikouri, 2013
Fermented in qvevri, with Georgian indigenous white wine variety called Tsolikouri (pronounce sol-li-kor-ri). The grapes are cultivated in organic vineyards located in the Imereti region, western Georgia. An unfiltered wine with a small amount of sulfur added before bottling. The color is amber gold. On the nose, it expresses red berries, tart plum, dried apricot, forest, and a hint of honeyed characteristic. The aroma is reminiscent of fresh laundry that has been left out in the summer sun to dry–a very comforting smell! On the palate, it turns up strong on the front with some saline and earthy notes that gradually shift into flavors of nuts, dried flowers, and dried orange rind. The wine finishes off with herbal tea-like flavors and astringency.
Lagvinari has a huge portfolio of wines that may change every year. Other Lagvinari wines that we love include Otskhanuri Sapere, Saperavi, Aladasturi, and Krakhuna.
Search or buy Lagvinari wines on Wine Searcher.
You May Also Enjoy:
The Unstoppable Progress in the Georgian Wine Scene
Saperavi: Georgia's Flagship Red Wine Grape
An Introduction to Georgian Qvevri Wine in Zagreb
A Brief History of Wines from the Caucasus
Exotic Wine Travel Episode 102: Excellent Georgian Wine by Lagvinari
More videos about Georgian wine on Exotic Wine Travel YouTube Playlist.
---
Featured image of Dr Eko Glonti by (c) Vinisfera: Mariusz Kapczyński
Note: The ideas expressed in this article are personal opinions and are not associated with any sponsors or business promotions.