Trendsetter: Oliver Gareis from Amadeus Winery, Turkey
Reading Time: [est_time] For a listing of articles and videos on Turkish wines and wine travel in Turkey, check out our page Uncorking the Caucasus. To purchase the Kindle or paperback copy of Uncorking the Caucasus: Wines from Turkey,
Reading Time: 5 minutes
For a listing of articles and videos on Turkish wines and wine travel in Turkey, check out our page Uncorking the Caucasus. To purchase the Kindle or paperback copy of Uncorking the Caucasus: Wines from Turkey, Armenia, and Georgia, please head to our Amazon product page.
Bozcaada is one of a handful of islands in the Aegean Sea that Turkey can call its own. It sits in front of the point where the Sea of Marmara empties into the Aegean Sea, and it is always windy on the island. These crosswinds between the two seas seem to magically tend the vines and offer the most pleasant enotourism experience in Turkey. The locals love Bozcaada because they say it feels like a big sailboat in the middle of the sea and it never stays still.
While traveling on the island of Bozcaada, we heard so many comments about its viniculture's history. After our first wine-tasting session, we couldn't comprehend, more than ever, what all the fuss was about. We wanted so much to right our wrong that the desire became a mission. With Turkey's alcohol laws and teetotalism, it was an uphill task to connect with the winemakers. So it was an honor—and a rare opportunity to learn more about the inside stories of Turkey's wine scene—when we finally met…
Oliver Gareis, the proprietor and winemaker at Amadeus.
Can you share with us the story of Amadeus Winery?
We are originally from Austria. My family had a summer house on the Asian side of Istanbul and there was an old monastery near our place. My father was always interested in alcohol production and he guessed that if there was a monastery, there must be wine production in the vicinity.
We started out by buying grapes and experimenting in the winery, but that was not very successful. We started with white grapes that made poor wine with a metallic taste. Well, it's poor wine in many people's opinions, but when you're the winemaker, it is never a bad wine because of all the work you've put into it. We sold that parcel of property and about 20 years ago, we bought a plot of land on the island of Bozcaada.
The wines on Bozcaada were very bad at that time and my father was not satisfied. He was talking about it with his friends and one of them suggested that he experiment with Cabernet Sauvignon. We planted the first Cabernet vines and they were the first of its kind on the island. Everybody laughed at us at first. They told us we don't need Cabernet Sauvignon; we already have Kuntra (an indigenous red grape). Later, a large company approached us and bought our Cabernet Sauvignon grapes. After that, many people took our vines and grafted them with local rootstock, and Cabernet Sauvignon flourished on the island. We bought more vineyards and planted other grape varieties, including Syrah, and started making our own wine, which we felt was better than others on the island. The problem was we couldn't sell the wine commercially because we didn't have the proper documentation. We had to buy a different piece of land just to get proper documentation for making commercial wine and building a small winery. It took eight years from when we bought the land until we had the proper documentation to produce wine.
In 2010, Amadeus had its first release run of about 10,000 bottles. Currently, we are producing between 30,000 and 35,000 bottles every year. We have about four hectares of our own vineyards and we purchase more grapes to make wine and sometimes also sell some of our grapes.
Tell us more about your winemaking experience in Turkey.
With all the laws in Turkey, winemaking here is difficult. What keeps us alive is the passion for the island and for the grapes it produces.
After a while, I got tired of living in the city and dealing with the traffic. Moving out here frees up more time, and winemaking takes a lot of time. The grapes are like your kids. You try to get them in the perfect condition to prepare them for the winemaking process. Sometimes you make mistakes but you always strive to do better.
There are many things that are inhibiting the wine industry in Turkey. At first, the country did not allow importing of international wine. Then, that opened up but the first rounds of bottles were cheap wines that were selling at unreasonably expensive prices. Because of the lack of quality, consumers were ill-informed and the domestic wine industry was basically sleeping—they were producing but not looking at what they produced. However, this is slowly but certainly changing in Turkey.
As the quantity of imported wine increased, new boutique wineries started popping up all over Turkey. I don't know the exact number but I'd guess it's about 300 small wineries. Most of these winemakers are trying to make high-quality wine as a hobby. Cost is not the main concern. If you look only at the costs of making wine, especially in Turkey, it is an uphill climb. That leads us to the second big problem: the taxes. If you look at my wine, one-third of the wholesale price goes to taxes. This really handcuffs the winemakers here.
The next problem is brand recognition. In my opinion, it takes at least 25 years to brand a wine country. Look at Australian wine, the industry and its reputation did not come overnight. It takes a lot of effort and support in unison, especially for a country like Turkey, which is not known for wine production and wine culture.
Another problem is with some of the all-inclusive resorts on the south part of Turkey. These places are serving the cheapest wines to exclusive customers. In the restaurants, they are marking up the wine by three times, four times, and even more. This is a huge problem. Wine needs to be good quality with an accessible price. A Turkish wine should not be selling for the same price as, say, a Petrus. Both are different, perhaps in 20 years they could be the same but not now.
Why is Bozcaada so magical for grape growing?
There is a consistent climate on the island of Bozcaada. Like all places in the world, there are small fluctuations in the weather but we have a generally dependable climate here. During summer, the daytime temperature is between 30 to 33 degrees Celsius with about a 10-degree difference between day and night, and there is a constant northern wind blowing through. From May to September, there are very few rainy days, perhaps one or two. We are fortunate to have this weather. The important thing in the grape-growing process is: just don't screw up.
This is important because to make good wine, you need great grapes. For me, it is all about making good wine, whether it is from local or international varieties. When I open a bottle of wine, I want my company and myself to enjoy it.
Bozcaada is a small wine region and the focus is on red wine varieties. Right now, a lot of vineyard areas are still dedicated to table grape production. There are six wineries here at the moment, ranging from low- to high- quality wine, and from cheap to expensive. There are no two wineries that are somewhat the same on this island, yet we are overlapping each other in some ways. There is a lot of potential here.
Outside Bozcaada, there is a lot of potential in Central Anatolia for white wine production. It is higher in elevation with cold nights and warm days, similar to my home country Austria. This is the one area, in my opinion, that has greater room for higher-quality wine in Turkey.
What does the future look like for Turkish Wine?
The good news is that wine quality in Turkey is improving. This is where smaller wineries play a pertinent role because they are more flexible in committing to trials and experiments. That is what we are doing at Amadeus—taking good wine and trying to make it better. The wine industry in Turkey will improve, but it will take time.
It all comes down to winemakers making their own style of wine. For example, my taste is towards fruity, acidic, and minerally white wines like Sauvignon Blanc from New Zealand. Of course, it would be foolish to try and make wine of that profile on the island of Bozcaada because the climate is different. However, by understanding my own preferences, I can create a vision for the wines I want to create. This is important for winemakers.
EXOTIC WINE TRAVEL'S CHOICE: TURKISH RED WINE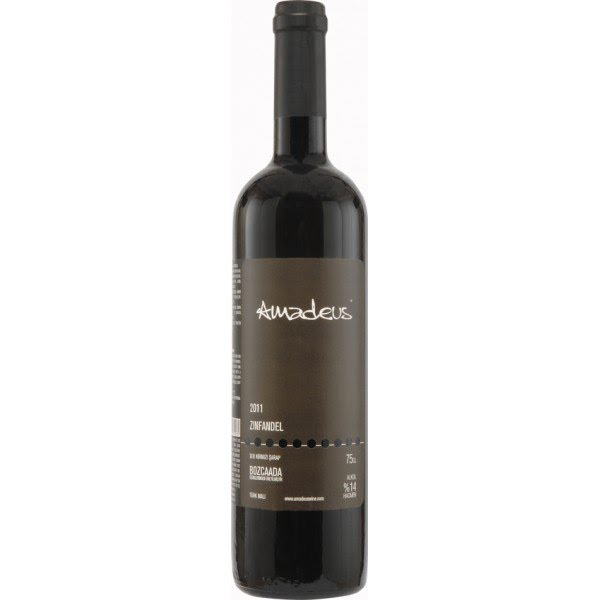 Amadeus, Zinfandel, 2011
While many of Amadeus's reds are pleasurable, this varietal wine made from Zinfandel stands out the most to us. It has beautiful, rich fruit flavors. It isn't as big as a Californian Zinfandel and is more similar to a Primitivo (which is the same grape as Zinfandel) from Apulia, Italy. This Zinfandel stands out distinctively with its slight salinity, a common characteristic found in a lot of wines from Bozcaada. Note that the Cuvée Rouge is the bestseller of Amadeus winery. Oliver also makes a Shiraz and a Cabernet Sauvignon.
You May Also Enjoy:
A Brief History of Wines from the Caucasus
Trendsetter: Burcak Desombre, Turkish Wine Maestro
To read more about Bozcaada,  the up-and-coming wine destination in Turkey, check out this article by The New York Times featuring Hermann Gareis, Oliver's father and the founder of Amadeus.
Check out our tasting video on Acikara, a rare wine grape from Turkey:
---
The ideas expressed in this article are personal opinions and are not associated with any sponsors or business promotions.