Tsitska-Tsolikouri Amber Wine from Imereti, Georgia
Reading Time: [est_time] For a listing of articles and videos on Georgian wines and wine travel in Georgia, check out our page Uncorking the Caucasus. To purchase the Kindle or paperback copy of the book Uncorking the Caucasus: Wines
Reading Time: 2 minutes
For a listing of articles and videos on Georgian wines and wine travel in Georgia, check out our page Uncorking the Caucasus. To purchase the Kindle or paperback copy of the book Uncorking the Caucasus: Wines from Turkey, Armenia, and Georgia, please head to this Amazon product page.
We spent the entire month of September in Georgia (the country) and were delighted to be back in this miraculous land for produce. We love being in Georgia for many reasons than one; the fresh produce and exciting wine scene are top of the list. All that just means that we are able to eat well and drink well every day. On one morning, we were planning to make our own breakfast in our apartment and the plan was conveniently executed as we only had to walk a hundred meters to get eggs, cucumbers, tomatoes, capsicum, onions, apricots and two liters of sparkling water from the local market (there is no big-chain supermarket culture here)—all for USD 2.
During our stay, we managed to catch up with Ramaz Nikoladze–a busy and popular winemaker who makes less than 3,000 bottles per year in a small village in western Georgia. Ramaz makes three kinds of amber wine–a monovarietal Tsitska and Tsolikouri, as well as a blend of the two varieties–with grapes harvested from his family's vineyards that are between 27 to 100 years old. He exports his wine in small quantities to Europe, Australia, Japan, United Kingdom, and the United States. Ramaz also co-owns a hip wine bar in Tbilisi called Vino Underground, which is where we tasted his wine.
Nikoladzeebis Marani, Tsitska-Tsolikouri, 2015
Tsitska and Tsolikouri are two white Georgian grape varieties that grow in the Imereti region of Georgia. This region is full of small producers who are churning out traditional-style Georgian wines. Some of Georgia's most exciting varieties come from this area.
This amber wine completely surprises us. Some traditional qvevri wine can smell faulty, with lots of oxidation and funk. This wine is incredibly clean with no faults. In fact, it smells more like a white wine than an amber wine with notes of citrus, peach, and white flower. This is macerated on the skins for four months, with no stem inclusion. The palate shows notes of peach, apricot, nut, and a touch of pineapple, supported by nice acidity. The wine finishes off with a gentle tug from the soft tannins and can be paired perfectly with Georgian tomato salad. Generally, we think that amber wines are incredibly food-friendly beverages.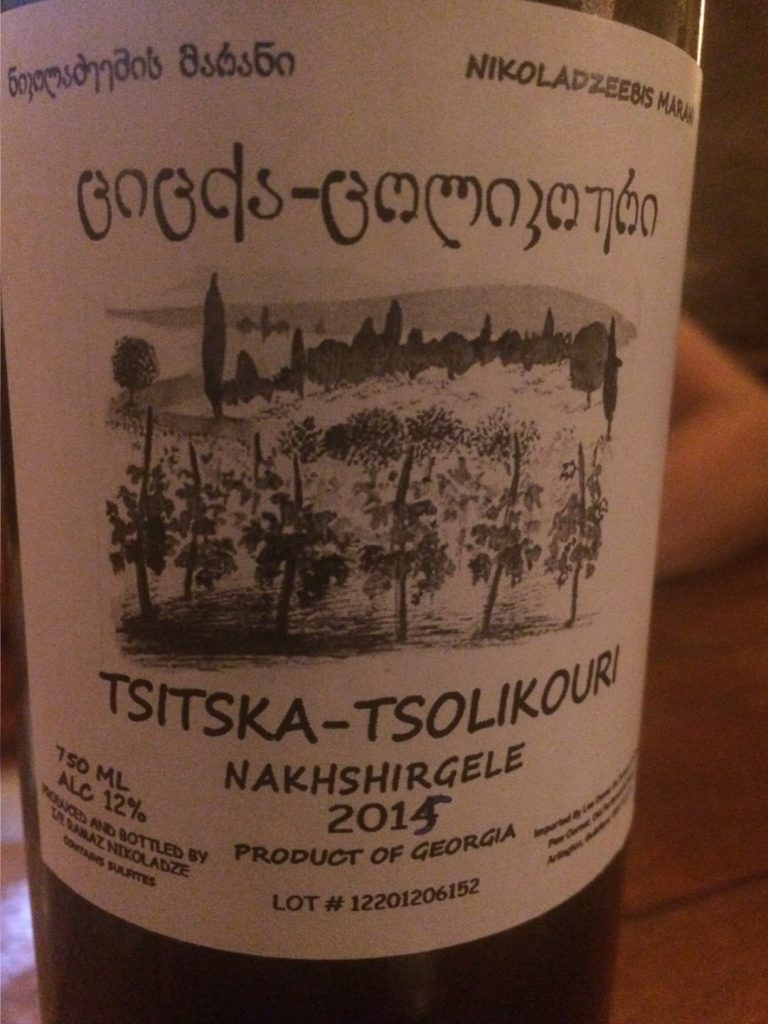 After a little more research, we found that we were not the only admirer of Ramaz's wines. His Tsolikouri was selected to be included in Decanter's 40th Anniversary celebration and was the Favorite Wine of 2015 as selected by Carla Capalbo. She said:
"I love wines that make you question the status quo. This beautiful, amber-coloured white is made – as many of Georgia's best wines are – in qvevri (large traditional clay vessels buried in the ground). Ramaz Nicoladze produces it from 100-year-old Tsolikouri vines in the Imereti hills of central Georgia, with three months of stem-free skin contact. The wine's exotic notes of spice, apricots and tea ride with exciting energy to a finely tannic, elegant finale and go just wonderfully with food."
Here's a video of us tasting Nikoladzeebis Marani Tsitska-Tsolikouri at Vino Underground.
About Tsitska
(pronounce seet-ska) Grown in the Imereti region, the Tsitska grape is medium in size with thick skin. It is a high yielding and late ripening variety that typically produces acidic, light, and lively wine with flavors of yellow fruit and honeysuckle. Often used in a blend with Tsolikouri or Krakhuna, Tsitska is also particularly good for making sparkling wine.
About Tsolikouri
(pronounce sol-li-kori) If Rkatsiteli is the white grape of eastern Georgia, then Tsolikouri is the white grape of western Georgia. It is a thick-skinned grape that grows abundantly throughout Imereti. It is used in dry, semi-sweet, and sweet wines. It can also be made into a varietal wine as well as a blend. The European-style wine made from this variety has melon, pear, and floral characteristics. When made in the qvevri, the wine gains more body and expresses complex, layered flavors of citrus fruit, stone fruit, with a touch of floral notes. This variety shows great promise and is already makes fantastic wine, especially orange wine. Besides Imereti, this variety can also be found in other regions like Adjara, Guria, Racha-Lechkhumi, and Samegrelo.
More Georgian Wine Recommendations:
Gotsa Chinuri 2015
Pheasant's Tears Chitistvala 2015
Trendsetter: Dr Eko Glonti from Lagvinari Winery, Georgia
Pheasant's Tears Chinuri
You May Also Enjoy:
Amber Revolution by Simon Woolf
The Unstoppable Progress in the Georgian Wine Scene
Saperavi: Georgia's Flagship Red Wine Grape
An Introduction to Georgian Qvevri Wine in Zagreb
---
Disclaimer: The ideas expressed in this article are personal opinions and are not associated with any sponsors or business promotions.