Villa Tolnay Csobáncz Cabernet Franc Unfiltered 2017
Reading Time: [est_time] Hello! Welcome to As Drunk by Exotic Wine Travel, a weekly column where we feature interesting wines that we encourage you to seek out. The reviews featured in this series may be written by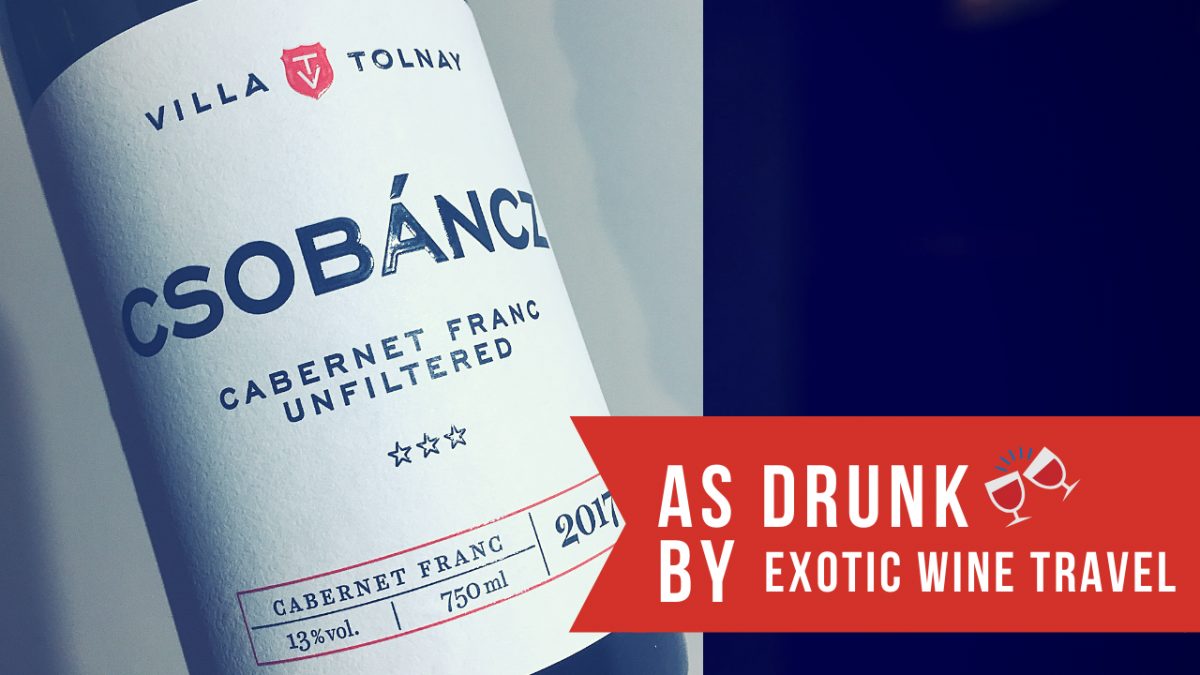 Reading Time: 1 minute
Hello! Welcome to As Drunk by Exotic Wine Travel, a weekly column where we feature interesting wines that we encourage you to seek out. The reviews featured in this series may be written by either one or the both of us. The featured wines can be from obscure or well-known wine regions. We hope that these wine recommendations will keep you gastronomically curious and your palate invigorated!
Villa Tolnay, 'Csobáncz' Cabernet Franc Unfiltered 2017
Cabernet Franc is one of the most popular red grapes in Hungary. The Hungarian wine region of Villány has made Cabernet Franc its signature variety and thanks to that promotion, wineries throughout the country have had success growing and selling wines made from the grape. It's grown in almost every Hungarian wine district.
Villa Tolnay is a property located in the Badacsony district of the larger Balaton wine region. It's a region known for white wines although there are some standout reds being made there. The Villa Tolnay, 'Csobáncz' Cabernet Franc is made with fruit grown on the Csobánc hill, which is volcanic in origin. It's the top wine from the Villa Tolnay estate.
The Villa Tolnay, 'Csobáncz' Cabernet Franc Unfiltered is a Hungarian wine that acts like an old school type of wine. The vines are grown from French cuttings and the wine is fermented spontaneously with native yeasts. This is more of an earthy red with notes of mud, cherry, raspberry, capsicum, and a touch of funk. Medium-bodied and smooth with a lot of texture, it tastes more developed than the age suggests. The tannins are firm and the wine has a lengthy finish. It's a fabulous wine for stews and charcuterie.
This is different than many Cabernet Francs made in Hungary. It's very reminiscent of an example from Bourgueil. If you're a fan of Cabernet Franc from the Loire, this one is worth seeking out. It's not a wine with a big future in the cellar, so drink up now.
Score: 90/100 (You can find out more about our scoring system on the WINE RATING page.)
Find or buy at Bortársaság.
Do you like our content?
If you like our articles and videos, we'd love for you to be a part of our community on Patreon. The support from Patreon helps keep the content coming and you access to behind the scenes content. It also gives us the chance to get to know you better. Check out the Exotic Wine Travel Patreon page by clicking the photo below.

Do you want to learn more about Hungarian wine?
Be part of our fourth wine book Discover Hungarian Wine. Sign up HERE to learn how you can reserve a special edition, signed copy with a discount when our Kickstarter launches when the world returns to normalcy.
---
Please note that the opinions expressed are our own and have not been paid for in any way. We do not sell editorial content as that would destroy the legitimacy of our reviews and the trust between Exotic Wine Travel and its readers. On occasion, we extend the option of purchasing the wines we review or/and the products we spotlight. Some of these product links are set up through affiliate programs, which means Exotic Wine Travel gets referral credits if you choose to purchase these items via the links we provide.