We Are Drinking F@#cking Croatian Merlot!!
For wine nerds who are movie buffs, there is one line about Merlot that will forever be immortal. In 2004, a little film called Sideways was released to much critical praise. If you haven't seen the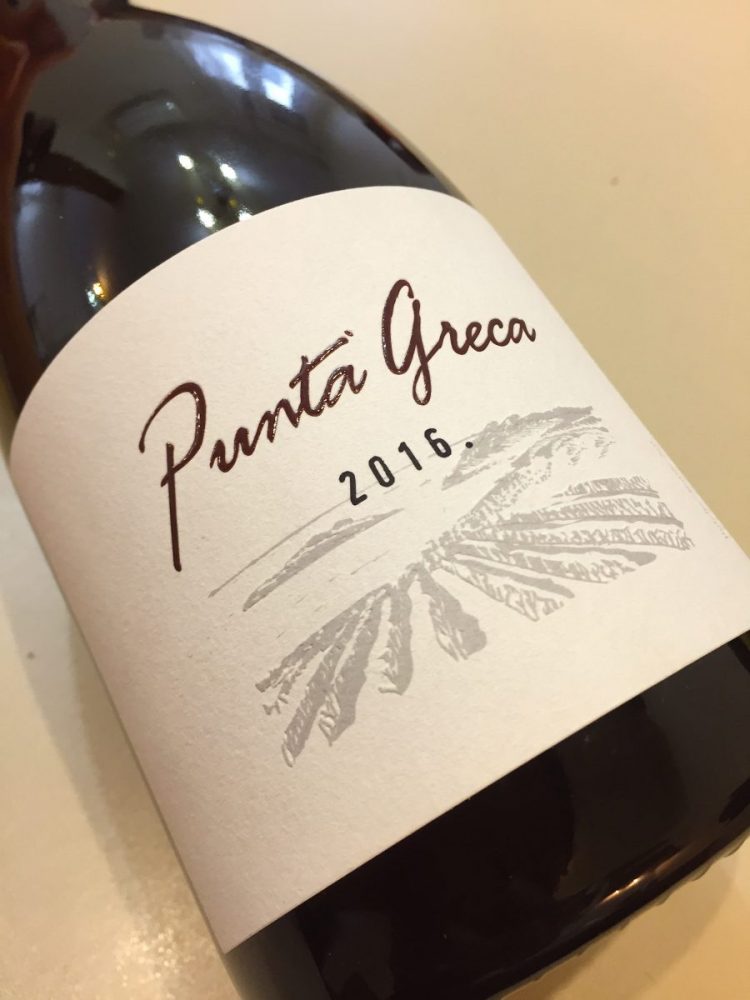 For wine nerds who are movie buffs, there is one line about Merlot that will forever be immortal. In 2004, a little film called Sideways was released to much critical praise. If you haven't seen the film and you are a wine geek, shame on you. If you have seen the film then this may give you a few good laughs.
The year after the film was released, Merlot sales took a significant dip in the United States. It was hard to escape from the stigma around Merlot that the film created. Admittedly, even Matt was affected, he avoided the grape early in his wine drinking days.
There is a very ironic thing about the grape in the film. Miles, the main character, shows his disdain for Merlot and Cabernet Franc in the film. Miles' most prized possession is a 1961 Chateau Cheval Blanc, a right bank Bordeaux blend made of… Merlot and Cabernet Franc!
Say Hello to Croatian Merlot
Merlot isn't the most "sexy" wine grape. However, there is no question that it has the ability to make deep, rich, world-class wines. Two of the most expensive wines in the world, Chateau Petrus and the aforementioned Chateau Cheval Blanc, are Merlot-based wines.
Our main focus is indigenous varieties. Because of the nature of what we do, we see a lot of Merlot. As we trot around the unheralded corners of the wine world, it seems as if everybody tries their hand at growing and vinifying it. Admittedly, it becomes difficult to taste the endless swathes of these wines after a while.
Croatian Merlot is a breath of fresh air, it is grown in all four winegrowing areas of Croatia. Here we will focus on three: Istria, Dalmatia, and Slavonia. We have yet to taste a Merlot from the Uplands that got us really excited.
Istrian Merlot
The region that is touted as the best potential for the grape is Istria. In fact, British wine critic Oz Clarke said Istria might be the world's second-best Merlot terroir after Bordeaux. The Istrian peninsula is surrounded by the moderating Adriatic sea and has proximity to the Slovenian and Dinaric Alps that bring down cool air.
Those climatic factors plus the mineral soil may be the reason. The Merlot from Istria is rich, plush, and low in alcohol. Istrian Merlot can be ripe and plush while still maintaining alcohol levels of 12.5%. More importantly, the wine still has enough earth flavors and a true sense of place along with the ripe fruit flavors.
Dalmatian Merlot
Dalmatia is a magical place for grapes. There are so many unique grapes grown in small pockets of the entire region. Some grapes exist only in small corners of remote islands. That is what makes the place special, all the unique and odd sounding grapes. Who knew that Merlot coming from the region would taste so good.
Our two top Merlot-based wines are from Dalmatia. The climate in Dalmatia is true Mediterranean with very hot and dry summers. The Merlot-based wines we have tasted from the region are rich and dense. These wines also range from fruity & unpretentious to serious with many layers of depth.
Northern Dalmatia is where we have tasted the most exciting Merlot based wines. A few areas of note are around the village of Skradin, Benkovac, and the island of Pag. The Merlot here gets tons of sun and takes on more sour red fruit flavors which Matt really likes. The best way to describe the grape here is an imaginary mix of Merlot flavors from Languedoc (France) and Lebanon.
Slavonian Merlot
Slavonia the region (not the country Slovenia) is in the far eastern, continental part of Croatia. The Slavonian oak barrels and casks from this area are famous with winemakers around the world, especially in Italy. Most of the region is covered with the Graševina (Welschriesling) grape.
Known as a white wine region, their momentum for producing reds is picking up quickly. A well-esteemed Dalmatian producer even told us that, "We (Dalmatians) need to step up our game because the red wines from Slavonia will rival ours in a few years." When we visited the region we tasted some good examples of Merlot, Cabernet Sauvignon, and Pinot Noir.
It seems that most producers that make red wine choose Merlot. The wines here can taste lean and underripe sometimes. More often than not they seem a bit one-dimensional. There are some good examples however. The best Merlot wines we have tasted from this region tend to have more herbal and earthy notes compared to Dalmatia and Istria.
Exotic Wine Travel's Picks for Croatian Merlot
All three regions are pumping out some excellent Merlot-based wines. The most exciting thing is the fact here is a difference between each of the regions. Here are some of our favorite examples of Croatian Merlot.
Istrian Merlot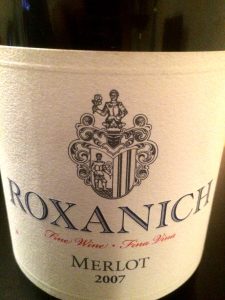 Find Roxanich wines at wineandmore.com
Roxanich is a natural producer that believe in wild yeasts, spontaneous fermentation, and long aging prior to release. This is a unique wine without a lot of terroir and aging notes, so it may not be for everyone but we really like it. The wine has flavors of leather, meat, dried plum, brown spice, vanilla, and tomato leaf – a lot going on here. The flavors are very big on the palate, the tannins are soft and the finish is extremely long.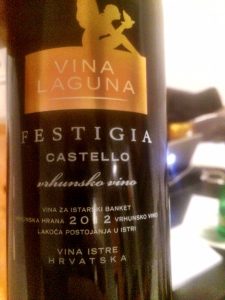 Vina Laguna, Castello Festigia 2012
Find Vina Laguna wines at wineandmore.com
A blend of 60% Merlot, 20% Syrah, and 20% Cabernet Sauvignon. This vintage won a Gold Medal and Regional Trophy at the 2015 Decanter competition in London. The winery Vina Laguna is one of the largest in Croatia, pumping out 4.5 million liters of wine every year – all with estate-grown grapes. Their basic wines are very serviceable and widely available. Festigia is the name of their reserve line of wines.
This wine is very delicious and very well made. It is stuffed full of tobacco, chocolate, cedar, blackberry, plum, and white pepper. What we like about this wine is it is fruity without being over-the-top and without high alcohol. This is a delicious wine that is just plain nice to drink, with fine-grained tannins, and enough complexity to keep you engaged.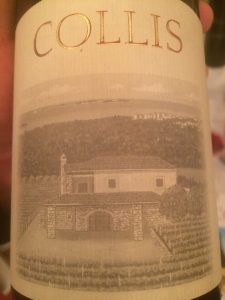 A blend of 75% Merlot and 25% Cabernet Sauvignon from a brand new winery in Istria.  This wine is an impressive effort given the difficult and rainy vintage of 2014. This spends 18 months in oak and is rich with red fruit, caramel, and vanilla. The wine has beautiful texture with well-integrated wood flavors. Fan of Old World wine will be happy with this excellent effort. 
Dalmatian Merlot 
Find at wineandmore.com
A blend of 55% Merlot and 45% Cabernet Sauvignon and aged for two years in French oak before release. This wine has a big-time reputation and we see why. We've also had the 2012 and 2013 vintages of this wine – both are excellent. This 2007 is on another level, we tasted this wine from a Jeroboam (3 liter – Double Magnum) bottle. It has amazing flavors of pencil lead, dried plum, dried cherry, and earth. The wine is rich and medium bodied with a long end palate, tangy acidity, and structure for days.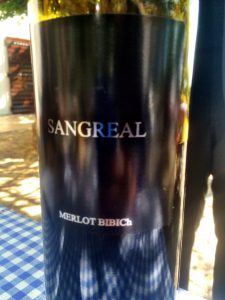 Bibich, Sangreal Merlot 2011
Find at wineandmore.com
We had a three and a half hour wine pairing lunch at Bibich and it was epic. During the magical afternoon, we tasted through his entire portfolio of wines. The top wines of Bibich are his Aleph and Bas de Bas. The Sangreal Merlot is no slouch, it is aged for 24 months in oak before bottling. This is dense, ripe, and slightly spicy. There are lots of dark plum, blackberry, and earth notes but the minerality is what makes this special. The Sangreal Merlot is a easy drinking and delicious wine.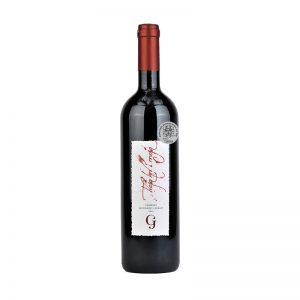 G & J Vina, Tvoja Krv i Moja 2012
Find at wineandmore.com
The words tvoja krv i moja translate to your blood and mine. It is the solo wine that comes from a French-trained couple. This wine from Northern Dalmatia is extremely difficult to find but the chase is worth it. The wine is rich and it has flavors of sour cherry at first. The sour cherry is immediately followed by a rush of black fruit, mint, and pencil lead. The long finish suggests that this couple knows what they are doing.
Slavonian Merlot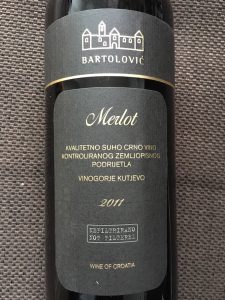 A wild card from a producer in Slavonia. Bartolović is the least heralded of the prior mentioned producers. This is inexpensive but extremely well made, mouth-watering, and delicious.This wine is extremely bright with a lot of sour cherry notes on the palate. There is also a touch of cedar, mineral, and clay notes present. The producer makes wines of real character, they are a hidden gem amongst Croatian wines. 
The finest selection of Croatian Merlot wines available at: 
Shipping is available EU-wide and to the UK.
************
    Do you want to try Croatian wines?    
If you want to savor the exquisite flavor of Croatian wines, look no further than wineandmore.com. With many options from different winemakers, it's easy to find exactly what your palate desires. Not sure which bottle is best for you? Try out one of their curated wine cases and discover the perfect vintage for any occasion!
************
Want to learn more about wine?
Are you ready to discover the wonderful world of wines? Come join us at wineandmore.com, and let's explore the incredible selection of delicious wines together! We can't wait to share our passion for wine with you!
Related Articles