Where To Eat In Seville? Ultimate Guide
[vc_row][vc_column][vc_column_text] Prepare to embark on a culinary adventure like no other in the vibrant city of Seville. Renowned as the self-proclaimed tapas capital of the world, this enchanting destination offers an unparalleled food scene that will captivate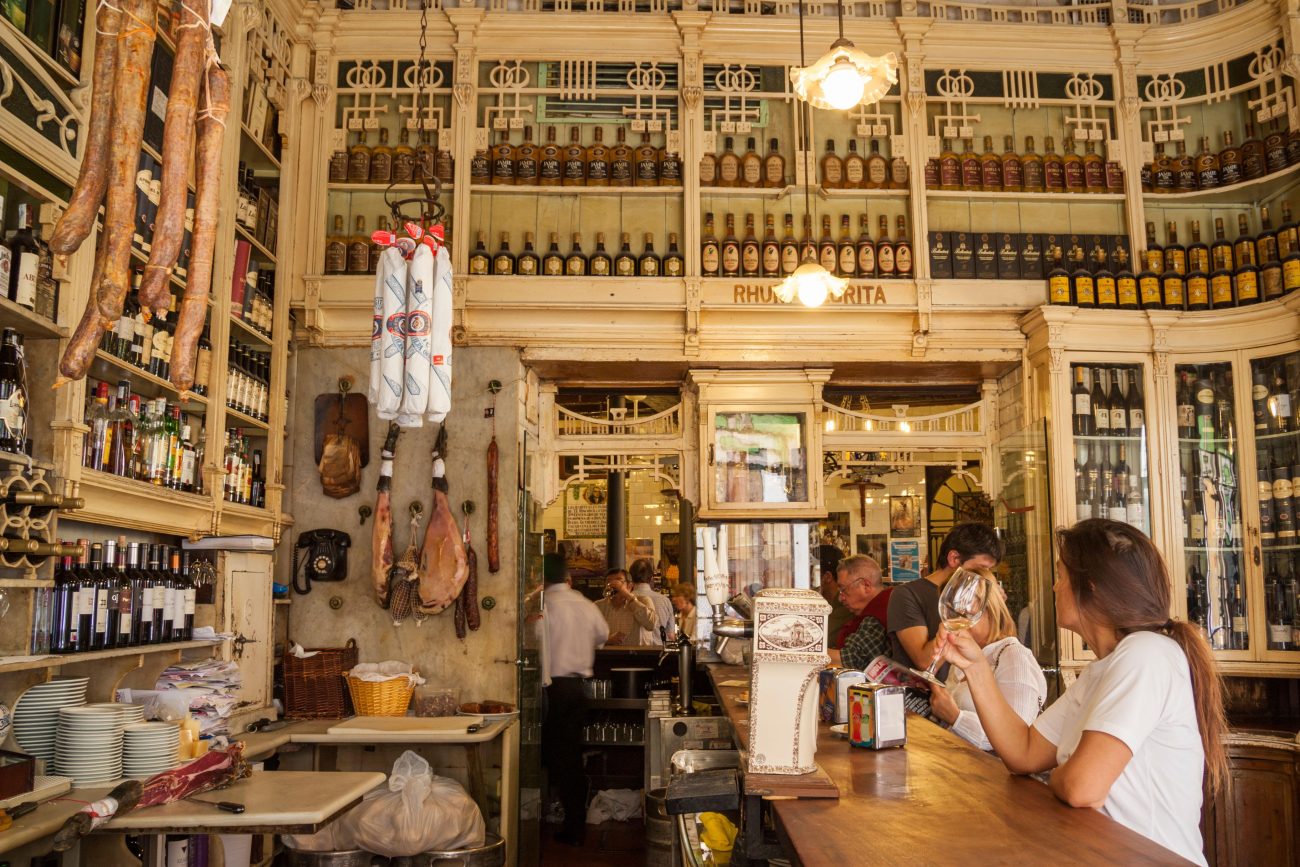 Prepare to embark on a culinary adventure like no other in the vibrant city of Seville.
Renowned as the self-proclaimed tapas capital of the world, this enchanting destination offers an unparalleled food scene that will captivate the senses of even the most discerning food lovers.
With endless gastronomic delights awaiting discovery, one could spend years indulging in Seville's culinary treasures and uncover hidden gems. Seville beckons with a diverse tapestry of culinary experiences, ranging from the charming abacerías, which are small grocery stores brimming with gourmet delicacies such as exquisite wines, artisanal cheeses, and succulent charcuterie.
Beyond the abacerías, Seville boasts a multitude of traditional tapas bars, where the heart and soul of the city's culinary heritage come alive. These establishments serve up bite-sized dishes that reflect the rich tapestry of Andalusian flavors.  However, Seville's culinary allure extends far beyond its traditional roots. The city proudly hosts a thriving scene of inventive and modern cuisine that pushes the boundaries of culinary artistry.
Venture into the realm of cutting-edge gastronomy, where visionary chefs fuse traditional techniques with a contemporary flair to create extraordinary culinary masterpieces. Seville's culinary landscape ensures that exceptional dining experiences need not come at exorbitant prices. With a little insider knowledge of the best places to visit and the must-try dishes, you can confidently navigate the city's culinary offerings and embark on a memorable culinary voyage.
To help you make the most of your Seville food adventure, we have crafted this comprehensive guide to showcase the city's culinary gems. Prepare to tantalize your taste buds with an array of extraordinary flavors as we unveil the must-try dishes that define Seville's culinary identity. Additionally, we will provide curated recommendations on the finest establishments where you can savor these gastronomic delights. With our expert guidance, you can savor Seville's best, ensuring an unforgettable culinary journey!
Best breakfast spots in Seville
For a hearty breakfast, try Bar El Comercio. This traditional cafe offers churros, hot chocolate, and tostadas with tomato and olive oil. The cafe's decor is classic, with blue-and-white tiles and wooden tables.
If you prefer a healthy breakfast, visit Pan y Più. This bakery offers a range of breads, pastries, smoothies, and juices. Try the avocado toast or the granola bowl. The bakery's modern decor and friendly staff make it a great spot to start your day.
For a luxurious breakfast, head to Hotel Alfonso XIII. The hotel's breakfast buffet offers a range of options, from traditional Spanish specialties to international favorites. The elegant surroundings, with marble floors and chandeliers, are a great way to start your day in Seville.
Best traditional Andalusian cuisine in Seville
If you are looking for traditional Andalusian cuisine, look no further than El Rinconcillo. Dating back to 1670, this historic tavern has been serving up delectable Andalusian dishes for over three centuries. Its historic decor with antique tiles and wine barrels will transport you back in time. No wonder this restaurant is a favorite among locals and tourists alike.  Start your culinary journey with some classic tapas. From mouthwatering Iberian ham and marinated olives to fried fish and flavorful cheeses, the tapas at El Rinconcillo showcase the essence of Andalusian flavors. Indulge in the regional specialties such as salmorejo (a refreshing tomato and bread-based soup), gazpacho (a chilled vegetable soup), or the iconic spinach and chickpea stew known as espinacas con garbanzos. For the main course, savor the traditional dishes that have made Andalusian cuisine famous. Delight in the rich and aromatic paella, bursting with a medley of seafood, tender chicken, and saffron-infused rice. Or try the tender and flavorful rabo de toro (bull's tail stew), a beloved dish that exemplifies the region's culinary heritage.
Enrique Becerra, located in the historic center of Sevilla, has been delighting diners since 1972 with its remarkable menu of Andalusian specialties. The menu at Enrique Becerra boasts a wide array of dishes that reflect the vibrant flavors of Andalusia. From traditional tapas like salmorejo (a chilled tomato and bread soup) and tender Ibérico ham, to hearty main courses like rabo de toro (bull's tail stew) and cochinillo asado (roast suckling pig), every dish is prepared with meticulous care. One standout dish that exemplifies the restaurant's dedication to tradition is the renowned espinacas con garbanzos (spinach with chickpeas). This humble yet flavorsome dish perfectly encapsulates the essence of Andalusian cuisine and has become a must-try for visitors seeking an authentic taste of the region.
Located in the charming neighborhood of Triana, Casa Ricardo is a culinary gem embodying Andalusia's spirit. With its rustic decor, traditional tiled walls, and warm ambiance, this restaurant provides an ideal setting to savor the rich gastronomic traditions of the region. Casa Ricardo's menu pays homage to Andalusia's culinary heritage. From the iconic gazpacho and pescaíto frito (fried fish) to the indulgent pluma Ibérica (Iberian pork) and gambas al ajillo (garlic shrimp), every bite at Casa Ricardo tells a story of time-honored flavors and culinary craftsmanship. One dish that captures the essence of Casa Ricardo is the arroz con mariscos (seafood rice). Prepared with a blend of fresh local seafood and aromatic rice, this fragrant and hearty dish takes diners on a journey through the coastal traditions of Andalusia.
Uncover best Guided Tours in Seville for unforgettable experience.
Best avantgarde restaurant in Seville
For a more modern take on Andalusian cuisine, try Abantal. Chef Julio Fernandez combines locally-sourced ingredients with innovative techniques to create interesting, flavorful dishes. The restaurant offers tasting menus, with or without wine pairings, so you can sample various dishes. Abantal's minimalist decor ensures that the food takes center stage.
Nestled within the opulent confines of El Hotel Alfonso XIII, Restaurante San Fernando in Seville offers an elegant and enchanting dining experience. With its location in the hotel's magnificent Andalusian-style courtyard, adorned with graceful arches, a charming fountain, and lush greenery, guests are treated to a culinary journey featuring modern interpretations of Spanish classics.  Signature dishes include sea bass and saffron-infused potatoes, fumet, snow peas, and olives. The delicate flavors of the fish harmonize perfectly with the vibrant ingredients, creating a memorable dining experience. Another highlight is the Iberian pork shoulder served with creamy poplar mushroom rice and green asparagus, offering a rich and satisfying combination of textures and aromas.
El Disparate is an informal restaurant with a terrace that serves breakfast, tapas, and Mediterranean cuisine. The restaurant is situated in The Corner House and offers a charming and urban atmosphere for dining. El Disparate is known for its unique concept of a gastro-bar without an actual bar counter, but instead, it provides charming tables and an attractive terrace where visitors can enjoy Andalusian and fusion cuisine.
Uncover best Tours in Seville and plan your next vacation in style.
Best seafood restaurant in Seville
Tucked away in an 18th-century carriage house, La Cochera del Abuelo offers a dining experience that seamlessly blends elegance with homeliness. Owner Cinta Romero's expertise shines through the meticulous service provided by her attentive staff, while the thoughtfully curated wine selection adds an extra layer of allure. Notable among the culinary delights are the one-bite appetizers, including a carpaccio-style scallop served with smoky eggplant, leaving a lasting impression on the palate.
Sevilla boasts a plethora of delectable seafood establishments, but the upscale restaurant Cañabota, conveniently located near the modernist Metropol Parasol Monument, is something else. With a combination of modern interpretations of traditional sevillano seafood dishes and innovative creations, Cañabota's menu offers a delightful culinary adventure. Complementing the local fish are the exceptional dry and savory sherries showcased in their superb wine list. It comes as no surprise that Cañabota has earned prestigious recognition in the culinary world, including a coveted Michelin star. Guests can indulge in both à la carte options and tasting menus, each showcasing the finest seafood dishes.
Step into Mariatrifulca, a restaurant in Sevilla brimming with historical significance. From the name to décor and ambiance, every element holds meaning. Did you know that Sevilla once had a beach? In the mid-20th century, it was affectionately known among the city's residents as María Trifulca. The restaurant pays homage to this riverside beach, just like the restaurant is situated on the banks of the Guadalquivir River. At Mariatrifulca, they aim to capture the maritime, Mediterranean essence of Sevilla's past and preserve it for the future.
If you are craving seafood, La Azotea is the place to go. The restaurant's grilled octopus and black risotto are not to be missed. The menu changes daily, depending on the availability of fresh seafood, so you can always expect something new. They also have an extensive wine list, focusing on Andalusian wines.
Uncover What To Do In Seville and plan your tours ahead.
Best tapas spot in Seville
If you prefer a more casual dining experience, be sure to visit Taberna Coloniales.  The restaurant offers a variety of tapas, including croquetas and ensaladilla rusa. Their montaditos, or small sandwiches, are famous throughout the city. Try the montadito de solomillo con queso de cabra, or the mini-burger with caramelized onions. The lively atmosphere and affordable prices make it a favorite among locals.
Another casual spot is La Brunilda Tapas. This restaurant offers a range of traditional and modern tapas, such as carrillada and tartar de atun. Their desserts are also noteworthy, such as the torrija with vanilla ice cream. The restaurant's decor is simple but elegant, with exposed brick walls and modern lighting.
Located in the heart of Seville, Bodega Dos de Mayo has captivated locals and visitors with its exceptional tapas. Charming, rustic interior adorned with vintage wine barrels and old photographs creates an inviting atmosphere. From the iconic jamón ibérico to the succulent gambas al ajillo (garlic prawns), every dish is meticulously prepared using fresh, locally sourced ingredients. One must-try tapa at Bodega Dos de Mayo is their renowned tortilla española, a Spanish omelette made with eggs, potatoes, and onions.
Nestled in the historic Santa Cruz neighborhood, La Bodega Santa Cruz stands as a testament to the city's tapas culture. Indulge in dishes like the mouthwatering solomillo al whisky (pork tenderloin with whiskey sauce) or the tantalizing carrillada ibérica (Iberian pork cheeks). Additionally, La Bodega Santa Cruz offers an impressive vegetarian and vegan tapas selection, catering to the diverse dietary preferences of its patrons.
The Antigua Abacería de San Lorenzo is a renowned establishment. It aims to recreate the traditional abacerías or old grocery stores that were prevalent in the city from Al-Andalus until the mid-20th century. It has a rustic and convivial setting where visitors can enjoy a selection of cured meats, small sandwiches, and other tapas plates. A montadito de chorizo picante y cabrales (a sandwich with spicy chorizo and Asturian blue cheese) is a must-try dish.
Best dessert spots in Seville
For a sweet treat, visit Confitería La Campana. For more than 130 years, La Campana has been a beloved institution in Seville. This historic pastry shop and café offers an array of traditional Andalusian pastries, including the iconic "torrijas" (similar to French toast), "pestiños" (honey-coated fritters), and "yemas" (egg yolk candies). Take a seat in the charming café, grab a box of goodies to-go, and immerse yourself in the flavors that have enchanted Seville for generations.
Confitería La Victoria is a paradise for dessert lovers in the heart of Seville's old town. This family-run bakery entices visitors with its exquisite cakes, pastries, and artisanal ice creams. Be sure to try their famous "tarta de Santiago," a luscious almond cake, and the "roscones de hojaldre," delicate puff pastry cones filled with a variety of sweet and creamy fillings. The warm ambiance and exceptional quality make Confitería La Victoria a must-visit for any sweet tooth.
Best rooftop bars in Seville
Perched atop the luxurious EME Catedral Hotel, this rooftop bar offers an unrivaled view of Seville's iconic cathedral. The stylish ambiance, contemporary decor, and comfortable seating make it an ideal spot for relaxation. Sip on a perfectly crafted cocktail, take in the breathtaking panoramic views, and immerse yourself in the city's magical atmosphere.
Located near the Giralda tower, the Hotel Doña Maria Rooftop Terrace is a hidden gem offering stunning vistas of the city. Whether you choose to unwind by the pool or indulge in a delectable meal, the terrace provides an enchanting setting. Watch as the sun sets over Seville's skyline, casting a warm glow on the historic landmarks below.
Nestled within the iconic Hotel Alfonso XIII, this rooftop terrace boasts elegant decor, refined service, and magnificent views. Immerse yourself in the timeless beauty of the surrounding architecture while savoring a handcrafted cocktail. The ambience exudes sophistication, making it an excellent choice for a special occasion or a romantic rendezvous.
Tucked away in the Fontecruz Sevilla Seises Hotel, this rooftop terrace provides an intimate and tranquil setting. As you sip your cocktail, enjoy the breathtaking views of Seville's rooftops and spires, including the grandeur of the Cathedral. Combining the panoramic scenery and the soothing ambiance creates an unforgettable experience.
The Corner House Rooftop is located in the heart of Seville's center and offers a relaxed and inviting atmosphere. Surrounded by the city's historic landmarks, this vibrant rooftop bar provides stunning views, delicious tapas, and a wide selection of refreshing drinks. Grab a seat on one of the comfortable sofas, unwind, and soak in the lively atmosphere of Seville.
Best wine bars in Seville
For an authentic and unpretentious experience, Casa Morales is a must-visit. This historic wine bar, founded in 1850, has retained its traditional charm. It's classic tiled interior and rustic wooden bar create a warm and inviting atmosphere. Casa Morales is particularly famous for its sherries and offers an impressive selection of these fortified wines. Indulge in a glass of sherry and savor the flavors while enjoying the lively ambiance of this iconic establishment.
For a great selection of local wines, visit La Carbonería. This bar offers a range of Andalusia wines, tapas, and live music. The bar's bohemian decor and outdoor seating make it a great relaxing spot with a glass of wine.
Another wine bar with a great selection is Las Teresas. This bar has been serving Seville since 1870, and its walls are covered in photos of famous patrons. Try their house wine, which is served straight from the barrel.
Uncover the best Seville Shows and enjoy an authentic experience.
Conclusion
When it comes to culture, history, and gastronomy, few cities can rival the vibrant charm of Seville. This enchanting destination has long been celebrated as a hub for artistic expression, architectural wonders, and mouthwatering cuisine. From the captivating flamenco performances to the awe-inspiring Moorish influences, Seville offers a captivating tapestry of experiences that truly immerse visitors in its rich heritage.
However, it is the city's thriving culinary scene that has earned it a special place on the global gastronomic map. Seville is a paradise for food lovers, where flavors dance on the tongue and culinary traditions are celebrated with gusto.
At the heart of Seville's gastronomic identity lies the beloved tradition of tapas. The city is renowned for its tapas culture, where small plates of delectable bites are enjoyed alongside a refreshing glass of local wine or a crisp cerveza. Traditional tapas bars line the streets, offering a tantalizing array of dishes, from succulent cured ham and sizzling garlic shrimp to creamy croquettes and perfectly grilled octopus. Each bite tells a story, showcasing the city's history and culinary evolution.
But Seville's culinary landscape is not bound by tradition alone. The city embraces innovation, and avant-garde techniques have found their place in its kitchens. Enter the realm of molecular gastronomy, where science meets culinary artistry. Cutting-edge restaurants in Seville are pushing the boundaries of taste and presentation, delivering dishes that are as visually stunning as they are delightful to the senses. These culinary pioneers harness scientific principles to transform familiar ingredients into edible works of art, elevating the dining experience to new heights.
Seville's gastronomic offerings extend beyond its renowned tapas and experimental cuisine. The city boasts a vibrant market scene, where locals and visitors alike can explore an abundance of fresh produce, aromatic spices, and regional specialties. The Mercado de Triana and the bustling Mercado Lonja del Barranco are among the must-visit culinary destinations, providing an immersive experience that celebrates the local bounty and fosters a connection between consumers and producers.
Furthermore, Seville's culinary calendar is punctuated by lively food festivals that showcase the city's gastronomic diversity. The Feria de Abril, one of the most famous celebrations in Spain, brings together locals and tourists for a week-long fiesta filled with flamenco, colorful attire, and an abundance of food and drink. The Feria de Tapas, another beloved event, invites visitors to embark on a tapas trail, sampling an array of creative dishes across different venues. These festivals are a testament to Seville's passion for gastronomy and its commitment to preserving and sharing its culinary heritage.
In conclusion, Seville is a city that captivates the senses in more ways than one. While its cultural and historical treasures are undoubtedly mesmerizing, its culinary offerings add another layer of allure to this remarkable destination. From the traditional charm of tapas to the cutting-edge world of molecular gastronomy, Seville presents a gastronomic journey that appeals to both traditionalists and adventurers. So, if you find yourself in this remarkable city, prepare to indulge in a culinary experience that will leave an everlasting impression on your taste buds and memories alike.
*Please note that some links are set up through affiliate programs, meaning Wine travel gets referral credits if you purchase these items via our links.