Classic Wines from Borgo del Tiglio and Meroi
Reading Time: [est_time] Nice white wines and a few amber wine producers. That was our impression of Friuli-Venezia Giulia before we visited the region. It turns out that both of our initial impressions are correct, but there's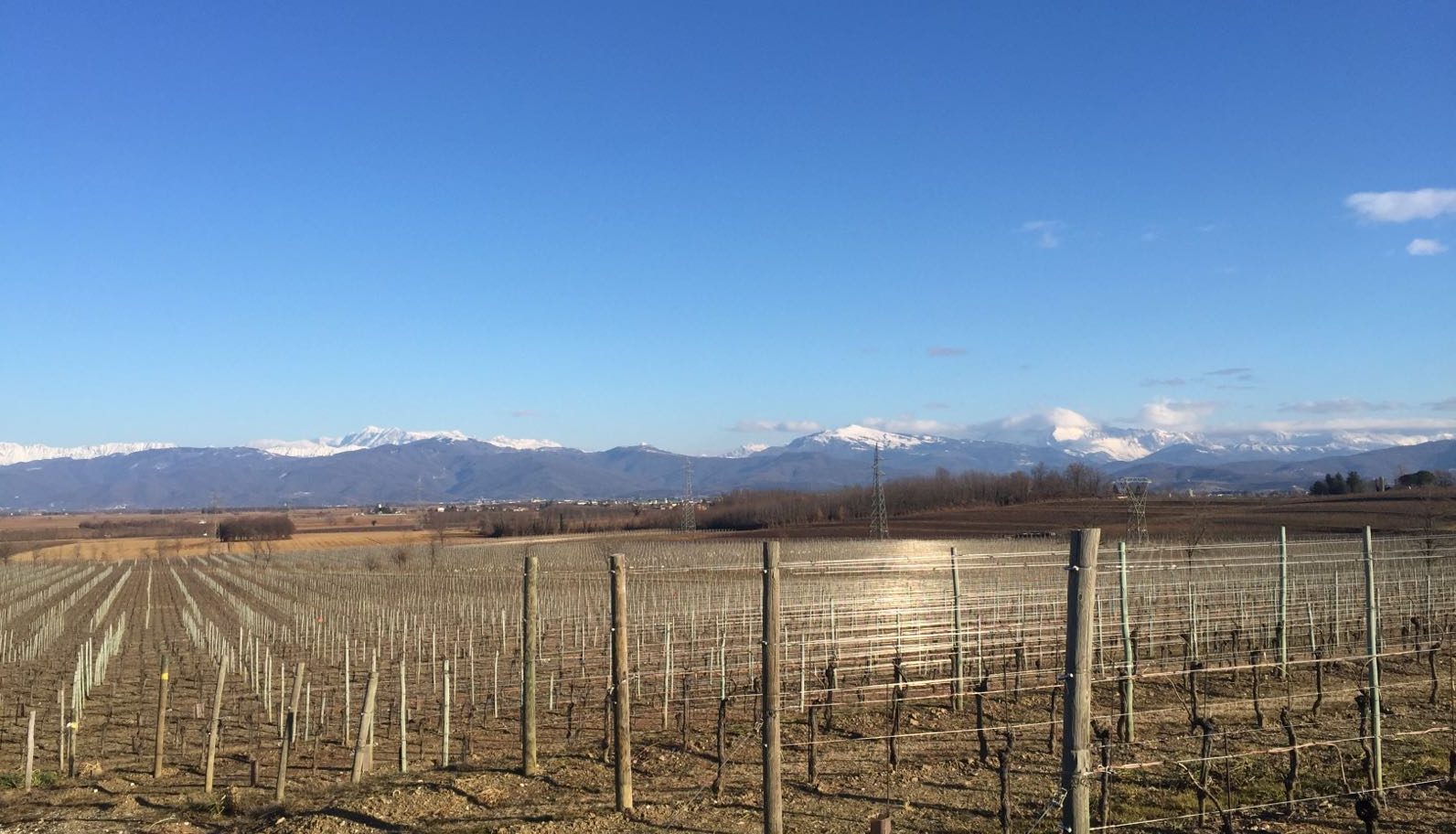 Reading Time: 5 minutes
Nice white wines and a few amber wine producers.
That was our impression of Friuli-Venezia Giulia before we visited the region. It turns out that both of our initial impressions are correct, but there's more to Friuli than that. It's a dynamic region with so many different styles of wines being made. Some may see it as negative; a recent article on GuildSomm stated, "Friuli has never settled on a winemaking identity, one with a clear, coherent definition that can be understood and expressed far beyond its borders."
I personally find the diversity of wines in Friuli very exciting. The wide offer of excellent wines in the region is similar to Santa Barbara County in the USA. There are more wine grape varieties and different styles of wine that I thought.
Two wineries producing balanced, classic wines in Friuli are Borgo del Tiglio and Meroi. Both of these wineries exemplify classically styled wines that can compete with any other that we have tasted around the world. Both wineries are run by a father-son team and have a solid track record.
Both wineries were welcoming and memorable. Of the nine wineries in Friuli-Venezia Giulia that we visited, Borgo del Tiglio and Meroi were the only ones that weren't shy about opening a large selection of archive wines. Fans of French-style wines would be more than happy to drink from these two producers.
Borgo Del Tiglio
This winery is very well received by wine lovers and critics alike. Nicola Manferrari, the owner, has eight hectares in Fruli and six hectares in Le Marche. From those plots, Borgo Del Tiglio produces around 40,000 to 50,000 bottles per year. Renowned wine critic Antonio Galloni wrote, "Borgo del Tiglio is one of the world's greatest estates. Proprietor Nicola Manferrari crafts brilliant, chiseled whites built on saline-infused minerality and energy that capture the essence of some of Friuli's most compelling terroirs."
We pulled into the small village of Brazzano and parked our car. The Borgo Del Tiglio estate was unassuming. It took us several minutes of walking around the small village Brazzano before we found it. Nicola's son Mattia was welcoming and showed us the nearby vineyard and cellar. The winery was simple and humble. It is amazing that such great wines are birthed there.
Walking into the barrel room revealed the secrets of Borgo Del Tiglio. In contrast to the humble winery, the barrel room looked extremely high-tech. We felt like we were walking on board a Star Destroyer with the sliding glass doors and funky cut openings.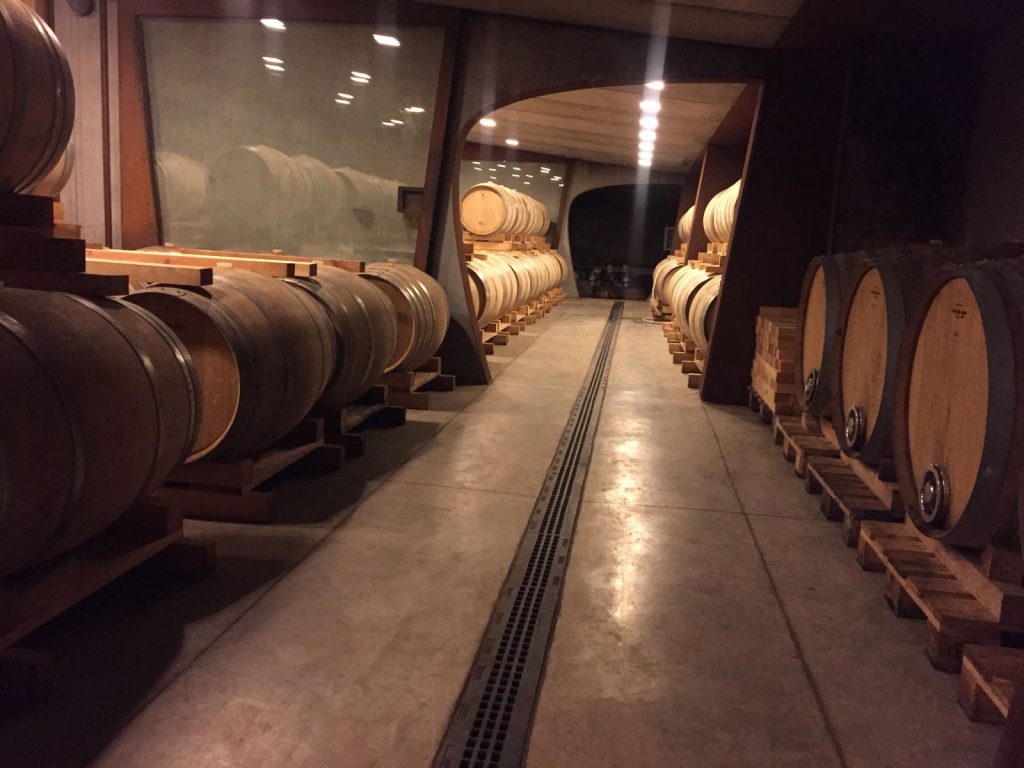 Three of us sat down in the tasting room, which looked more like a family dining room. The proprietor, Nicola Manferrari, walked in and immediately our friend Vedran whispered, "That guy looks like the real deal." Mattia and Nikola asked us what we'd like to taste. We answered, "Whatever you think is the best representation of your winery."
Nicola went to the cellar and returned with four white wines and two red wines. The four white wines were from the Selezione series, which are the estate's top white wines. The two reds were riserva wines. At Borgo Del Tiglio, white labels are designated for the entry level wines while the green labels don the bottles of the Cru and Riserva wines.
All of the white wines are barrel fermented. Precision, tanginess, and length are the themes that tie all the white wines together. The four white wines we tried were all so exceptional that it was hard to gauge major differences between them. As happy as we were with the whites, the reds were also showstoppers. Both of the reds had nice fruit, structure, and fine-grained tannins.
Is Borgo del Tiglio justifiably one of the world's great white wine estates? Was Antonio Galloni correct? We cannot claim to have tasted at all of the world's greatest estates. But we can say that all of the wines at Borgo Del Tiglio are excellent and rank among the best whites that we have sampled.
Exotic Wine Travel's Picks
You can read more about our scoring system at our START HERE page. 
Borgo del Tiglio Ronco Della Chiesa 2013
If I had to describe this wine in one word, it would be precision. This is a single vineyard wine made from 100% Tocai Friulano. Fruit for this wine is sourced from the vineyard on a steep hill right behind the winery. This is bursting with peach, white flower, minerals, and is extremely oily on the palate. The wine is tart and flavorful. The finish may be one of the longest I've had in a white wine.   4.6/5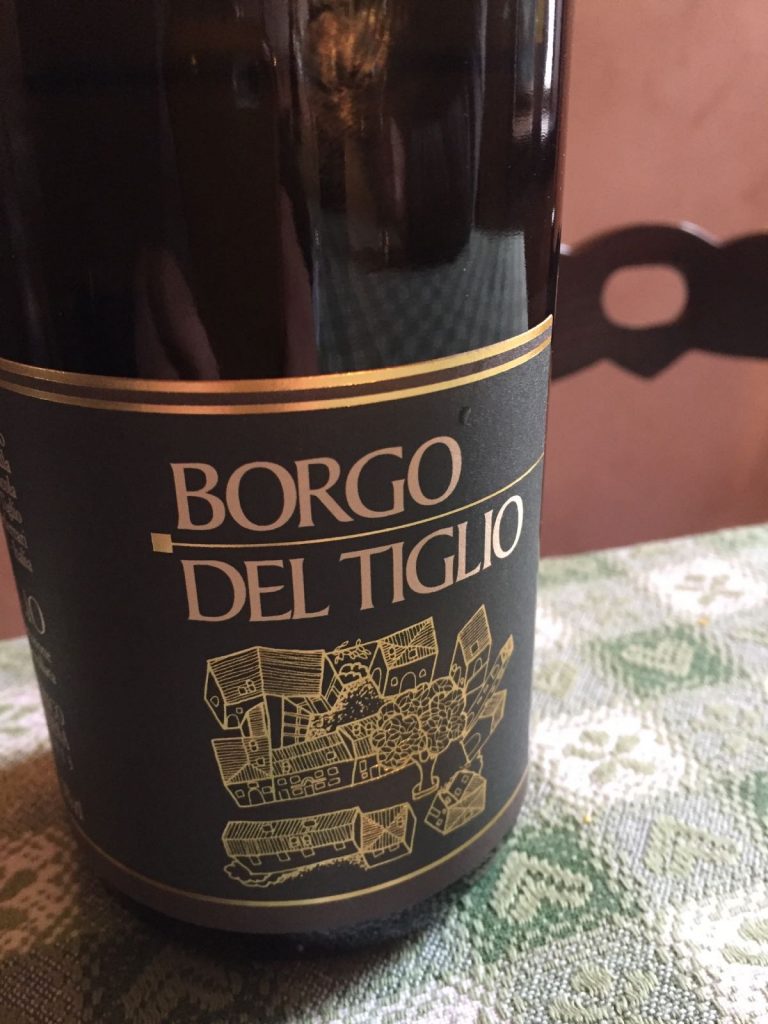 Borgo del Tiglio Studio di Bianco 2010
An undisclosed blend of Riesling, Tocai Friulano, and Sauvignon Blanc. The title of this wine translates to "a study in whites." Studio di Bianco is the result of Nikola's years of experimenting with white wines. This wine is extremely smokey and oily, they are the first notes that jump out of the glass. The additional flavors include peach, petrol, mineral and a saline fishiness—which is actually pleasant. This is viscous on the palate, full-bodied, and tangy with a long finish.   4.2/5
Borgo del Tiglio Rosso Della Centa 2006 
This is Merlot made only in the best years. The wine is complex with black plum, white pepper, Italian herbs, earth, and black licorice initially on the nose. This producer says he looks for paprika in the wine to determine if he can bottle under this label—we definitely feel it on the palate as well. It also shows a touch of pencil lead with fine grained tannins on a medium body frame. The finish is long and delicious.   4.8/5
Borgo del Tiglio Rosso Riserva 1996
A blend of Merlot and Cabernet Sauvignon, this is a reserve red only made in good years. It spent three years in French oak before it was bottled. This wine is a beauty. Full of tomato, herb, red plum, white pepper, and earth. For an aged wine, it has a lot of tanginess with fine-grained tannins. It really reminds me of a 2001 Sassicaia that I recently had.   4.7/5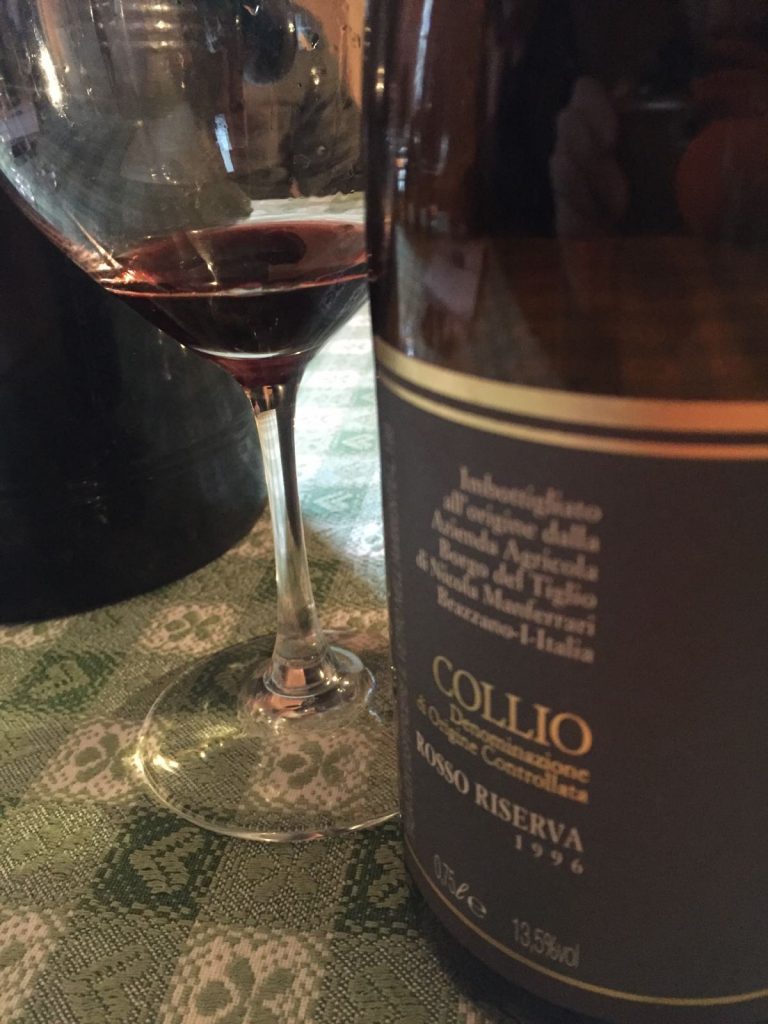 Meroi
Buttrio is a small village that lies about 10 kilometers southeast of Udine. This tiny village has been identified as a source of Friuli's best red wines. Turning off the main drag of town onto an unsealed roads will show you why. The hills of Buttrio are beautiful and have lots of south-facing exposure. The hills sit in the middle of the Adriatic Sea to the south and the Friulian Alps to the north, which create a special grape-growing environment.
Meroi Winery really impressed us. Paolo and his son Damiano are producing about 60,000 bottles of wine per year from 20 hectares of vineyards. Many of their wines are sold directly from their family restaurant Trattoria Al Parco, which is adjacent to the winery. Unfortunately, the restaurant was closed for a two-week holiday when we arrived, so we can't speak about the food there.
Damiano took us on a small tour of his beautiful vineyards. We were shocked how much the topography of the town changed once we got off the main road. The winegrowing hills are hidden on the east side of town. The bora winds were blowing strong that day though the sun was out. Damiano even had a ski mask on.
Damiano is enthusiastic, full of fire and drive. He is passionate about making excellent wine and even more so about traveling the world and marketing his wines. Damiano took no time in opening up to us and pulled several wines out for us to taste.
Meroi wines are modern and clean, the whites show bright acidity and focused fruit flavors while the reds are big and luscious. Damiano started the tasting with a Riesling that he was undecided about releasing. I thought the Riesling was brilliant and it reminded me of a fuller-bodied Austrian Riesling. The whites and reds both aged beautifully and the Refosco was a showstopper.
Paolo and Damiano are making delicious, fine wine. We had not heard a lot about this producer until arriving in Friuli. These wines offer excellent quality for the money. If you get the chance to try the Refosco you are in for a helluva experience.
Exotic Wine Travel's Picks
You can read more about our scoring system at our START HERE page. 
Meroi graciously gave us this bottle to open at home and WOW. A blend of 80% Merlot and 20% Cabernet Franc aged for 18 months in used French oak. This still has a lot of life ahead of it. Flavors include ripe plum, cherry, cedar, mineral, and cedar notes. There are slight notes of forest floor and tobacco from age but this is still fruit forward. Supple tannins in the mouth with a long finish. This has aged gracefully for an entry-level red wine, kudos to Meroi.   4.3/5
Meroi Malvasia Zitelle durì 2015
This wine is tangy, complex, and excellent. It is full of dandelion, peach, lemon, and caramel flavors. The texture is beautiful with a mid-palate flavor spike. The acidity in the wine is great and it has a long end palate. It's everything that I like about a white wine—clean, mineral-driven, and zippy acidity.   4.4/5
Meroi 

Refosco Vigna Dominin 2011
This is a single-vineyard Refosco with a touch of age on it and aged for two years in new French oak. This is very Northern Rhone Syrah-like on the nose and the palate. It is exactly the type of red wine that I love with leather, rubber, raspberry, violet, blackberry, and black pepper. The wine is earthy and fruity at the same time with some tannic grip and a long finish. The Vigna Dominin 2011 is some serious juice, it's perhaps the best Refosco that I've ever had.   4.7/5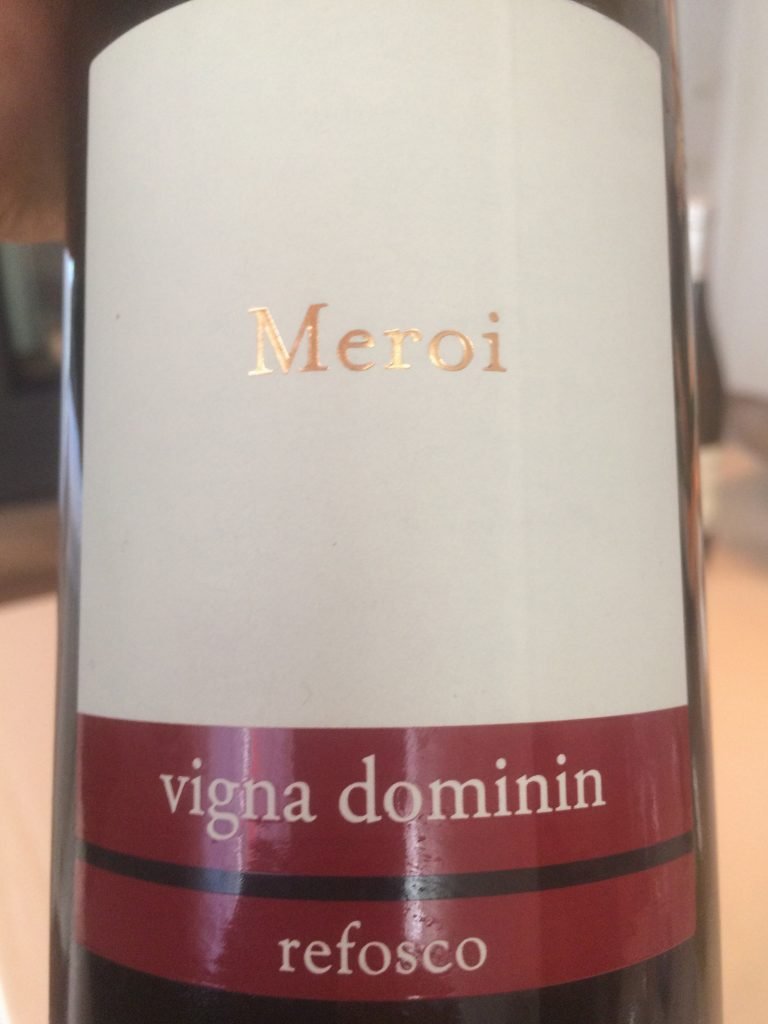 Related:
Miani: The Stuff Wine Dreams are Made of
Bastianich and Jermann: Iconic Friulian Wine 
Here's a video preview of the things to come: more articles, videos, and tasting notes about the best of Friuli will be released in the coming weeks!
---
Disclaimer: The ideas expressed in this article are personal opinions and are not associated with any other sponsors or business promotions.