Alliance Vinum: Taking Vino Nobile di Montepulciano To The Next Level
Reading Time: [est_time] Restoring a historic wine to its rightful place. That's what Alliance Vinum is aiming for. When it comes to the great wines of Tuscany, Brunello di Montalcino and Chianti Classico are often the first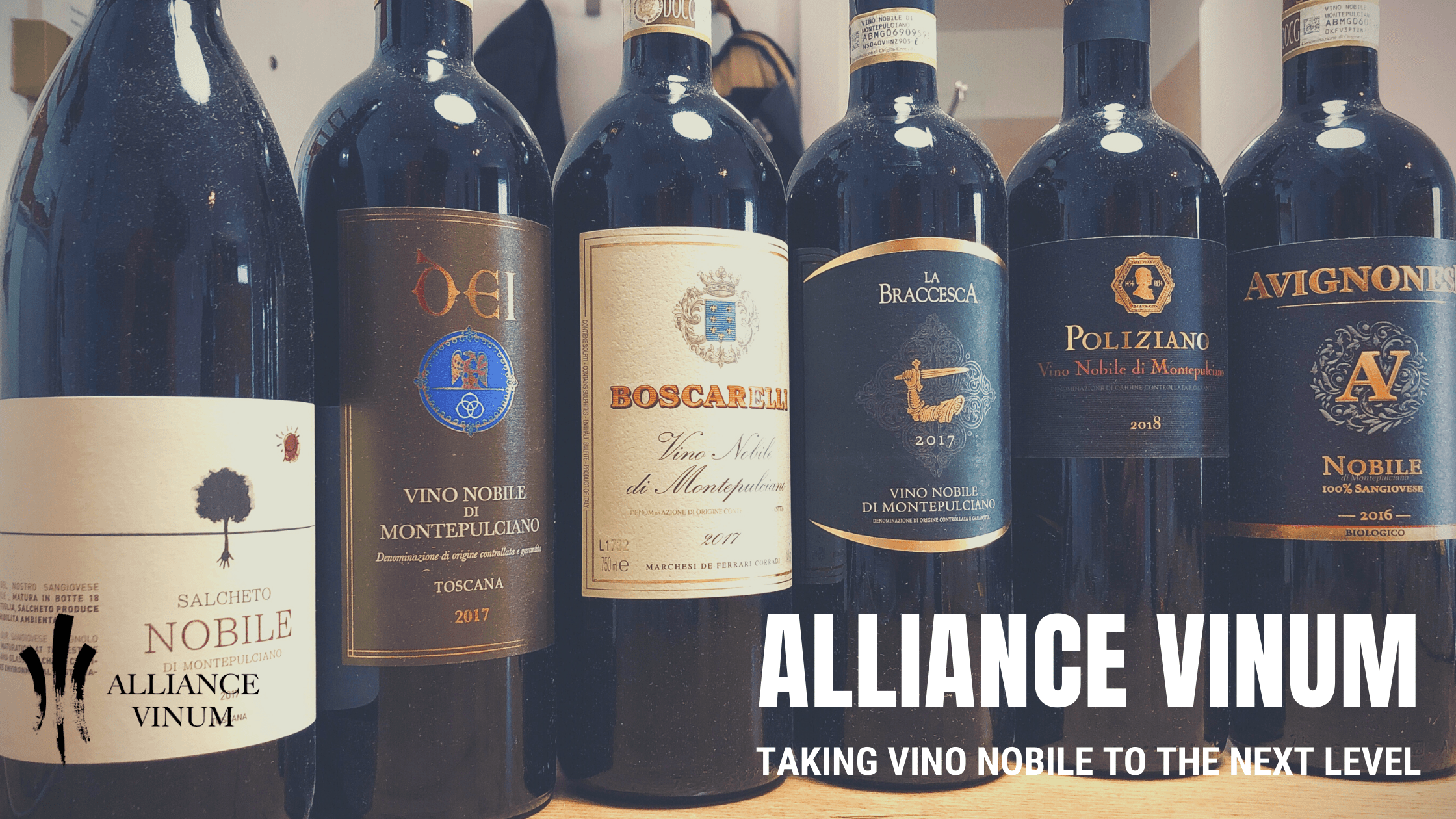 Reading Time: 3 minutes
Restoring a historic wine to its rightful place. That's what Alliance Vinum is aiming for.
When it comes to the great wines of Tuscany, Brunello di Montalcino and Chianti Classico are often the first names that come to mind. While one of the historic regions, Vino Nobile di Montepulciano, is often forgotten. It's unfortunate for a wine that Pope Paul III once dubbed as vino perfectissimo (perfect wine) in the 16th century.
Alliance Vinum: The New Vino Nobile
The Alliance Vinum is made of six producers: Avignonesi, Boscarelli, Dei, La Braccesca (Antinori), Poliziano, and Salcheto. They focus on producing high-quality, site-specific Sangiovese that ranks among the best red wines of Italy. They communicate this through a set of six single-vineyard, Cru wines that are made entirely of Sangiovese. This is unique because the Vino Nobile di Montepulciano regulations allow for 30% of grapes other than Sangiovese to be included in the blend. All six wines are grown in vineyards with a mixture of sand and clay.
Being a Sangiovese superfan, I couldn't wait to taste these examples from the Alliance Vinum. Generally speaking, I do find a little more excitement in the normale Chianti Classico and Brunello di Montalcino over standard Vino Nobile di Montepulciano. These Cru wines from the Alliance Vinum are something else, they show why Vino Nobile di Montepulciano is poised to rise again.
All six of these wines can stand next to the best in Tuscany. All of them represent a significant step up from the standard bottlings of the respective wineries. Too often, reserve wines around the world just mean more oak, that's not the case here.
These wines from Alliance Vinum are riper styles of Sangiovese but they never feel jammy on the palate. The prettiness of the grape is preserved in all of these wines. They all offer plenty of structure with that distinctive Tuscan flair that Italian wine lovers like myself crave.
If you're looking to taste a modern Italian Rennaissance, these wines are worth seeking out.
Wine Recommendations:
Avignonesi, 'Poggetto di Sopra' Vino Nobile di Montepulciano 2016
The Avignonesi, 'Poggetto di Sopra' Vino Nobile di Montepulciano 2016 is a single vineyard, 100% Sangiovese single-vineyard aged for 24 months in cask. The fruit here is pure and is allowed to show through. There are notes of leather, sour cherry, cigar ash, and earth. This strikes a fantastic balance between classic and modern Sangiovese. The wine feels medium-bodied in the mouth at first before the big-time tannins hit at the end. It has a long life ahead of it. If you love Tuscan reds, this is a must-buy. Score: 94+/100
Poliziano, 'Le Caggiole' Vino Nobile di Montepulciano 2016
This is 100% Sangiovese. It has a ripe, generous nose of black cherry, tobacco, black raspberry, and sweet cedar. This is a great balanced between massive amounts of fruit with subtle earth notes and Tuscan flair. This is incredibly easy to drink and has a smooth mouthfeel that will make many palates happy. Great interplay between sweet fruit and acidity with round tannins. Tobacco flavors linger on the finish. Score: 93/100 
Cantina Dei, 'Maddona della Querce' Vino Nobile di Montepulciano 2016
This is the reserve wine of the estate. When I first tasted it, there was plenty of wood but with air, this really started to shine. Notes of raspberry, tangerine peel, sour cherry, cedar, and pepper. Full-bodied with plenty of fruity and structure. This still has a lot of tannins, so make sure to have some food. Structured with a long finish. Score: 92/100
Salcheto, 'Vecchie Viti Del Salco' Vino Nobile di Montepulciano 2016
This is 100% Sangiovese. It's a beautiful, savory red wine. The leather and tobacco come out first before the fruit, which pulls me into the glass. Notes of dried cherry, rose petal, and cedar are among the other notes here. Full-bodied but not massive, there's a lot of complexity here. There's a spine of blood orange acidity that lifts the flavors of the palate. Round and supple tannins guide the long finish. Score: 94/100
Boscarelli, 'Costa Grande' Vino Nobile di Montepulciano 2016 
This is 100% Sangiovese. There's a great interplay of fruit and savory notes here. Plenty of sour cherry fruit is accompanied by well-worn leather, menthol, and sweet cedar. This is a full-bodied red that checks all the boxes for me. Complex? Yes. Fruity but not jammy? Yes. The tannins are ripe and add just a gentle grip. Juicy acidity guides the long finish. Score: 95/100
La Braccesca, 'Maggiarino' Vino Nobile di Montepulciano 2016
This is 100% Sangiovese. It's a riper take on this variety. Notes of red plum, cherry, cedar, leather, and a touch of rose petal. IT would be hard for me to call this Sangiovese in a blind tasting. This is made to be a crowd-pleaser. It's full-bodied and silky with plenty of fruit up front. The tannins come and hit hard on the back end. Score: 92+/100
You can find out more about our scoring system on the WINE RATING page.
Do you like our content?
If you like our articles and videos, we'd love for you to be a part of our community on Patreon. The support from Patreon helps keep the content coming and you access to behind-the-scenes content. It also gives us the chance to get to know you better. Check out the Exotic Wine Travel Patreon page by clicking the photo below.

---
The Alliance Vinum provided tasting samples. The opinions expressed in this article are unsolicited and have not been paid for in any way by governmental bodies, enterprises, or individuals. We do not sell editorial content as that would destroy the legitimacy of our reviews and the trust between Exotic Wine Travel and its readers. On occasion, we extend the option of purchasing the wines we review or/and the products we spotlight. Some of these product links are set up through affiliate programs, which means Exotic Wine Travel gets referral credits if you choose to purchase these items via the links we provide.