Bastianich and Jermann: Iconic Friulian Wine
Reading Time: [est_time] When we selected wineries to visit during our Friuli-Venezia Giulia trip, we wanted to taste the best that the region had to offer. Most of our trip focused on visiting small producers. Several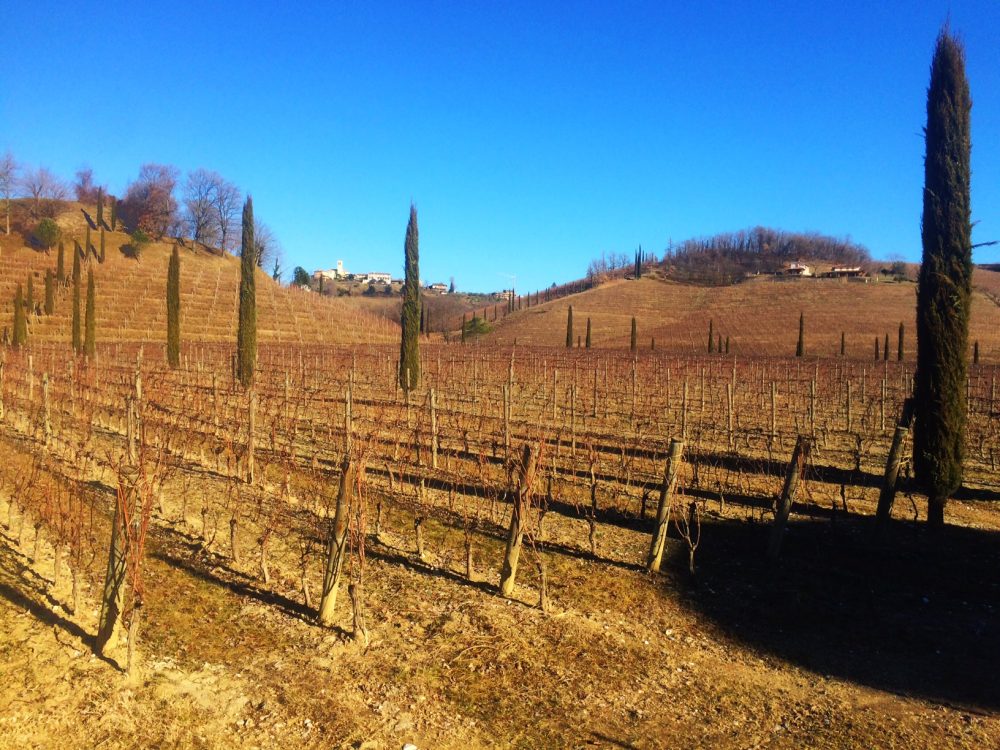 Reading Time: 4 minutes
When we selected wineries to visit during our Friuli-Venezia Giulia trip, we wanted to taste the best that the region had to offer. Most of our trip focused on visiting small producers. Several larger producers have left their mark on the wine scene and we wanted to visit a few of them as well. Our schedule was full, so we had to choose between producers Bastianich, Livio Felluga, Marco Felluga, Villa Russiz, Jermann, Schiopetto, and Vie de Romans. In the end, we chose Bastianich and Jermann.
Bastianich 
The Bastianich family is credited for bringing Friulian food and wine to the world. Lidia Bastianich owns a restaurant empire in the USA with her daughter Tanya and her son Joe. Their group owns the Michelin Starred restaurant Del Posto in Manhattan and the now famous Eataly marketplace. In the early 1990's, the family bought a few vineyards in their homeland of Friuli. In 1998 they released their first vintage.
Bastianich winery produces between 250,000 and 300,000 bottles per year, depending on the vintage. They use only fruit from their vineyards in Cividale del Friuli and Buttrio.
The winery sits just outside of Cividale del Friuli and has an excellent restaurant on-site named Orsone. Unfortunately, the restaurant was closed for the season when we arrived. We did get a good look at the vineyards and the production facilities. The winery is very well organized and the tasting room is spotless and well presented.
Our visit with Bastianich was the least intimate and shortest of our visits in Friuli, but our guide Federico did a good job. He allowed us to taste through the whole catalog, including all of the Bastianich Cru wines. The Cru wines are distinct and packed with rich flavors.
The Bastianich wines are geared towards the American palate, especially the big, off-dry red wines. Three of the Bastianich Cru wines have gone through a period of appassimento, meaning the grapes were laid out to dry – Amarone style. The Plus, Vespa Rosso, and Calabrone wines all have been made with this method, thus having a touch of residual sugar.
All of the Cru wines had indigenous grapes in the blend in some way, shape, or form. The Vespa Bianco was delicious and distinctively different. The Bastianich Plus gave us new flavor nuances that we enjoyed tremendously. These are among the most unique wines made in Friuli-Venezia Giulia.
EXOTIC WINE TRAVEL'S PICKS
Bastianich Vespa Bianco 2014 
A blend of 45% Sauvignon Blanc, 45% Chardonnay, and 10% Picolit.  This is a crazy-cool white wine from Bastianich and is their signature label. The nose and flavors are so interesting, yet well put together. The flavors include vanilla, brioche, honey, apricots, and peach. The wine is creamy on the mouth, big bodied, and rich, with a kiss of vanilla. It's hard to tell that this is a blend of Chardonnay and Sauvignon Blanc. This wine is unique and the barrel gives the wine soft yet palpable tannins.  4.4/5
Bastianich 

Friulano Vini Orsone 2014
Made from the Tocai Friulano grape, this is one of the entry level wines in the Bastianich portfolio, but don't let that fool you. This was aged for seven months on the lees in stainless steel inox tanks. It has lemon-green color and honey, pear, and honeydew melon flavors that fill the glass. The wine has a touch of a bitterness in it and the mid-palate bursts with flavors. The wine has a long, delicious finish. This is a great entry-level effort.   3.8/5
This is 100% Tocai Fruilano with 8 g/L of sugar. It is really golden and dandelion in color and the berries have some botrytis on them. This wine did not go through malolactic fermentation. It is full of honey, grass, caramel, and cantaloupe melon flavors. This is rich, big, and delicious with just a touch of sweetness and a long finish. A great wine for someone who likes big and explosive flavors.   4.2/5
Jermann
The Jermann family moved to Italy from Slovenia. Prior to Slovenia, they were originally from Burgenland, Austria. Silvio moved to Canada when he was a young man to study winemaking in the new world. He came back to Friuli with fresh ideas that helped take his family's winery to the next level. Jermann now produces close to one million bottles a year and the winery is one of Friuli's flagship white wine estates.
Silvio Jermann is an iconic winemaker in Friuli-Venezia Giulia. He created his famous Jermann Vintage Tunina wine at the age of 21. He is an artist who paints the designs for all of his labels. His artistic flair is evident in all of the wines. For such a large production, the wines exhibit a lot of pizzazz.
We arrived at Jermann on a Saturday morning, a time when the winery is normally closed to the public. Our guides Martina and Elisa took us through the beautiful new facility in the village of Ruttars. This new facility focuses on the production of the Cru line of wines. Everything was neat and organized and there were signs that reminded visitors that photos are forbidden – so we didn't get shots of the inside. We can just tell you that the cellar is beautiful and there are interesting pieces of art scattered throughout the space.
The tasting began with a bang. We started with several of the entry-level white wines, which were all shockingly good. We moved on from there to the Cru white wines and finally the red wines. All of the wines were taut and loaded with acidity, energy, and precise flavors – they really reminded us of Austrian wines.  The reds took us by surprise, Jermann is known as a white wine estate but the reds made from Pinot Noir, Blaufrankisch, and Pignolo were equally impressive.
Jermann blew the top off our expectations and Where Dreams Have No End may be one of the finest Chardonnays that we have ever tasted. There is a reason that they bring this wine to compete against great White Burgundies. Kudos to Silvio and the team at Jermann, we hope to be back soon. Their reputation is well deserved.
Exotic Wine Travel's Picks
Jermann Where Dreams Have No End 2014
A blend of 97% Chardonnay and 3% of Silvio's secret recipe. The inspiration for this legendary white wine is U2's hit "Where The Streets Have No Name." When we posted a photo of this wine on our Instagram account, a friend commented that she remembered this wine from the 1998 remake of The Parent Trap. We did some research and low and behold, she was right! 
This is a wine that was aged in 300L French oak for 11 months, six of those months were on the lees. This is a truly special wine. W…Dreams… is very complex with flavors of soft vanilla, caramel, pineapple, peach, lemon and flint notes. The wine has high acidity and is full bodied but not overly buttery. Sandy texture on the mouth from the oak, but everything comes together nicely here. World class Chardonnay from this impressive producer in a tough vintage.   4.8/5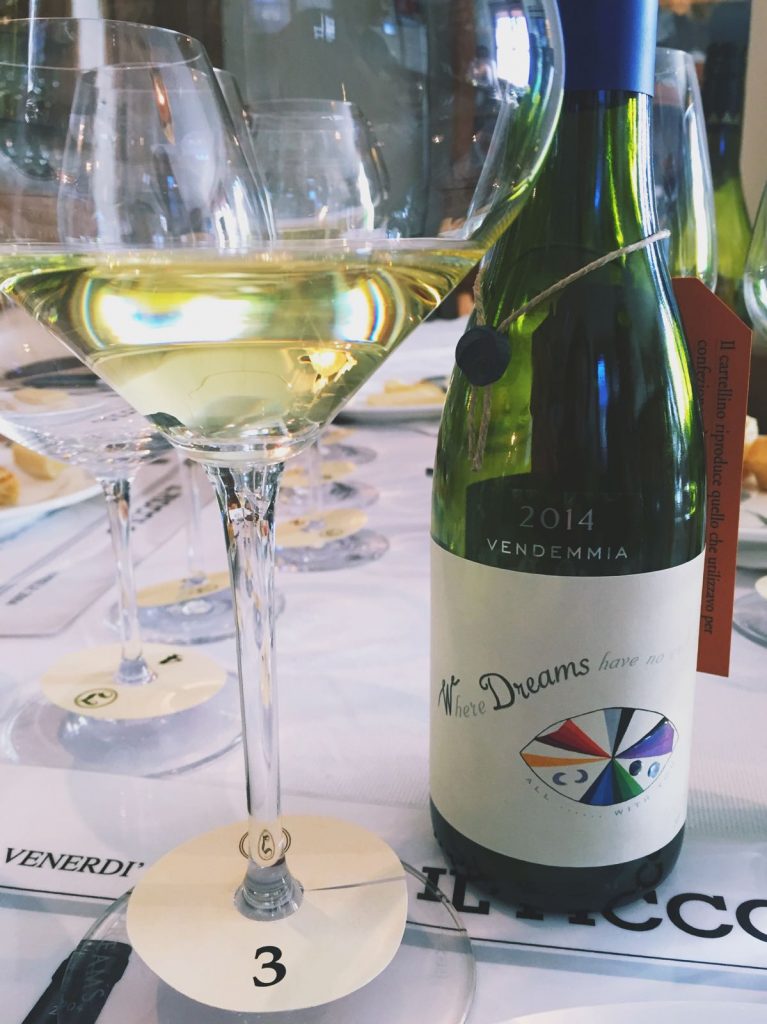 Jermann Capo Martino 2014
This is a field blend of Tocai Friulano, Malvasia, Ribolla Gialla, and Picolit. The Capo Martino is the least well known of Jermann's Cru white wines, but that needs to change. It was aged in oak casks and is extremely complex. Full of perfume, honeycomb, vanilla, pear, apricot, and yellow flower notes. The wine is full-bodied, smooth, and elegant with a nice sense of tanginess. The wine finishes with a touch of sweetness and bitter flower notes. Another great effort from the rainy and tough 2014 vintage.   4.6/5
Silvio Jermann loves Pinot Noir. For many years he has made an entry-level Pinot Noir wine named Red Angel. Red Angel is a good wine and the Lonzblau takes Friulian Pinot Noir a step further. Aged for one year in French oak. The production is limited to a 1500 regular-size bottles and 200 magnums. This has a seductive nose of raspberry, forest floor, strawberry, cedar, and white pepper. This has a pronounced nose and the aromas burst out of the glass. Wonderful structure and bright fruit notes. It reminds us a lot of extremely well made Pinot Noir from Yarra Valley, Australia.   4.4/5
You May Also Enjoy:
Classic Wines From Borgo Del Tiglio And Meroi
Miani: The Stuff Wine Dreams Are Made Of
A video recap of our Friuli tasting trip –
---
Disclaimer: The ideas expressed in this article are personal opinions and are not associated with any sponsors or business promotions.