Batič: Great Slovenian Wines From Vipava
Reading Time: [est_time] (Cover photo from Batič Winery's website.) We've spent significant time traveling and tasting through the Ex-Yugoslavian countries. For some reason, we had previously put little focus on Slovenia. After finishing our book Cracking Croatian

Reading Time: 3 minutes
(Cover photo from Batič Winery's website.)
We've spent significant time traveling and tasting through the Ex-Yugoslavian countries. For some reason, we had previously put little focus on Slovenia. After finishing our book Cracking Croatian Wine, we decided to make a week-long tasting trip through Goriška Brda, Kras, and Vipava Valley. Our tasting trip through Western Slovenia yielded many gems and exceeded our already high expectations. The quality of winemaking is outstanding and several producers are on par with some of the world's best.
As far as Slovenian producers go, Batič may be the creme de la creme. The winery is located in the beautiful Vipavska Dolina (Vipava Valley), a corridor that connects Western and Central Europe. Because of its proximity to the Adriatic, Vipava experiences a sub-Mediterranean Climate. Although the vineyard area in the valley is less than it was in the past, there are still a number of quality producers present.

Batič Winery
Batič Winery is located at the northern end of the Vipava Valley. Located in the village of Šempas, the winery in an old house that has belonged to the family for over 400 years. Batič has made a name for themselves in and out of Slovenia as they export a large percentage of their production. Miha Batič and his father, Ivan Batič, are crafting outstanding wines from both indigenous and international varieties. They farm biodynamically and are Demeter certified, producing around 70,000 bottles per year from 28 hectares of vineyards—which mean yields are extremely low and grape selection is draconian.
We made the appointment with Miha Batič four weeks prior to our arrival. When we entered the Batič household, we were told that Miha was on holiday. That ended up being a moot point. The Batič family quickly whisked us into the dining room table and brought out several plates of preserved meats, fresh figs, and cooked scampi.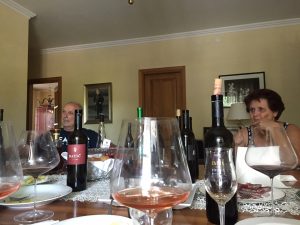 Miha's father, Ivan Batič, opened what seemed to be a never-ending parade of bottles. We spent the afternoon tasting through the entire portfolio. Ivan opened several archive wines for us to taste. All of them were excellent. The Angel line, both whites and reds, were French-esque in style.
Their 1999 Chardonnay Riserva swept us off our feet. We left the wine in the glass through the tasting and it continued to evolve through the afternoon. It still showed well compared to the big red wines. Unfortunately, Batič no longer make Chardonnay into a varietal wine and now use the grapes for blending their top cuvées instead.
The tasting continued into the reds. After tasting the Cabernet Franc (which Batič is famous for), we moved on to the Merlot and the Angel Grand Cuvée. All of the reds showed ripe fruit and balance capable of making many palates happy, but the reserve reds took it up a level: the rare Batič Angel Rosso 2007, which is only made in spectacular years, and the Angel Rezerva 3, a blend of three grapes from three different vintages. Both wines were spectacular efforts and worth seeking out.
What really stood out about the visit was the hospitality of the Batič family. They were warm and accommodating. We were lucky to be with our Croat friend, who helped break the language barrier. We want to extend special thanks to the Batič family for one our of most memorable winery visits in 2017.
Exotic Wine Travel's Picks
(You can find out more about our scoring system on the START HERE page.)
Batič Angel Grand Cru 2015
Made of Pinela, Chardonnay, Malvazija, Rebula, Laški Rizling, Zelen, and Vitovska, the Batič Angel Grand Cru is barrel aged for one year. There are flavors of vanilla, banana, pineapple, and green apple. This wine is round on the palate and silky smooth with perfect wood integration and a long finish. The wine is French-esque in build and flavor. We tasted this next to the 2011 but preferred this younger vintage. 4.4/5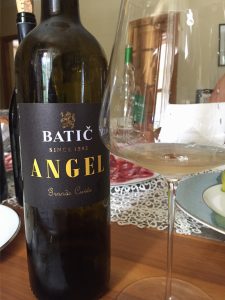 The Batič Angel Rezerva 3 is a limited-edition, reserve wine. It's a blend of Merlot from 2006, Cabernet Franc from 2007, and Cabernet Sauvignon from 2009. Around 80% of the wine is Merlot aged for seven years in oak. Explosive nose with flavors of black cherry, spice, chocolate, and cedar. Spicy and woody mid-palate with a touch of graphite on the long finish. This is still very young and is great now but has the potential to be a barn burner. 4.5/5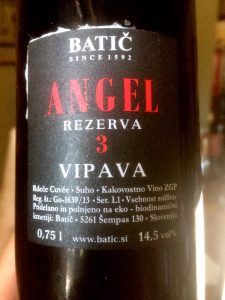 A blend of 55% Pinela, 20% Zelen, 14% Rebula, 5% Vitovska, 3% Klarnica, 2% Rumeni (Yellow) Muškat, and 1% Chardonnay. The Batič Zaria is a cloudy and crazy, cool wine. It sees one month of maceration and is aged one year 225 L oak. The wine has flavors of dried peach, dried apricot, and fall leaves. It has a big mid-palate with an explosion of flavors. The tannin level is low and the wine has a blood orange finish. We prefer this younger vintage to the 2007 that we also tasted. 4.5/5
Batič Chardonnay Riserva 1999
This wine sees four days of maceration and one year in 225 L oak. Flavors include pineapple, ripe melon, petrol, flint, and forest floor notes. Highly viscous, the wine smells like aged Chardonnay on the nose but tastes like strawberry rhubarb on the palate. The wine has a long finish stretched out with nice wood integration and lively acidity.
During the tasting, we kept this in our glasses and kept revisiting it throughout the afternoon. It shined even against the reds. An outstanding wine. 4.8/5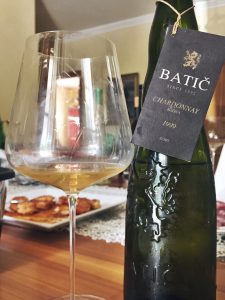 Batič 'Miha's Experiment' 2015
Made from a single vineyard of 35 indigenous Vipava varieties. This came from Miha's desire to produce a wine similar to his forefathers with a vineyard harmonious with nature. Flavors include bitter yellow flower, pineapple, baked apple, and dandelion. Bright fruit on the mid-palate and finish that many may confuse many palates with its sweet tannins (this is a dry wine). It has a medium level of acidity but is full of fruit and floral notes. 4.2/5
The finest selection of
wines available at:

Shipping is available EU-wide and to the UK.
************
Do you want to try Slovenian wines?
If you're looking to savor the exquisite flavor of Slovenian wines, look no further than wineandmore.com. With an abundance of options from different winemakers, it's easy to find exactly what your palate desires. Not sure which bottle is best for you? Try out one of their curated wine cases and discover the perfect vintage for any occasion!
************
Want to learn more about wine?
Are you ready to discover the wonderful world of wines? Come join us at wineandmore.com and let's explore the incredible selection of delicious wines together! We can't wait to share our passion for wine with you!
---
You May Also Enjoy
Slovenian Wine – Rebula from Vipava Valley

Thanks to the Batič family for their time during this busy part of the year.
The ideas expressed in this article are personal opinions and are not associated with any sponsors or business promotions.