7 Best Provence Restaurants
[vc_row][vc_column][vc_column_text] Provence, a picturesque region in the southeast of France, is known for its diverse and delicious cuisine! From traditional dishes to modern haute cuisine. Provence is a must-visit destination for food enthusiasts, as it is home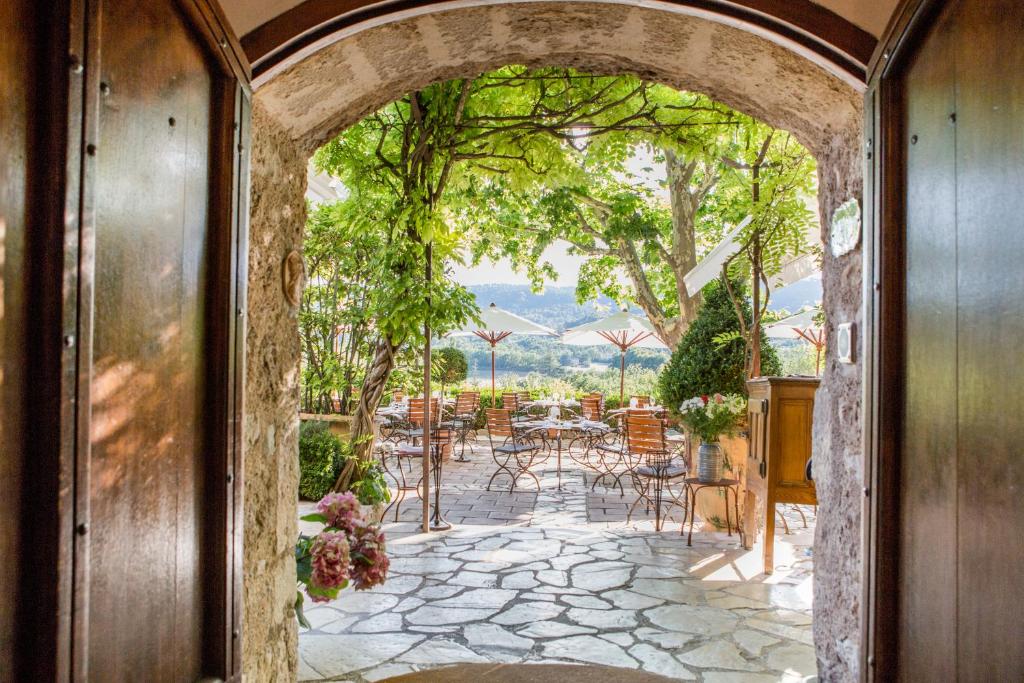 Provence, a picturesque region in the southeast of France, is known for its diverse and delicious cuisine! From traditional dishes to modern haute cuisine.
Provence is a must-visit destination for food enthusiasts, as it is home to some of the most exceptional restaurants in France!
Best Provence Restaurants
Provence is a food lover's paradise, boasting a plethora of mouth-watering dishes like truffles, bouillabaisse, ratatouille, and daube. The gastronomy of Provence is particularly noteworthy, and it is considered one of the region's greatest features.
Whether dining at a casual seafood bistro or a Michelin three-star restaurant, you'll always be treated to the freshest ingredients and the most exquisite cooking techniques!
Some restaurants stay true to their local roots, while others embrace international influences, but all provide a compelling reason to anticipate a trip to the famed Provence region. Uncover the top 7 Provence restaurants!
1. Chez Bruno, Lougues
If you're a truffle lover, there's one restaurant in Lorgues, France, you must visit: Chez Bruno. This Michelin-starred fine dining restaurant has been exclusively serving truffles since 1983, and it has become a must-visit destination for food lovers worldwide.
When you step into Chez Bruno, you'll be enveloped in an elegant, warm ambiance perfect for fine dining. The restaurant is located in the heart of Provence, just 30 minutes from Fréjus and the Côte d'Azur, and it is renowned for its creative and sophisticated cuisine.
At Chez Bruno, the truffle reigns supreme. The restaurant's exclusive truffle-based menu changes according to the season, ensuring every visit is a unique culinary experience. The menu features truffle dishes, from appetizers to main courses and desserts. Each dish is prepared with creativity and innovation, delighting even the most discerning palates.
One of the signature dishes at Chez Bruno is the just-cooked potato with two types of truffles, which perfectly showcases the restaurant's mastery of this exquisite ingredient. However, the ever-changing menu might include creations like truffle caviar with whipped cream, blini, sweet tomatoes, and truffles.
And if you're a vegetarian, you'll be pleased to know that Chez Bruno is a rare French fine dining restaurant with a dedicated vegetarian menu.
It's no wonder that Chez Bruno has earned a Michelin star for its exceptional truffle-based dishes. The restaurant's outstanding cuisine and service have made it a must-visit destination for foodies, and its sophisticated guest house in the surrounding countryside offers guests the option of accommodation.
In conclusion,  the elegant ambiance, exclusive truffle-based menu, and outstanding service make it one of the best dining destinations in the region and a must-visit for anyone who loves fine food.
Check their accommodation options if you truly want to immerse yourself in Chez Bruno cuisine!
Compare Prices on Booking.com ↗     Compare Prices on Trip.com ↗      Check Best Deals on Agoda.com ↗
2. Le Vintrépide, Aix-en-Provence
Aix-en-Provence is known for its beautiful landscapes, culture, and cuisine. Amidst this scenic French city, there is a gem that offers an unforgettable romantic dining experience, complete with contemporary and cozy decor.
Le Vintrépide is run by a pair eager to please, and the moment you step inside, you'll be charmed by the designer furniture, light wood, and green-blue walls.
The chef prepares delicious seasonal dishes according to his inspiration, with a focus on fresh French products, often regional, wild fish (such as maigre, saint-Pierre, loup), and premium meats (including Miéral pigeon, Bigorre black pig, Aubrac beef, and autumn game) sourced from local producers. Vegetables from the Aix market accompany all.
Before the main course, you can choose from three appetizers: foie gras (pan-seared or in terrine), concentrated juice ravioli, mushrooms in various preparations, and seasonal truffles.
The desserts are a true delight and are crafted with expertise. They are lightly sweetened and served with homemade sorbets or ice cream with different flavors, such as verbena or pepper.
The restaurant's loyal customer base often orders the scallops wrapped in bacon (with ceps during the season), pigeon in the crust, and the revamped lemon tart, but the owners love to change things up.
They believe gastronomy should be about passion, and it starts with their close relationships with local producers, fresh ingredients, knives, pots, and pans, culminating in the hands of the diners.
This restaurant is a must-visit if you are looking for a romantic dinner spot in Aix-en-Provence. The food is affordable, and you'll rediscover the joy of good wine that won't break the bank.
You'll be transported to a world of flavors and aromas you may not have experienced before, made from products sourced from small producers and the Aix market.
In conclusion, if you're looking for a restaurant with a romantic ambiance in the heart of Aix-en-Provence, you'll find everything you need at this little place run by a passionate duo. They offer high-quality products, an imaginative menu, and excellent service for an unforgettable experience.
Uncover Luberon Villages Half-Day Tour from Aix-en-Provence.
3. La Bastide de Moustiers, Moustiers Sainte Marie
In the heart of Verdon Natural Park, La Bastide de Moustiers is a culinary gem that offers a unique dining experience.
This 17th-century Provencal farmhouse, located just outside the charming village of Moustiers St. Marie, is home to the legendary chef Alain Ducasse's restaurant, where the ever-changing seasonal menu features locally sourced ingredients that are meticulously prepared.
The restaurant's setting is as breathtaking as the food it serves. The stone patio, with panoramic views of rolling hills and olive groves, is perfect for a romantic dinner. The scent of lavender in the air and the staff's warm hospitality make for an unforgettable dining experience.
The restaurant's menu changes daily, following the seasons' rhythm and depending on what is ready to be gathered from the Bastide's vegetable garden. The dishes are generous, full-flavored, and meant to be shared.
What sets La Bastide de Moustiers apart is its commitment to using only locally sourced ingredients. The rustic cheeseboard, solely dedicated to locally produced goat cheese, is a testament to this commitment.
The premium local produce, alongside the vegetables grown on-site, is showcased in the superlative Mediterranean menus.
La Bastide de Moustiers is more than just a restaurant; it's a culinary journey that takes you on a tour of the region's flavors and traditions.
From the food to the setting, everything at La Bastide de Moustiers is designed to transport you to a simpler time, where the joy of sharing a meal with loved ones was the highlight of the day!
Indulge in a perfect vacation and check accommodation options at La Bastide de Moustiers.
Compare Prices on Booking.com ↗    Compare Prices on TripAdvisor.com ↗    Check Best Deals on Expedia.com ↗
4. Restaurant Alexandre – Michel Kayser Chef, Garons
Between Nîmes and Arles lies the picturesque town of Garons. Chef Michel Kayser has created a unique culinary experience at the Restaurant Alexandre.
With exceptional cuisine and an inviting and sophisticated interior crafted by the artisans of the Gard region, the Restaurant Alexandre is a one-of-a-kind dining destination.
As a two-star chef, Michel Kayser has perfected the art of pleasing the palate. He skillfully prepares seasonal products with special aromas and pairs them with wines from Languedoc-Roussillon to create an unforgettable dining experience.
Guests should not miss the île flottante with Provence truffles on a velouté of Cévennes cep mushrooms or the "écrin des gourmandises d'Alexandre," a selection of desserts that are both exquisite.
Passionate about Southern cuisine, Kayser takes guests on a culinary journey through the deeply-rooted flavors of the region. Each dish is thoughtfully crafted with a harmonious balance of flavors and textures, showcasing what the region offers.
The Restaurant Alexandre is located in a spacious park scattered with bare rocks and works of art. A brown gravel path, ancient trees, and dappled groves lead to dedicated tranquility.
An imposing olive tree puts everything in perspective; beyond it, guests can glimpse the drapery of a large terrace. The harmony and precision of this famous setting create a warm and welcoming ambiance that accompanies guests throughout their dining experience.
In conclusion, the Restaurant Alexandre is a unique destination that combines exceptional cuisine with an inviting and sophisticated ambiance. With Chef Michel Kayser at the helm, guests are treated to a culinary journey through Southern France's flavors that are not to be missed!
Uncover Provence Wineries and Luberon Villages Day Trip from Aix-en-Provence.
5. L'Oustau de Baumanière, Les Baux-de-Provence
Tucked away in the village of Les Baux-de-Provence in the south of France, L'Oustau de Baumanière is a culinary gem that has left an indelible mark on French gastronomy.
Established in 1945, this Michelin-starred restaurant has seduced crowned heads and celebrities searching for an exceptional gourmet experience in Provence. Beyond its distinction, L'Oustau de Baumanière is a legendary establishment that has its place in the history of French cuisine.
The restaurant's current chef, Glenn Viel, and Jean-André Charial, the grandson of the previous owner, Raymond Thuilier, L'Oustau de Baumanière, continue to delight diners with its modern French cuisine and exceptional service.
The restaurant's wine cellar is one of the most impressive in France, with 60,000 references and bottles up to 150 years old. The oenological offer is in perfect harmony with the culinary promise of this institution.
The dining room at L'Oustau de Baumanière is warm and elegant, with high ceilings, wooden beams, and a large fireplace. The outdoor terrace offers a stunning view of the surrounding hills, making it the perfect spot to enjoy a meal during the warmer months.
The menu includes fresh, seasonal ingredients, roasted lamb with herbs, foie gras with figs, and fish with vegetables. Guests can also indulge in various tasting menus, including a vegetarian option.
L'Oustau de Baumanière is part of the Baumanière Hotel, a five-star Relais & Châteaux property with 54 rooms and suites, a spa, and various activities, including hiking, horseback riding, and wine tasting. The hotel's gardens are also worth exploring, with their Mediterranean plants and sculptures by local artists.
In conclusion, L'Oustau de Baumanière is a legendary gastronomic destination in Provence that has left an impression on generations of gourmands.
With its exceptional cuisine, impressive wine cellar, and impeccable service, L'Oustau de Baumanière is a must-visit for anyone seeking a truly exceptional dining experience in France.
6. La Chassagnette, Arles
La Chassagnette, located in the heart of the Camargue region in France, is an exceptional restaurant that stands out for its innovative culinary philosophy and commitment to sustainability. It is the only organic restaurant in Europe to hold a Michelin star.
The restaurant is known for its innovative cuisine, created using ingredients harvested from its garden.  One of the reasons for La Chassagnette's recognition is its use of ingredients from the restaurant's own garden.
Virtually all the vegetables and herbs used in the restaurant's cuisine are sourced from their garden. This means the ingredients are fresh, organic, and produced with minimal environmental impact.
The menu at La Chassagnette is designed by Chef Armand Arnal, renowned for his innovative vegetarian and plant-based cuisine approach.
The Discovery menu is entirely vegetarian, and even the Flora & Fauna menu, which includes animal products, is deeply connected to the garden, the Rhône terroir, and the seasons.
To ensure that animal products are produced sustainably, La Chassagnette sources them from local farmers and fishermen committed to sustainable practices. This means that the meat and fish served at the restaurant are delicious and produced with a minimal environmental footprint.
In summary, La Chassagnette is a unique and exceptional restaurant that sets the standard for sustainable, innovative cuisine.
Its commitment to using fresh, organic ingredients from its own garden and local producers who prioritize sustainability is unparalleled. And its creative, plant-based menu showcases the best of the Rhône terroir and the seasons!
Adventure awaits with 4×4 Camargue Safari Tour with Departure from Arles.
7. AM par Alexandre Mazzia, Marseille
Located in the bustling city of Marseille, France, AM by Alexandre Mazzia is a Michelin three-star restaurant that has been making waves in the gastronomic world since it opened its doors in 2014.
With a reputation for its contemporary, inventive, and beautifully presented cuisine, AM is a testament to the culinary genius of Chef Alexandre Mazzia, who draws inspiration from his multicultural background and extensive culinary experiences.
The restaurant's menu is a feast for the senses, showcasing Mazzia's exceptional creativity and ability to push culinary boundaries. From the moment diners walk in, they are greeted by the minimalist and bright decor, which provides an elegant and modern setting for their meal.
The menu features an array of beautifully plated dishes and showcases a range of flavors and textures, from delicate seafood dishes to succulent meats, fresh vegetables, and decadent desserts.
To maintain its prestigious three-star rating, AM offers unparalleled service, with attentive and knowledgeable staff providing excellent recommendations on wine pairings and menu choices. From start to finish, every detail is carefully crafted to ensure an unforgettable dining experience.
One of the hallmarks of AM is its range of tasting menus, which offer a unique culinary journey that takes diners on a sensory adventure. Each tasting menu is a carefully curated selection of dishes that showcases Mazzia's creativity and ingenuity.
For those who prefer to choose their own adventure, an à la carte menu is also available, featuring an array of just as imaginative and flavorful dishes as the tasting menus.
In conclusion, AM by Alexandre Mazzia is a culinary marvel that has earned its reputation as one of the finest restaurants in France and the world.
Its inventive and beautifully presented cuisine, impeccable service, and stunning setting make it a must-visit destination for food lovers and those seeking an unforgettable dining experience.
Where to stay in Provence
When visiting Provence, there are many accommodation options to suit every budget.
1. La Bastide de Gordes
If you want a luxurious experience, La Bastide de Gordes is the place to stay. The hotel is in the heart of a medieval village, and the rooms are decorated in a chic, Provençal style. The hotel also features a spa and three restaurants, including a Michelin-starred restaurant.
Compare Prices on Booking.com ↗   Compare Prices on TripAdvisor.com ↗   Check Best Deals on Expedia.com ↗
2. The Hotel de l'Horloge
The Hotel de l'Horloge, located in the heart of Avignon, is an excellent choice for those looking for a more budget-friendly option. The hotel has comfortable rooms and a charming breakfast or drink courtyard.
Compare Prices on Booking.com ↗   Compare Prices on TripAdvisor.com ↗   Check Best Deals on Expedia.com ↗
3. La Maison du Village
Another option is to stay in a meticulously restored boutique hotel La Maison du Village amidst the idyllic charm of Saint Rémy de Provence.
The tastefully decorated bedrooms, sitting rooms, and bathrooms exude an understated elegance, reflecting the timeless charm of French design with their splendid fixtures and fittings.
Offering a private sanctuary, the garden unveils picturesque views of the village church, providing a serene respite after a day of exploring the wonders of Provence.
Compare Prices on Booking.com ↗   Compare Prices on TripAdvisor.com ↗   Check Best Deals on Agoda.com ↗
Choosing where to stay in Provence is worth considering what you want to do during your trip. If you plan on visiting the markets and exploring the countryside, a more rural setting may be more suitable.
However, staying in a city such as Aix-en-Provence or Avignon may be a better option if you want to be close to the action.
What is Provence famous for?
As you plan your visit to this enchanting corner of France, allow us to introduce you to things that Provence is famous for:
Lavender Fields: One of the most unforgettable experiences visiting Provence is seeing the stunning lavender fields in full bloom. The sight and scent of these lovely lavender farms are iconic. For a more magical experience, consider visiting a local lavender distillery where you can harvest the lavender and create your own essential oil to take home as a cherished memory. The fields in Sault or Valensole are at their full splendor from July to early August.
Wines: As every wine lover knows, Provence is celebrated for its exceptional wines. Savor the renowned Chateauneuf-du-Pape and Beaumes de Venise, along with various delightful rosé wines for which the region is famous.
The Landscape: The landscape of Provence is a stunning combination of river valleys, gorges, coastal areas, and mountains, all dotted with picturesque old villages. Enjoy the breathtaking views and fully experience this Mediterranean paradise, from the grand Mont Ventoux to the rugged and untamed Calanques.
Small Hilltop Villages: Provence is famous for its charming hilltop villages, each with its special atmosphere. One must-see destination is Les Baux-de-Provence, located beneath the ruins of an old castle. Stroll through the stone village's 15th-century houses and visit the lovely Romanesque church. Another must-visit is Gordes, which features cobblestone streets, an ancient castle, and breathtaking views. Finally, check out the ochre village of Roussillon, a mesmerizing work of art with its red cliffs and ochre-colored homes.
French Markets: Provence boasts of charming outdoor markets held weekly or more frequently in nearly every village. These markets offer a variety of fresh fruits and veggies, artisanal French bread, meats, and exquisite gifts. It's an opportunity to immerse oneself in the lively local culture and enjoy the region's delectable culinary offerings.
Famous Painters: The stunning landscapes, illumination, and hues of Provence have been a source of inspiration for many talented artists such as Vincent Van Gogh, Paul Cézanne, and Pablo Picasso. You can embark on a captivating adventure tracing Van Gogh's footsteps in Arles and visit the sites that influenced his masterpieces. You can also explore Aix-en-Provence, the birthplace of Paul Cézanne, and witness the art that has made a lasting impression on this area.lasting impression on this area.
The Mistral: During winter or spring, the Mistral wind blows through the region. This strong wind clears the skies by removing dust and pollution, resulting in the clear and sunny weather that is typical of Provence. While it's essential to appreciate this natural occurrence, it's crucial to dress in layers to stay warm.
What food is famous in Provence?
Picture this: you're strolling through the serene stone villages of Provence, basking in the southern French sun. The air is filled with the delightful aroma of thyme, rosemary, and lavender, and you know that you've stepped into a culinary wonderland.
Provençal food is a captivating blend of French and Mediterranean influences, boasting a delectable array of dishes that reflect the region's unique geography and cultural heritage.
At the heart of Provençal cuisine lies a treasure trove of fresh and flavorsome produce, nurtured by the warm Mediterranean climate. It's no surprise that the region's kitchens take immense pride in the bountiful offerings of nature, resulting in vibrant and mouthwatering dishes.
As you embark on a gastronomic journey through Provence, you'll encounter some beloved classics that have stood the test of time and become iconic representatives of the region's culinary prowess. Here's a delightful list of Provençal dishes that will surely tantalize your taste buds:
Ratatouille: This vibrant 18th-century stew is a beloved dish in Provençal cuisine and showcases the flavors of summer vegetables. Known as "Ratatouille," the name comes from the Occitan language and translates to "tossed chunky stew." With every spoonful, you'll enjoy a mixture of courgette, eggplant, tomato, onion, and capsicum pepper, all brought together by garlic and the fragrant Herbes de Provence.
Aïoli: A thick garlic sauce believed to have Roman origins, is a significant component of Provençal culture. It is commonly served with seafood dishes, and its rich and garlicky flavor perfectly complements the freshness of fish. A festival favorite, Le Grand Aïoli, includes an array of items such as boiled artichokes, salt cod, and tuna, all of which are enjoyed with the centerpiece, aïoli.
Bouillabaisse: Bouillabaisse is a dish deeply rooted in Marseille's history, featuring a delicious blend of fish, saffron-infused broth, and spicy mayonnaise-slathered baguette rounds. It is a must-try for seafood lovers, showcasing a variety of lesser-known fish that were once a challenge for the city's chefs.
Tapenade: A delicious tapenade made with black olives, anchovies, garlic, and Herbes de Provence is a perfect sensory journey to the Marseillaise dockside. This coastal delight is an ideal accompaniment with seafood or as a spread on baguette slices. It encapsulates the essence of the Mediterranean.
Salade Niçoise: Salade Niçoise is a delicious salad that originates from the beautiful city of Nice. Its ingredients include tomatoes, anchovies, and olive oil, combined with tuna, hard-boiled eggs, potatoes, olives, and green beans. This salad is known to spark passionate debates among its admirers, each with their own preferences for its composition.
Nougat: In terms of preferences, some people enjoy a modern twist on the traditional nougat. Montélimar nougat, which is named after the town where it originated, is a delicious treat that is soft and chewy. It is made with roasted pistachios and almonds and has its roots in the Middle East. However, it was popularized in the region by agronomist Olivier de Ser.
Daube de Boeuf: The origins of this recipe can be traced back to the Middle East. Daube de Boeuf is a simple beef stew that has a secret ingredient – dried orange peel. This dish evokes the warmth and richness of Provençal life. The beef is marinated in wine overnight to enhance its flavor.
Socca: A delicious and flavorful dish, abeef is cooked with black olives, smoked pork belly, carrots, tomatoes, and garlic, resulting in a hearty and rich taste. Another popular food item found on the streets of Nice is socca, a savory pancake prepared using garbanzo bean flour, olive oil, water, and salt.
Tarte Tropézienne: A delectable cream-filled brioche treat, the Tarte Tropézienne was created by Polish baker Alexandre Micka and immortalized by actress Brigitte Bardot. This sugar-laden delight combines the French Riviera's essence with a touch of cinematic glamour.
As you immerse yourself in the flavors of Provençal cuisine, you'll discover a harmonious blend of French elegance and Mediterranean vibrancy. Each dish carries a tale of the region's history, cultural heritage, and the sheer joy of savoring the sun-soaked produce.
So, whether you're indulging in a bowl of ratatouille or sipping chilled rosé wine, Provençal food will surely delight your senses and leave you with lasting memories of this enchanting region.
What to see and do in Provence
Provence is full of things to see and do, from exploring charming villages to hiking in the mountains. One must-visit attraction is the Palais des Papes in Avignon, which was the seat of the Papacy in the 14th century. The palace is a UNESCO World Heritage Site and is open to the public for tours.
Embark on a Avignon Walking Tour including the Pope's Palace.
Another must-see attraction is the Roman amphitheater in Arles, one of the most well-preserved in the world. The amphitheater dates back to the 1st century AD and could seat up to 25,000 spectators.
The Cézanne Studio in Aix-en-Provence is a must-visit for those interested in art. The studio was where the famous artist painted many of his masterpieces, and it has been preserved to look as it did in his lifetime.
If you are a wine lover, visiting Châteauneuf-du-Pape is a must. The village is home to many wineries that produce some of the region's most renowned wines.
Embark on a Chateauneuf du Pape Wine Tour!

Finally, Provence is also famous for its lavender fields, which bloom in summer. The fields are a spectacular sight and offer the opportunity to take some stunning photographs.
Getting around in Provence
The most convenient way to get around Provence is by car. Many attractions mentioned above are located in rural areas, and public transportation can be limited. Renting a car will allow you to explore at your own pace.
When driving in Provence, it is important to note that the roads can be narrow, and parking can be limited in some areas. It is also advisable to avoid driving during peak tourist season, as the roads can become congested.
Another option is to cycle or hike. Provence has many well-marked cycling and hiking trails offering breathtaking countryside views.
If you travel between cities, taking the train is a convenient option. There are regular trains that run between Aix-en-Provence, Avignon, and Marseille.
When to visit Provence
The best time to visit Provence is in the spring or fall when the weather is mild and the crowds are smaller. The summer can be hot and crowded, making it difficult to enjoy some outdoor activities.
However, if you want to experience the lavender fields in bloom, then a trip in June or July is a must.
Winter in Provence can be chilly, but it is also a time when you can experience the region's Christmas markets and enjoy some of the heartier traditional dishes.
While planning your Provence adventure, selecting accommodations near the area's top restaurants, be it a hotel, villa, or Airbnb, is crucial. This is because dining is a crucial component of the Provence experience.
Additionally, exhibiting politeness and respect towards the local culture is critical when traveling in the region. Familiarizing oneself with a few basic French phrases can also be advantageous in establishing a rapport with locals.
Conclusion
Nestled in the southeastern part of France, Provence is a culinary paradise! Its cuisine is one of the region's greatest features, attracting food lovers from around the globe.
The gastronomy of Provence is characterized by its emphasis on fresh, locally-sourced ingredients and traditional cooking methods. From rustic countryside eateries to high-end Michelin-starred restaurants, dining options abound, providing a range of choices for all tastes and budgets.
The region's coastal location also means that seafood dishes are particularly prominent, with fresh catches of the day forming the basis of many menus. Visitors can expect to find dishes like bouillabaisse, a hearty fish stew flavored with herbs and spices, and seafood platters featuring everything from oysters to langoustines.
Meanwhile, vegetable-based dishes are also a staple of Provencal cuisine, with the classic ratatouille being one of the most famous examples. This colorful medley of tomatoes, eggplant, peppers, and courgettes is typically slow-cooked in olive oil with herbs like thyme and rosemary, resulting in a deliciously fragrant and savory dish.
One of the joys of dining in Provence is the sheer variety of culinary styles on offer. While many restaurants stay true to the region's culinary heritage, others draw inspiration from international cuisines, resulting in a unique fusion of flavors.
From Japanese-inspired French cuisine to Mediterranean-inspired tapas, there is something for everyone.
Whether you're a foodie or just looking for a memorable culinary experience, Provence is the perfect destination. With its rich gastronomic traditions, fresh ingredients, and wide range of dining options, it's no wonder why this region is known as a foodie's paradise!
*Please note that some links are set up through affiliate programs, meaning Wine travel gets referral credits if you purchase these items via our links at no additional cost for you.