10 Best Restaurants In Tuscany, Italy
[vc_row][vc_column][vc_column_text] Tuscany is known for its beautiful countryside, rich history, and delicious food. When it comes to savoring the finest Italian cuisine, Tuscany stands out as a culinary treasure trove waiting to be explored. Tuscany's gastronomic culture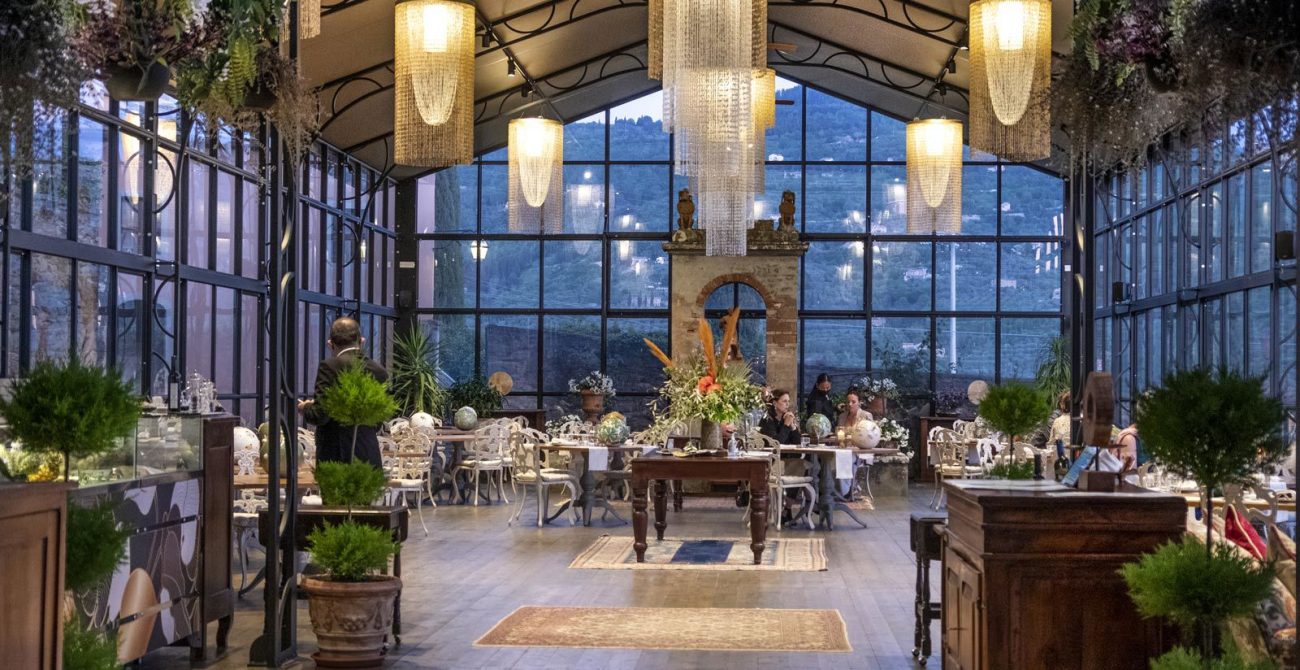 Tuscany is known for its beautiful countryside, rich history, and delicious food.
When it comes to savoring the finest Italian cuisine, Tuscany stands out as a culinary treasure trove waiting to be explored. Tuscany's gastronomic culture is steeped in tradition, where locally sourced ingredients, succulent meats, and exquisite wines take center stage.
With so many amazing restaurants to choose from, it can be hard to know where to start.
That's why we've put together a guide to the best restaurants in Tuscany, Italy. No matter which of these restaurants you choose, you're sure to have an unforgettable dining experience in Tuscany. The region's rich culinary tradition and beautiful surroundings make it a food lover's paradise.
Il Falconiere, Cortona
The Il Falconiere restaurant in Cortona is a renowned Michelin-starred restaurant located in the Tuscan countryside that offers both traditional and innovative dishes.
It is situated in a quiet, elevated, rural location amid vineyards and olive groves, offering enviable views of the Val di Chiana to the west. The restaurant is known for its high-quality cuisine and has received international recognition.
Check Available Table
The restaurant, born from the ancient lemon tree, features a beautiful panoramic terrace overlooking the hills of the Tuscan countryside, providing a picturesque setting for a memorable dining experience.
It is part of the Relais Il Falconiere & Spa, a 5-star hotel in Cortona, where guests can enjoy not only exceptional dining but also luxurious accommodations and wellness facilities.
You can try their famous saffron risotto or their creative take on beef tartare. The restaurant also has a beautiful terrace with views of the countryside.
Il Canto del Maggio, Terranuova Bracciolini
Il Canto del Maggio is a multifaceted establishment located in Terranuova Bracciolini, Arezzo. It consists of six apartments set in a historic village surrounded by nature and hills.
The establishment also includes L'Osteria Il Canto del Maggio, a family-run restaurant established in the summer of 1991 known for its culinary offerings.
Check Available Table
Il Canto del Maggio is a charming family-owned bed and breakfast that focuses on local food and warm hospitality where guests can tour the on-site garden and participate in cooking classes.
The prices here are quite reasonable, the wines are locally sourced, and the view from the restaurant is absolutely breathtaking.
La Pineta, Marina di Bibbona
For seafood lovers, La Pineta in Marina di Bibbona is a must-visit! This coastal restaurant has a menu filled with fresh fish and shellfish, prepared in simple but delicious ways.
The restaurant has gained recognition, including a one-star rating in the 2023 Michelin Guide, showcasing its commitment to excellent cuisine.
Join Tuscan Cooking Class and Dinner in Florence
The ambiance at La Pineta is highly praised, with attentive and friendly service; set in a picturesque location near the sea, surrounded by a centuries-old pine forest, making it a perfect spot for leisurely walks and exploration. You can dine al fresco on their terrace, overlooking the sea.
With a strong focus on preserving family values and traditions, La Pineta is a dining destination that captures the essence of Italian cuisine and hospitality.
L'Imbuto, Luca
L'Imbuto is a renowned restaurant located in Lucca, known for its exquisite cuisine and creative culinary offerings.
It is run by the acclaimed chef Cristiano Tomei, who has earned a Michelin star for his culinary expertise. The restaurant is celebrated for its commitment to using locally-sourced, raw materials, particularly seafood from the Tirreno Sea.
Check Available Table
L'Imbuto offers a set tasting menu with various price ranges, showcasing the extent and quality of Chef Cristiano Tomei's authentic cuisine.
The restaurant has received high ratings for the quality of its food, service, and atmosphere, making it a popular dining destination in Lucca.
La Bottega del Buon Caffè, Florence
Another great option is a Michelin-starred restaurant La Bottega del Buon Caffè, in Florence. This restaurant offers contemporary Tuscan cuisine, with dishes like wild boar ragu and roasted pigeon.
Experience Authentic Culinary Experience in a Historical Family Estate Near Florence
Known for its commitment to using local and natural ingredients, the restaurant offers an authentic Tuscan culinary experience. The chef, Antonello Sardi, earned his first Michelin star in 2014 and has introduced innovative ideas into the restaurant's offerings.
Join Private Tour: Tuscany Hot Air Balloon Flight with Transport from Firenze
La Bottega del Buon Caffè is situated along Lungarno Benvenuto Cellini, offering picturesque views of the Arno River. The atmosphere is elegant but relaxed, with an open kitchen where you can watch the chefs at work.
Enoteca Pinchiorri, Florence
Enoteca Pinchiorri is a renowned three-starred Michelin restaurant known for its exceptional cuisine and extensive wine list that has earned three Michelin stars. The restaurant has a long history dating back to the 1970s when Giorgio Pinchiorri and Annie Féolde started this culinary venture.
Join Traditional Italian Cooking Class in the Florence Countryside 
Notable chefs at the restaurant include Annie Féolde, Italo Bassi, and Riccardo Monco. The restaurant offers a tasting menu with an average price per person of $225, and it is known for its exquisite wine collection.
The restaurant has a reputation for its dedication to the finest ingredients and culinary excellence. A diverse and exquisite menu features a variety of culinary experiences for its guests.
Join Cooking Class In A Private Villa Near Florence With Transfer
One of their notable menus is the "Evolution" menu, which pays homage to Italian cuisine through the use of high-quality ingredients, innovative techniques, and exceptional flavors. This menu is designed to be enjoyed by all guests at the same table, making it a communal and immersive dining experience.
Additionally, there is a menu called "Madre Terra," which showcases the restaurant's commitment to sustainability and a connection to the earth. It features dishes that emphasize seasonal and locally sourced ingredients, reflecting a deep respect for nature and the environment.
IO Osteria Personale, Florence
IO Osteria Personale is a renowned restaurant located in Florence, at Borgo San Frediano. The restaurant is known for its contemporary, innovative, authentic, and creative approach to cuisine and exciting creative dishes.
Check Available Table
The restaurant is highly regarded for its unique and innovative menu offerings. The owner, a former veterinarian with a passion for food, has created one of the most fascinating culinary experiences in Florence.
The owner, Matteo Fantini, created IO Osteria Personale to break down stereotypes about Italian cuisine. The dishes were creative and unexpected, like quinoa risotto with figs, coffee, and blue cheese.
I'Brindellone, Florence
For a more casual dining experience, head to I'Brindellone in Florence, famed for its cozy and unpretentious atmosphere. This trattoria has been serving up traditional Tuscan dishes for over 60 years, and it hasn't changed much over the years.
Join Off Road Wine Tour in Chianti from Florence
I'Brindellone has gained popularity for its authentic Tuscan cuisine and is renowned for its specialty dish, Bistecca alla Fiorentina, a traditional Florentine T-bone steak.
Try their ribollita soup, Tuscan traditional bread soup, with panade, porridge, or potage made with bread and vegetables.
Experience Hot Air Balloon Flight Over Tuscany from Siena
In addition to its culinary reputation, Il Brindellone is associated with the annual Scoppio del Carro (Explosion of the Chariot) festival in Florence, a tradition dating back centuries.
During this event, a cart known as "Brindellone," accompanied by a historical procession, is used to ignite a large fireworks display in the Piazza del Duomo, marking the beginning of Easter celebrations in the city.
La Taverna di San Giuseppe, Siena
La Taverna di San Giuseppe is a renowned restaurant located in the heart of historic Siena, just 300 meters from the iconic Piazza del Campo.
Join Cooking Class in a Tuscan Farmhouse From Siena
Housed in a building dating back to the 1100s, this restaurant offers an authentic Tuscan trattoria atmosphere. They are known for their courteous and attentive staff and the use of high-quality ingredients in their dishes. La Taverna di San Giuseppe has been featured in the Michelin Guide.
The restaurant offers traditional Tuscan cuisine and is often praised for its home-cooked food, lit by candles, and a cheerful ambiance.
Experience Lunch and Cooking With a View in a Brunello Winery
Locals and travelers alike flock to this hidden gem for its mouthwatering homemade pastas, succulent Chianina steak, and the cinghiale (wild boar) dishes.
Locanda Paradiso, Chiusure
Locanda Il Paradiso is an Italian restaurant located in Chiusure. The restaurant is known for its simple menu offering good food at fair prices.
Experience Authentic 7-Day Tuscany Tour
It is situated on a square inside the village and serves a variety of dishes, including starters, soups, and pastas. Locanda Il Paradiso is praised by locals and tourists for its friendly staff and excellent food quality.
La Locanda Paradiso is characterized by its passion for ancient Tuscan traditions and a commitment to guest satisfaction. The location of the restaurant is in the heart of green Italy, offering a unique and pleasant dining experience.
The history of Tuscan cuisine
Tuscany's culinary heritage is steeped in history, dating back centuries to the Etruscans, the ancient civilization that once inhabited this land. The Etruscans are credited with introducing olive oil and wine production to the region, setting the stage for the lush vineyards and olive groves that define Tuscany today.
During the Middle Ages, Tuscany was a thriving center of trade, and this influx of exotic ingredients from afar enriched the local cuisine. Spices, sugar, and rare fruits from the Mediterranean world found their way into Tuscan kitchens, leaving an indelible mark on the region's culinary traditions.
However, the most significant influence on Tuscan cuisine came during the Renaissance. The city of Florence, at the heart of Tuscany, was a hub of culture and innovation during this period.
The Medici family, patrons of the arts and sciences, also nurtured the development of culinary arts. It was here that many of Tuscany's most iconic dishes, like ribollita and pappa al pomodoro, were perfected.
The region's abundance of fresh produce and high-quality meats has led to the development of dishes like bistecca alla fiorentina, ribollita, and pappa al pomodoro. Nowadays, many restaurants in Tuscany emphasize using local, seasonal ingredients in their dishes.
Tuscan culinary tips: How to savor the experience
When visiting Tuscany, it's essential to immerse yourself in the local food culture. Here are some tips to make the most of your culinary journey:
Dine Like a Local: Seek out small, family-run trattorias and osterias, where you'll find authentic Tuscan dishes made with love and tradition. Avoid tourist traps with laminated menus in multiple languages.
Savor Simplicity: Tuscan cuisine is known for its simplicity and reliance on fresh, high-quality ingredients. Dishes are often prepared with just a few ingredients, allowing the flavors to shine. Try dishes like ribollita, a hearty bread and vegetable soup, to experience this simplicity.
Wine and Dine: Tuscany is synonymous with wine, and the region boasts some of Italy's most famous wine varieties, such as Chianti and Brunello di Montalcino. Pair your meals with local wines for an unforgettable taste experience.
Time Your Meals: Italians take their time when dining, and you should too. Lunches and dinners in Tuscany are meant to be leisurely affairs, so savor each bite, engage in conversation, and enjoy the moment.
Seasonal Sensations: Pay attention to the seasons when planning your trip. Tuscan cuisine is heavily influenced by what's fresh and in season. Spring brings fresh peas and asparagus, while summer bursts with tomatoes and zucchini. Autumn offers the bounty of mushrooms and truffles.
What is the most famous food in Tuscany?
Now, let's turn our attention to some of the most iconic dishes that grace Tuscan tables.
Ribollita: We begin our Tuscan gastronomic adventure with a hearty, rustic soup known as Ribollita. This dish is a staple in Tuscan households, made with stale bread, cannellini beans, vegetables, and a generous drizzle of olive oil. Its name means "reboiled," reflecting the tradition of reheating the soup for maximum flavor.
Bistecca alla Fiorentina: Arguably Tuscany's most famous dish, this is a mouthwatering T-bone steak, seasoned simply with salt, grilled to perfection, and drizzled with extra virgin olive oil. It's a carnivore's dream.
Pasta e Fagioli: This hearty pasta and bean soup is a Tuscan classic, and it perfectly exemplifies the region's knack for elevating simple ingredients. White beans, pasta, and a fragrant broth make for a comforting and satisfying meal.
Pappa al Pomodoro: A rustic tomato and bread soup, pappa al pomodoro is a testament to Tuscan resourcefulness. Stale bread is transformed into a rich, tomato-infused dish, bursting with flavor.
Pappardelle al Cinghiale: Pasta lovers rejoice! Pappardelle al Cinghiale combines thick ribbon-like pasta with a rich wild boar ragù. The slow-cooked sauce is infused with red wine, garlic, and aromatic herbs, making it a savory delight that showcases the region's love for game meat.
Panforte: To satisfy your sweet tooth, indulge in a slice of Panforte. This traditional Tuscan dessert is a dense, chewy fruitcake made with honey, nuts, candied fruit, and a blend of spices. Its origins date back to the Middle Ages, and it's a beloved treat during the holiday season.
Crostini di Fegato: Crostini di Fegato, or chicken liver crostini, is a popular Tuscan appetizer. It features thinly sliced toasted bread topped with a creamy chicken liver pâté, often flavored with capers and anchovies. These bite-sized delights offer a rich and savory start to any meal.
Ravioli di Ricotta e Spinaci: Tuscan cuisine isn't all about meat; these delicate ricotta and spinach-filled ravioli are a testament to the region's dedication to fresh ingredients and handmade pasta.
Cantucci and Vin Santo: To cap off your Tuscan culinary adventure, indulge in Cantucci and Vin Santo. Cantucci are almond-studded biscotti that pair perfectly with Vin Santo, a sweet dessert wine. The ritual involves dipping the Cantucci into the Vin Santo for a delightful blend of textures and flavors.
Cacciucco: For seafood aficionados, Cacciucco is a must-try. This Tuscan fish stew hails from the coastal town of Livorno and features a medley of fish, shellfish, tomatoes, and aromatic herbs. Served with crusty bread, it's a mouthwatering taste of the Tuscan seaside.
Pecorino Cheese: Made from sheep's milk, pecorino cheese is a versatile ingredient in Tuscan cooking. It ranges from mild to intensely sharp, and it's used in everything from pasta dishes to cheese platters.
The best time to visit Tuscany
Tuscany offers its unique charm year-round, but the best time to visit largely depends on your preferences. Each season brings its own delights.
Spring (March to May): Springtime in Tuscany is a true spectacle. The landscapes burst into vibrant colors as flowers bloom, and the temperature starts to rise. This is an ideal time for hiking through Tuscany's countryside or exploring its historic cities like Florence, Siena, and Pisa without the summer crowds.
Summer (June to August): Summer is peak tourist season. With long, sunny days, it's perfect for indulging in al fresco dining and sipping wine on vineyard terraces. However, be prepared for larger crowds and higher prices during this period.
Autumn (September to November): This is considered by many as the best time to visit Tuscany. The weather remains warm, but the tourist crowds begin to thin. It's also the harvest season for grapes, making it an excellent time to join wine tours and see the winemaking process in action.
Winter (December to February): While Tuscany might not be the first choice for a winter getaway, it has its own charm during this season. You can enjoy the holiday festivities, including Christmas markets and seasonal Tuscan dishes, without the tourist throngs.
Top food and wine tours in Tuscany
Tuscany is synonymous with exquisite cuisine and world-renowned wines. Exploring the culinary and wine culture is a must during your visit. Here are some of the best food and wine tours to consider:
Chianti Wine Tour: Chianti, known for its iconic red wines, offers an array of wine tours. You can visit traditional wineries, sip Chianti Classico, and explore the charming villages of Greve and Radda in Chianti.
Brunello di Montalcino Tour: This tour takes you to the heart of Tuscany's wine country, Montalcino. Here, you can taste the rich and robust Brunello di Montalcino wines while admiring the picturesque vineyards.
Truffle Hunting and Cooking Class: Experience the magic of truffle hunting with trained dogs in the Tuscan forests. Afterward, join a cooking class to learn how to incorporate these exquisite delicacies into your dishes.
Pasta-Making Workshops: Tuscany is known for its handmade pasta. Take a pasta-making class where you'll learn to craft dishes like pappardelle, ravioli, and tagliatelle, and then savor the fruits of your labor.
Gelato Tasting: Don't miss the chance to enjoy artisanal gelato. Many tours offer gelato tastings where you can indulge in a variety of flavors and discover the secrets behind this beloved Italian treat.
Must-visit wineries in Tuscany
Tuscany is synonymous with wine, and a visit here is incomplete without a tour of its world-renowned wineries. But with hundreds of options, where should you start? Here are some top recommendations:
Why Visit: As one of the oldest wineries in Italy, Antinori blends tradition with innovation. Their cellars are architectural marvels, and their wine-tasting experience is unparalleled.
Don't Miss: Try the Tignanello, a red blend that revolutionized Italian winemaking.
Why Visit: This castle-turned-winery, located in the heart of Chianti, offers a step back in time. The breathtaking views of the Tuscan landscape are worth the visit alone.
Don't Miss: Sample the Brolio Gran Selezione, a flagship wine with a rich history.
Tenuta San Guido (Sassicaia)
Why Visit: Known for its Sassicaia wine, this estate boasts some of Italy's most iconic Cabernet Sauvignon vines. The guided tours here are both educational and enchanting.
Don't Miss: Taste the Sassicaia, often referred to as "the Super Tuscan."
Fattoria Le Pupille
Why Visit: This boutique winery in Maremma combines passion and precision to produce exceptional wines. The intimate setting is perfect for a personalized experience.
Don't Miss: Savor the Saffredi, a Bordeaux-style blend.
Truffle hunting in Tuscany
Tuscany isn't just famous for its wines; it's also a treasure trove for truffle enthusiasts. Truffle hunting is an age-old tradition, and Tuscany's lush forests are prime hunting grounds. Here are some tips for truffle hunting in Tuscany:
1. Season Matters:
Truffles are seasonal, with the white truffle season running from September to December and the black truffle season from November to February. Plan your visit accordingly.
2. Go Local:
Join a local truffle hunter for an authentic experience. They know the terrain and the best spots for truffle hunting.
3. Bring the Right Gear:
Wear sturdy shoes for hiking and be prepared for all weather conditions. Don't forget a small truffle-hunting knife.
4. Patience is Key:
Truffle hunting can be slow-paced, so embrace the tranquility of the forest and trust your guide and their trusty truffle-sniffing dog.
5. Enjoy the Feast:
After your hunt, indulge in a truffle-infused feast at a local restaurant. Truffle pasta and risotto are must-tries.
If you're a foodie visiting Tuscany, don't miss out on a truffle hunting experience. Truffles are a specialty in the region, and you can join a guided tour to learn about the history and culture of truffle hunting. After the hunt, you can enjoy a truffle-based meal at a local restaurant.
Popular food and wine festivals in Tuscany
Tuscany is a region that knows how to celebrate its culinary traditions with gusto. Here are some of the most popular and famous food and wine festivals:
1. Sagra del Tartufo (Truffle Festival):
Where: San Miniato
When: November
Why Attend: San Miniato is renowned for its truffles, and this festival celebrates them in all their glory. Taste truffle-infused dishes, witness truffle auctions, and immerse yourself in truffle culture.
2. Vinitaly:
Where: Florence
When: May
Why Attend: Vinitaly is Italy's largest wine exhibition, showcasing the finest wines from all regions. It's a wine lover's paradise and an excellent opportunity to discover new Tuscan gems.
3. Palio di Siena:
Where: Siena
When: July and August
Why Attend: While not exclusively a food and wine festival, the Palio is a historic horse race that takes place in Siena's central square. Enjoy local delicacies while experiencing this thrilling event.
4. Chianti Classico Wine Festival:
Where: Greve in Chianti
When: September
Why Attend: This festival celebrates Chianti Classico wine with tastings, live music, and a vibrant market. It's a lively and authentic Tuscan experience.
Wines to try in Tuscany
When it comes to Tuscan wines, the choices are abundant, but a few stand out:
Chianti Classico: This is perhaps the most famous of all Tuscan wines. Produced in the Chianti region, it's a red wine known for its fruity and floral notes, often with a hint of spice.
Brunello di Montalcino: Hailing from the Montalcino area, this red wine is aged for at least five years, resulting in a bold and complex flavor profile with hints of cherries, plum, and leather.
Vino Nobile di Montepulciano: Made primarily from Sangiovese grapes, this wine is crafted in Montepulciano. It's known for its dark fruit flavors, elegant structure, and aging potential.
Super Tuscans: These wines are a blend of traditional Tuscan grapes like Sangiovese and international varieties like Cabernet Sauvignon and Merlot. They often boast deep complexity and intense flavors.
Vin Santo: This sweet dessert wine is a Tuscan specialty. It's made by drying grapes before fermentation, resulting in a rich, honeyed flavor.
Many restaurants also offer wine pairings with their meals, so don't miss out on wine and food pairing suggestions. 
Conclusion
Almost every true foodie heard about Tuscany's culinary reputation. This region allows visitors to soak in the charms of Florence and explore the enchanting small towns that make Tuscany an exciting destination for food lovers of all ages.
Tuscany, a region in central Italy, has gained a reputation for its culinary excellence, particularly for its iconic dishes such as Bistecca alla Fiorentina, a succulent Florentine steak. The region is also known for producing delectable cheeses and exquisite wines, making it a paradise for food and wine lovers alike.
If you're looking to experience the best of Tuscan cuisine during your visit to this charming region, our guide to the top restaurants in Tuscany will help you discover the crème de la crème. With unforgettable culinary experiences, these restaurants are not to be missed.
*Please note that some links are set up through affiliate programs, meaning Wine travel gets referral credits if you purchase these items via our links at no additional cost to you.