The Best of Villány Wine Region
Reading Time: [est_time] The first time we came across wines from Villány was in Zagreb, Croatia. During the Vinart Grand Tasting, we attended a masterclass in Villány's Cabernet Franc. The wines were of outstanding quality, and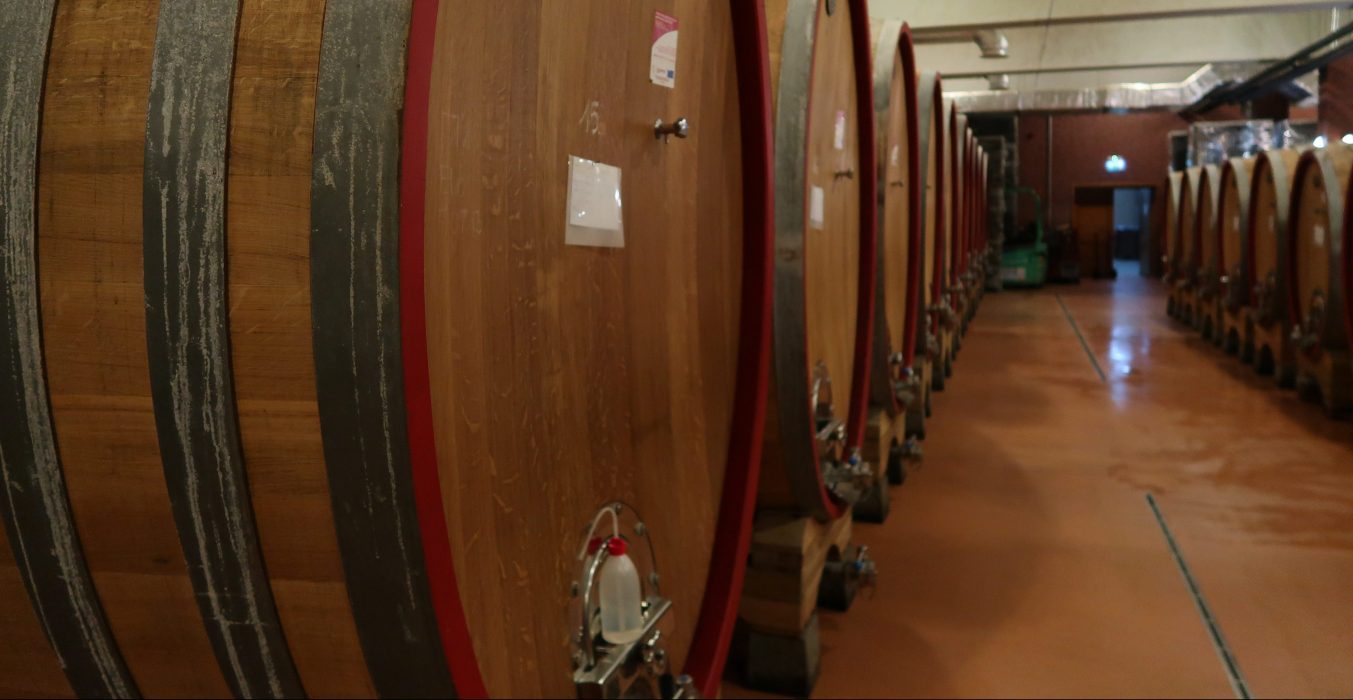 Reading Time: 4 minutes
The first time we came across wines from Villány was in Zagreb, Croatia. During the Vinart Grand Tasting, we attended a masterclass in Villány's Cabernet Franc. The wines were of outstanding quality, and they piqued our interest immediately. Six months after that tasting, we had the opportunity to travel to the Villány wine region and visit several producers.
Villányi Franc
The producers of Villány have done a fantastic job in branding the region. There is an emphasis on sites and many top bottlings of the Villány wine region are labeled with vineyard names. Villány has been identified as a prime area for Cabernet Franc. Don't expect the green, violet, and capsicum notes of Loire. The Cabernet Franc from Villány is ripe with higher alcohol but the wines still resemble the grape. Cabernet Franc can make big wine on its own here without the aid of Cabernet Sauvignon and Merlot. The best examples of Cabernet Franc are labeled as Villányi Franc. Adding the "i" to the end of Villany indicates possession, so Villányi Franc means Franc from Villány.
Other grapes grown in the Villány wine region include Cabernet Sauvignon, Merlot, Pinot Noir, Syrah along with the local grapes Kadarka and Portugieser. Besides the Bordeaux varieties, Syrah seems to be doing well here. While the staple of the region is Villányi Franc, we found the most exciting wines to be Bordeaux blends.
The Villány wine region is not great for white grapes because of the heat during the growing season. Nearly all the white wines are of significantly lower quality than the reds. Many producers make a white simply because customers ask for it, but it's obvious that there isn't as much effort put into making white as the red wine.
Thoughts on the Villány Wine Region
We spent three days in Villány. During that short trip, we were able to taste over 50 wines from five different producers. You can see our thoughts on the wines in the video below (~10 minutes).
Exotic Wine Travel's Picks:
(You can find out more about our scoring system on the START HERE page.)
Tiffán's Villányi Merlot 2013
Mr. Tiffán is one of the pioneers of the quality revolution in Villány. His wines are delicious and show artisanal character. The Tiffán's Villányi Merlot spends two years in big barrels. The wine has plum, black cherry, pencil lead, and earthy notes. It's a medium-bodied and juicy Merlot that isn't too overripe. Chocolate spice finish and firm, chewy tannins.   4.2/5
Tiffán's Lucia is a Bordeaux blend named after Mr. Tiffán's daughter. It's a blend of Merlot (62%), Cabernet Sauvignon (28%), and Cabernet Franc (10%) aged for two years in large oak. Meat, black cherry, tomato, and graphite make up the flavor profile. The wine has a luscious nose accompanied by a round palate. The mid-palate intensity is great and the finish is long.   4.2/5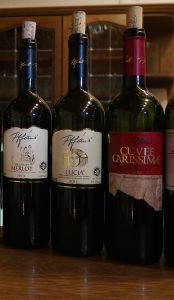 We were deeply impressed with the Tiffán's Carissimae. It's a blend of Cabernet Sauvignon (80%) and Cabernet Franc (20%) aged for two years in large oak. Chocolate, dark fruit, pencil lead, and cedar. Laser-sharp focus on the palate with Bordeaux-like earthiness and juicy acidity. The tannins are powerful and need a lot of time to soften. This is a serious wine.   4.5/5
Bock is one of the biggest brands in the Villány wine region. The Bock PortaGéza Rosé is made from Portugieser. Light pink in color and flavors of banana and watermelon. The finish has some spice and nice intensity. A small amount of CO2 is added to give the wine extra freshness.   3.9/5
This isn't Bock's best wine but they get a lot of credit for making an excellent entry-level red wine. The Bock Ermitage is the top red seller from this estate. It's a blend of Cabernet Sauvignon, Cabernet Franc, Merlot, Syrah, Kékfrankos, Pinot Noir, and Portugieser.  It has flavors of wood, graphite, blackberry, and cherry. Medium-bodied red wine with high acidity and a spicy finish. Refreshing with a low level of tannins and has a high delicious factor. Very good wood integration.   3.9/5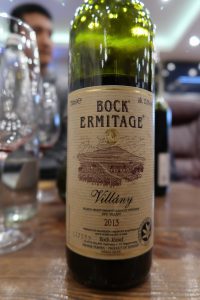 The Bock Villaányi Libra is one of the reserve wines from the estate. A blend of 50% Cabernet Franc, 25% Cabernet Sauvignon, and 25% Merlot aged two years in mostly French oak. Great nose of black olive, cedar, red fruit, and meat with power in the mid-palate and sandy tannins. Long finish and juicy acidity.   4.4/5
Vylyan is the ancient name for Villány. This is a big player in the region and they focus on making wines with freshness and elegance. The Vylyan Gombás is made entirely from Pinot Noir. Leather, red fruit, vanilla, and savory broth flavors emerge from the glass. Intense nose and the mouthfeel is creamy and intense. The wine has a subtly powerful finish with sweet, sandy tannins. Well-made, well-executed, and delicious, it's the best Villány's Pinot Noir we've tasted.   4.3/5
The Vylyan Deunnium is the magnum opus from the estate. It's a blend of 87% Cabernet Franc and 13% Merlot aged 15 months in Hungarian barriques, French barriques, and large Hungarian casks. This is made with top selection fruit and is blended from the best barrels. Outstanding nose with graphite, black olive, black cherry, and earth. It's a full-bodied wine with lots of fruit but an equal amount of earth and black olive. The tannins are sweet and the wine has a long finish. This has the stuffing to go the distance in the bottle.   4.5/5
As good as the 2011 is, the Vylyan Deunnium 2006 knocked our socks off. This wine was one of the best wines we tasted in 2017.
It's a blend of 79% Cabernet Franc, 10% Merlot, and 1% Cabernet Sauvignon aged 15 months in Hungarian barriques, French barriques, and large Hungarian casks. It's rich with flavors of black olive paste, leather, mushroom, and tobacco leaf. Concentrated fruit with a great balance of acidity and tannins. It's denser and more harmonious at this point than the 2011. This is nice now but will be drinking well for a few more years. Masterful winemaking.   4.8/5
Heumann Terra Tartaro 2011
Mr. Heumann is of Swiss descent and produces richly extracted wines. The Heumann Terra Tartaro is his top wine aged 15-18 months in oak. It's a blend of Cabernet Sauvignon, Merlot, and Cabernet Franc. Flavors of capsicum, black cherry, graphite, and wood. A full-bodied wine, and while the wood is heavy, the fruit is powerful enough. Intense mid and end palate with firm tannins. Juicy acidity stretches out the long finish.   4.4/5
Gere Attila Villány Syrah
Gere Attila is possibly the most famous name in the Villány wine region. Their Kopar Cuvée is well-known and of good quality year in and year out. We were impressed with the Kopar but the Gere Attila Villány Syrah surprised us. It has chocolate, blueberry, blackberry, and pepper flavors with a touch of wood. A full-bodied Syrah with ripe tannins, a smooth palate, and good wood integration.  This would be great with food or without.   4.2/5
Gere Attila 'Attila' Cuvée 2009
This is the top wine from the winery. The Gere Attila Attila Cuvée is a barrel selection of Cabernet Franc, Merlot, and Cabernet Sauvignon aged in French and Hungarian oak. This is rich, hedonistic, and delicious. Stick this in a blind tasting of top Bordeaux and you could trick a lot of people. The wine has flavors of sweet tobacco, black fruit, graphite, and sweet cedar. The tannins are still firm suggesting this wine has a lot of life ahead of it.   4.5/5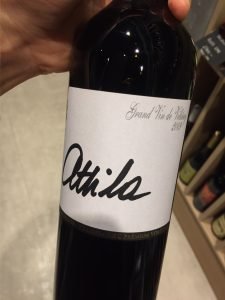 Wassmann Cabernet Sauvignon 2014
Wassmann is a Demeter-certified winery owned by a German couple. The Wassman Cabernet Sauvignon is an impressive effort for a cool and rainy vintage. This medium-bodied Cabernet Sauvignon shows high drinkability with tannins that are under control. Flavors include chocolate, black cherry, graphite, and earth.   4.0/5
---
You May Also Enjoy
Special thanks to Piroska Koltai of Wine a'More Travel and Daniel Ercsey of WineSofa for setting us up for the visits and arranging accommodation. Additional thanks to Tiffan's Winery and Bock Winery for hosting us. The ideas expressed in this article are personal opinions. We do not sell editorial content as that would destroy the legitimacy of our reviews and the trust between Exotic Wine Travel and its readers.