Exotic Wine Travel's 16 Wines of 2016
Reading Time:[est_time] Hello, thirsty readers. It's the time of the year again. Round-up, conclusion, evaluation, assessment, goal setting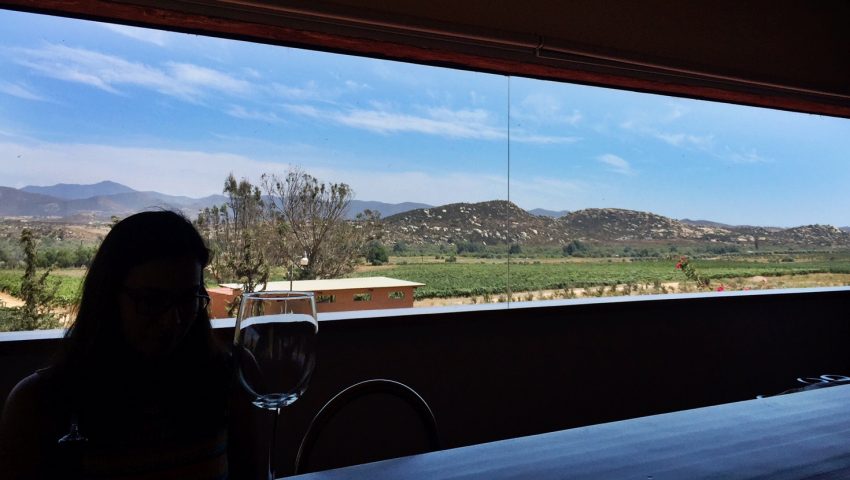 Reading Time:10 minutes
Hello, thirsty readers. It's the time of the year again. Round-up, conclusion, evaluation, assessment, goal setting… what a load that only wine can make it lighter and better! Let's make WINE great again.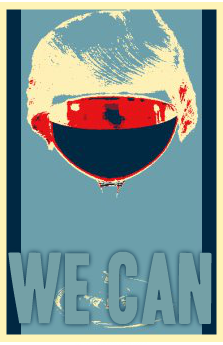 We've been traveling full-time for wine for nearly two years now, but 2016 is particularly significant because it marks our first official year in the wine industry. In 2016, we visited the wine regions of Armenia, Baja California (Mexico), Bosnia-Herzegovina, Croatia, Georgia, Macedonia, Montenegro, Santa Barbara County (California, USA), Serbia, and Virginia (USA). With all the travel, work, dinner parties, and self-study, this year we've tasted around 3,000 wines in total. That's a lot to recall for two ethanol-soaked brains.
But what has to be done has to be done: the veritable internet-breaking listicle. This year, in addition to the hundreds of excellent exotic wines, we've also managed to cross out a few bucket-list wines from the illustrious part of the wine world. As advocates for diversity in wine and the lesser-known wine regions, we hope our list reveals the ever-expanding variety available to consumers today. With wines from eight countries and across different styles—from the classic Old World red to the defiant amber wine—this list is nowhere close to being comprehensive but yet should appease every palate: from the refined to the adventurous.
Ultimately, this is our way of paying homage to the wines we enjoy drinking the most this year. The choices are not affected by the speculation of ageabilitiy, the reality of price, or the limiting availability. The choices are also subjective; there's no Dawkin-esque, rational notion of truth or big-data mathematics here. Most importantly, the wines are chosen for their sensory merits. In some cases, the stories matter as well. However, the common denominator they all share is the unique memory each wine evokes. Every wine on this list is a time machine in which we can be transported back and recall the experience of the wine and the people whom we shared the bottle with.
Exotic Wine Travel's Best Wines of 2016
Here are our top 16 wines of 2016. The wines are listed in chronological order based on when we tasted them, starting with the beginning of 2016. We've deliberately left out the scores, rankings, and detailed tasting notes in order to focus on the underlying enjoyment of wine.
THE CLASSIC
Domaine Jean-Louis Chave, Hermitage, 2002 (Rhone, France)
One of the finest wines we've ever tasted. We drank this at a Michelin-starred French restaurant in Singapore called Odette. It was Charine's birthday gift from our dear friend, also called Matt. We were a party of four and all of us spent a significant amount of time just smelling this wine.
To Matt, it is Syrah at its finest. To Charine and her food-motivated brain, it is herbal chicken & mushroom soup in a bottle.
This family-owned domaine is one of the finest and oldest estates on the Hermitage hill in Northern Rhône. The first generation of vine growers in the family can be traced back to sometime around 1480. In the movie Somm: Into The Bottle, Jean-Louis Chave was the cool guy who opened a bottle of 1969 Ermitage, which was made by his grandfather.
If you are a Syrah lover, put this on your list of wine goals now!

"When it comes to Hermitage, there is one name that most aficionados utter with a sense of reverence: Chave." – Jeb Dunnuck
Domaine de la Romanée-Conti, Échézeaux, 1997 (Cote de Nuits, France)
It was Charine's homecoming in Singapore where she was treated to a special bottle from her wine collector-friend's stash: Domaine de la Romanée-Conti, typically abbreviated to DRC, is the holy grail of Burgundy reds. In 1988, DRC switched to organic farming in the vineyards. With the 2008 vintage and onwards, the wines are fully biodynamic.
The bottle was left to decant as the night continued with many well-aged French wines. After many hours of aeration, the DRC shed its shy countenance and developed into a full-fledged powerhouse. The consensus favorite of the night was this wine, with a Margaux 1982 (below) coming in a close second.
Charine calls this "the life-ruining wine" because one can never look at Pinot Noir with the same lens again after tasting this.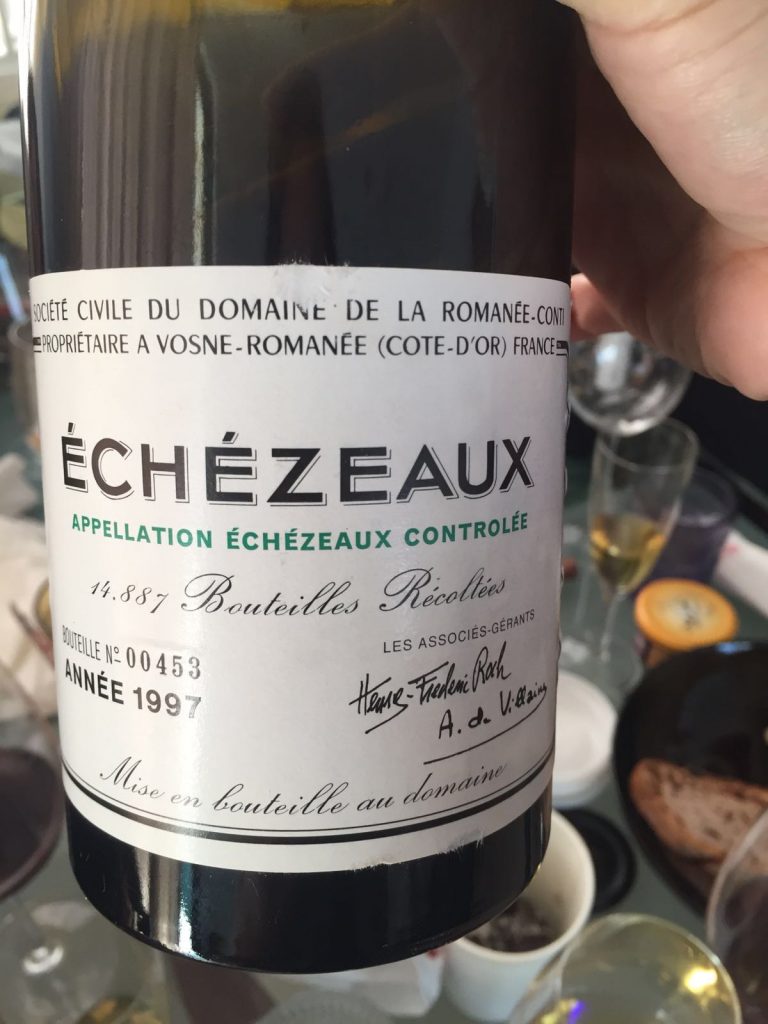 "Not all pinot noirs are constructed to express their terroirs, and, indeed, not all terroirs have anything of interest to say." – Eric Asimov
Chateau Margaux, 1982 (Bordeaux, France)
As mentioned, this was tasted next to the DRC Échézeaux 1997. This appeared to be more intense and present than the DRC at first, with its smokey edge on the nose and ever-evolving flavors. Charine spent more time smelling this wine than drinking it; not that it didn't taste good but the aroma was telling the story of Margaux's long pedigree.
If decadence has a smell, then this is it.

Domaine Dujac, Chambolle-Musigny, 2004 (Cote de Nuits, France)
This wine arrived a tad late in the night for a full, honest appreciation. Nevertheless, it was tasted side by side with a Domaine Comte Georges de Vogue Chambolle-Musigny 1999 and the Dujac was the one that shook Charine out of her stupor. Succumbing to further indulgence and collective enthusiasm, an order for tuna belly sashimi was put forth.
Fat always has a way around wine—either it brings out a certain elusive trait in a wine or in this case, it harmonizes the interplay between feisty and funky.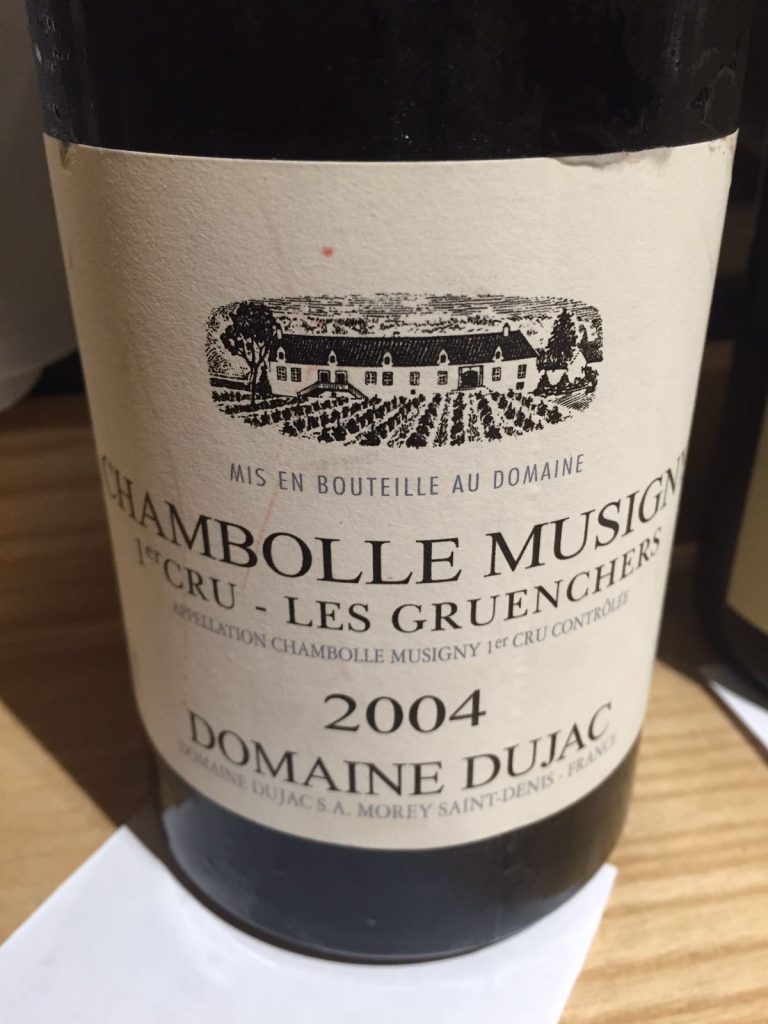 Chateau d'Yquem, 1986 (Sauternes, France)
Neither of us is partial to sweet wine but this is Charine's favorite wine of all time. Liquid gold in a bottle! To her, this is chocolate & coffee, bacon & cabbage, potato & onion, and perfection of all forms. It seems fitting to dedicate this wine to a pair or sort that seems to partake in a higher order of compatibility. We reckon it's the same deal as saying you'd never date that neighbor of yours based on what you assume to be typically "your kind", or not. And then one day you realize that this neighbor is as magical as the work of Picasso in your bedroom or Big Green Egg in your lawn.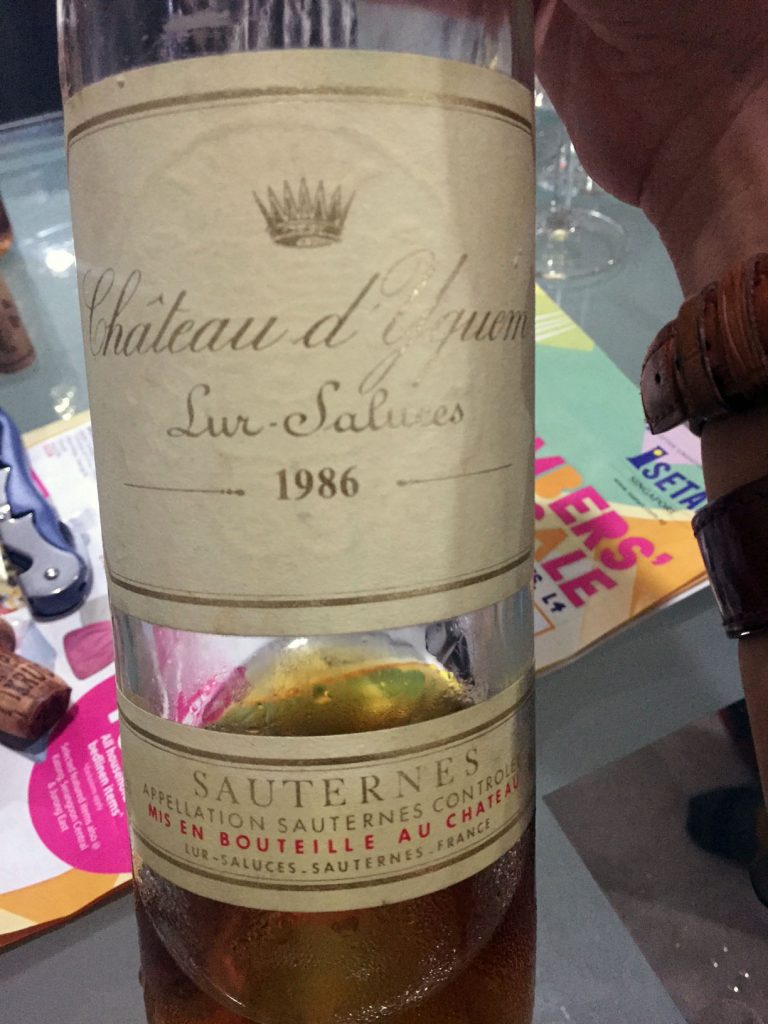 CULT WINES FROM SERBIA, BOSNIA-HERZEGOVINA, AND CROATIA
Matalj, Kremen Kamen, 2011 (Negotin, Serbia)
This is through and through a cult wine and the most difficult wine to get in Serbia's frenzied domestic market. The winery is located in the isolated far east of the country. The production of this cru wine is 5,000 bottles in good years. It is a blend of mostly Cabernet Sauvignon with a touch of Merlot.
We drove all the way out to meet this producer, and as it turned out, he didn't have a single bottled wine left in the cellar. Now, that is real demand and popularity. The owner and winemaker, Nikola Mladenovic Matalj, was very kind to let us taste samples of the new vintages from the tanks and barrels. Afterward, he took us to a local restaurant where he bought back his own wines so that we could try them. Unfortunately, the restaurant too had run out of this magnum opus. A few days later when we arrived in Belgrade (the capital city of Serbia), our friend Zoran met us with a bottle of this beast in hand. He had serendipitously found a bottle of Matalj Kremen Kamen 2011 as it was left forgotten on the top shelf of a wine bar. The latest vintage of this wine available on the market was 2012 at that time. So we really did score big time with this bottle.
This wine has a tireless end palate. An evocative combination of strength, elegance, and playfulness. Our friend Daniel Curovic, who is importing Croatian wine to Sweden, puts it well, "I tasted the Kremen Kamen, and it might be the finest wine coming out of the entire Balkan area."
We would confidently bring this wine to serious Napa Cab or Bordeaux drinkers and have them taste it blind.
Read – Matalj Kremen Kamen: A Vertical Tasting

Brkić, Mjesećar, Žilavka, 2013 (Western Herzegovina, Bosnia-Herzegovina)
We visited this boutique producer and were lucky that time was on our side. He makes only one barrel of this wine in good years.
This wine is so unusual and refreshing. It starts out tasting like an archetypal amber wine with flavors of nuts, dried apricot, and dried peach. Then, the oxidative style completely vanishes and the wine becomes perfectly crisp. The acidity is pronounced and shows up buoyantly with citrus flavors. A sensory experience that is ready to dazzle any bored palate.
Read – Brkić Plava Greda 2015 and Brkić Limousine 2007
"Mjeseċąr feels pure and fresh to the end." – Simon Woolf
Clai, Ottocento Crni, 2013 (Istria, Croatia)
This is a blend of Cabernet Sauvignon, Merlot, Teran, and Refošk. We first heard about this producer on Gary Vaynerchuk's Wine Library TV. The proprietor Giorgio Clai is considered by many to be "the godfather of Istria". We visited the winery with our wine-loving Croatian friend; when he drank this wine for the first time, he said, "Fucking Clai, I don't want to spend so much money on wine. But this is so good, I want it all the time."
We've drunk three more bottles of this wine since our winery visit, and each new bottle managed to emerge like a victorious new variety clone—always enchanting and surprising. And somewhat always better than the previous bottle; that's a huge feat.
Read – Cracking Croatian Wine: A Visitor-Friendly Guide
This video is long but if you skip to 15:02, you can see Gary ranting on about this wine for a few minutes.
THE CALIFORNIAS (USA AND BAJA CALIFORNIA, MEXICO)
Jonata, Fenix, 2007 (Santa Barbara, California USA)
Jonata shares ownership with its cooler, fancier cousin: Screaming Eagle of Napa. We got to taste this wine during our "Sideways" Santa Barbara pilgrimage at a hip wine bar downtown called Santa Barbara Wine Collective.
A blend of 88% Merlot, 10% Cabernet Sauvignon, 1% Cabernet Franc and 1% Petit Verdot; this was dense, ripe, and incredibly structured. Charine, being a scornful taster towards most big and ripe wine, was utterly confused by the wholeness of this. She kept sniffing and drinking, yet could find no fault or unhappiness in this wine. In the end, she decided to divorce her critical side and proclaim this wine as one of her favorites of all time.
Read – Santa Barbara Urban Wine Trail: Highlights & Tips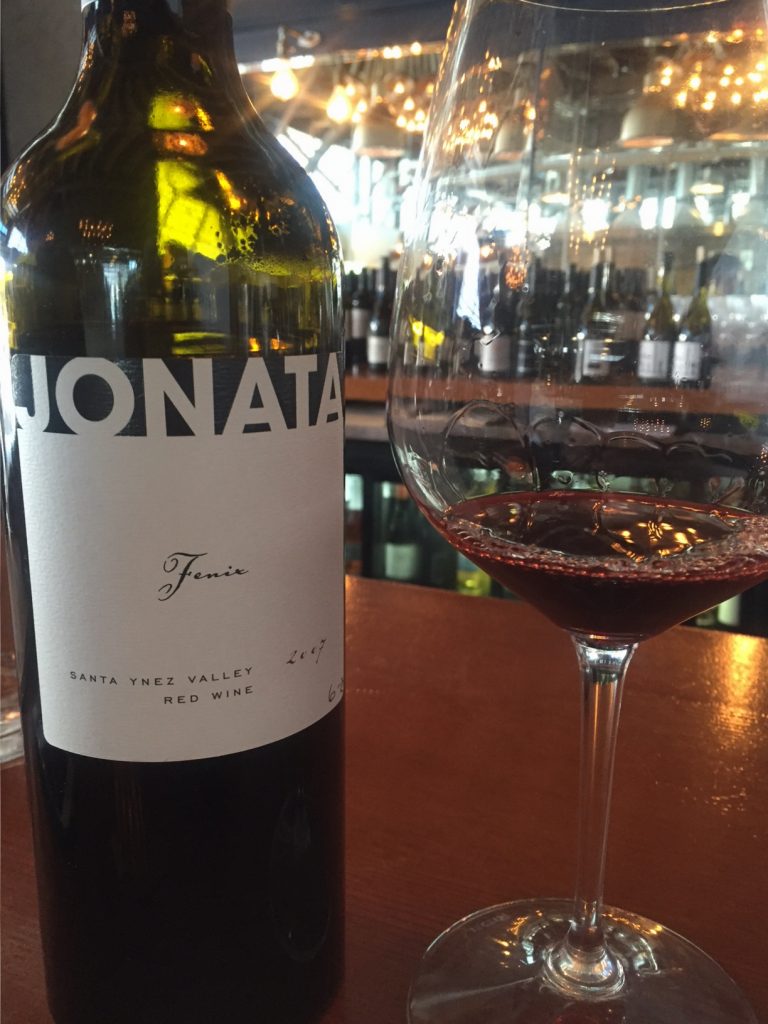 Brewer-Clifton, Acin, 2013 (Santa Barbara, California USA)
The trip through Santa Barbara Wine Country was a fulfilling one, both for the mind and palate. Matt was checking off all the places that appeared in Sideways in the most loyal fanboy manner. All of the wineries were so impressive that it took painful concentration to mark the wines. That said, the tasting at Brewer-Clifton was the top wine experience in Santa Barbara County for both of us. All 10 wines that we got to taste were spectacular. We could understand why Antonio Galloni was impressed.
This Chardonnay stands out the most because it's oily and tastes gently oxidative. An immediate, boundary-pushing attitude is erected. It is whole-cluster pressed and aged in neutral barrels for 12 to 18 months. Somewhat a cross between a Mâconnais—with starfruit and ripe melon and gentler oak influence—and a breed of its own unique kind, this is a deviant with a wacky vision.
The partnership between Greg Brewer and Steve Clifton started more than 20 years ago when they pioneered single-vineyard Pinot Noir and Chardonnay wines in Santa Rita Hills. The duo split up in 2015 and Steve Clifton now owns a different winery while Greg Brewer continues to take the helm at Brewer-Clifton.
Read – Brewer-Clifton: Combining Expertise, Gravitas, and Nature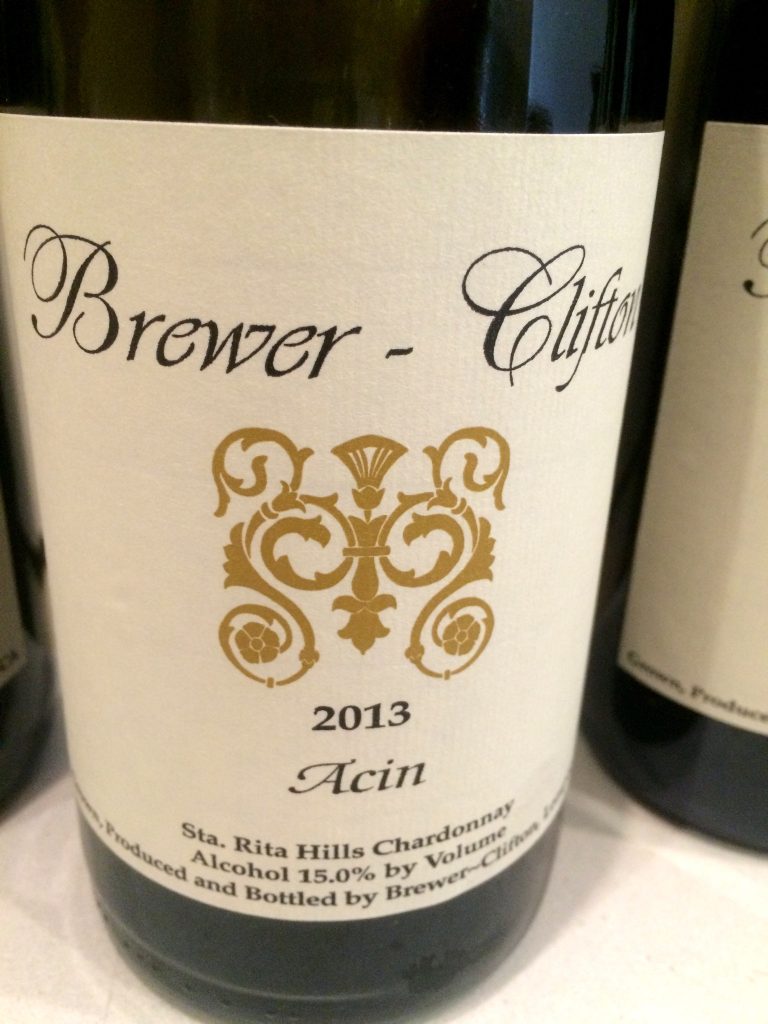 Chateau Camou, El Gran Vino Tinto, 1997 (Baja, Mexico)
Chatea Camou was one of the first in Baja Mexico to kickstart the boutique, high-quality wine movement.
This is a blend of Cabernet Sauvignon, Merlot, and Cabernet Franc grapes harvested from the desert part of Baja; but don't let that fool you, there is a lot of wine being made there.
1997 is widely considered to be a stellar vintage in Mexico. We tasted a number of stunning wines from that vintage and this one came out on top—narrowly above a Cavas Valmar's Cabernet Sauvignon. This was the first of many outstanding Mexican wines we tasted during our two and half month stay in Mexico's most prominent wine region. For this particular wine and vintage, it was made by Dr Victor Torres-Alegre, who received his doctorate in enology from the University of Bordeaux, and with the assistance of Michel Rolland. Both Dr Torres-Alegre and Michel Rolland have moved on from Chateau Camou.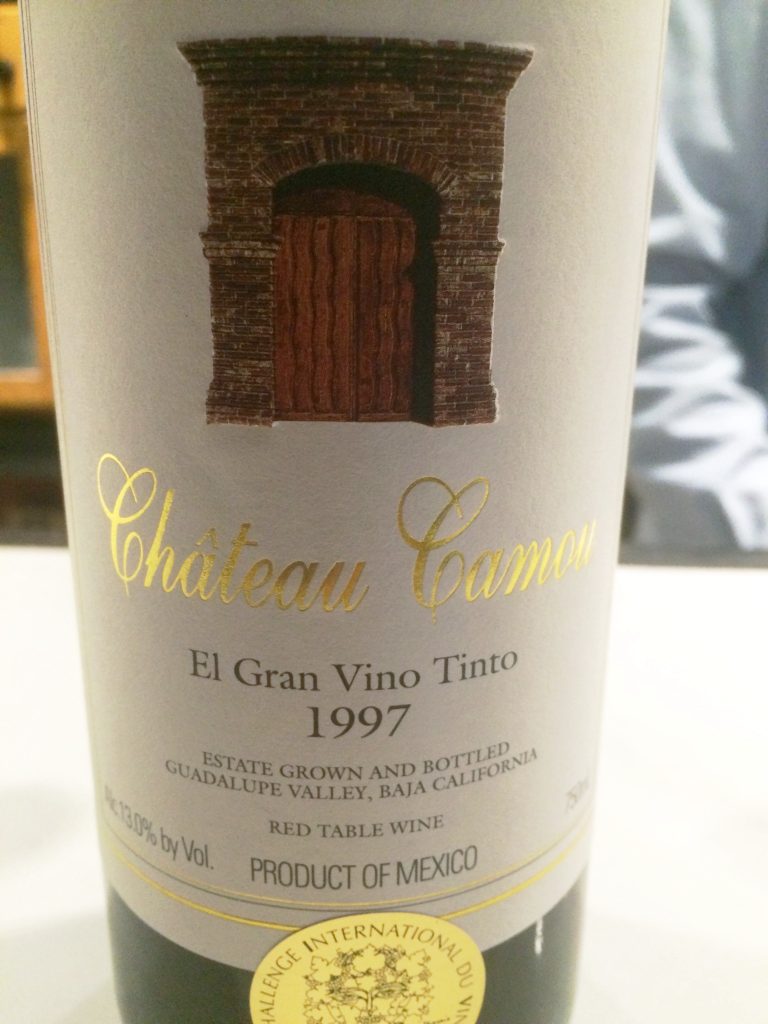 GOING BACK TO THE CAUCASUS
Okro's Wine, Rkatsiteli, 2010 (Kakheti, Georgia)
We tasted this on a press trip through Georgia with journalists from all over Europe. This wine was aged for three years in the qvevri (buried terracotta vessels). Just as we were about to sample this wine, a huge storm rolled in and knocked out the electricity. The wine was eventually drunk under the candlelight and everybody in the press group was awestruck by this sensory treat. Incredibly clean, full of earthy notes, and firmly structured. A wine so outspoken and so distant from its other well-mannered, generic cousins.
Shout-out to our dear friend John Wurdeman from Pheasant's Tears for introducing us to this life-defining wine!
Read – Uncorking the Caucasus: Wines from Turkey, Armenia, and Georgia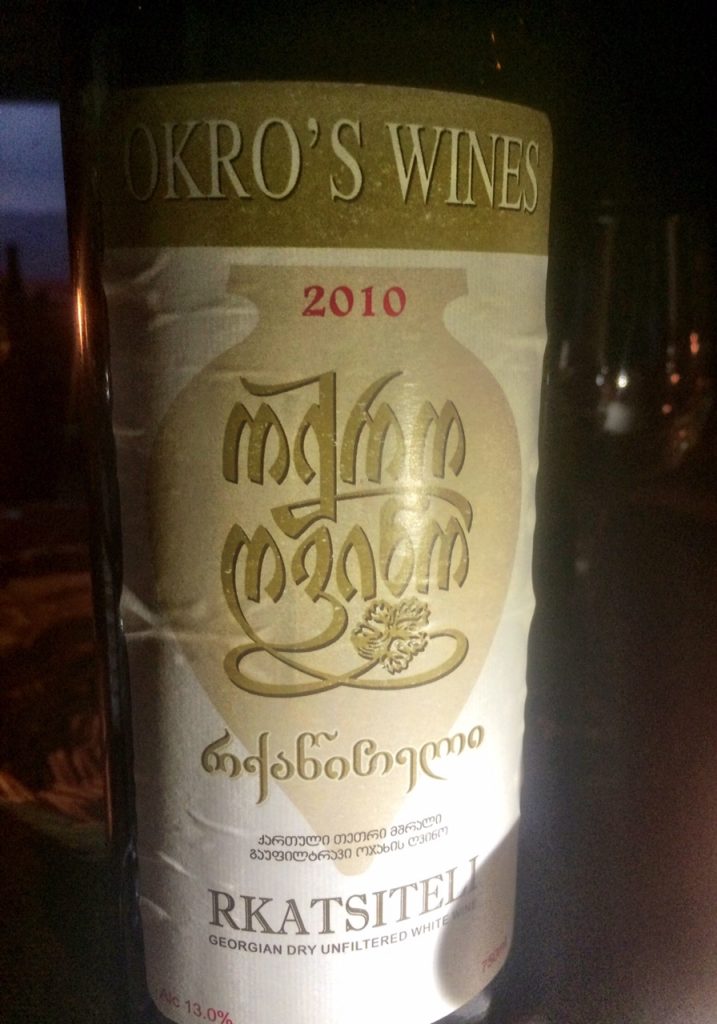 Lagvinari, Goruli Mtsvane, 2015 (Kartli, Georgia)
Goruli Mtsvane means "green from Gori," and Gori is a city in south-central Georgia. A late-ripening grape that oxidizes easily, only a few winemakers make wine from this rare variety.
Eko Glonti, the owner and winemaker at Lagvinari, is a heart surgeon, turned geologist, turned winemaker. The first time we drank this wine, we were at his home with classical jazz music playing in the background. The second time we drank this was with a group consisting of an Australian winemaker, a sommelier, and a Master of Wine. After the first sip, the Australian winemaker said, "This is fucking sexy."
This is a qvevri amber wine with high-toned aromas of peach, lime, apricot, wildflower, pine, and nut. On the palate, the weighty body is reminiscent of a light red wine.
Hunting down a Goruli Mtsvane wine can be challenging but also incredibly rewarding.
Read – 2015 Lagvinari Wine from Georgia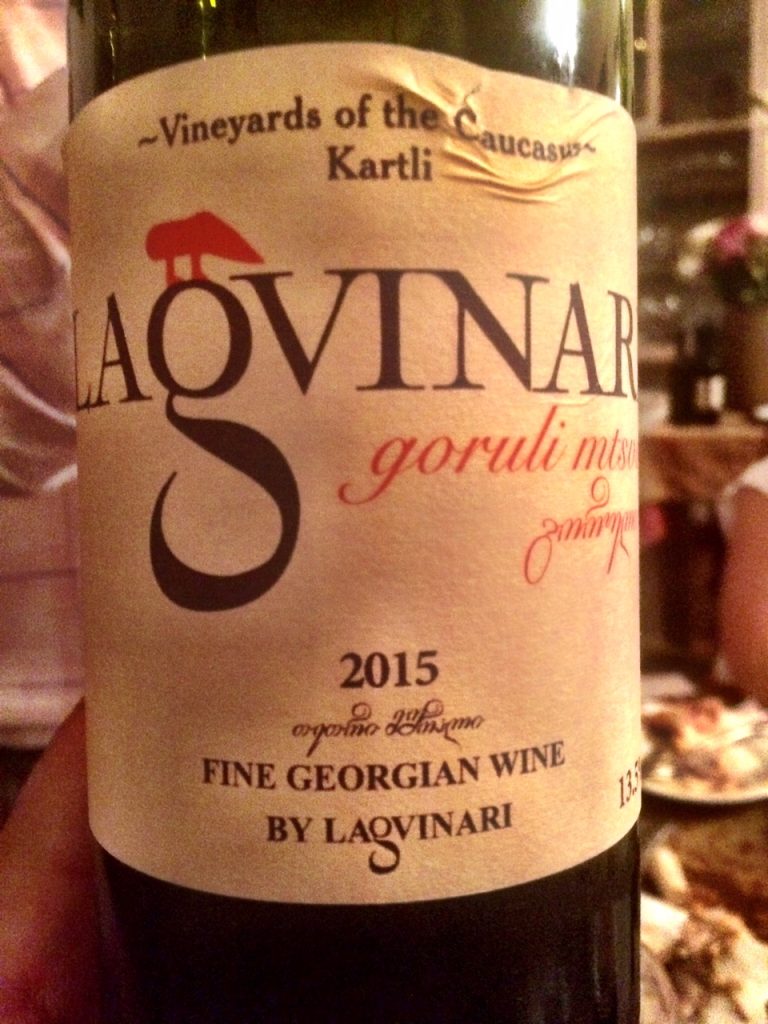 Zorah, Yeraz 2013 (Vayots Dzor, Armenia)
We drank this wine from a cask sample at the beautiful Zorah cellar. The winery is situated in a vast, open space 1,200 meters in altitude and may be the most beautiful wine estate we have ever seen. Zorah is famous for its flagship wine, the Zorah Karasi. The Yeraz is their cru wine, named after the owner's wife. The word Yeraz also means "hope/dream" in Armenian.
This wine is made from the indigenous variety called Areni, with grapes harvested from ultra-centennial bush vines that are planted at 1,600 meters above sea level. It is fermented with natural yeast and partially aged in amphora. The vines of Areni are ungrafted as they've never been affected by phylloxera. By dint of the location and elevation, vineyard management is relatively natural with minimal intervention. The Zorah Yeraz 2013 brings a whole new canon of exquisiteness that demands a quiet mind to understand. Reticent at first and requires some coaxing, it is ethereally gentle—like a once-in-a-lifetime opportunity that you might miss with a blink. This is a wine that can challenge many Burgundy Grand Crus.
If you've tasted the Zorah Yeraz 2012: the 2013 is a celestial kin to its first-born sibling; at least that's how they are showing right now.
Read – Zorah Wines: Depicting Armenia's Ancient Wisdom
"Yeraz has a lovely ethereal nose and fine, elegant, pure lingering flavour, it's like a blend of cru Burgundy mixed with top Sangiovese in character but with its own distinctive hints of spice and crushed raspberry." – Caroline Gilby
FINISHING 2016 IN CROATIA
Roxanich, Antica, 2009 (Istria, Croatia)
Made with organic Istrian Malvasia grapes that went through spontaneous fermentation, 60-day maceration, 3-year aging in big oak cask, and another year or so in the bottle, this is the brainchild of a bonafide natural winemaker. This is an unfiltered, amber Malvazija (the Croatian name for Malvasia) wine that we got to enjoy while doing a podcast with our Croatian wine importer friend Daniel (mentioned above). We flipped our lid drinking this.
This is an amber wine that can handhold many conventional wine drinkers to the orange side. Imagine an amber wine so expectedly jam-packed with flavors of cinnamon, sliced almond, dried apricot, dried fig, forest floor, and a touch of savory spice. And then it hits the palate with welcoming juiciness and stern acidity. Balance, intensity, length, and complexity are all checked. The tannins are noticeable yet discreet as it goes shoulder-to-shoulder with the dominant notes of clementine orange and ginger powder, backed by still alive yet subtle secondary, toasty flavor. This is currently holding a spot on our "top 10 amber wine" list.
Read – 15 Amber Wines (Orange Wines) to Try in Croatia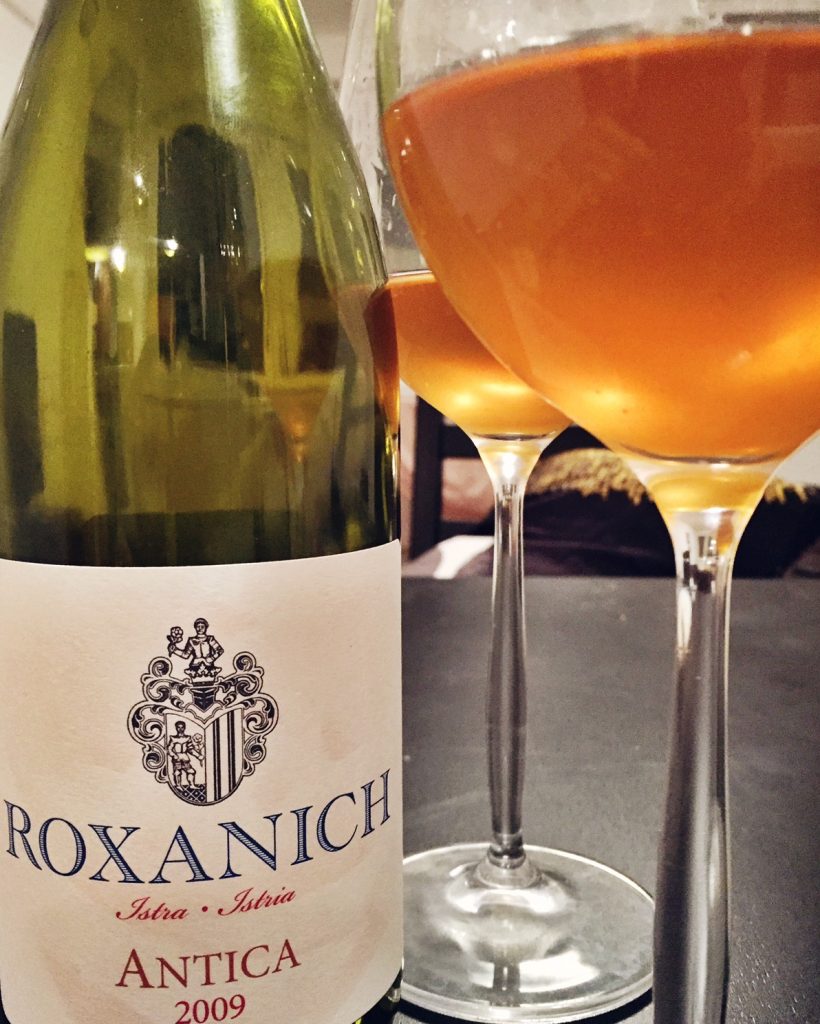 Tomac, Amphora Pjenušac Brut, 2010 (Plešivica, Croatia)
A winery located just outside the capital city of Zagreb, Tomac is the de facto name for sparkling wine in Croatia. Allegedly, Tomac is the world's first producer to make a méthode traditionelle sparkling wine with amphora. His first vintage of amphora sparkling wine was in the 2000s. Today, the influence of Tomac and the beauty of amphora sparkling have spread all over Champagne as several renowned grower Champagne houses begin to take inspiration from him.
Right on the same day when the latest issue of Decanter magazine was released and in which this wine was listed under "75 Stellar Buys of 2016", we visited Tomac and he took us through all of his wines. Decanter magazine describes this wine as a bit rustic, with strong and almost burnt caramel and orange aromas and nuances of autumn fruits with vivid acidity. We agree and also notice some notes of lemon rind, brioche, pleasantly oxidative tone, and a drying finish. It is only lightly effervescent but has a wonderfully tiny bubble structure.
Read – Tomac Winery: Leading the Charge in Croatia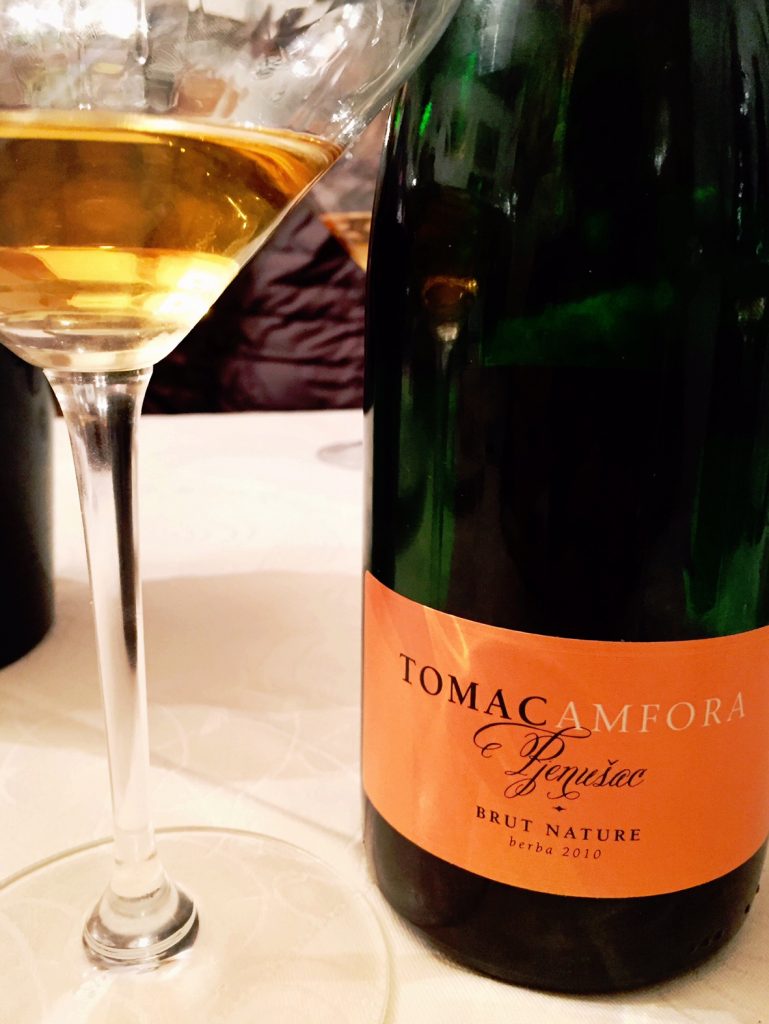 ---
Please note that the opinions expressed in this article are unsolicited and have not been paid for in any way by governmental bodies, enterprises, or individuals. We do not sell editorial content as that would destroy the legitimacy of our reviews and the trust between Exotic Wine Travel and its readers. On occasion, we extend the option of purchasing the wines we review or/and the products we spotlight. Some of these product links are set up through affiliate programs, which means Exotic Wine Travel gets referral credits if you choose to purchase these items via the links we provide.