Blind Tasting Barolo From Castiglione Falletto
Reading Time: [est_time] Wine geeks are funny people. Getting several of them in a room and conversations instantly revolve around the tiny intricacies of fermented grape juice. To a casual observer, the sight of ten people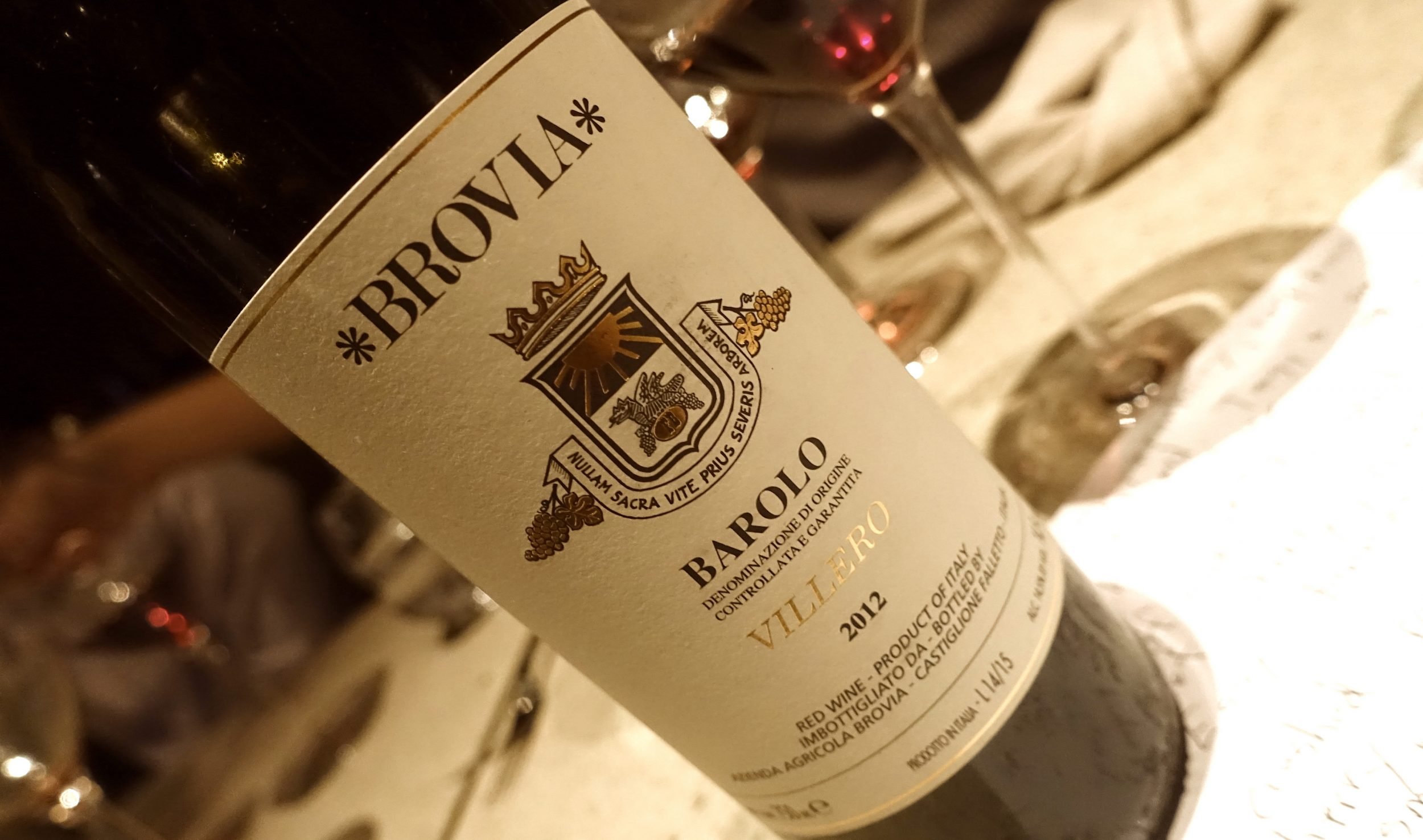 Reading Time: 4 minutes
Wine geeks are funny people. Getting several of them in a room and conversations instantly revolve around the tiny intricacies of fermented grape juice. To a casual observer, the sight of ten people sniffing wine glasses quietly around a bottle wrapped in tin foil has to be entertaining.
Getting together and blind tasting wine is how wine nerds learn more about wine and socialize at the same time. Most evenings are fun and on the rare occasion, some become really special. Blind tasting Barolo from Castiglione Falletto was one of the latter.
Barolo & EWT
Barolo was the first great wine that really struck a chord with me. I love the flavor profile, the food friendliness, and the natural beauty of the region. Made from the grape Nebbiolo, the wine hails from the northeast corner of Italy. Thanks to the structure, Barolo is regarded as one of the country's greatest wines.
Barolo was the first major region Charine and I visited together back in 2015. We gorged ourselves with the local cuisine and wines during that trip. One afternoon we took a long hike through the vineyards from the commune of Barolo to Castiglione Falletto. In the local enoteca, we tasted through a wide range of wines from the village. The balance in the wines (when young) compared to the other communes of the region was immediately evident.
Castiglione Falletto
There are eleven communes that make up the Barolo DOCG. The core five are La Morra, Barolo, Monforte d'Alba, Serralunga d'Alba, and Castiglione Falletto. The later sits at the heart of the region. While the sandy soils of La Morra in the east are known for producing lighter, easier drinking Barolos. The clay of Serralunga d'Alba is known for producing hard Barolos that need many years in the cellar to soften. The commune of Castiglione Falletto sits in the middle geographically and stylistically. The wines generally have the structure to last a long time in the cellar while being approachable at a younger age.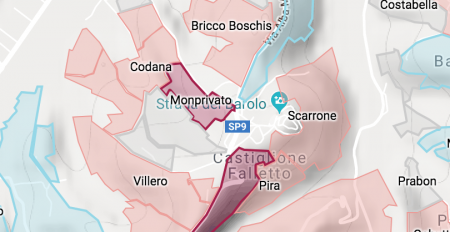 Map courtesy of Vinous.com
.
Barolos Tasted
Our friend from Luigi's Wines in Singapore organized a blind tasting of Barolo from our beloved village of Castiglione Falletto. Everybody present brought one bottle of Barolo with two stipulations.
The wine must be from Castiglione Falletto.
The wine must be a single-vineyard bottling.
We tasted the wines at Bar Chicheti in Singapore. The order in which the wines were served was chosen randomly. The lineup was stellar and all the wines showed much more refined tannins that I expected. None of the wines disappointed (except the corked bottle I brought) but people did express their own preferences.
This lineup of Castiglione Barolos represented all three different styles, those aged in new French oak, those made traditionally in large oak casks, and those that sat in between stylistically. Here are all the wines in the order we tasted them.
Giuseppe e Figlio Mascarello, 'Cà d' Morissio' Monprivato Riserva 2006
Find or buy on Wine-Searcher.
The Giuseppe e Figlio Mascarello, Cà d' Morissio' Monprivato Riserva was the wine we opened the Barolo blind tasting with. It's a legendary Barolo from one of Barolo's icons. The wine has a beautiful nose of cherry, tar, rubber, asphalt, and mushroom. It's very silky on the palate with a waxy note. The tannins are easy for Barolo. I just want a tighter structure and a longer finish from this wine. Score: 92/100
Cavallotto, Bricco Boschis 2001
Find or buy on Wine-Searcher.
The Cavalloto Bricco Boschis was one of the pleasant surprises of the evening, especially since it is the standard bottling from this producer. This is a riper and more concentrated Barolo. It has notes of smoke, black cherry, and pepper. It's full on the palate and creamy mouthfeel. The tannins are rounder for Nebbiolo and the structure is tight with a long finish. When it was revealed, we were all shocked at its age, it tastes like it is much younger. Score: 93/100
Cavallotto, Bricco Boschis Riserva Vigna San Giuseppe 2003
Find or buy on Wine-Searcher.
The Cavalloto Bricco Boschis Riserva Vigna San Giuseppe is the reserve Barolo from this winery. It's got all the flavors I want in a Barolo including tar, crushed rose petal, perfume, and cherry. Medium bodied in style with round tannins. The wine is traditional, classy, and understated. Score: 94/100
Paolo Scavino, Bric Dël Fiasc Riserva 2008
Find or buy on Wine-Searcher.
Paolo Scavino is one of the big players in Castiglione Falleto and the Bric Dël Fiasc Barolo Riserva is one of their top wines. This is riper, concentrated, and modern in style. The influence of oak is obvious on the first sniff. Notes of candied cherry, violets, and dried cranberry. It's round and delicious, it's a modern style that a lot of people will appreciate. This is a very easy Barolo to understand. Score: 91/100
Brovia, Rocche di Castiglione 2012
Find or buy on Wine-Searcher.
Brovia is one of my favorite producers of Barolo. Their single vineyard Barolos (Rocche di Castiglione, Villero, and Garblèt Sue') are relatively inexpensive as far as Barolo goes. However, this may be going through a closed period now because it's not overly complex nor expressive at the moment. Notes of cherry, crushed violets, rose petal, and pepper. It's medium bodied with sweet tannins. Score: 90/100
Giacomo Fenocchio, Villero 2012
Find or buy on Wine-Searcher.
This was the bottle that I brought and unfortunately, it was corked.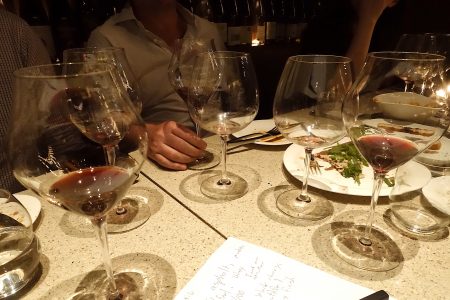 Find or buy on Wine-Searcher.
Roagna is a fairly new winery in Barolo and their Pira vineyard is the pride of the estate. This was the most polarizing wine of the tasting. Some people really disliked it while a few loved it – I was in the latter group. It has notes of tar, red cherry, cranberry, raspberry, and a touch of sweaty socks. It's tangy with small, fine tannins. The structure is tight and the finish is long. My favorite wine of the tasting, it's a little wild and unrestrained – which I love. Score: 95/100
Azelia, Bricco Fiasco 2009
Find or buy on Wine-Searcher.
The Azelia Bricco Fiasco stood out the most in the tasting, because of the style. It's another wine that smells modern upon the first impression. Vanilla notes from the oak dominate here, with sweet cherry, pepper, and violets. It's polished, round, and creamy on the palate. Ripe and easy tannins, it almost doesn't taste like a normal Barolo. It is aged in French oak. Score: 91/100
Find or buy on Wine-Searcher.
We had two vintages of Brovia Villero Barolo and they both showed well. This is a fantastic wine with crushed rose petal, asphalt, cranberry, and sweet cherry notes. It's a medium bodied with sweet tannins and a long finish. Score: 93/100
Find or buy on Wine-Searcher.
This vintage of Brovia Villero shows a little more age than it actually is. Notes of mint, tar, rose petals, cherry, and cranberry. The wine is medium bodied and tangy with round, developed tannins. It has a long finish and drinking great now. Score: 94/100
(You can find out more about our scoring system on the WINE RATING page.)
---
Please note that the opinions expressed are our own and have not been paid for in any way. We do not sell editorial content as that would destroy the legitimacy of our reviews and the trust between Exotic Wine Travel and its readers. On occasion, we extend the option of purchasing the wines we review or/and the products we spotlight. Some of these product links are set up through affiliate programs, which means Exotic Wine Travel gets referral credits if you choose to purchase these items via the links we provide.