Brancaia: Chianti Classico & More
Reading Time: [est_time] Labels that stand out and wine that speaks for itself. Brancaia is a 'relatively' new producer in the historic Chianti Classico region of Tuscany. Founded in the mid-1980s by a Swiss family, Brancaia has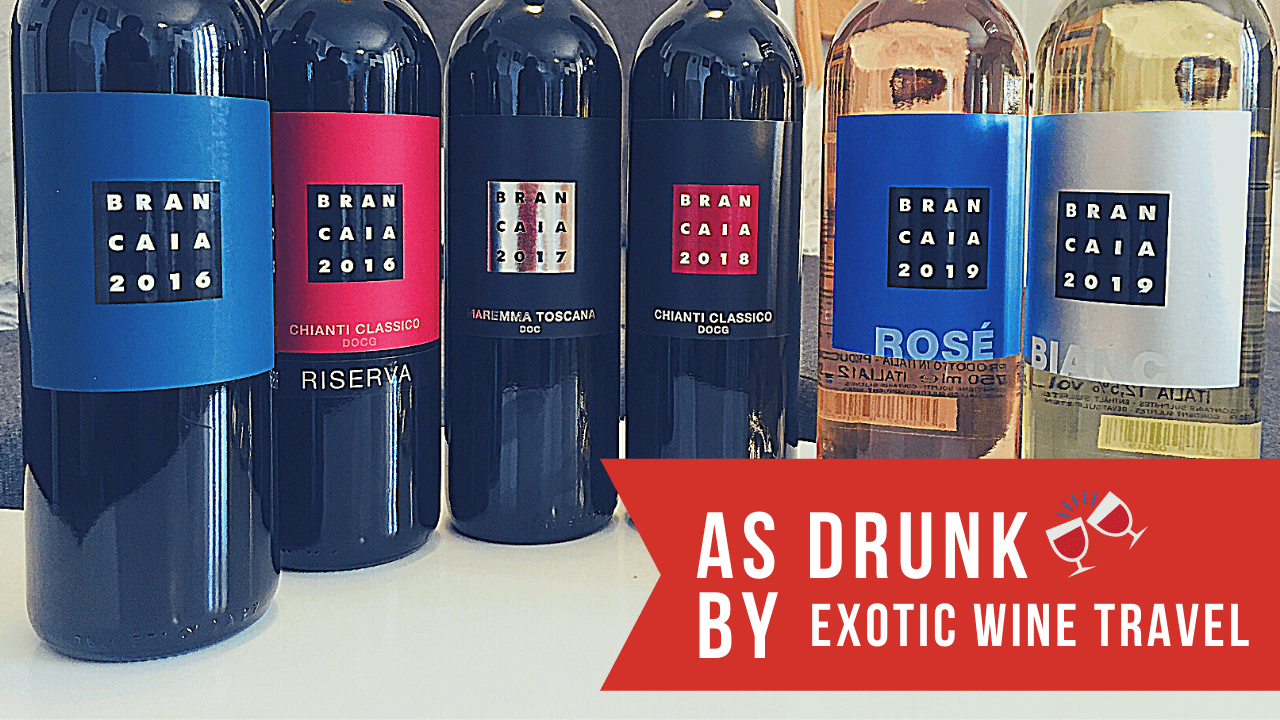 Reading Time: 2 minutes
Labels that stand out and wine that speaks for itself.
Brancaia is a 'relatively' new producer in the historic Chianti Classico region of Tuscany. Founded in the mid-1980s by a Swiss family, Brancaia has become well respected for its wines and brilliant label design. We've been buying the wines of Brancaia for years. Their Brancaia Tre was featured on one of our oldest (and still most popular) YouTube videos.
Brancaia has three properties in Tuscany – two within the boundaries of Chianti Classico and one in Maremma. Barbara Widmer (daughter of the founders) heads up the production. The wines are well distributed throughout the world, so you should have no problem tracking them down.
Brancaia Latest Releases
For many years, we were only familiar with the inexpensive (but delicious) Tre bottling. After a stop in Hong Kong for James Suckling's Great Wines of Italy, we have become familiar with Brancaia's reserve wines. Their two Super Tuscans, Illatraia and Il Blu have acquired their share of fans throughout the years. Both are excellent wines but I believe the recent vintage of the Brancaia Chianti Classico Riserva outclasses them. Here's a look at Brancaia's latest releases.
The Brancaia, Il Bianco is an interesting blend of Sauvignon Blanc and Viognier. It has a nose of elderflower, grass, kiwi, and lime. Crispy with high acidity and a green herbal finish. This is more than a simple summer sipper and has some subtle complexities to it. Clean finish that makes it a pleasure to drink. Score: 87/100
The Branacia, Rosé is made from Merlot and on the lees for three months. This is in between a rosé and a bigger rosato. It has notes of red berry, tangerine, and a touch of yogurt. There's substantial weight on the palate with a subtle saltiness and orange peel-like acidity. Score: 87/100
Brancaia, Maremma Toscana 2017
The Brancaia, Maremma Toscana is 100% Cabernet Sauvignon aged in oak for a year. It's a ripe and polished Cabernet Sauvignon that is ready to drink right from the bottle. Notes of cassis, black cherry, mocha, and tobacco emerge from the glass. It doesn't have any green notes and is more on the fruity side. Generous acidity and supple tannins should help this develop over the next few years in the bottle. This is available around the world for about 20 USD, which is a steal for delicious Cabernet Sauvignon. Score: 90/100
Brancaia, Chianti Classico 2018
The Brancaia, Chianti Classico is pure Sangiovese matured for 12 months before released. This is a gorgeous, middleweight red. There are notes of sour cherry, fall leaves, baking spice, and hints of dark chocolate. It's not a big, fruity bruiser. It is a nuanced red. There is plenty of acidity and bitter tannins to help this develop in the bottle. Finishes with sharp sour cherry flavors and a touch of austerity. Score: 89/100
Brancaia, Chianti Classico Riserva 2016
The Brancaia, Chianti Classico Riserva is a blend of Sangiovese and Merlot aged in oak casks for 16 months. Winemaker Barbara Widmer thinks this is the greatest rendition of this wine that they've ever made. It's hard to argue with that.
This is big and generous from the first sniff. It's spicy, savory, and fruity all at once. Notes of sour cherry, cedar, tobacco, tangerine peel, and a touch of earth. Very complex and thought-provoking wine while being approachable at the same time. Full-bodied with chewy tannins and high acidity that ensure this has a long life ahead of it. Many of Brancaia's wines are polished and modern but this beauty is traditional to its core. Find it, drink it, love it. Score: 93+/100
The Brancaia, Il Blue is an iconic Super Tuscan that is a blend of Merlot, Sangiovese, and a touch of Cabernet Sauvignon. This is big, brooding, and super serious right out of the glass. Notes of black raspberry, sour cherry, asphalt, pepper, and blood orange jump out. It's a full-bodied, structured effort with generous acidity. The tannins are tough now but will soften with time. There is a long finish guided by a tangerine peel-like acidity. It's not showing all of its true colors now and should unfurl into something greater. Score: 93/100
Do you like our content?
If you like our articles and videos, we'd love for you to be a part of our community on Patreon. The support from Patreon helps keep the content coming and you access to behind the scenes content. It also gives us the chance to get to know you better. Check out the Exotic Wine Travel Patreon page by clicking the photo below.

---
Thanks to Brancaia for the wines. The opinions expressed in this article are unsolicited and have not been paid for in any way by governmental bodies, enterprises, or individuals. We do not sell editorial content as that would destroy the legitimacy of our reviews and the trust between Exotic Wine Travel and its readers. On occasion, we extend the option of purchasing the wines we review or/and the products we spotlight. Some of these product links are set up through affiliate programs, which means Exotic Wine Travel gets referral credits if you choose to purchase these items via the links we provide.