James Suckling Great Wines of Italy Hong Kong 2018
Reading Time: [est_time] In December of 2018, we attended James Suckling Great Wines of Italy Hong Kong, an event that we had been looking forward to for a long time. The Hong Kong event was the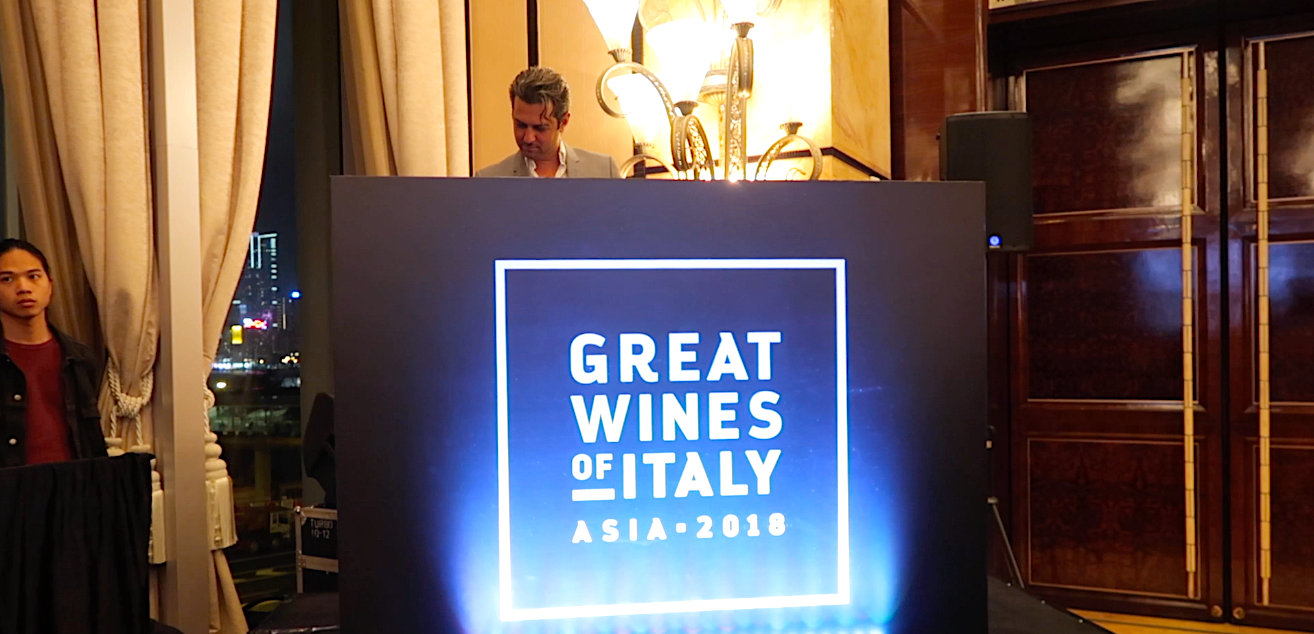 Reading Time: 6 minutes
In December of 2018, we attended James Suckling Great Wines of Italy Hong Kong, an event that we had been looking forward to for a long time. The Hong Kong event was the second stop on the James Suckling Great Wines of Italy Tour Asia 2018, which also included Beijing (China), Bangkok & Phuket (Thailand). It's one of four themed events by James Suckling which includes Great Wines of the World, Great Wines of the Andes, and Bordeaux Confidential.
James Suckling Great Wines of Italy Hong Kong
James Suckling is quite a polarizing figure in the wine industry. He was at the Wine Spectator for nearly thirty years and now runs his own platform www.jamessuckling.com. Some people trust his tasting notes while many dislike him. Regardless of what you think of him, he churns out a massive amount of reviews, videos, and live events.
Like him or loathe him, Suckling gets many outstanding producers together in one room, pouring great wines to the crowd. The Great Wines of Italy Hong Kong saw 97 producers pouring nearly 200 wines over three hours. There were giants present like Antinori all the way down to smaller producers like Bruno Giacosa.
James Sucking Great Wines of Italy Hong Kong 2018 was well presented and impeccably organized. We were amazed by the layout and handouts. All the wineries were organized by appellation and numbered appropriately The handout listed each wine poured by producer including vintage and the score by James Suckling.
The event wasn't perfect. It was extremely crowded, to the point where it was hard to move. We would have appreciated an early session for people from the trade to taste, even if it was simply 45 minutes beforehand. Many hardcore Italian wine fans might complain about the lack of small producers present. Others might complain about the event being Tuscan-centric. One thing they can't complain about is the sheer number of excellent wines being poured
Because of the crowd, we didn't get a chance to taste every wine (although we definitely tried). Here were our favorites from the event.
Exotic Wine Travel's Picks
You can find out more about our scoring system on the Wine Rating page.
CT = Charine Tan's Scores, MH = Matthew Horkey's Scores
Cantina Terlano, Nova Domus Terlaner Riserva 2015 – Alto Adige
Find or buy on Wine-Searcher.
We're no strangers to Cantina Terlano, they may be our favorite cooperative winery in the world. They produce stellar wines at every price point and their mid-range and reserve labels are incredible. Charine found herself wowed by the newest release of the Nova Domus Terlaner Riserva with it's big body and rich stone fruit flavors.  CT: 95/100
Casanova di Neri, Tenuta Nuova Brunello di Montalcino 2013 

– Tuscany
Find or buy on Wine-Searcher.
The Casanova di Neri Tenuta Nuova is a single-vineyard Brunello di Montalcino. It is made of 100% Sangiovese. This classic is an old-school, rustic style, which I love. The wine is full of leather, cherry, and tobacco flavors with a touch of brett. What separates this wine from many run of the mill Brunellos is the fine texture and grainy tannins. The acidity combines with the tannins and guides a long finish. MH: 93/100
Brancaia, Ilatraia 2015 

– Tuscany
Find or buy on Wine-Searcher.
Before we were in wine full-time, we had a soft spot for Brancaia. The Brancaia Tre is a go-to, value for money red that we've had many times. It was even featured in an early episode of our YouTube channel which is titled, "Sangiovese Made Simple."
The Brancaia Ilatraia 2015 is a blend of 40% Cabernet Sauvignon, 40% Petit Verdot, and 20% Cabernet Franc. This is one of the top wines in Brancaia's portfolio. It's a dark wine with leafy notes along with dark cherry and leather. It's full-bodied and rich with a long finish and soft tannins. There is a lot to like about this big, smooth Tuscan red.  MH: 93/100
Vinosia, Rajamagra Taurasi Riserva 2011 

– Campania
Find or buy on Wine-Searcher.
We've never been huge on the grape Aglianico. We've tasted many examples of Taurasi & Aglianico del Vulture in addition to judging a flight of Aglianico at the Radici del Sud in 2018. Still, we always walk away disappointed and wondering what we missed about this grape that allegedly creates the "Barolo of the South."
The Vinosia Rajamagra Taurasi Riserva shows off the potential of Aglianico. It's enough to change our minds. Dark cherry and leather with a touch of smoke dominate make up the flavor profile. The wine has a touch of greens and sweet tobacco on the finish. It's a big wine with developed tannins. MH: 91/100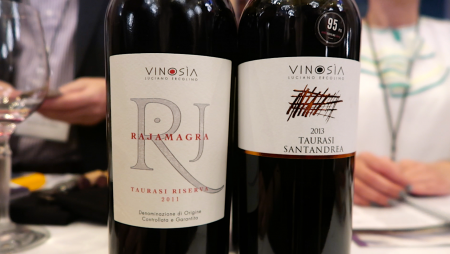 Pio Cesare, Il Bricco de Treiso Barbaresco 2013 

– Piedmont
Find or buy on Wine-Searcher.
Pio Cesare is one of the big names in Piedmont and their Il Bricco de Treiso Barbaresco is a killer single vineyard effort. It's another fine example of what makes Nebbiolo so special.
CT: 94/100
Riecine, Rosso Toscana 2014 – Tuscany
Find or buy on Wine-Searcher.
Riecine is a renowned producer of Chianti Classico but it was their Rosso Toscana that got Charine really excited. It's a fine wine from a tough and rainy vintage. Her notes are as follows:
"100% Sangiovese from a certified-organic vineyard at 500 meters above sea level. The soil types are a mix of limestone and clay, and the average age of the vines is 45 years old. The grapes are crushed by foot and fermented in a mix of open-top bins and cement tanks. There was a bit of stem inclusion used in fermentation, and the wine was aged in barriques for more than 2 years before bottling.
Why we love this wine? It's ridiculously pure, light-footed, and pretty. The light color and easy-going tannins belie the rich flavors and pliant texture. An elegant Sangiovese that delivers great flavors and a long, fresh finish." CT: 91/100
Tenuta San Guido, Sassicaia 2015 

– Tuscany
Find or buy on Wine-Searcher.
The Tenuta San Guido Sassicaia is an iconic Italian wine and was one of the original Super Tuscans. In the past, I haven't been huge on this wine. I respect that quality, but it just hasn't got me that excited. The 2015 Sassicaia was named Wine Spectator's top wine of 2018, which only adds to the hype.
Our palates worked extra hard to dissect this wine and we came to one conclusion – it's an outstanding effort. The 2015 Sassicaia is a blend of Cabernet Sauvignon and Cabernet Franc that is very approachable now. Full of bright cherry, tar, leather, mineral and violet flavors. It's plush and rich on the mouth with fine tannins. The drinkability of this wine is off the charts, especially at the young age. MH: 97/100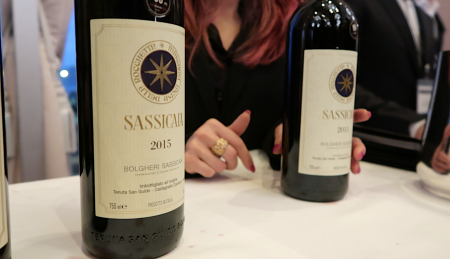 Franz Haas, Manna 2016 

– Alto Adige
Find or buy on Wine-Searcher.
Franz Haas is known for his cool climate Pinot Nero(Pinot Noir) grown in Alto Adige, Italy. During this event, we couldn't get enough of his Manna white wine. It's a cool blend of Riesling, Chardonnay, Sauvignon Blanc, and a late-harvest Traminer. Full of white apple, lychee, white peach, and diesel fuel notes. It has confusing flavors that take you all over the place before somehow coming back to balance.  It's a crazy, unique white that is sure to intrigue. MH: 91/100
Argiano, Brunello di Montalcino 2013 

– Tuscany
Find or buy on Wine-Searcher.
Charine is a huge fan of Brunello di Montalcino and we made sure to taste as many as possible. This Argiano Brunello di Montalcino 2013 was our favorite of the event. It's not the Brunello producer with the biggest name or the highest price point, but it's a fantastic wine.
The Argiano Brunello di Montalcino 2013 has lots of sour cherry, sweet tobacco, cedar, and mineral notes. It's a smooth wine with fine tannins that glide seamlessly across the palate. The wine is expressive yet subtle with a complex finish. MH: 94/100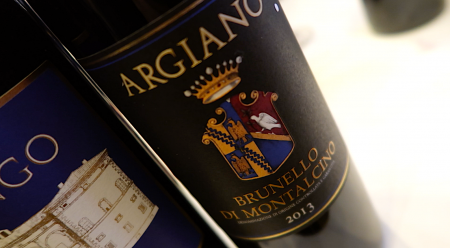 Schiopetto, M 2016 

– Friuli Venezia-Giulia
Find or buy on Wine-Searcher.
We spend a lot of time in Friuli-Venezia Giulia but have yet to visit Schiopetto. Mario Schiopetto is one of the pioneers in the region, introducing temperature control to create precise white wines. The winery has changed ownership and has decided to create an ode to Mario.
The Schiopetto M is made from old vines of Friulano. Full of yellow flower, pineapple, and mineral flavors, it's rich and concentrated on the palate. It's a full white wine without high acidity which means it doesn't have sharp edges. Friulano ages surprisingly well and we would expect no less from this beauty. MH: 93/100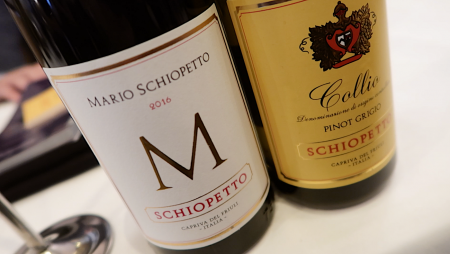 Argentiera, Argentiera Bolgheri Superiore 2015 – Tuscany
Find or buy on Wine-Searcher.
Another overachiever is the Argentiera Bolgheri Superiore. It doesn't have the brand equity like Ornellaia, Sassicaia, or Guado al Tasso but can certainly stand toe to toe with them in terms of quality. It's a blend of Cabernet Sauvignon, Merlot, and Cabernet Franc. This is a concentrated yet delicate wine. Full of dark fruit, licorice, greens, graphite, and mineral notes, it's super complex on the palate. The wine is full-bodied yet feels impeccably elegant on the palate. Fine tannins guide the long finish. MH & CT: 95/100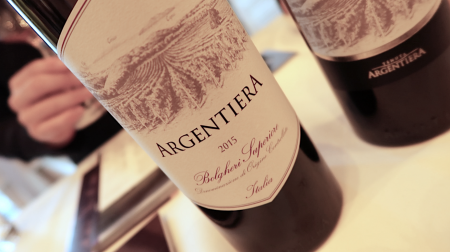 Bruno Giacosa, Barbaresco Santo Stefano 2007 – Piedmont
Find or buy on Wine-Searcher.
Bruno Giacosa is a legend in Barolo and Barbaresco. Unfortunately, he passed away last January. By the time we got to the table, all of the bottles were empty. Just a few nights later, Charine met up with a friend in Hong Kong who ironically brought a Bruno Giacosa Barbaresco Santo Stefano 2007.
It's incredibly aromatic and forthcoming with fruit. The bouquet offers an enchanting freshness that shows no sign of aging or slowing down. The tannins are rather firm for its age and demand more bottle aging. A fantastic wine that delivers ripeness, structure, elegance, and notes of red cherry, rose, and spice. CT: 94/100
Il Borro, Petruna Anfora 2015 – Tuscany
Find or buy on Wine-Searcher.
The village of Il Borro was purchased by the Ferragamo family, which transformed it into a five-star hotel and a winery. The Il Borro Petruna Anfora 2015 was made and aged on the skins for one year in Amphora. It's made from 100% Sangiovese which is lighter in color and full of sour cherry and mineral notes. The tannins have a fine, grainy texture to them. MH & CT: 93/100
Antinori, Tignanello 2015 – Tuscany
Find or buy on Wine-Searcher.
Another knockout vintage of the Antinori Tignanello. Like other vintages, it stays truer to the red fruit spectrum of Sangiovese. Notes of mineral, sweet cedar, fall leaves, and pure yumminess. It might not be the trendy wine now, but it is fantastic year in and year out. While this is an age-worthy classic, the 2015 is so approachable and easy to drink now. It would be hard to hold on to this for another 10-15 + years, where it should show its best. MH: 95/100
---
Thanks to the team at James Suckling for providing us with trade passes for Great Wines of Italy Hong Kong. Please note that the opinions expressed are our own and have not been paid for in any way. We do not sell editorial content as that would destroy the legitimacy of our reviews and the trust between Exotic Wine Travel and its readers. On occasion, we extend the option of purchasing the wines we review or/and the products we spotlight. Some of these product links are set up through affiliate programs, which means Exotic Wine Travel gets referral credits if you choose to purchase these items via the links we provide.