Brewer-Clifton: Combining Expertise, Gravitas, and Nature
Reading Time: [est_time] Check out our wine travel guide to Santa Barbara Wine Country.  When visiting the small town of Lompoc, California, the "wine ghetto" is probably the first thing that comes to a wine lover's mind. Just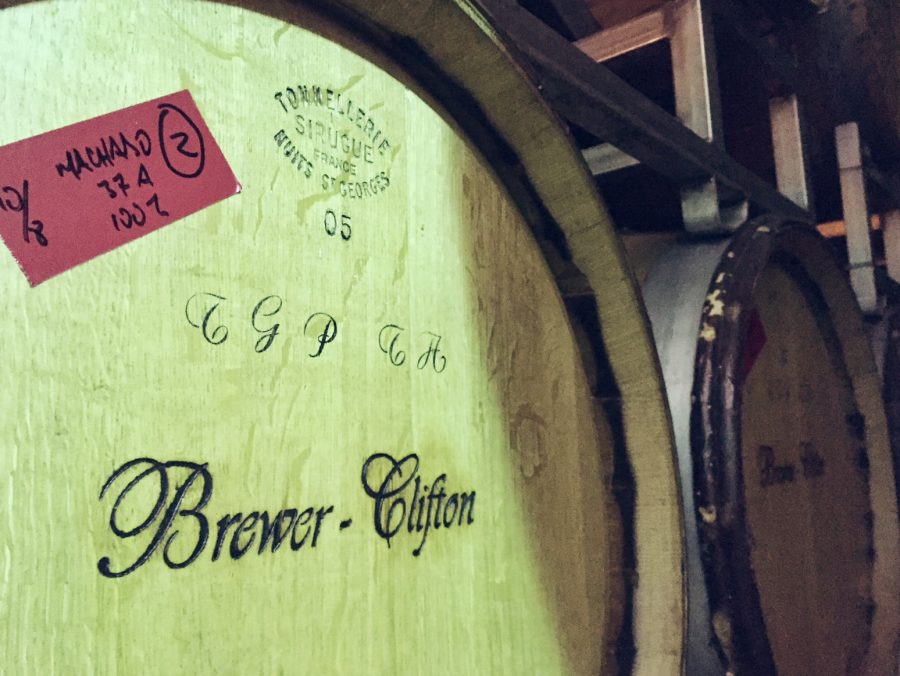 Reading Time: 6 minutes
Check out our wine travel guide to Santa Barbara Wine Country. 
When visiting the small town of Lompoc, California, the "wine ghetto" is probably the first thing that comes to a wine lover's mind. Just do a google search for "Lompoc Wine" and you'll see why and what dominates the first page of the search results.
Stroll a few blocks west from the main section of the Lompoc Wine Ghetto and you will find Brewer-Clifton, a producer who is making wines at the apex of excellence.
Brewer-Clifton winery was founded in 1996 by two friends, Greg Brewer and Steve Clifton. Their goal was to produce terroir-driven wines from Burgundian varieties planted on cool-climate vineyards. The winery immediately became a critic darling. Throughout its existence, the Brewer-Clifton wines have gained multiple spots on Wine Spectator's Top 100 Wines lists and also have consistently received high scores from the likes of Robert Parker, James Suckling, and Antonio Galloni. The winery was also a pioneer of single-vineyard Pinot Noir and Chardonnay wines in Sta. Rita Hills. In 2012, a new milestone was reached as they fully transitioned to making wines from 100% estate fruit. In 2015, the duo split up and Steve Clifton now owns a different winery while Greg Brewer continues to take the helm at Brewer-Clifton.
Santa Barbara County
Santa Barbara County is the southernmost county of the Central Coast AVA. At 3,729 square miles in size, it offers unique topography and climatic diversity that give birth to six AVAs: Ballard Canyon, Happy Canyon, Los Olivos District, Santa Maria Valley, Sta. Rita Hills, and Santa Ynez Valley, plus one pending AVA in Alisos Canyon.
This beautiful spot in Southern California seems too good to be true for grape growing; vignerons may be rejoicing nearly every single day in the vineyards. The county is generally characterized by a cool climate, little to no rainfall especially during the harvest period, a lot of sunshine, and an extremely long growing season. All of this is great, but what really makes the area special is the Transverse Ranges, which run west to east in the county. Because of the proximity to the Pacific Ocean, cool air flows through the wind tunnel created by these mountains. The sun is fierce but the days stay cool and the nights even cooler. The Pacific Ocean air also creates a morning fog that cools and protects the grapes.
Due to these climatic and geographical features, it is among the world's most versatile, high-quality wine regions with a wide array of microclimates. The primary wine grape varieties grown are Chardonnay and Pinot Noir, and with a good portion of Cabernet Franc, Cabernet Sauvignon, Chenin Blanc, Grenache, Marsanne, Merlot, Nebbiolo, Petit Sirah, Petit Verdot, Pinot Blanc, Pinot Gris, Riesling, Roussanne, Sangiovese, Sauvignon Blanc, Syrah, and Viognier.
The Santa Barbara County wine industry is said to generate around $1.7 billion of annual revenue. There are now about 200 wineries in the region and more than 27,000 acres of vines.
The first wine grapes were planted by the missionaries in the late 18th century; but modern, commercial viticulture took place only in the 1960s. In 2004, the hit film Sideways was shot almost entirely in the area, bringing new attention and rejuvenated interest to the county as a not-to-be-missed wine region, especially for its Pinot Noirs.
__________________________

"Within an hour of being in the South Central Coast (Santa Barbara County), you're so mellow that drinking really good Pinot Noir strikes you as a constitutional right, not to mention a necessary part of your life's work."    – Karen MacNeil

__________________________
Tasting at Brewer-Clifton Winery
Step into the winery and you might understand why the Brewer-Clifton wines taste the way that they do. Greg Brewer is a man of meticulousness. All the barrels are neatly organized on the racks. The fermentation tanks are glistening. The floor is spotlessly clean. Even the smallest details are taken care of, such as the hoses which are coiled neatly and laying at the side of the room. The tasting room has an industrial and minimal feel. The wines are presented in proper, large-bowled glasses and the wine can be viewed over a white tabletop. There's a sense of practicality and refinement in every nook and cranny.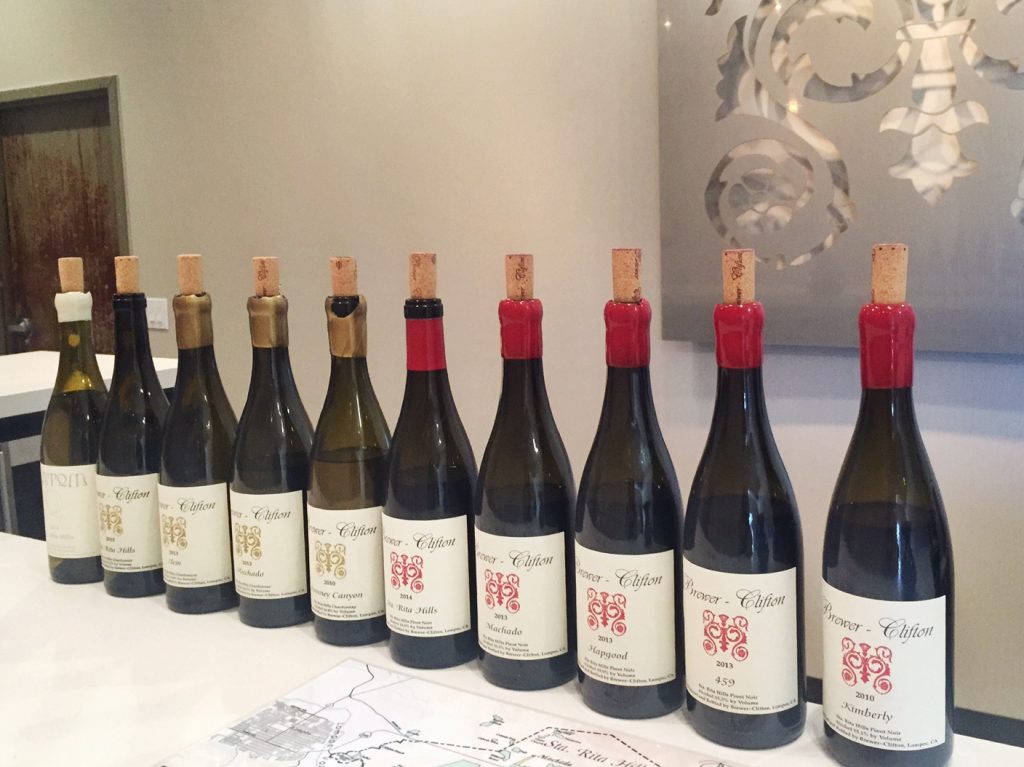 We didn't get a chance to meet Brewer personally, but the state of the winery told us quite a bit about him. His personality and philosophy are also reflected in the wines. All the Brewer-Clifton wines deliver purity and potency of fruit wrapped in a precise and commanding structure. Yet each one has subtleties that let it stand apart from its peers. The wines are intellectual and refined, yet simultaneously candid.
__________________________

"It is our primary goal and priority to deliver the essence of that vineyard as clearly and honestly as possible."    – Brewer-Clifton Winery

__________________________
Brewer-Clifton Chardonnay
All the Chardonnay wines at Brewer-Clifton are made with whole-cluster pressed grapes. Aging happens in neutral Sirugue barrels for 12 to 18 months. Malolactic fermentation is neither promoted nor prevented.
__________________________

"The grapes from each site are handled identically from arrival to the cellar through bottling, allowing for the essence of each site to be expressed."

Brewer-Clifton

__________________________ 
Brewer-Clifton, Chardonnay, Sta Rita Hills 2013
This is the basic line of Brewer-Clifton Chardonnay and the only one from the winery that sometimes can be found in the US supermarkets. Rich and approachable with notes of lemon, pineapple, pear, melon, flint, and caramel. A touch of basil and orange peel on the finish. What's stunning is the mouthfeel–buttery yet refreshing and structured. Prominent salinity and an approachable hint of floral notes. An absolute knock-out!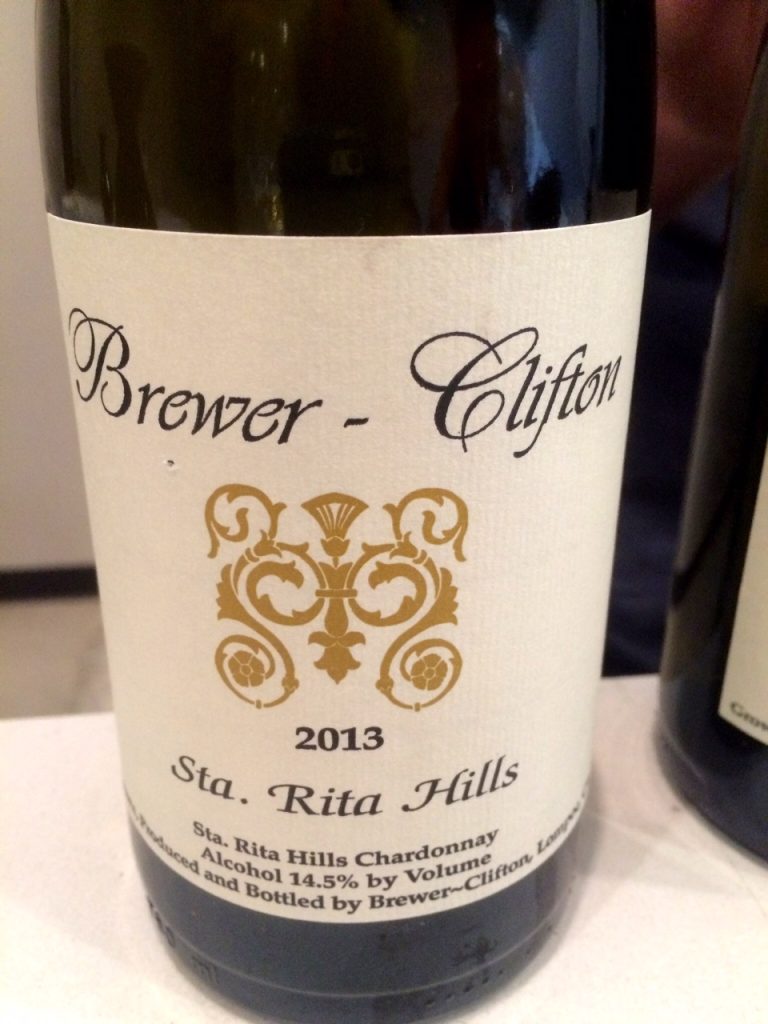 Brewer-Clifton, Chardonnay, Machado 2013
The richest, most viscous Chardonnay in this lineup. Notes of cowhide, orange blossom, lemon, peach, and jasmine flavors delivered with a waxy, buttery feel in the mouth. Prominent salinity and long end palate.
Brewer-Clifton, Chardonnay Acin 2013
The most oxidative in style among the Chardonnays in this tasting. Toasty, nutty, spicy, and oily with ripe notes of apricot, orange, and melon. Fantastic texture and weight. This wine made the list of our favorite wines of 2016. 
Brewer-Clifton, Chardonnay Sweeney Canyon 2010
Forward in aroma that gives off an initial impression that it is a rather heavy and somber wine, but the palate turns out rahther chirpy and fresh. Notes of sandalwood, cinnamon, potpourri, star fruit, white pear, and lemon. Many layers to this wine and a lengthy, saline end palate.
Brewer-Clifton, Diatom, Chardonnay, Sta. Rita Hills 2013
Made in stainless steel with no oak influence. Inviting aroma redolent of a garden. Very Chablis in style. Lemon, lemon, and more lemon with a touch of pear, melon, and white flower. A powerful undertone of minerality and salinity. Smooth texture and mouthwatering acidity.
Brewer-Clifton Pinot Noir
The winemaking regimen consists of seven days of cold soak, followed by whole-cluster fermentation that lasts for around two weeks, and then at least 10 days of maceration. Like its Chardonnays, all the Pinot Noir wines at Brewer-Clifton are aged in neutral Sirugue barrels for 12 to 18 months
__________________________
"With pinot noir we strive to remove the winemaker's signature, allowing the voice of the vineyard to be the overriding expression. Utilizing a protocol of minimal intervention and whole cluster fermentation, stems play a vital role in both our farming and fermentation processes, ultimately adding structure to the wine. They are an integral part of what we receive from the vineyard and offer architecture to the wines, allowing them to gain complexity and depth as they age. "

Brewer-Clifton

__________________________
Brewer-Clifton, Pinot Noir, Sta. Rita Hills 2014
Rich with a syrupy texture and firm structure. Notes of strawberry, redcurrant, forest floor, and green herbs. A harmonious wine with a nice green tea-like finish. 
The 2012 vintage of this wine was in Wine Spectator's Top 10 Wines of 2014. Check out the video below for Steve Brewer's speech at the award ceremony.
https://www.youtube.com/watch?v=V4qtF1qeBbQ
Brewer-Clifton, Pinot Noir, Hapgood 2013
Structured, so structured that even the aroma is remarkably structured. Bursting with dark berries, sweet tart candy,  acacia, juniper, rose, cigar, leather, and delightfully spicy, savory flavors. A voluptuous palate driven forward by powerful tannins. Long and beautiful finale with a black tea-like component. An authoritative Pinot Noir, not suitable for the gentle lovers.
This is our favorite Pinot Noir of the tasting, along with Brewer-Clifton Pinot Noir Kimberly 2010 (see below).
Brewer-Clifton, Pinot Noir, Machado 2013
An exemplary Pinot Noir from the cool vineyards of Sta. Rita Hills. Rich in fruit, elegant in style, and subtle with the layering of flavors. A combination that's inching towards otherworldly. The most floral aroma among the Pinot Noirs in this tasting. Flavors of mint, lilac, lavender, red berries, and forest floor, illuminated by persistent mineral and savory notes.  A full-bodied and textured wine.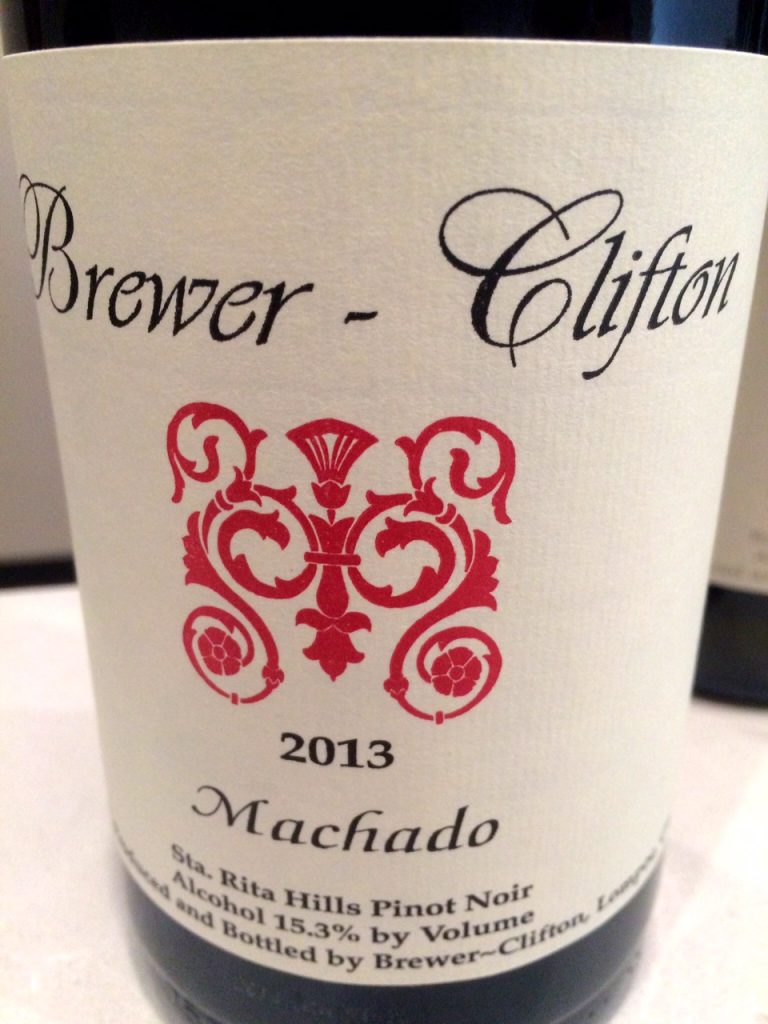 Brewer-Clifton, Pinot Noir, 459 2013
Grapes harvested from a single block of the Machado vineyard. Dominated by red fruit and brown spice. Slightly spicier and has more powerful tannins than its siblings. A wine that beams with delicious approachability and stern about its structure.

Brewer-Clifton, Pinot Noir, Kimberly 2010
Only two barrels of this were made in an ode to Brewer's fallen relative. Notes of red berries, pumpkin, candlewax, chocolate, cigar box, and forest floor. A bright and chirpy wine from start to finish. Robust flavors in the mouth yet with an ethereal, silky delivery. This is our favorite Pinot Noir of the tasting, along with Brewer-Clifton Pinot Noir Hapgood 2013 (see above).
Final Thoughts
We've been on the road for nearly two years, traveling to both famous and lesser-known wine regions. The tasting experience at Brewer-Clifton is unparalleled in our journey so far. Every single wine in the portfolio is exceptional with high drinkability and high aging potential. We look forward to purchasing more Brewer-Clifton wines whenever we go back to the USA. The tasting experience at this winery is something that we talk about often and refer to as a benchmark, to the point that whenever we encounter a winery visit that we enjoy, we'd ask each other, "But is it Brewer-Clifton good?"
Visiting Brewer-Clifton
Brewer-Clifton  Tasting Room: Opens Friday – Sunday, 11am – 4pm. By appointment only on Monday – Thursday, 11am – 4pm.
Address:
329 North F Street, Lompoc
Contact Details:
(805) 735-9184 or 
Email
---
<
Planning a trip to Santa Barbara?
Want to learn more about Santa Barbara wines?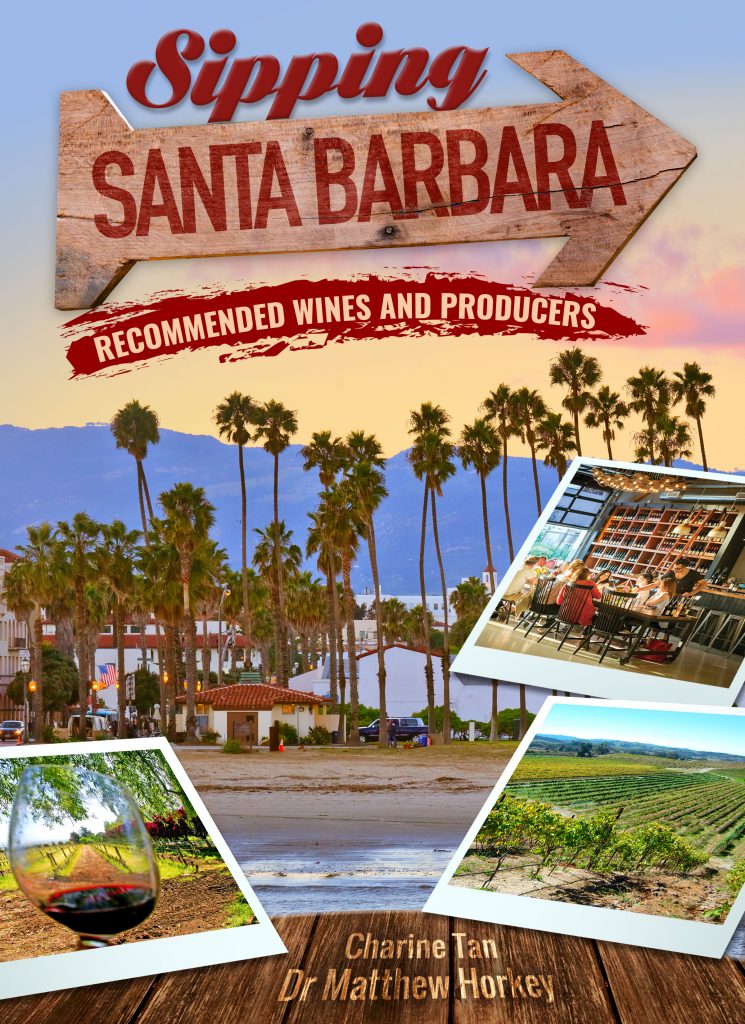 Our visitor-friendly guide to the wines and tasting rooms of Santa Barbara is available now!
Check out Sipping Santa Barbara: Recommended Wines and Producers for more information.
[sp_testimonials_slider category="1048″]
You May Also Enjoy
Search or buy Brewer-Clifton wines on Wine Searcher.
---
Please note that the opinions expressed in this article are unsolicited and have not been paid for in any way by governmental bodies, enterprises, or individuals. We do not sell editorial content as that would destroy the legitimacy of our reviews and the trust between Exotic Wine Travel and its readers. On occasion, we extend the option of purchasing the wines we review or/and the products we spotlight. Some of these product links are set up through affiliate programs, which means Exotic Wine Travel gets referral credits if you choose to purchase these items via the links we provide.