Reading Time: 2 minutes
After releasing Cracking Croatian Wine, we decided to make a week-long tasting trip through Goriška Brda, Kras, and Vipava Valley. Our tasting trip through western Slovenia yielded many gems and exceeded our already high expectations. The quality of winemaking is outstanding, and several producers are on par with some of the world's best.
Burja Winery in Vipava Valley, Slovenia
A minimal-intervention producer that works with indigenous varieties, the Burja Winery is located in the south of Vipavska Dolina (Vipava Valley). Because of its proximity to the Adriatic, Vipava experiences a sub-Mediterranean climate. It's a prime region for wine grape cultivation and several producers are taking advantage of this.
Unfortunately, we didn't get the chance to visit Burja during our week-long trip to Slovenia. However, we did taste a few Burja wines at the Hiša Franko restaurant. The wines left such a good impression that we hunted down a few more bottles on our own. Hopefully, we will get a chance to visit Burja Winery in the near future.
Burja white wines are an excellent gateway into the world of orange wines. These wines are lightly macerated and don't have the big tannins that can sometimes scare casual drinkers away. We didn't get a chance to taste the reserve wines from Burja but judging from the entry-level and mid-range wines, they are probably outstanding.
Exotic Wine Travel's Picks
(You can find out more about our scoring system on the START HERE page.)
The Burja Stanice is a single-vineyard blend of Malvazija Istarska and Laški Rizling. It was macerated for 12 days. The flavors are dandelion, yellow flower, green apple, and yeast. The wine is fermented in concrete vessels and has high acidity with a bitter flower finish. It tastes more like a conventional white than a macerated white.   4.0/5
Burja Petit Burja Zelen 2014
We purchased this bottle from a shop in Belgrade, Serbia. Flavors of petrol, flint, baked apple, and peach. It smells almost like an aged Riesling. This Zelen was macerated for two days. It is medium-bodied. The acidity isn't high but the wine has a nice tartness and subtle tension. A 'thinking wine' and a delicious one at that. The Burja Petit Zelen is an entry-level white wine of outstanding quality. 4.0/5
This is the only non-indigenous variety that Burja has in their vineyards. Burja's website says that the Pinot Noir is aged for two years in a combination of large oak casks and barriques. We drank this Burja Pinot Noir in August 2017, which means the wine was bottled right before we had it.  There are flavors of forest floor, raspberry, mushroom, and smoke. Bright flavors and light bodied, it is true Pinot Noir although it doesn't have the subtle power of a great Burgundy.   4.1/5
Tasted in August 2018. The 2017 Burja's Pinot Noir is our favorite vintage among 2015-2017. It will be released on the market next year. It's everything we love about Pinot Noir: light notes of red berries, a firm ground of fall leaves and earthiness, and the quintessential silky mouthfeel. It's a balanced effort with chewy tannins that will evolve well in the medium term.    4.2/5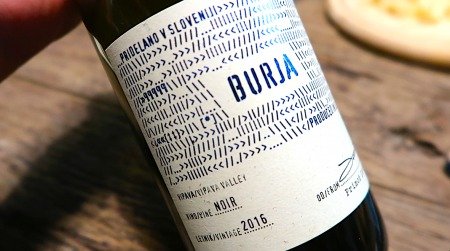 A crazy-cool blend of Refosco, Schiopettino, and Blaufränkisch aged in oak for 18 months, the Burja Reddo 2015 is angular and elegant on the palate. There are notes of black fruit, peppercorn, meat, and earth. It's a wine with several layers of flavors and will taste better with a few years in the bottle. It's delicious to drink now but will reward those who are patient.    4.0/5
Find or buy Burja's wines on Wine Searcher.
You May Also Enjoy
Slovenian Wine – Rebula from Vipava Valley
---
Please note that the opinions expressed in this article are unsolicited and have not been paid for in any way by governmental bodies, enterprises, or individuals. We do not sell editorial content as that would destroy the legitimacy of our reviews and the trust between Exotic Wine Travel and its readers. On occasion, we extend the option of purchasing the wines we review or/and the products we spotlight. Some of these product links are set up through affiliate programs, which means Exotic Wine Travel gets referral credits if you choose to purchase these items via the links we provide.