Your Cheat Sheet to the Wines of Cyprus, Part I
Reading Time: [est_time] Cyprus is the third largest island in the Mediterranean with an area of 9,251 square kilometers. Situated at the northeastern end of the Mediterranean basin, the country lies at the crossroads of Europe,
Reading Time: 3 minutes
Cyprus is the third largest island in the Mediterranean with an area of 9,251 square kilometers. Situated at the northeastern end of the Mediterranean basin, the country lies at the crossroads of Europe, Asia, and Africa. Due to its geographical position, Cyprus's history is marked by turbulence and its culture is shaped by different influences—from the Greeks to Phoenicians, Assyrians, Venetians, French, Ottomans, and British.
The rich history of Cyprus is accompanied by the grapevines. Winemaking in Cyprus has enjoyed historical continuity through a period of more than 5,000 years. Today, wine continues to play a role in the Cypriot identity. The country offers a panorama of wine history that puts it—not in the Old World or New World but—in the 'Ancient World' of wine.
15 Pointers to Get You Acquainted with the Wines of Cyprus
Here are a few pointers to get you started on the wines of Cyprus. Stay tuned to our website for more articles and videos on the Cypriot wine scene.
Before 1991, Cyprus used to produce 300 million liters of wine; most of the Cypriot wine was exported to the Soviet Union. Today, the production has dropped to about one-tenth of that.
Like the former Eastern Bloc, Cyprus's wine industry had to reinvent itself following the collapse of the Soviet Union and the consequent waning demand for cheap, low-quality wines. The final blow came in 1996 when a new EU directive made it illegal for any fortified wines made outside Jerez to assume the title of sherry. Cyprus gave up its ability to market certain wines as sherry, which further stimulated the drastic restructuring of the Cyprus's wine industry.
On 1 May 2004, the country became a full member of the European Union. To bring the wine industry in line with the membership, a controlled appellation scheme was developed. With the collapse of its main export market in the Soviet Union, Cyprus was severely affected by the EU's Vine Pull Schemes. Many of the old vines were pulled and many vineyards were abandoned as a result.
Today, the average age of the vines in Cyprus is around 50 to 60 years old. More than 90% of the vines are goblet-trained.
The emergence of high-quality Cypriot wine reached its tipping point about six years ago, the same time when wine bars started appearing in the cities of Cyprus.
https://www.instagram.com/p/BQXsqo6Ak6y/?taken-by=exoticwinetravel
Cyprus escaped the phylloxera plague, so its rootstocks remain ungrafted; although sometimes, international varieties may be grafted onto the roots of local varieties (where both varieties belong to Vitis vinifera).
The climate is predominantly Mediterranean. Climate hazards are mostly hail and frost in higher-elevation vineyards. Humidity level is low though some areas have its own microclimate that can develop Botrytis cinerea.
Cyprus has some of the highest vineyards in Europe, reaching over 1,400 meters above sea level.
https://www.instagram.com/p/BQjVXDvAGGM/?taken-by=exoticwinetravel
Commandaria—the luscious, sweet wine of Cyprus—is said to be the first wine in history to receive the protection of name and geographical origin. In the 13th to 14th centuries, the Cypriot wine, along with other sweet wines from the east and Italy, fetched higher prices in the English market than the wines of France.
https://www.instagram.com/p/BQjTkiPA7O4/?taken-by=exoticwinetravel
Up until the late 1980s, almost all the Cypriot wines were made by wineries located near the docks of Limassol or Paphos, namely the big four: Etko, Keo, Loel, and Sodap. Today, the market is wonderfully diverse with over 60 registered wineries. Among those are two registered organic producers and more than a handful of the wineries are run by academically trained viticulturists and enologists.
https://www.instagram.com/p/BQXqZjfg8Up/?taken-by=exoticwinetravel
Generally, the people in Cyprus do not enjoy oak-induced flavors in wine. As such, you'll find the market dominated by fresh, unoaked whites (made from the local variety Xynisteri) and reds (usually a blend of local and international varieties). The Cypriots also love both rosés and reds that are slightly tannic.
https://www.instagram.com/p/BQaeXRrgG04/?taken-by=exoticwinetravel
https://www.instagram.com/p/BQaj6TfAoBh/?taken-by=exoticwinetravel
The total number of indigenous varieties is estimated to be around 70, although only 20 have been registered so far. The indigenous varieties you'll likely come across are Maratheftiko, Mavro, Morokanella, Ofthalmo, Promara, Spourtiko, Xynisteri, and Yiannoudi. While not entirely indigenous, another variety to look out for is Lefkada. Called Vertzami in Greece, the Lefkada vines arrived in Cyprus in 1956 from the island of Lefkada in Greece. As a variety, Vertzami is mostly used as a blending grape in Greece. However, in Cyprus, you'll get a chance to try Lefkada as a monovarietal wine.
https://www.instagram.com/p/BQjUMVwh4Io/?taken-by=exoticwinetravel
https://www.instagram.com/p/BQahHHRgZ_R/?taken-by=exoticwinetravel
Among the international varieties, Shiraz/Syrah is regarded as the best suited for the Cyprus's climate, although we've encountered more interesting Cabernet Sauvignon wines (than Shiraz) that can take on some of its counterparts from California. Other popular international grapes that you can find in Cyprus: Alicante Bouschet, Cabernet Franc, Carignan, Chardonnay, Mataro/Mourvedre, Merlot, Muscat of Alexandria, Sauvignon Blanc, and Semillon.
There are currently seven "Wine Routes of Cyprus" and they are Laona-Akamas, Vouni Panagias-Ampelitis, Diarizos Valley, Krasochoria of Lemesos, Commadaria, Pitsilia, and Lanarka-Lefkosia.
Generally, wine prices at the cellar are between €5 and €18, while some vintage Commandaria and sweet wine can go up to €80. The quality-price ratio is startling and, together with its organoleptic merits, makes Cypriot wine a real treat whether you're a connoisseur or casual wine drinker.
Language
The official languages are Greek and Turkish. English is widely spoken.
Accommodation
There are plenty of hotels and guesthouses in most of the towns and villages along the wine routes.
Eat
Visit the tavernas for unique local dishes. More information about the Cypriot cuisine and wine-and-food pairing tips will be available in future articles.
Getting There
More than 30 airlines operate scheduled flights from and to
1. Larnaca International Airport
– 8 km from Larnaca (Larnaka)
– 50 km from Nicosia (Lefkosia)
– 70 km from Limassol (Lemesos)
– 50 km from Agia Napa
– 140 km from Paphos (Pafos)
2. Paphos Airport
– 15 km from Paphos (Pafos)
– 63 km from Limassol (Lemesos)
– 130 km from Larnaca (Larnaka)
– 50 km from Polis
– 142 km from Nicosia (Lefkosia)
Connect with Us!
If you enjoy this rundown on the wines of Cyprus, please subscribe to our newsletter and follow our social media platforms to receive more updates, including tasting notes and specific producers in Cyprus to look out for. We tasted over 200 Cypriot wines from 30 different producers to filter out the best for you!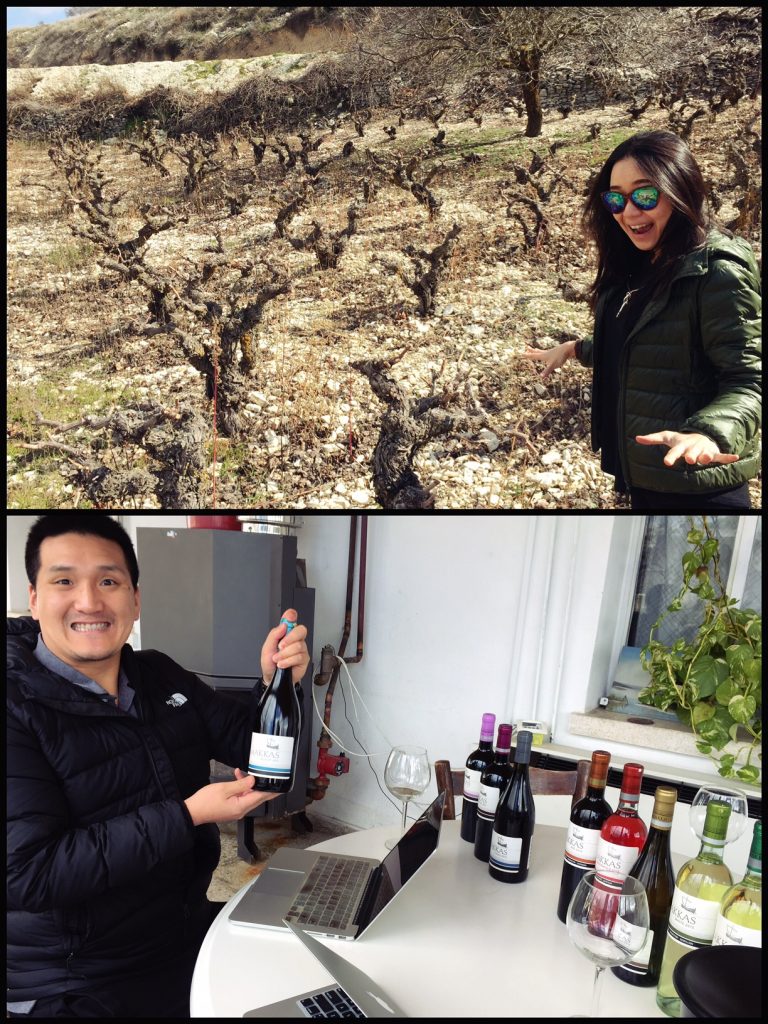 ---
You May Also Enjoy
Facing Our Fears: Cypriot Wine
Disclosure: Our trip was partially sponsored by the Cyprus Tourism Organisation, The Annabelle Hotel (Paphos), and Saint Elena Hotel (Larnaca). A few wineries provided us tasting samples, but most of them simply gave us their time. The opinions expressed in this article are our own and we are under no obligation to give favorable reviews.