Cotnari Grasă de Cotnari Vinoteca 2000
Reading Time: [est_time] Hello! Welcome to As Drunk by Exotic Wine Travel, a weekly column where we feature interesting wines that we encourage you to seek out. The reviews featured in this series may be written by
Reading Time: 1 minute
Hello! Welcome to As Drunk by Exotic Wine Travel, a weekly column where we feature interesting wines that we encourage you to seek out. The reviews featured in this series may be written by either one or the both of us. The featured wines can be from obscure or well-known wine regions. We hope that these wine recommendations will keep you gastronomically curious and your palate invigorated!
Cotnari Grasă de Cotnari Vinoteca 2000
The wines of Cotnari (Romania) used to be among the greatest wines in the world. They were coveted alongside the great sweet wines of Tokaj (Hungary), Commandaria (Cyprus), and Constantia (South Africa). In Jancis Robinson's The Oxford Companion To Wine, Dr. Caroline Gilby states that Cotnari, "At one time rivaled Hungarian Tokaji as an elixir of fashion sought after in the courts of northern Europe. It was still fashionable in Paris at the end of the 19th century."
After the World Wars and communism in Romania, the wine quality of Cotnari suffered. Not many producers make this classic wine anymore, Cotnari is an exception. The winery was a state-owned producer during communist times but is now privatized. They have an extensive collection of these wines dating back several decades.
Cotnari winery releases a few old bottles of Cotnari under their Vinoteca Vin de Collectie series. They sell some of these wines dating back to the 1950's. A walk through their vinoteca, where they store these wines, is impressive. During an evening dinner at the cellar, the winery was kind enough to open a few bottles from the 2000 vintage.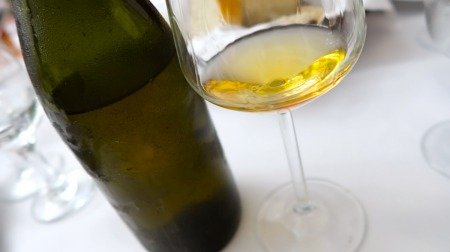 The Cotnari Grasă de Cotnari Vinoteca 2000 is made from the grape Graša de Cotnari, also known as Kövérszölö in Tokaj (Hungary). This is a botrytized sweet wine that isn't overly rich or sappy. There are notes of honey, dried apricots, mushroom, and lemon peel. However, the fresh acidity, low alcohol, and relatively low body keep this wine light on its feet. There are no tech specs available, but we believe that this wine has under 100 g/L of residual sugar.
It's a honeyed sweet wine that won't overpower your senses like a Sauternes or a Tokaji but will give you the flavors that we wine nerds crave about botrytis-infected wines. Just be careful, it's dangerously easy to drink and a bottle can disappear in no time.
90/100 (You can find out more about our scoring system on the WINE RATING page.)
You can find this wine on the Cotnari Online Shop
* We visited the Cotnari Winery while judging at the IWCB Romania.
---
Please note that the opinions expressed are our own and have not been paid for in any way. We do not sell editorial content as that would destroy the legitimacy of our reviews and the trust between Exotic Wine Travel and its readers. On occasion, we extend the option of purchasing the wines we review or/and the products we spotlight. Some of these product links are set up through affiliate programs, which means Exotic Wine Travel gets referral credits if you choose to purchase these items via the links we provide.