Cracking Croatian Wine In Brač & Hvar
Two of the most famous Croatian wine islands in Southern Dalmatia are Brač and Hvar. The latter is known for its long history of viticulture and is home to the longest continuously planted vineyard site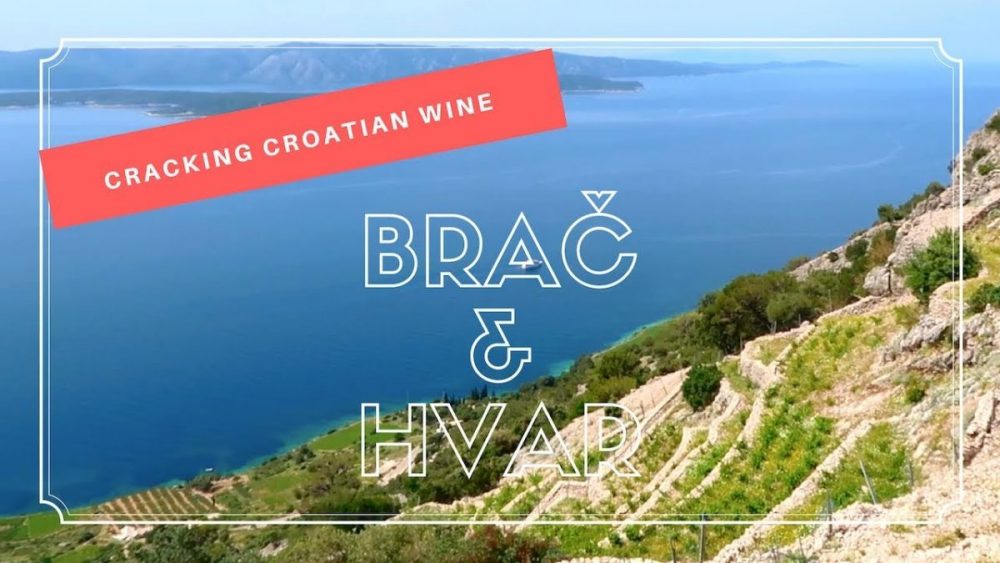 Reading Time: 3 minutes
In the Spring of 2018, we set out on a re-tour of Croatia to bring our book Cracking Croatian Wine: A Visitor Friendly-Guide to life. There was so much to share about Dalmatia that we ended up shooting five episodes on the region. This is the fifth and final episode about Dalmatia, 'Cracking Croatian Wine In Brač & Hvar'.
The Croatian Wine Islands Brač & Hvar
Two of the most famous Croatian wine islands in Southern Dalmatia are Brač and Hvar. The latter is known for its long history of viticulture and is home to the longest continuously planted vineyard site in the world, the Stari Grad Plain. Brač also has a long history of viticulture that is being revived by one modern producer.
Both islands give way to spectacular views of steep mountains, old villages, and the deep blue Adriatic Sea. They are also home to some of the most famous Croatian wine producers. Nearly all of these wineries work with the red Croatian wine grape Plavac Mali, which can give stunning results on both islands.
Timestamps: Cracking Croatian Wine in Brač & Hvar
(1:02) Join us on a ferry trip from mainland Dalmatia to the island of Hvar. The beautiful ferry ride gives way to spectacular views of the Makarska Riviera. Once on the island, a small two-lane road transverses the island all the way to Hvar Town.
(1:37) Check out the Pitve Tunnel. This 1.4 kilometers long tunnel connects the north side of the island to the steep slopes of the south side. It is a one-lane road that is governed by a traffic light on each side of the tunnel. Traveling through the tunnel gives way to Hvar's beautiful and wild southern slopes.
(2:07) Join us for a visit and tasting at Plenković – Zlatan Otok winery. This was one of the first private wineries established in Croatia. The property features the Zlatan Otok winery, a guesthouse, and a restaurant/marina.
(2:52) Have dinner with us and try a local specialty Gregada. This is a fish stew that locals used to make with whatever ingredients they had at their disposal.
(3:54) Meet Nikola Plenković, son of the late Zlatan Plenković. Nikola talks about the history of the winery and how the Pope helped in the success of Zlatan Plavac Mali.
(4:56) Check out the UNESCO World Heritage site known as the Stari Grad Plain. This is the oldest continuously planted vineyard spot in the world, dating back to the 4th century BC.
(5:24) Get familiar with some modern wineries on Hvar including Carić, Vujnović, Plančić, and Ahearne Vino.
(5:46) Come with us to taste wines in the village of Jelsa. This village is home to Tomić, another Croatian wine pioneer. Proprietor Andro Tomić is known for producing soft, international style Plavac Mali that is well-loved by many.
(6:36) Join us for another tasting in Jelsa at one of the cult Croatian wine producers. Duboković produces a number of small production wines in a local konoba. He's known for his Plavac Mali in addition to several orange wines from grapes like Bogdanuša, Marština, and Pošip. His herb-infused olive oils are worth seeking out as well.
(7:01) Meet Ivo Duboković and listen as he talks about the philosophy behind the winery.
(9:01) Take another ferry ride with us to island of Brač. It's home to one of Croatia's most famous beaches the Zlatni Rat.
(9:26) Meet Emil Mehedin of Jako Vino – Stina winery. He takes us on a journey to the steep vineyards of Stina. These exact vineyards don the cover of our book Cracking Croatian Wine: A Visitor-Friendly Guide.
(10:08) Taste with us at the Stina cellar. The stone building used to house a socialist cooperative winery during the times of Yugoslavia.
(11:18) Take one more ferry ride with us back to the Dalmatia mainland and Croatia's second-largest city Split. The city is near Trogir, where Carole Meredith and her team from the University of California Davis tracked down the original Zinfandel, known locally as Crljenak Kaštelanski or Tribidrag.
(11:44) Stay with us at one of the newest hotels on the Dalmatian coast, Hotel Ola.
(12:03) Have dinner with us at Black Pepper Restaurant. This is a modern Mediterranean restaurant that has a contemporary take on classic dishes from the region. The food is innovative and delicious.
View, like, share the full episode on our Facebook Page:
The finest selection of Croatian wines
available at:

Shipping is available EU-wide and to the UK.
************
    Do you want to try Croatian wines?    
If you're looking to savor the exquisite flavor of Croatian wines, look no further than wineandmore.com. With an abundance of options from different winemakers, it's easy to find exactly what your palate desires. Not sure which bottle is best for you? Try out one of their curated wine cases and discover the perfect vintage for any occasion!
************
Want to learn more about wine?
Are you ready to discover the wonderful world of wines? Come join us at wineandmore.com and let's explore the incredible selection of delicious wines together! We can't wait to share our passion for wine with you!
---
You May Also Enjoy
Please note that the opinions expressed in this article are unsolicited and have not been paid for in any way by governmental bodies, enterprises, or individuals. We do not sell editorial content as that would destroy the legitimacy of our reviews and the trust between Exotic Wine Travel and its readers. On occasion, we extend the option of purchasing the wines we review or/and the products we spotlight. Some of these product links are set up through affiliate programs, which means Exotic Wine Travel gets referral credits if you choose to purchase these items via the links we provide.