Cracking Croatian Wine In Korčula, Dalmatia
Reading Time: [est_time] In the Spring of 2018, we set out on a re-tour of Croatia to bring our book Cracking Croatian Wine: A Visitor Friendly-Guide to life. There was so much to share about Dalmatia that we ended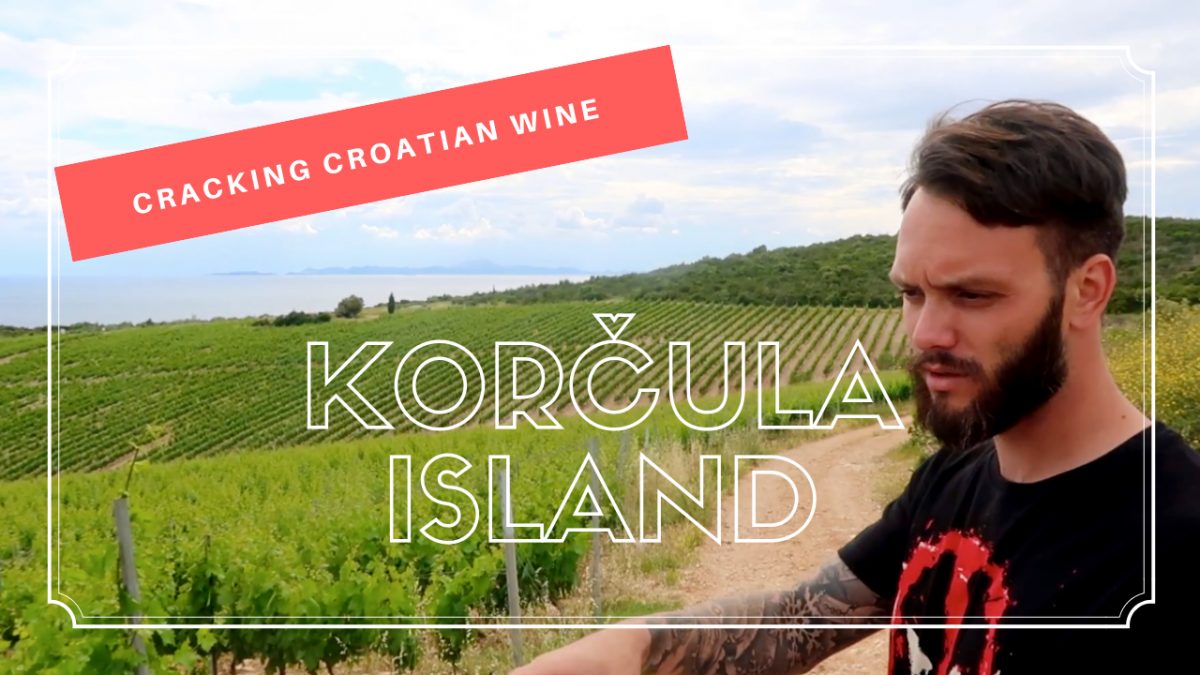 Reading Time: 2 minutes
In the Spring of 2018, we set out on a re-tour of Croatia to bring our book Cracking Croatian Wine: A Visitor Friendly-Guide to life. There was so much to share about Dalmatia that we ended up shooting five episodes on the region. This is the second episode about Dalmatia, 'Cracking Croatian Wine in Korčula, Dalmatia'.
Korčula Island: Dalmatia
Korčula island is located in southern Dalmatia. There are folk legends that suggest that Venetian explorer Marco Polo was born on the island. Whether this is true or not, the fact is that this island produces some of the most exciting white Croatian wine. In this episode of Cracking Croatian Wine, we highlight producers working with the local white grapes Grk and Pošip.
Watch "Cracking Croatian Wine In Korčula, Dalmatia" on Exotic Wine Travel YouTube:
Timestamps: Cracking Croatian Wine in Korčula, Dalmatia
(1:07) Join us on the beautiful ferry ride from Split to Korčula Island.
(1:45) Meet Ivan Batistić of Zure Winery. Together with his brother and father, Ivan runs the small winery and restaurant. They work with the local white Croatian wine grapes Grk and Pošip.
(2:41) Learn more about the nomenclature of Grk.
(4:01) Meet Frano Milina Bire of Bire Winery. Frano is considered to be the godfather of modern Grk and his wines sell out quickly every vintage. Frano explains what makes the Croatian wine grape Grk so special.
(5:56) Join us on a sailing trip with Lešić Dimitri Palace. With over 1000 islands, Croatia is a sailor's paradise. Dalmatia has been dubbed as a playground for the nouveau riche thanks to the towering mountains and deep blue Adriatic Sea.
(7:02) Join us for lunch at Lešić Dimitri Restaurant. This Dalmatian restaurant is listed in the Michelin Guide. At the restaurant, Chef Marko is creating modern interpretations of classic Dalmatian dishes.
(9:18) Check out the Čara Valley, which is where the white Croatian wine grape Pošip originated from. The valley is also home to one of the few successful cooperative wineries in Croatia, PZ Pošip Čara.
(10:09) Come with us to Zavalatica and meet Luka Krajančić of Krajančić Winery. Luka is considered to be the founder of modern Pošip. He's a winemaker, artist, and philosopher- you'll see why in this clip.
(12:02) Check out the rooms in Lešić Dimitri Palace, one of the few five-star accommodations in Dalmatia.
View, like, share the full episode on our Facebook Page:
The finest selection of Croatian wines
available at:

Shipping is available EU-wide and to the UK.
************
    Do you want to try Croatian wines?    
If you're looking to savor the exquisite flavor of Croatian wines, look no further than wineandmore.com. With an abundance of options from different winemakers, it's easy to find exactly what your palate desires. Not sure which bottle is best for you? Try out one of their curated wine cases and discover the perfect vintage for any occasion!
************
Want to learn more about wine?
Are you ready to discover the wonderful world of wines? Come join us at wineandmore.com and let's explore the incredible selection of delicious wines together! We can't wait to share our passion for wine with you!
---
You May Also Enjoy: Making Cracking Croatian Wine
Please note that the opinions expressed in this article are unsolicited and have not been paid for in any way by governmental bodies, enterprises, or individuals. We do not sell editorial content as that would destroy the legitimacy of our reviews and the trust between Exotic Wine Travel and its readers. On occasion, we extend the option of purchasing the wines we review or/and the products we spotlight. Some of these product links are set up through affiliate programs, which means Exotic Wine Travel gets referral credits if you choose to purchase these items via the links we provide.