Croatia's Wine Tasting Event: Zagreb Bubbles in Pictures
Reading Time: [est_time] In June 2017, the inaugural Zagreb Bubbles festival was held in Croatia's capital city. The Zagreb Bubbles is the first sparkling wine-themed event in Croatia. Over 100 sparkling wine producers, both domestic and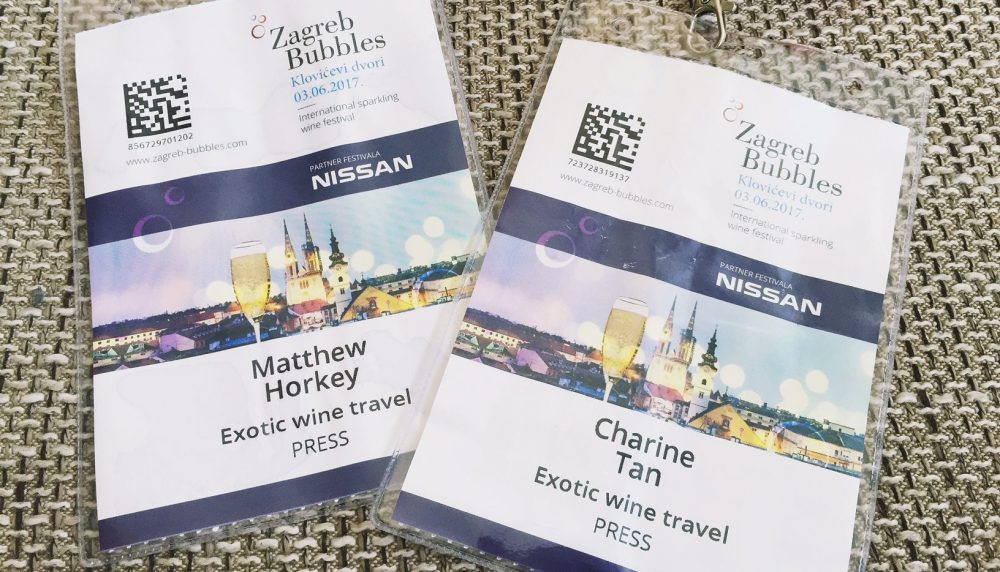 Reading Time: 4 minutes
In June 2017, the inaugural Zagreb Bubbles festival was held in Croatia's capital city. The Zagreb Bubbles is the first sparkling wine-themed event in Croatia. Over 100 sparkling wine producers, both domestic and international, participated in the event. The festival kicked off with a few days of peripheral programs and workshops, which led up to the main show on a Saturday afternoon.
Sparkling wine is becoming increasingly popular in Croatia. Croatian wine producers are utilizing both the Charmat method (think Prosecco) and classic method (think Champagne) to make their sparkling wines. For now, the Plešivica wine region is the king of Croatian sparkling wine with Ivančić, Korak, Šember, and Tomac leading the way. There are some solid examples coming out of Istria, Slavonia, and Dalmatia too. Teran from Istria shows a lot of promise as it is able to maintain searing acidity upon achieving great phenolic ripeness; this results in relatively intense, fuller sparkling rosé wines. Graševina from Slavonia and Pošip and Debit from Dalmatia are also capable of delivering unique sparkling wines. Overall, Croatian sparkling wines have shown capable of delighting wine lovers and at times deliver an entirely different sensory experience that thrills the wine geeks.
Here are a few of our favorite wines from Zagreb Bubbles. 
Croatian Sparkling Wine
Find out a wide selection of sparkling wine at wineandmore.com
 

Our favorite of the Misal's portfolio of bubbles: Blanc de Blancs 2010. 12 hours of maceration that lends it a deeper color. 6 years on lees. Flavors are predominantly of brioche, peach, and tangerine. Bold expressions and round on the palate.
 

First time tasting a sparkling rosé made from Teran grapes. I think we are on to something here!
 

Vina Jakob (Croatia) makes two sparklers– one from Chardonnay and Merlot and another from Chardonnay and Syrah. Both showed well at the Zagreb Bubbles show. We also tasted the reds by Vina Jakob at a different wine show and enjoyed them. This is a producer we'll be watching with anticipation!
 

Another compelling wine from Roxanich. This is a sparkling rosé made from Teran grapes. This spent four years on the lees! The Teran gives dark fruit flavors, broadness, and earthy tone to the sparkler and makes it quite unlike others. As Teran is naturally high in acidity, we find it to be an excellent variety for making sparkling wines. The Teran sparklers we've tried offer ripeness, flavor intensity, yet without compromising on the crispness.
Champagne
 

Another cracking French find at Zagreb Bubbles: Champagne Larmandier-Bernier Terre de Vertus Premier Cru 2011. Zero dosage, single-cru wine of 100% Chardonnay from 100% single vintage–no blending. Biodynamic producer who relies on native yeast for first fermentation. At least four years on lees before disgorgement. This is a cool kid. Nutty, fresh green herb, white flower, pear, and peach. Extremely creamy. Only the slightest hint of yeast; purity of fruit takes center stage. Amazing value for a under €40 Champagne.
 

One of the best wines served at Zagreb Bubbles event: Taittinger Comtes de Champagne Blanc de Blancs 2006. This is the top bottling of Taittinger. Whipped cream-like texture brings forth the weightless body of this wine. Coiled intensity of pure fruit notes–almond biscotti, nectarine, white chocolate, and lemon. Underlying floral tone. Amazing length. 2006 is tasting like it'll eventually evolve and surpass other recent vintages.
Franciacorta
 

Franciacorta always deserves more love. The Antinori Donna Cora Franciacorta Saten 2011 is ready for the world, after spending 5 quiet years resting on the lees.
Still Wine
 

2015 marks the first vintage of Ivančić Griffin's Single Vineyard. It's a field blend of Müller-Thurgau and Chardonnay; co-fermented. A wonderfully integrated wine yet you can taste specific characteristics of each of the variety. A refreshing wine that's easy to drink yet teases for your attention with subtle nuances. A wine of duality. Highly recommended.
 

The Zagreb Bubbles program consists of several peripheral events, including a "Fine Wine Tasting" evening. At the fine wine event, we had the opportunity to sample several famous wines from around the world and also library selection from Croatian wine producers. We tasted a Korak Pinot Crni (Noir) from 2007 and the wine was showing incredible youthfulness and fruit-forwardness. A wine that could go on for another decade. While Korak is very much known as one of the grand masters of Croatian Pinot Noir, we say: don't overlook Korak Syrah too!
 

Another interesting find at the Zagreb Bubbles's fine wine event. Another fascinating wine imported by our friends at Hidden Wines! This causes split opinions–Charine adores this wine while Matt is indifferent. The 2011 Hartmann Dona Dona Noir comes from the Sudtirol area in Alto Adige. 100% Blauburgunder harvested from >20 year-old vines planted on steep slopes and at 500 meters above sea level. Spontaneous fermentation. Aged for 23 months in the barrel and 2 years in the bottle. This wine expresses exceptional drinkability and potential for long cellaring. Freshness, earth, spice, and intensity of fruit are expressed in complete harmony. If mellow happiness or quiet contentment has a taste, this should be it.
 

2010 Domaine Raymond Usseglio & Fils Chateauneuf-du-Pape Cuvée Imperiale. Among the people in our group, this is the star of the fine wine evening put together by Zagreb Bubbles. This wine should have been decanted for many hours before the show. But even when poured fresh from the bottle, the potential punches through the shy facade. 99 points by Robert Parker The Wine Advocate? No explanation required; every point flows towards every moment of the experience. Too young to drink, it's all coiled up, yet nothing screams painful on the senses. No detailed tasting note. Just drink it to understand the meaning of a complete, fine wine.
The finest selection of
Croatian wines
available at:

Shipping is available EU-wide and to the UK.
************
    Do you want to try Croatian wines?    
If you're looking to savor the exquisite flavor of Croatian wines, look no further than wineandmore.com. With an abundance of options from different winemakers, it's easy to find exactly what your palate desires. Not sure which bottle is best for you? Try out one of their curated wine cases and discover the perfect vintage for any occasion!
************
Want to learn more about wine?
Are you ready to discover the wonderful world of wines? Come join us at wineandmore.com and let's explore the incredible selection of delicious wines together! We can't wait to share our passion for wine with you!
---
You can learn more about Zagreb Bubbles on their website.
Matthew also reviewed a wine that we tasted at the show: Nusserhof Südtirol Lagrein Riserva 2010
The opinions expressed in this article are not associated with any sponsors or business promotions.